Rob Zombie's Halloween Frustrations Led Him To The Lords Of Salem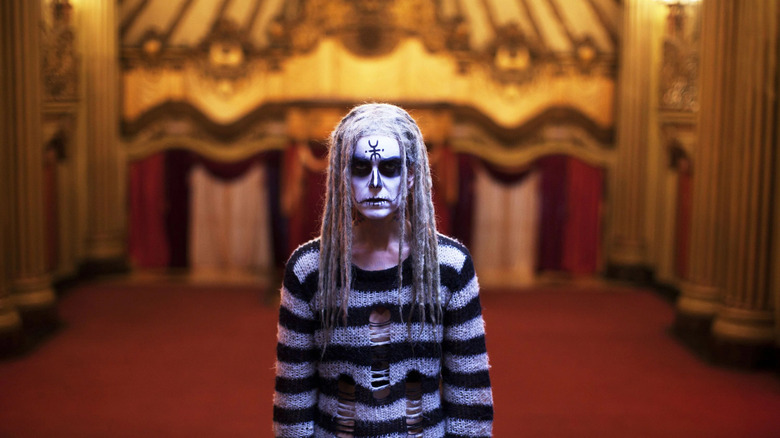 Anchor Bay Films
With the new film adaptation of "The Munsters" right around the corner, there's been a lot of talk about director Rob Zombie these days. The heavy metal musician-turned-filmmaker now has nine feature films under his belt, as well as his segment for the Quentin Tarantino/Robert Rodriguez "Grindhouse" double feature, and the concert film "The Zombie Horror Picture Show." The value and influence of Zombie's filmography has been hotly debated for nearly two decades, namely due to his remake (and sequel to the remake) of John Carpenter's "Halloween." Horror fans often refer to his two films as "Zombieween" as a way to differentiate the films from the already broken-as-hell canon of Michael Myers, but it was working on the pair of films that led Zombie to deliver arguably his finest feature, "The Lords of Salem."
With Sheri Moon Zombie in the leading performance, "The Lords of Salem" sees her as a radio DJ named Heidi who comes across a weird record from a mysterious band known as The Lords. When Heidi plays the record, she hears strange woodwind music and begins having unsettling visions of a group of women performing a satanic ritual. The film only gets stranger, scarier, and witchier from there, and it's a perfect showcase of Zombie's talents. The wholly unique story sees him at his best, perhaps because the film was birthed from the ashes of his "Halloween" filmmaking frustrations.
Zombie was given total creative freedom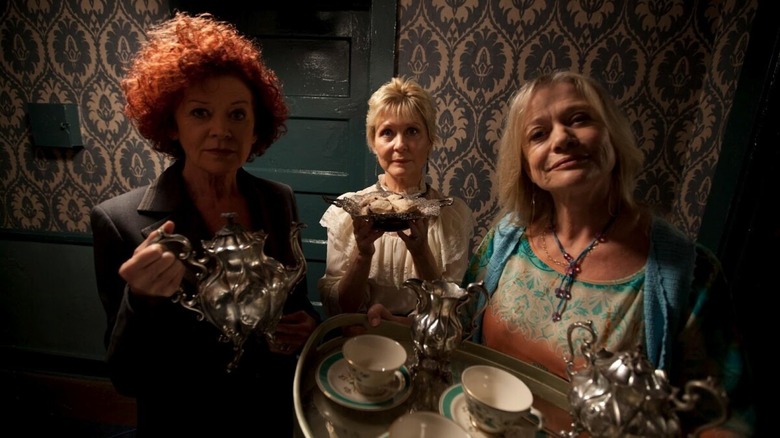 Anchor Bay Films
During an interview with Complex, Rob Zombie was pretty candid with his feelings about the "Halloween" process. "This sounds terrible, but when I came off the 'Halloween' movies, they were very stressful movies to make," he said. "I'm happy with how they turned out, but getting the end results took so much fighting with people and so much craziness, that at the end of it I was so burnt out."
Rob Zombie spent four years working on "Halloween" and "Halloween II," which is a long time to be in a difficult process. "The thought of even making another movie was a bummer, but I knew I needed something where I had total freedom and would be able to have fun and think again without 10,000 pages of studio notes every time I turned around," he said. 
Thus, "The Lords of Salem" was born. Zombie said that he wasn't even planning on making another movie, instead thinking about putting out a new record, but Jason Blum of Blumhouse fame approached him with an offer he couldn't refuse:
"They came to me and said, 'We want to make a movie with you. The budget is small but you have 100% complete freedom to do whatever you want at all times. Our only sort of request is that the film be something of supernatural nature.' For some reason, they wanted to keep making movies in that realm."
At the time, Blumhouse was hot off the success of films like the "Paranormal Activity" series, "Insidious," and "Sinister," so it makes sense that they wanted to stay in the realm of the supernatural. Fortunately, it paid off, because "The Lords of Salem" rules, and Zombie has been solely making movies he wants to make ever since.