Alfred Hitchcock Had Three Rules For Eva Marie Saint On The Set Of North By Northwest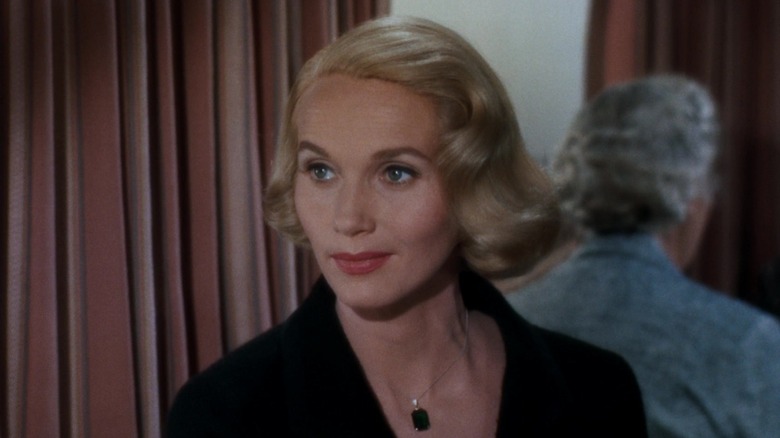 MGM
For as much as the films of Alfred Hitchcock are consumed by the psychologies of their protagonists, the "Master of Suspense" was not particularly interested in delving deep into them when it came to working with his actors. To be fair, he was working in a time where the internalization of character was not nearly as important as it is today. Film acting in classic Hollywood was presentational, practical, and technical. The actor was required to showcase emotional truth, not necessarily feel it themselves. Of course, moments where the two collided did occur, but it was not standard practice.
Alfred Hitchcock did not have much respect for an actor's process, even going so far as to say they should be "treated like cattle." This was said in his sarcastic, sinister way, but there's probably some underlying truth to that sentiment. He was someone who used every artistic discipline that goes into making movies to meticulously engineer these crackerjack thrillers. Actors were simply another cog in that machine.
Eva Marie Saint was someone who studied at the Actors Studio and the Stella Adler Studio of Acting. Her whole process is about the internal building of a character. Hitchcock was just the opposite for his leading ladies, constructing their looks as James Stewart does in "Vertigo." However, he did have some straightforward, unfussy, practical directorial advice for the Oscar-winning actor when they were working on the classic wrong man thriller "North by Northwest," where she starred opposite frequent Hitchcock leading man Cary Grant.
Look into his eyes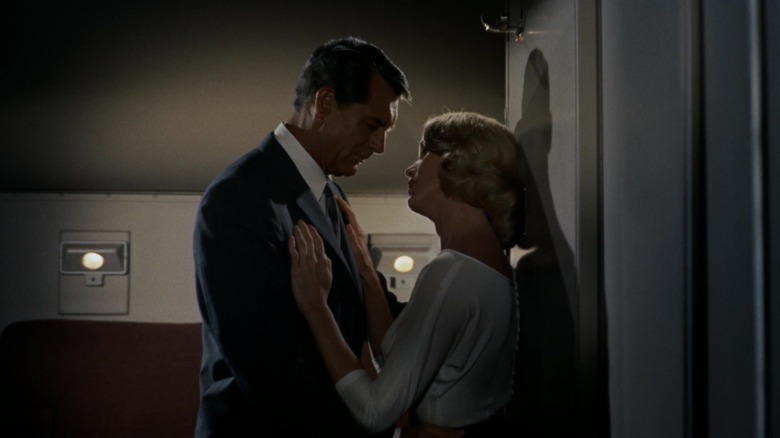 MGM
When we're behaving naturally in life, we rarely are cognizant of how we present to other people. The timbre of our voice and the gestures we make are just natural parts to our everyday lives. It's why when we listen to a recording of our voice or see a video of ourselves we realize exactly how the rest of the world experiences us. When you are in a film, these aspects of behavior take on entirely new meanings because of the way actors are framed, lit, and styled. Some actors who get so wrapped up in internalizing the character do forget a lot more goes into a performance than just what they think they are doing.
Speaking with Robert Osbourne during the 2010 TCM Classic Film Festival, alongside her co-star Martin Landau, Eva Marie Saint recounted the direction Alfred Hitchcock gave her during "North by Northwest" that allowed her to give a performance best suited for the film he was making:
"He only gave me three things as a director. He said, 'Lower your voice, don't use your hands, and look directly into Cary Grant's eyes at all times.'"
If someone's eyes are darting around all the time and gesturing with every word to add some extra indication of the dialogue, that person is going to come off as enormously suspicious, distracted, frantic, or a whole host of other states of being. Through that stillness, focus, and calm in the voice, we (and Cary Grant's Roger Thornhill) come to trust and even fall for her character. He's a man on the run and needs to feel secure, which Hitchcock can then upend later. That is smart, economical direction. Even for a psychology-based actor like Saint, sometimes that's all it takes to get the perfect performance.