Harry Styles Left Don't Worry, Darling's Crew In Tears After One Scene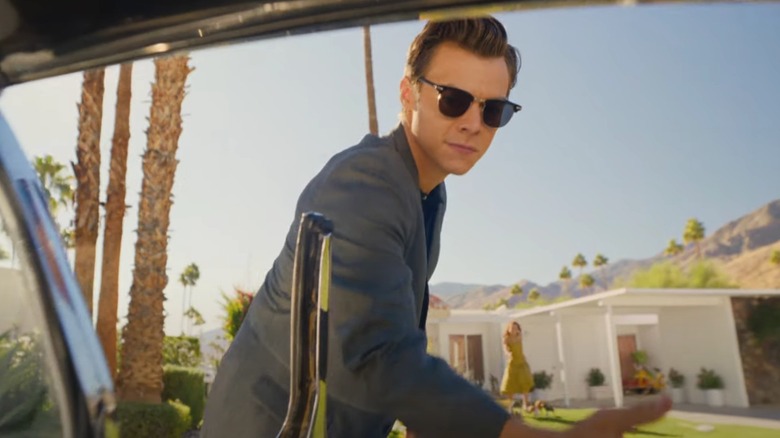 Warner Bros.
When you look at everything that makes up "Don't Worry Darling," it's no wonder the tight-lipped psychological thriller is as highly anticipated as it is. The closest inspiration for "Don't Worry Darling" appears to be "The Stepford Wives," as the Victory community emulates a similar look and feel of '50s suburban Americana with a dirty secret beneath its facade.
Olivia Wilde is back behind the camera after her very successful directorial debut, "Booksmart," which is tonally a much different beast than what her new feature is lined up to be. There's also the matter of the internet's favorite marmalade-making star Florence Pugh, who is fresh off of "Midsommar" and "Black Widow."
The film also boasts an incredible cast with talents such as Chris Pine, Nick Kroll, KiKi Layne, Gemma Chan, and Wilde herself. But if the forces of Pugh and Wilde, coupled with the harrowing mystery at the film's center, weren't enough to draw in an audience, the inclusion of Harry Styles, whose last screen appearance was at the tail end of "Eternals," is likely going to pack his followers into those theaters like crazy.
Little is known about what's actually going on with his character, Jack. We know Styles is embodying the illusion of the perfect suburban husband to Pugh, but from the promotional material that we've seen, it's safe to say that there's something much more sinister going inside the experimental community of Victory. The trailers have shown both sides of the character, from romantic partner to a rage-induced enigma.
If the one scene that particularly blew everyone away on set is anything to go off of, the menace in Styles' performance is bound to make waves.
Styles channeled a 'disturbing amount of male rage'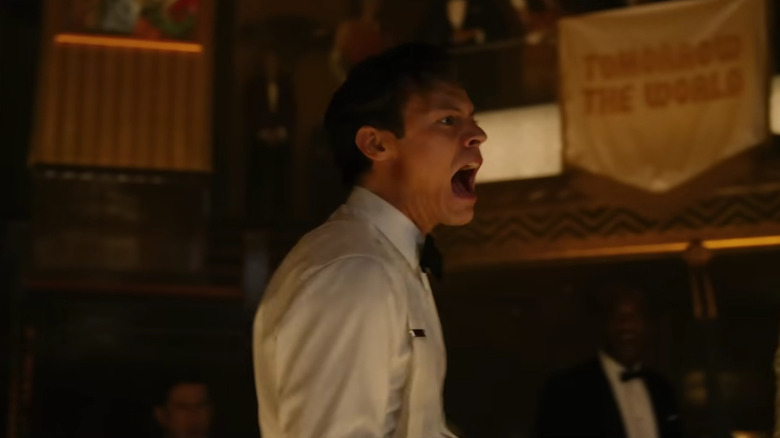 Warner Bros.
The Victory Project is one of many mysteries at the heart of "Don't Worry Darling," with Pine as the community's ringleader. It appears, however, that Styles' character has his own part to play in all of this, given the film features a scene of Jack receiving a promotion at a company gala. When it came time to shoot the scene, according to Wilde, Styles' performance ended up being so intense that it left the crew in tears (via Rolling Stone):
"It's a strange scene, full of fascist references, and a disturbing amount of male rage [...] The scene called for him to stand onstage with Frank (Chris Pine) and chant their creepy slogan, 'Whose world is it? Ours!' over and over again. Dark as hell. But Harry took it to another level. He was so fully in the moment, he began screaming the lines to the crowd, in this primal roar, that was way more intense than anything we expected from the scene."
The benefit of being an actor is allowing your performance to take you to places you never thought you were capable of. Method acting rarely goes beyond being a prick to the cast and crew, but getting lost in the moment while filming a scene provides an opportunity to just go for it. I'll bet the film elaborates more of the thematic and literal dangers of toxic white male ego, but what Wilde is describing here sounds like something that's going to show a whole new side of Styles as an actor.
The Don't Worry Darling crew were stunned by what they saw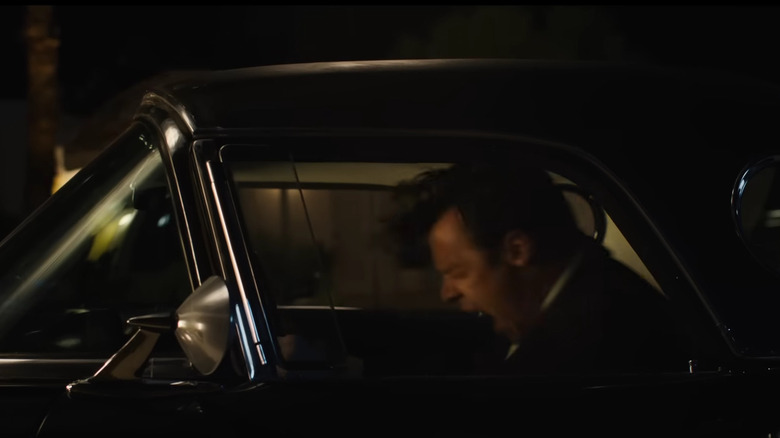 Warner Bros.
If you head over to the film's second trailer, you can catch a brief glimpse of the scene in question. In that Rolling Stone piece, Wilde continues by talking about how Styles was so in the moment that Pine, along with the crew, knew to back off and let it unfold. Even the camera operator shot him not as an actor, but "a kind of wild animal."
Christopher Nolan's "Dunkirk" was Styles' acting debut, which saw the former "One Direction" star in a notable, yet reserved performance. Between "Don't Worry Darling" and the upcoming "My Policeman" coming out this fall, we're going to get to see Styles test his acting chops with projects that require more of a personal touch.
A star like Styles feels suited for this role in the same way Bo Burnham ("Inside") was perfect casting for "Promising Young Woman." The Emerald Fennell-directed thriller is saturated with a roster of male actors who are usually considered trustworthy in the public eye, which makes their hidden threat that much more distressing. It stands to chance that Styles will inhabit a similar role, but we'll have to see when Wilde's puzzle is unleashed to the world.
"Don't Worry, Darling" arrives in theaters on September 23, 2022.