Don't Worry Darling Went Through Some Ups And Downs With Harry Styles' Casting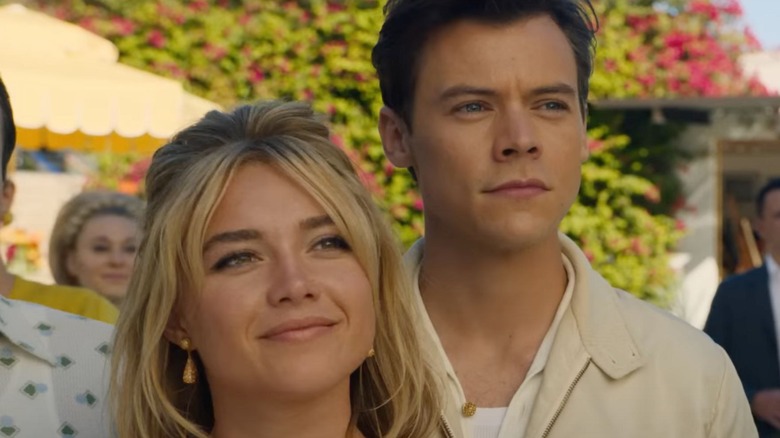 Warner Bros
In a little under two months, all eyes will be on the star-studded cast of "Don't Worry Darling" when the much-anticipated film makes its theatrical debut. After the wildfire success of "Booksmart," the second directorial effort from Olivia Wilde was always destined to drum up buzz. The more we learned about the upcoming film, the better it started to sound. A 1950s-set psychological thriller by way of "Fatal Attraction" and "Indecent Proposal" and a little of "The Stepford Wives" thrown in for good measure? Yes, please! Just knowing the premise was enough, but then came the cast, which includes Florence Pugh, Harry Styles, Chris Pine, KiKi Layne, Gemma Chan and Wilde herself.
Everything has been coming up Florence Pugh, ever since her back-to-back 2019 success with "Midsommar" and "Little Women." In "Don't Worry Darling," Pugh takes centerstage as classic stay-at-home wife Alice Chambers, who moves to a utopian experimental community with her husband Jack (Styles). To call Styles a rising star wouldn't quite capture his explosively successful music career, but as far as his acting career is concerned, Styles is moving up in the world. "Don't Worry Darling" marks his biggest role yet, followed up by another lead role in the romantic drama, "My Policeman."
According to a recent interview with Vogue, landing on this picture-perfect cast was no easy task, especially when it came to casting the role of Jack. You might remember that when the film was initially announced, Shia LaBeouf was set to star opposite Pugh as Jack. Then, five months after he joined the cast, Deadline reported LaBeouf was exiting due to "scheduling conflicts." A later Variety report explained that LaBeouf was fired by Wilde for "poor behavior." So how did the movie end up starring the former One Direction singer?
Enter Harry Styles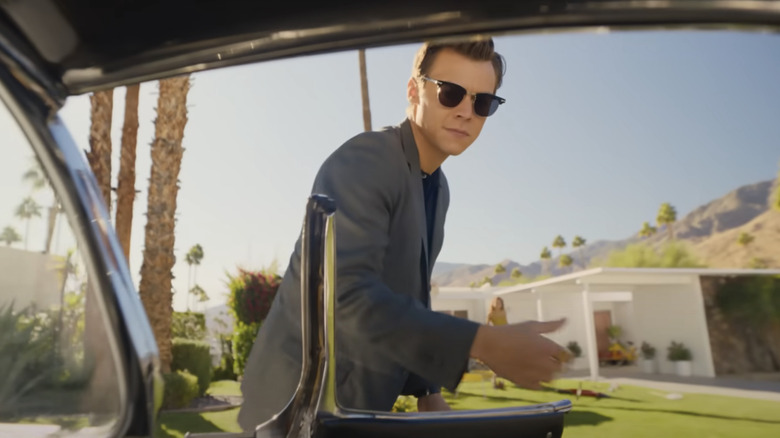 Warner Bros
It turns out that Olivia Wilde had Harry Styles in mind even before LaBeouf signed on to star. During her Vogue profile, Wilde explained that Styles had caught her attention with his role in Christopher Nolan's "Dunkirk," but back in pre-pandemic times (when people dared to exist in close quarters without masks), Styles was set to embark on a World Tour. By the time LaBeouf had accepted then exited the role, the pandemic had flipped the world upside down, live music was an impossibility and Harry Styles had a huge gap in his schedule.
As Wilde has consistently affirmed, this was very good luck, because filling the role of Jack was no easy feat. From the very beginning, Wilde was running into an infuriating problem.
"I cannot tell you how many men read the script and said, 'Unless it's a two-hander, unless I'm in as much—or more—of the script than she is, it's not worth it.'"
In "Don't Worry Darling," Pugh's Alice is the film's protagonist; Jack may be a key player in the story, but his role is a supporting part. And evidently, playing second fiddle to a woman is a hard pill for many actors to swallow. Ironic, given their interest in this particular movie, which clearly grapples with misogyny. Of those who turned down the role, Wilde said:
"It's not their fault. They've been raised with this kind of innate misogyny as a part of their society: 'If I don't take up enough space, I won't seem valuable.' Actresses—highly trained, highly valuable actresses — have appeared in supporting roles in countless films. We don't think about it in terms of, 'My role is not as big as his.' It's, 'Oh, it's a good role. It's a role where I have a brain.'"
Landing the dream team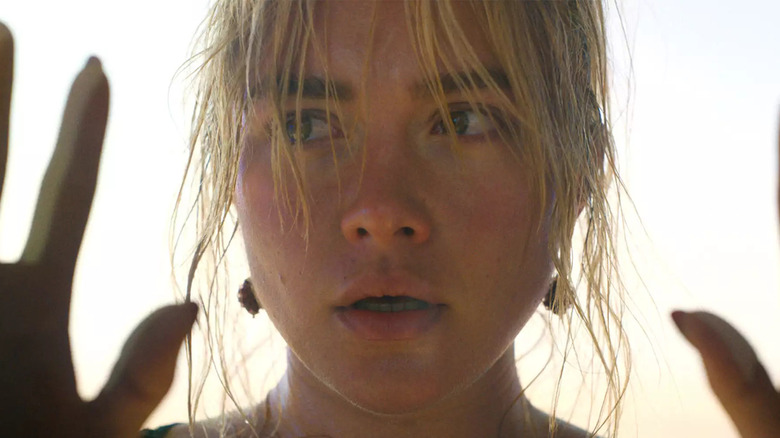 Warner Bros
All that mind-boggling misogyny aside, at least the cast of "Don't Worry Darling" worked out for the best, with a bonafide movie star in the lead role and an immensely talented cast to share the screen with her. In the lead up to the film's release, Wilde has commended her cast for their roles in bringing the film to life. In one Instagram post, she described working with Pugh as "any director's dream," and added, "I will forever be grateful for you, Flo. It was an honor to be your captain. Can't wait for the world to see the astonishing work you've put into this movie." As for Styles, Wilde praised him in a post that also pointed out the struggle of casting his role.
Wilde also wrote in another post on Instagram:
"Little known fact: most male actors don't want to play supporting roles in female-led films. The industry has raised them to believe it lessens their power (i.e financial value) to accept these roles, which is one of the reasons it's so hard to get financing for movies focusing on female stories. No joke, it is harrrrrd to find actors who recognize why it might be worth it to allow for a woman to hold the spotlight.
Enter: @harrystyles, our 'Jack'. Not only did he relish the opportunity to allow for the brilliant @florencepugh to hold center stage as our 'Alice', but he infused every scene with a nuanced sense of humanity. He didn't have to join our circus, but he jumped on board with humility and grace, and blew us away every day with his talent, warmth, and ability to drive backwards."
You too can bask in the glory of Florence Pugh's talents and Harry Styles' ability to drive backwards, when "Don't Worry Darling" arrives in theaters on September 23, 2022.