Jack Nicholson Was Pulling Double Duty During Easy Rider's Production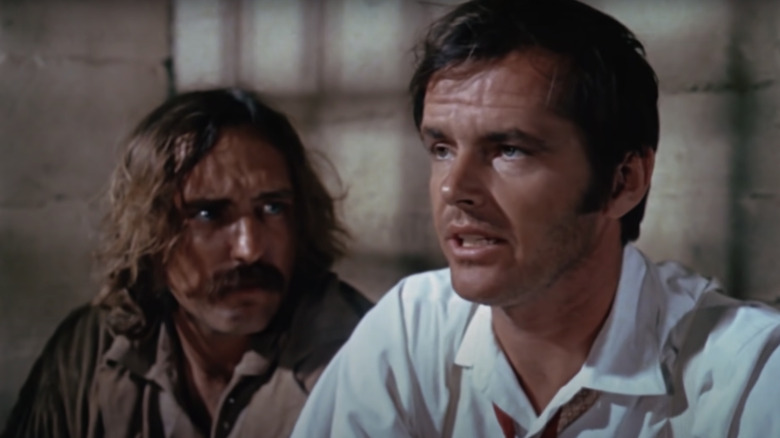 Columbia Pictures
Jack Nicholson received the first of his 12 Academy Award nominations for his supporting role in "Easy Rider," a film that tapped into the '60s counterculture to become a watershed for the New Hollywood era. Yet despite its cultural significance and impact on Nicholson's career, "Easy Rider" had a notoriously troubled production, much of which was documented in Peter Biskind's book, "Easy Riders, Raging Bulls: How the Sex-Drugs-and-Rock 'N Roll Generation Saved Hollywood."
Among other things, "Easy Rider" director and star Dennis Hopper famously pulled a steak knife on actor Rip Torn, who was originally supposed to play lawyer George Hanson, the role that went to Nicholson. Hopper and his costar Peter Fonda also got into a dispute over the film's writing credits, which they shared with Terry Southern. In a 1974 interview with Sight and Sound magazine, Nicholson explained that he only stepped in to act after getting involved in "Easy Rider" on the production side through Raybert/BBS Productions and his eventual "Five Easy Pieces" director, the late Bob Rafelson:
"I became involved in ['Easy Rider'] primarily through production. At that time I was co-producing 'Head' with Bob Rafelson at BBS. Dennis Hopper and Peter Fonda brought the property in. They showed it to Bob and myself first. We ushered it through the financing, bringing a deal in and so forth. Then they started shooting in New Orleans, had production problems and had to change crews. And I got in my crew, that I had been working with independently, to make up the nucleus of Dennis's crew for 'Easy Rider.' I don't know what happened between Dennis and Rip Torn ... but I was approached by [executive producer] Bert Schneider, I always assumed, as much to oversee the production as to play the part.'"
'I had a go-through of the editing of the film'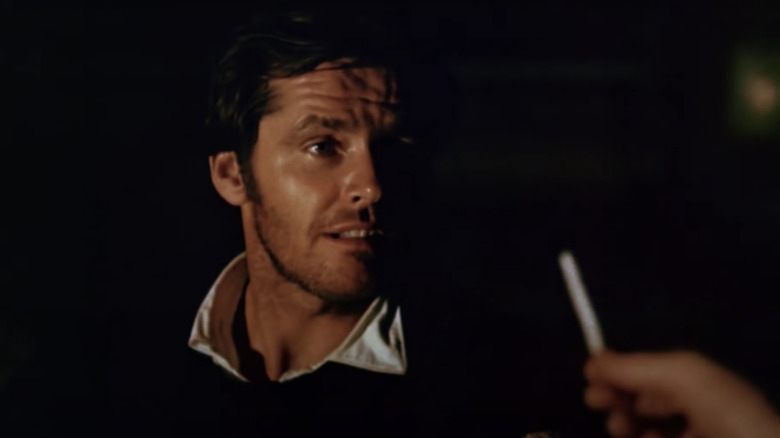 Columbia Pictures
Drugs flowed freely on the "Easy Rider" set and in the screening room, where, according to Biskind's book, Hopper fell in love with a 4.5-hour cut of the movie. After a year of go-nowhere editing, Schneider finally sent Hopper on vacation, trying to limit his focus by tasking him with editing 15 hours of footage from the Mardi Gras parade in New Orleans while editor Donn Cambern and others reshaped the film and cut it down to a "normal length" of 96 minutes. Apparently, Nicholson was also involved in the editing process, as he told Sight and Sound:
"When they were shooting I didn't do anything on the production side; I was just there, and mainly paid attention to my acting job. Afterwards, at everyone's request, I had a go-through of the editing of the film, from where my character entered to the end. Henry Jaglom had a similar job with the first half of it at the same time. That was the next-to-last stage of editing. It was just a very close collaboration of a lot of people."
"Easy Rider" is one of those classics that was forged by a difficult production and has inspired some credit-grabbing in the decades since its release. As Nicholson notes, however, it was, like any other movie, "a very close collaboration of a lot of people."
While Fonda and Hopper's motorcycle-riding characters, Wyatt and Billy, may have crashed and burned — along with any number of New Hollywood careers — "Easy Rider," at least, made it across the finish line and into the history books, while Nicholson went on to enjoy much success with a number of other great roles.