The Daily Stream: Five Easy Pieces And The Last Detail Are A Seminal Jack Nicholson And New Hollywood Double Feature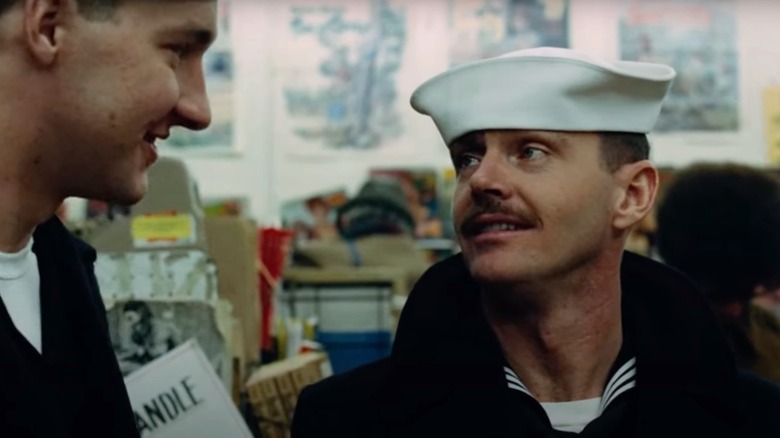 Columbia Pictures
(Welcome to The Daily Stream, an ongoing series in which the /Film team shares what they've been watching, why it's worth checking out, and where you can stream it.)
The Movies: "Five Easy Pieces" and "The Last Detail"
Where You Can Stream Them: HBO Max
The Pitch: In "Five Easy Pieces," an oil worker and former pianist, estranged from his present and past, sees them both collide when he goes home to visit his dying father. In "The Last Detail," two Navy shore patrolmen embark on a hedonistic journey while escorting a naïve young sailor to jail—but they're just as much prisoners of the system.
Why They're Essential Viewing: Jack Nicholson has more Oscar nominations than any other actor except Meryl Streep, and "Five Easy Pieces" and "The Last Detail" are the films that scored him his first two Best Actor noms. Nicholson's breakout performance came in "Easy Rider" in 1969, but that was a supporting role, and these films are the ones that established him as a leading man in the early 1970s before he reached the mid-decade peak of "Chinatown" and "One Flew Over the Cuckoo's Nest."
Long before bringing his lupine grin to "Batman" or "The Departed," Nicholson reigned with Al Pacino and Robert De Niro as one of the preeminent actors of the New Hollywood generation. "Five Easy Pieces" is in the National Film Registry, and it paired Nicholson with producer and director Bob Rafelson, who co-founded BBS Productions, the studio that helped the American New Wave get off the ground with films like this and "The Last Picture Show." It makes an ideal double feature with "The Last Detail," which paired Nicholson with Hal Ashby, another prominent figure from the same era, for a dramedy in which a similar wild-hearted character runs amok.
Five Easy Pieces (1970)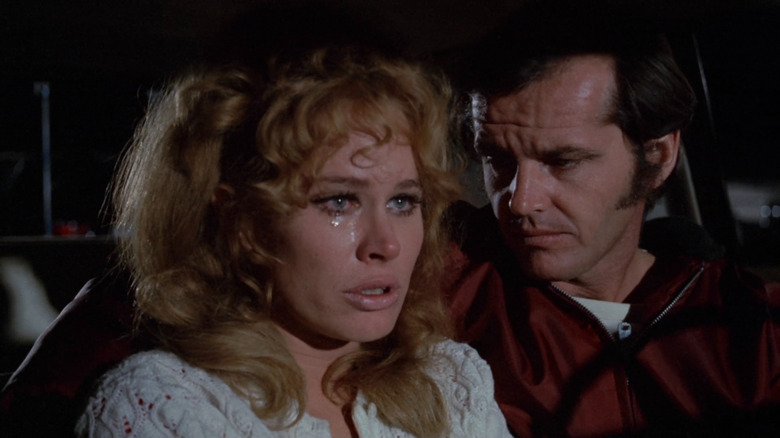 BBS Productions
By now, screen narratives from the perspective of men behaving badly have become rather trite, with countless hours of Peak TV devoted to such antiheroes. It's a testament to Carole Eastman's writing (under the pseudonym Adrien Joyce) along with Bob Rafelson's directing and Nicholson's natural charisma and star power that they're able to overcome this retroactive fatigue and get the viewer invested in Bobby Dupea's story in "Five Easy Pieces."
When we first meet Bobby, he's in a hard hat on a California oil field, working a blue-collar job instead of nurturing his secret piano talent. He comes home to his long-suffering wife, Rayetta (Karen Black), a waitress who lives the Tammy Wynette song that begins the movie: "Stand by Your Man." Notably, the first words heard in "Five Easy Pieces" are the lyrics, "Sometimes it's hard to be a woman."
Bobby mistreats Rayetta around their bowling buddies and is embarrassed to have her meet his well-to-do family. His restless energy leaves him acting out in unpredictable, sometimes reprehensible ways. Yet aside from Nicholson, the most memorable roles in "Five Easy Pieces" belong to women, including Black, Susan Anspach, Sally Struthers, and Helena Kallianiotes, whose scene-stealing hitchhiker rants about man's filth, then looks into the camera and says, "I don't even want to talk about it."
"Five Easy Pieces" is a character study about a man whose perpetual dissatisfaction leaves him shirking his responsibilities and sabotaging his relationships. Notions of the good life sicken Bobby and he can't relate to his trailer park friends any more than he can the intellectual vanity of guests at upper-class dinner parties. As he puts it: "I move around a lot, not because I'm looking for anything really, but 'cause I'm getting away from things that get bad if I stay."
The Last Detail (1973)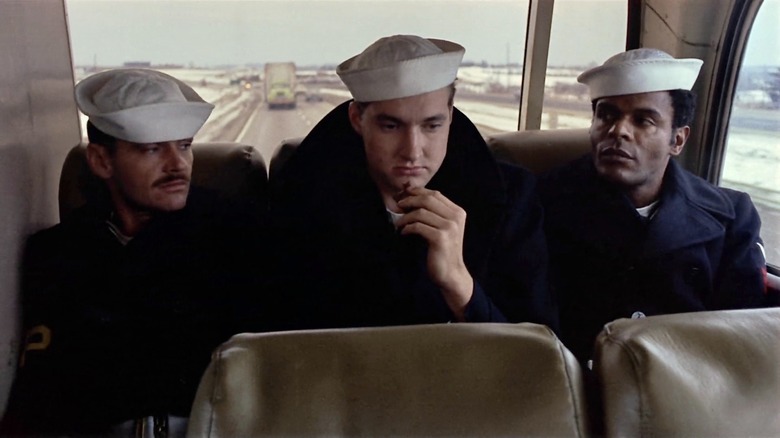 Columbia Pictures
The Writers Guild of America voted Robert Towne's "Chinatown" script the third greatest screenplay of all time (behind only "Casablanca" and "The Godfather"), but it wasn't the first time he wrote a film in which Nicholson starred. "The Last Detail" hit theaters six months beforehand, and it saw Hal Ashby ("Harold and Maude") taking the directorial reins for what amounts to a road movie without a car. (There's one at the start, but it soon gives way to a Greyhound bus and train adventure.)
It begins in Norfolk, Virginia, where a pair of sailors, Buddusky (Nicholson) and Mulhall (Otis Young), are assigned a guard detail that entails delivering a court-martialed prisoner to the brig up in Maine. Meadows, played by a young Randy Quaid, is only 18, but he's been sentenced to eight years for trying to steal $40 out of a polio contribution box. That's a year in prison for every five dollars, and these are the best years of his life he's losing, all because of a stupid mistake driven by his kleptomaniac compulsions.
What follows is a picaresque, pleasure-seeking jaunt from Washington to New York to Boston, where Buddusky tries to teach the kid to stand up for himself. Meadows learns to drink, fight, skate, do some Buddhist chanting and whoring, and not be afraid to send his burger back when the cheese isn't melted.
In Peter Biskind's book, "Easy Riders, Raging Bulls: How the Sex-Drugs-and-Rock 'N Roll Generation Saved Hollywood," Towne characterized the "torrent of obscenities" in "The Last Detail" as "the way people talk when they're powerless to act." In that sense, we're all on our last detail, sharing in the plight of a condemned man and two Navy lifers who are beholden to a system over which they have no control.