Martin Scorsese Gave More Than His Name To Boardwalk Empire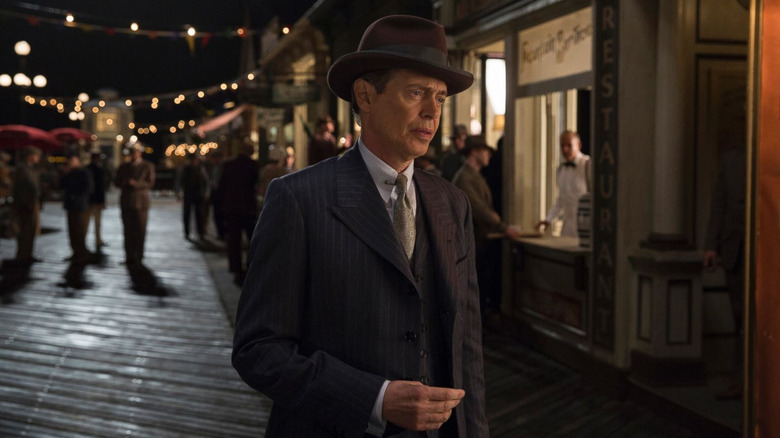 Warner Bros. Entertainment
American period drama "Boardwalk Empire" ended its five-season run, plot-wise, with the termination of Prohibition in the early 1930s. Enoch "Nucky" Thompson (Steve Buscemi) and his disreputable associates rose and fell alongside the crest of a nationwide ban on alcoholic beverage sales the decade prior. Speaking to Esquire at the celebrated series' conclusion in 2014, creator Terence Winter recalled Martin Scorsese's involvement in the show, which quickly evolved from producing to directing the pilot:
"HBO told me, 'You're going to go to Martin Scorsese's house and meet him to talk about the show' and I was like a girl going to the prom. What should I wear? [laughs] Literally, I got to his house 20 minutes early and walked around the block. I didn't want to be too early, I didn't want to be too late, I didn't want to appear too eager. This was one of my idols. It's really kind of goofy, but it is absolutely true."
Originally, Scorsese's credit was as executive producer, only months removed from the February 2010 release of his "Shutter Island" adaptation. But upon reading the screenplay for the pilot episode, Scorsese was inspired to get behind the camera. Winter recalls the moment to Esquire:
"He called me up and said, 'I just read the pilot. I think it's terrific. I think I'd like to direct it.' I almost fell out of my chair. He asked, 'How do we move this forward?' I said, 'Well if you pick up the phone and call the president of HBO and tell him what you just told me, I'm pretty sure we're going to be moving forward pretty quickly.' Five minutes later, I got a text message from [HBO CEO] Richard Plepler and it was just all exclamation points."
'I always come away from a conversation with Marty with homework'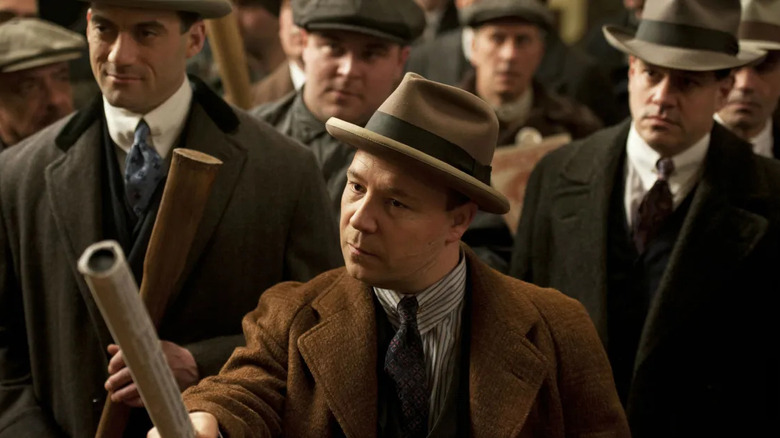 Warner Bros. Entertainment
The "Raging Bull" director helmed the "Boardwalk Empire" pilot episode, introducing audiences to Nucky Thompson and the Prohibition-era politics in Atlantic City. Astronomical viewer ratings on the debut prompted HBO to renew the series entire for a second season before the second episode even aired. Winter vouches that Scorsese, who hadn't directed a television episode since a segment on Steven Spielberg's "Amazing Stories" series in 1986, kept his hands firmly on the project all along:
"He's extremely hands-on in terms of music choices and things like that. He's got this incredible ability to keep everything straight in his mind like no one I've ever met. I sent him a cut of an episode during season 3 that he watched and two months later I sent him another cut but I had changed the scene order. It was very subtle, I just changed the order in which the scenes played out, and within five minutes he was like, 'Why did you flip those scenes?' He remembers shots from movies he hasn't seen in 30 years. He'll mention some obscure movie and say, 'There's a camera movement in this; I want you to go get it and watch this,' and he'll describe the shot. Sure enough, you'll go watch it and it's exactly the way he described it ... I always come away from a conversation with Marty with homework. Not that it's assigned, but he'll mention four movies or four books that I'll jot down that I've got to check out. Just offhandedly. There's always another movie I haven't seen or another book or piece of art or something. It's always fascinating."
The homework didn't discourage Winter, who would go on to write the screenplay for "The Wolf of Wall Street" and create another series with the director.