Ghostbusters: Spirits Unleashed: Everything We Know About The New Video Game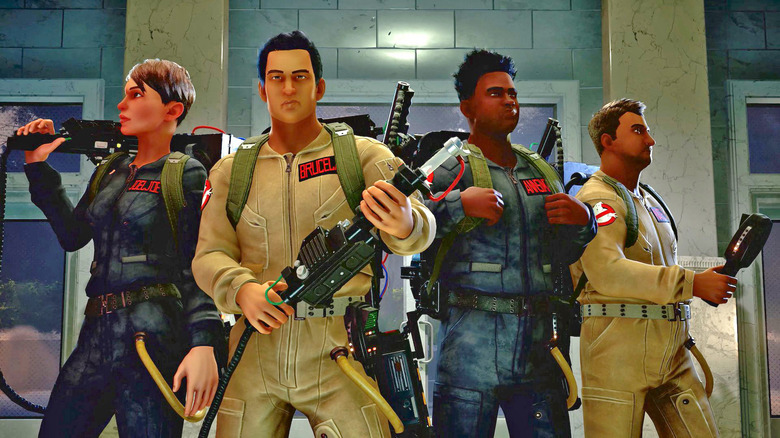 Illfonic
While we're waiting for the next installment of the "Ghostbusters" film franchise to pick up after the events of "Ghostbusters: Afterlife," the game developers at IllFonic have something to hold you over. 
"Ghostbusters: Spirits Unleashed" is a new video game from the creators of the "Friday the 13th" slasher game that let players either slice and dice through camp counselors as Jason Vorhees or forces them to survive the deadly advances of the hockey-masked killer. That same multiplayer formula is being applied to the "Ghostbusters" franchise with plenty of video game thrills and chills that will have you bustin' all over. If this is the first you're hearing of "Ghostbusters: Spirits Unleashed," we've got everything you need to know about the new video game right here.
What is Ghostbusters: Spirits Unleashed?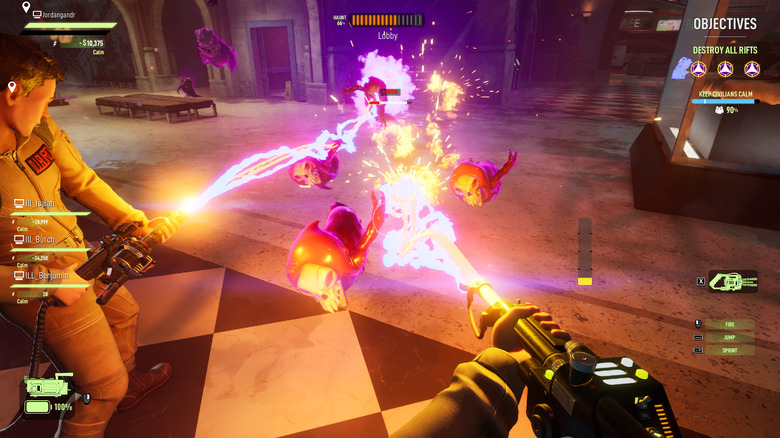 Illfonic
"Ghostbusters: Spirits Unleashed" is described as a four-on-one hunt or haunt action-packed asymmetrical multiplayer. If you're not familiar with the game variant, it's basically a genre where there are two or more groups of players with different objectives and gameplay mechanics, typically in opposition to each other. The aforementioned "Friday the 13th" video game is a prime example of that, as well as the "Predator: Hunting Grounds" game.
In the new "Ghostbusters" game, you'll be part of a four-player team of Ghostbusters tasked with tracking down and capturing ghosts in a number of locations. Players will use their trusty PKE Meter to discover ghosts, and this little item even has a short-range pulse disabling Ghost movement. But you didn't just come here to find ghosts. You came here to bust them.
In the game, your Ghostbusters team will unveil hidden rifts and teleportation portals where ghosts are spawning. You'll have to figure out how to destroy those gateways and stop spirits from being unleashed into the world. Of course, there will be plenty who make it through and wreak havoc in museums, prisons, and other haunted locations. That's when you'll have to whip out your Particle Throwers to wrangle a ghost before tossing them into your signature Ghost Trap. Bustin' will absolutely make you feel good.
As a member of the Ghostbusters, you'll also be able to explore the Firehouse headquarters, which is filled with both new and recognizable characters, each with personalized equipment. You can connect with friends you know or play with strangers across the world in random matchmaking. If you'd rather fly solo, you can also play with and against AI bots. 
Spooks, specters and ghosts
On the other end of the spectrum, you can play as the Ghost, who will be working on their own. They'll roam around the various haunted locales, frightening civilians and possessing objects to "raise the overall Global Haunt percentage, regain ghost power, or just cause mass hysteria." You can stun the Ghostbusters with slime, move rifts around to keep them scrambling, and summon minions to help you get away from their nasty traps.
The Ghost has some customizable options too. Players will head to Ray's Occult Books to enter the spectral realm in order to change up their Ghost's loadout, skin, and other spooktacular options. The Ghostbusters you square off with just might be afraid of at least one ghost this time.
What's the Ghostbusters: Spirits Unleashed release date?
Illfonic
"Ghostbusters: Spirits Unleashed" will be available on PC via Epic Games Store, PlayStation 4 and PlayStation 5, and Xbox Series X|S and Xbox One. An Internet connection is required for cloud save and online play, and multiplayer functions also require a PlayStation Plus subscription or an Xbox Live Gold subscription.
Pre-orders are available now, and they'll get you advance access to Slimer as a playable Ghost, as well as a custom Particle Thrower and Proton Pack. Plus, if you get the physical edition of the game, you'll gave advance access to "The Basher Ghost", a rare ectoplast skin, a remote trap vehicle kit, and a special PKE meter.
"Ghostbusters: Spirits Unleashed" will be released on October 18, 2022.
Watch the Ghostbusters: Spirits Unleashed trailer
Here's the official synopsis for "Ghostbusters: Spirits Unleashed" from Illfonic:
Ghostbusters: Spirits Unleashed is coming to a platform near you.

As a Ghostbuster, join with other Ghostbusters to chase and trap ghosts in museums, prisons, hotels, and more, and capture the ghosts before they can fully haunt the areas.

Or, as the Ghost, hide, sneak, surprise, scare, and of course, slime Ghostbusters and civilians until the everything has gone completely spooky. Use trickery, deception, and Ectoplasm to gain the upper hand and drive the Ghostbusters out.