Ghostbusters: Afterlife Sequel Will Be Set In New York City, New Animated Film Also In The Works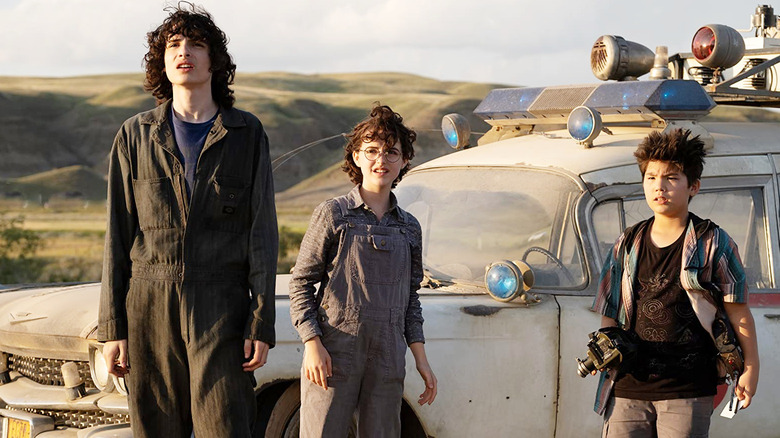 Sony Pictures
Forget Morbin,' it's all about Bustin' at Sony Pictures now. The studio is going all-in on the "Ghostbusters" franchise after 2021's "Ghostbusters: Afterlife," a legacy-quel that delivered where it counted at the box office, grossing $204.6 million on a $75 million budget. As part of Ghostbusters Day yesterday, which marks the annual release of the very first "Ghostbusters" movie on June 8, 1984, the studio re-confirmed its plans to move forward with a sequel to "Afterlife" along with announcing an animated "Ghostbusters" movie and a new cartoon series that will stream on Netflix.
If you're feeling a sense of déjà vu, it might be because you recall that Sony previously revealed it was working on an animated "Ghostbusters" film all the way back in 2015. By the look of it, however, this newly-announced animated movie is unrelated to that earlier one. At the very least, it has a whole-new creative team, with Jennifer Kluska ("Hotel Transylvania: Transformania") and "Big Mouth" producer Chris Prynoski directing from a script by Brenda Hsueh ("How I Met Your Mother," "Mr. Corman").
Gil Kenan, who co-wrote "Afterlife," is overseeing development on the animated "Ghostbusters" film with "Afterlife" director Jason Reitman, having gotten his own start by helming the well-received 2006 animated haunted house comedy movie "Monster House." The film is described as being "part of the expanding 'Ghostbusters' universe," suggesting it may focus primarily on never-before seen characters and specters in the franchise. (That's what I'm hoping for, anyway. Might as well be cautiously optimistic, yes?)
Going back to the firehouse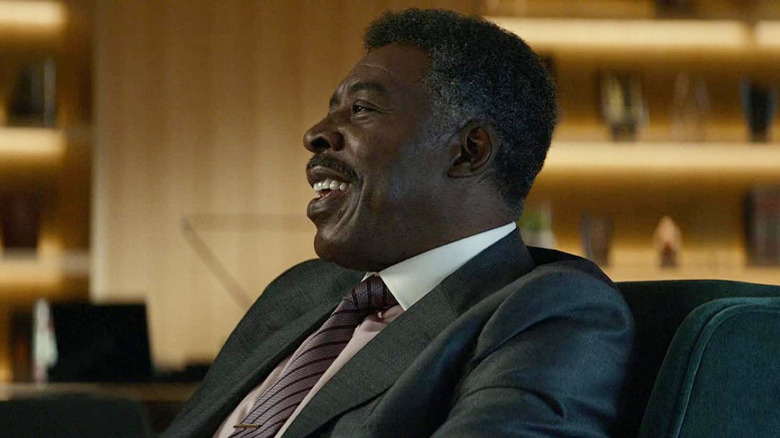 Sony Pictures
As for the "Ghostbusters: Afterlife" sequel, the plan is to build on the movie's post-credits tease by staging a "return to the original films' New York City and Firehouse setting." To jog your memory, "Afterlife" ends with a credits scene revealing that Winston Zeddemore (Ernie Hudson) became a very wealthy man and started a family in the years between 1989's "Ghostbusters II" and "Afterlife," even buying the Ghostbusters' old firehouse and keeping the lights on at his pal Ray Stantz' (Dan Aykroyd) book shop, Ray's Occult Books.
The implication, in other words, is that Winston will be financing the new Ghostbusters team in the "Afterlife" sequel, with the late Egon Spengler's grandkids Trevor (Finn Wolfhard) and Phoebe (Mckenna Grace) and their friends presumably being involved in some way. Jason Reitman and Gil Kenan are currently working on the film's script, which has the working title "Firehouse," along with a Dark Horse "Ghostbusters" comic book series that will (per Sony) "help bridge the gap between 'Ghostbusters: Afterlife' and the upcoming sequel."
Honestly, this would all be much more exciting if "Afterlife" hadn't diluted down what might've been a charming throwback to 1980s-style Amblin movies with an exhausting stream of Easter Eggs and winking nods to the earlier "Ghostbusters" films (culminating with a clumsy third act that goes way overboard on the nostalgia, even for a legacy-quel). There's certainly more fun to be had with the "Ghostbusters" universe in the right hands, but for now, I'm just waiting to see if Reitman and Kenan have more up their sleeves than tedious fan service.