Steven Yeun Thinks Invincible Season 2 Will Take The Show's Popularity To Another Level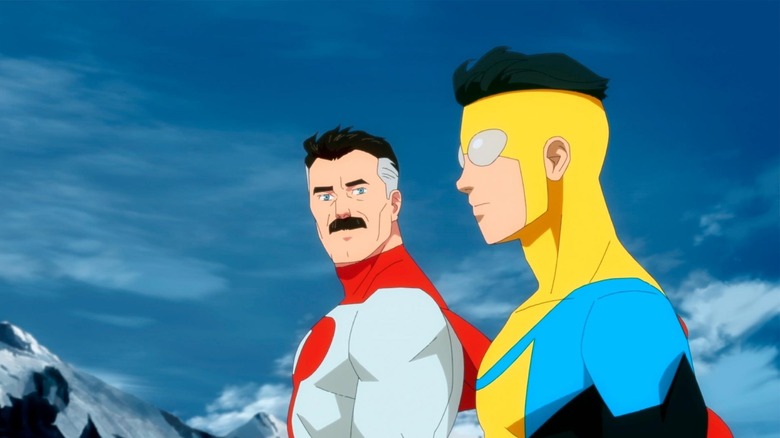 Prime Video
The first season of Prime Video's "Invincible" quickly established itself as one of the best superhero shows on the market, targeting adult audiences with its ultra-violent animated action and remarkably relatable coming-of-age story. A subversion of the genre, the series does not hesitate to divert from typical superhero fare through its mature storytelling. It also produces some of the funniest memes on the internet, a byproduct of the show's popularity and distinct personality. With a second season now in development, the animated series looks to up the ante in every way possible and reach new heights in popularity. 
Based on the comic book created by Robert Kirkman and Cory Walker, "Invincible" has a lot of source material to pull from. The first season only adapts a fraction of the comic book series, leaving volumes of stories ripe for a bigger, bloodier second outing. If you don't believe us, hear out Steven Yeun, the voice behind Mark Grayson (aka Invincible), who has very high expectations for the upcoming season. He also predicts that "Invincible" is simply the tip of the iceberg when it comes to adult animation — but in the growing supply of superhero offerings, I'd argue that the series is already a worthy entry in the genre.
Taking it to the next level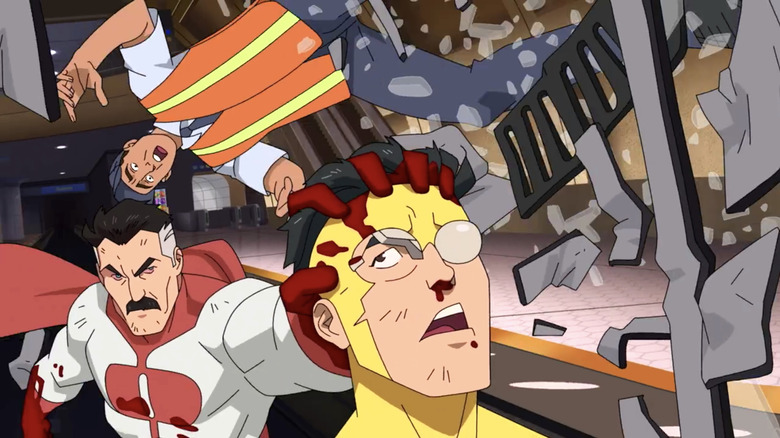 Prime Video
The eight-episode installment only scratches the surface of the original comic book run, but still features major developments for its main hero and surrounding characters. With Omni-Man's true intentions out in the open, there is a lot at stake in the next season of "Invincible." Yeun spoke to Collider about the status of season 2, revealing that the show's creator, Kirkman, is beyond excited about the next installment. In fact, he thinks that the sophomore outing will outdo the first, and Yeun completely agrees with him:
"[Kirkman's] super excited about it. He thinks season 2 is gonna be even better than season 1, which I have no doubt about. If you go to his source material, Invincible is an incredible comic, and just thinking about how much story hasn't been told from that run, it's gonna be bonkers. I'm really excited about it."
In regards to the show's popularity, the "Invincible" star adds that he "did not expect this level of response," but humbly attributes the audience reaction to "America's appetite now for adult animation, which is really cool." He's not wrong — there has been a rise in mature animated content in the mainstream, including projects outside of the superhero realm. From culture-shifting anime like "Attack on Titan" to experimental anthology shows such as "Love Death + Robots," the medium is expanding rapidly. That said, what makes "Invincible" special within the mature side of the superhero genre is how it develops its coming-of-age narrative.

Unlike any other superhero show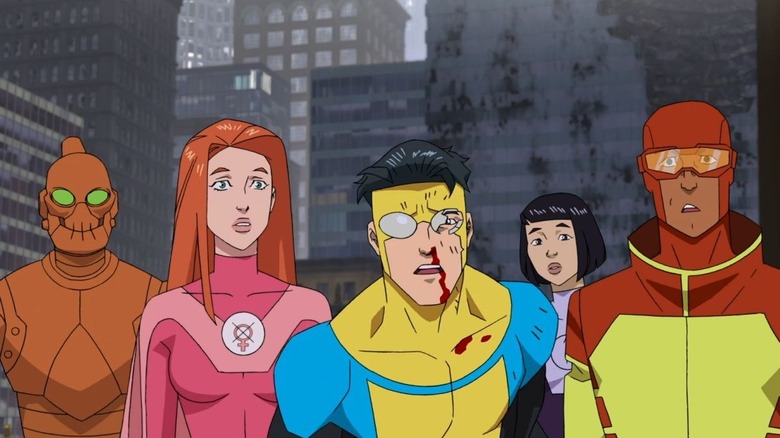 Prime Video
"Invincible" may not be the only comic book adaptation that subverts the genre on the small screen, but what sets it apart from other gruesome shows like "The Boys" is its commitment to developing a young protagonist within a rich, fully developed superhero world. Amidst the blood-soaked capes and alien warships is a tale about the typical adolescent rushing towards adulthood. Not only is it relatable, but the stakes could not be higher — personally and universe-wide. As Mark reckons with the deadly repercussions of his mere existence, he has to put up a fight against a truly invincible force of nature: his own father, Omni-Man (J.K. Simmons).
Asked why "Invincible" differs from other superhero stories, Kirkman said in a roundtable interview that we as the audience "get to see him grow and change and evolve over time in a way that you'll never see Spider-Man or Batman or anybody like that." As the show covers the lengthy source material (which has a definite ending), we witness Mark's journey from a child to a full-fledged superhero. Even in its first season, the viewer gets to grow and reflect alongside Mark while develops into the person he aspires to be. The blood and guts that occasionally cover him from head to toe are simply the cherries on top of the "Invincible" experience, which only gets crazier from here on out. 
If "Invincible" continues to grow in epic scale and heart, it's a healthy bet that the show will indeed soar in popularity, as series star Yeun predicts.