Everything Everywhere All At Once Directors Team With Nathan Min And Steven Yeun For A24 Comedy Pilot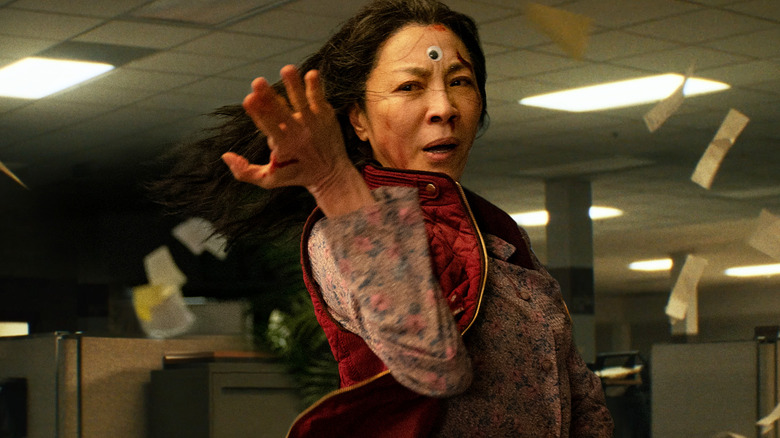 A24
The filmmaking duo known collectively as Daniels (Daniel Kwan and Daniel Scheinert) struck rhetorical gold with their multiverse-spanning A24 outing "Everything Everywhere All At Once." The film, which just became A24's first film to cross the $100 million mark at the global box office, had remarkable legs — alongside strong critical acclaim — for a mind-bending feature about a woman who starts jumping through her alternate universe lives while struggling with taxes. It's a wonderful surrealist comedy with action and sci-fi elements, showcasing the directors' creativity and talent in one of the best movies of the year.
The dynamic directing duo will already be returning to the surrealist comedy vein, with Showtime greenlighting a new series pilot order, announced today. This time the pair will team up once again with A24 producing, alongside Nathan Min as creator, EP, and star, as well as "Nope" co-star Steven Yeun, who will be co-executive producing under his Universal Remote banner. Undoubtedly it will prove an imaginative, whimsical outing, as Daniels have repeatedly shown their creativity and skill with absurd premises via "Everything Everywhere" as well as their earlier project "Swiss Army Man."
It's about to get ... well, not loud. Quiet.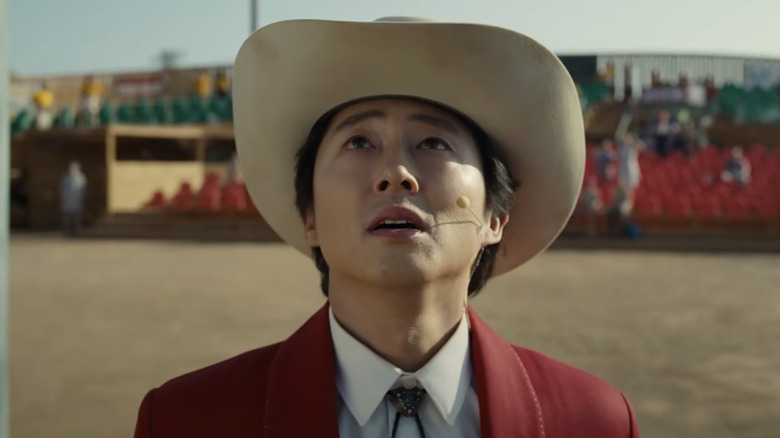 Universal Pictures
The half-hour pilot will be titled "Mason," described as a surrealist comedy about a man named Nathan (a name often misheard as Mason, ergo the series' title), a quiet man who finds himself looking for connection in a difficult, noisy world. The Daniels duo will direct and executive produce the series, which will be based on creator Nathan Min's life.
Both Daniels and Steven Yeun have successful histories with A24, the distributor of both "Everything Everywhere All At Once" and "Swiss Army Man," as well as the Steven Yeun-starrer "Minari." Min, a cartoonist, writer, and comedian, is recently known for his work as a co-producer on "Joe Pera Talks With You."
In a statement, Showtime Executive VP of Original Programming for Global Scripted Amy Israel explains Showtime's excitement over the project:
Nathan has brought Showtime a disarmingly funny and emotional project that feels like a punch to the gut in how astutely it conveys the trials and tribulations of being a human today. We can't wait to see him team up with Daniels – who have emerged as a force with their incredible, mind-bending film that revolutionized what seemed possible on the screen – as well as the immensely multi-talented Steven Yeun and our friends at A24. MASON has every chance of emerging as a brilliant and cathartic comedy for our viewers.
No word yet on the pilot's supporting cast or anticipated premiere date.