Shows Like Invincible You'll Want To Binge Right Now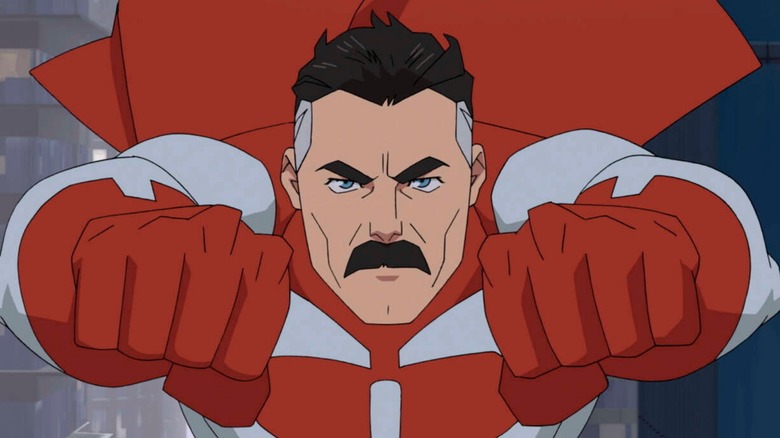 Prime Video
If you think that all cartoons about caped crusaders are for audiences of all ages, Prime Video's "Invincible" will shock you with its violence and cynicism. Based on the Image Comics series by Robert Kirkman, Cory Walker, and Ryan Ottley, "Invincible" is similar to other projects by "The Walking Dead" co-creator Kirkman. It deconstructs a popular genre and offers a more nuanced take on familiar archetypes.
"Invincible" revolves around a teenage boy named Mark Grayson (Steven Yeun). Mark's father, Nolan (J.K. Simmons), is an alien from the planet Vitrum, and is better known to the masses as the superhero Omni-Man. Nolan possesses incredible strength and the ability to fly, but while he pretends to be a mild-mannered travel writer in his civilian identity, he's secretly violent and abusive. As Mark grows up, he begins to recognize his father's true nature.
"Invincible" is a terrific coming-of-age story. Being a teenager is stressful enough on its own; having to deal with emerging superpowers only makes things more difficult for Mark. "Invincible" also does a great job at depicting a complex familial relationship, and its harrowing emotional moments are just as gripping as the bloody action sequences. If you loved "Invincible," you will definitely want to binge these shows as well.
The Boys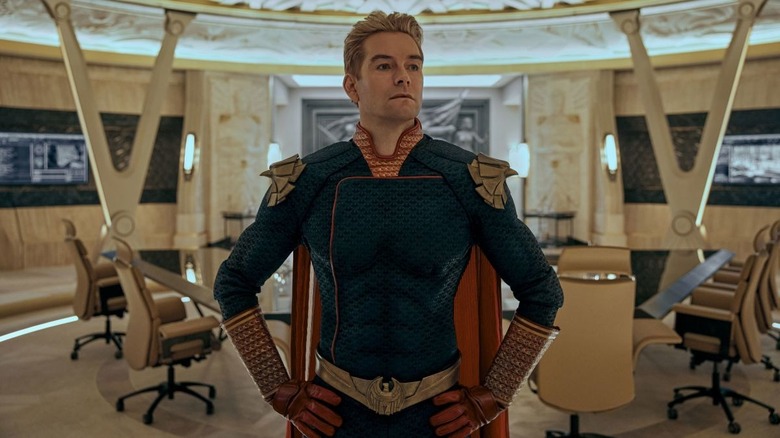 Prime Video
Superhero media is more popular than ever before. It seems like a new project based on a Marvel or DC property is announced every single day. However, "The Boys" offers a more nuanced perspective on the genre than most mainstream projects. Similar to "Invincible," "The Boys" explores how the public's perception of superheroes clashes with their actual nature.
Both shows pull off a similarly tricky task: They lampoon familiar comic book archetypes, but also get to indulge in the genre's excesses. Neither show is for the faint of heart, either. Both "Invincible" and "The Boys" contain moments that are so graphic and disturbing that they make even the most hardened fans squirm. However, both shows are also completely addictive. Even if you are turned off by the violence, you can't help but watch the next episode.
Omni-Man is also very similar to Homelander (Antony Starr), one of the main villains on "The Boys." Homelander is the leader of the Seven, a Justice League-type superhero squad. Despite being known by the public as a hero, Homelander is violent, cruel, and unhinged, and Antony Starr brings all of his flaws to life with one of the best performances currently on television.
Watchmen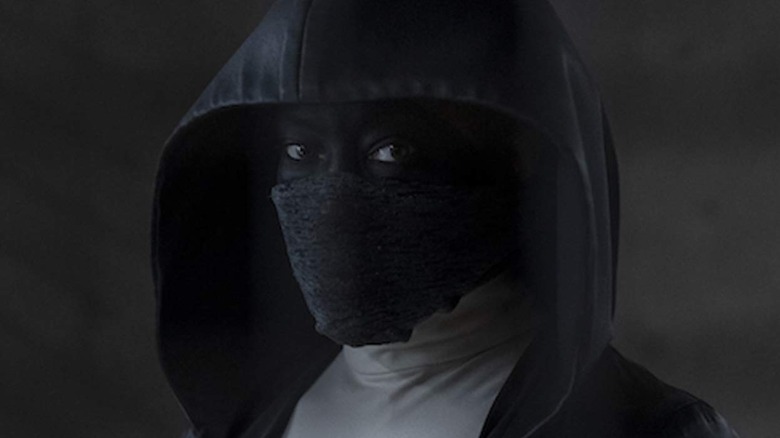 HBO
The 1986 graphic novel "Watchmen" isn't just one of the most important texts in the history of superhero media; it's a foundational work of American literature. It is the only graphic novel that was included on Time Magazine's list of the 100 greatest English-language novels published since 1923. "Watchmen" has such a complex story, however, that adapting it to live-action has proved to be more than many filmmakers can handle. HBO's 2019 limited series avoided these pitfalls by taking the themes of the original text and inserting them into the modern day.
One of the reasons why the original "Watchmen" is so incredible is its incorporation of political, social, and cultural commentary that was relevant at the time of its release. "Watchmen" takes place in an alternative version of 1985, where superheroes have influenced American history since World War II, and addresses issues like power and authoritarianism and the thin — maybe even non-existent — line between good and evil.
Instead of reiterating the same themes, the HBO series tackles topics that are at the forefront in the 21st century. "Watchmen" offers loaded insights on police brutality, systematic racism, trauma, and political radicalization. As such, HBO's "Watchmen" isn't a straight adaptation. Series creator Damon Lindelof refers to it as more of a "remix." If you enjoyed the subversive nature of "Invincible," you will appreciate "Watchmen" as well. 
Compared to multi-season superhero shows like "Arrow" and "Daredevil," "Watchmen" is also a pretty quick binge. The series manages to wrap up its story in only nine episodes, and does not feel bloated in the slightest.
Buffy the Vampire Slayer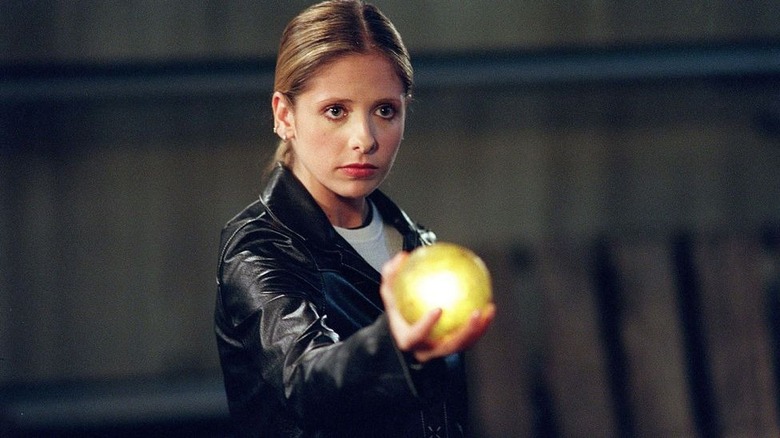 20th Century Fox Television
If you enjoyed the coming-of-age aspects of "Invincible," then "Buffy the Vampire Slayer" could become your next television obsession. This groundbreaking teen fantasy drama explores the difficulties of growing up through the perspective of a teenage superhero. Similar to how "Invincible" wrestles with common themes in the superhero genre, "Buffy the Vampire Slayer" serves as an alternative to stereotypical monster movies. Despite what the title may suggest, Buffy's rogue's gallery isn't limited to blood-sucking vampires. The teenage monster slayer, who became a feminist icon thanks largely to Sarah Michelle Gellar's remarkable performance, encounters all sorts of mythological creatures over the course of the show's seven seasons.
"Buffy the Vampire Slayer" grew more mature as it continued. While season 1 is entertaining, it only teases the heights that the series would rise to. In the later seasons, "Buffy the Vampire Slayer" went from an amusing and spooky teen comedy to an essential drama about the perils of adulthood. Buffy grows up, and along the way explores her sexuality, loses her mother, and becomes a leader.
Batman: The Animated Series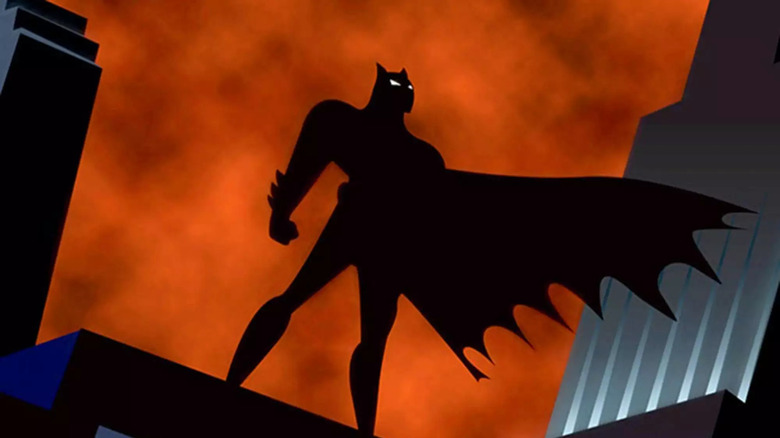 Warner Brothers Animation
"Batman: The Animated Series" isn't just one of the best onscreen takes on the Caped Crusader, and it's not just a great animated series. It transcended all expectations for either genre, and became one of the most important television shows of the last few decades. It's unlikely that we would get mature animated superhero stories like "Invincible" if it wasn't for the precedent set by "Batman: The Animated Series." The show proved that animation wasn't just for kids; even though it appealed to a youthful audience, "Batman: The Animated Series" has just as much to offer adults.
Omni-Man is a complex villain, and "Invincible" does a great job at fleshing out his motivations and exploring his backstory. "Batman: The Animated Series" brought the Dark Knight's antagonists to life with similar depth. Although the competition is fierce, Mark Hamill's version of the Joker is the definitive version of the character, with a take that's both demented and playful.
"Batman: The Animated Series" includes many episodes dedicated to different bad guys. "Heart of Ice," for example, explores the heartbreaking backstory of Mr. Freeze, offering up a much more nuanced depiction of the character than the campy Arnold Schwarzenegger version found in 1997's "Batman & Robin."
BoJack Horseman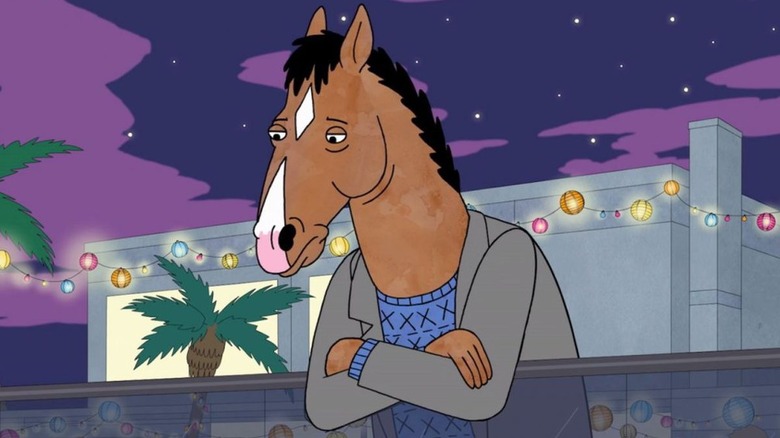 Netflix
Animation is a great tool for delving into mental health issues, allowing creators to tackle social stigmas and inner turmoil by using creative visual techniques. "Invincible" is essentially a series that revolves around trauma: Mark has to wrestle with the fact that his father has lied to him for his entire life, while Omni-Man's challenging upbringing transformed him into the hero (and villain) that we know today.
Ironically, a show about talking animals is more "human" in that regard than most live-action shows. The Netflix animated series "BoJack Horseman" has been praised for its nuanced depiction of depression, alcoholism, creative anxiety, and celebrity culture. It follows the titular star (Will Arnett) of a popular 1990s sitcom who, after his career peaked, lost himself in his indulgences. He struggles with addiction, and is unable to launch a successful comeback. BoJack's greatest villain is himself; as much as he wants to get better, BoJack can't help but make his situation worse.
Like Mark in "Invincible," BoJack's life is dominated by the abuse he suffered at his parents' hands, and he wrestles with the demons from his past throughout the series. "BoJack Horseman" is incredibly respectful with how it tackles these sensitive topics, too. Finally, like "Invincible," "BoJack Horseman" offers up a fair amount of humor to balance out the darker moments.
The Punisher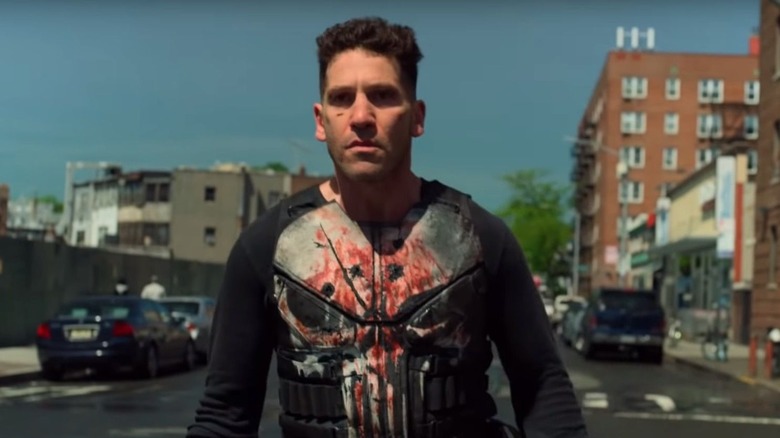 Netflix
When they debuted, Netflix's Marvel shows offered a more mature alternative to the Marvel Cinematic Universe. While the MCU films are fairly comedic, the Netflix shows were relatively grounded and serious. Each one of these series tackled a different political or social issue: "Daredevil" explored the ethical dilemmas surrounding the law, "Jessica Jones" dealt with female rage and trauma, "Luke Cage" addressed racial discrimination, and "Iron Fist" (unsuccessfully) tried to confront the wealth gap.
Netflix's version of "The Punisher" is the best live-action interpretation of the character. While previous film adaptations were nothing more than bland, shoot-'em'-up action movies, Jon Bernthal played up the tragic backstory that transformed Frank Castle into a vigilante. Castle is haunted by his experiences in the military, and when loses his entire family in a tragedy, he decides to take the law into his own hands.
Like "Invincible," "The Punisher" has no shortage of shocking moments. Castle's battle with Billy Russo (Ben Barnes) at the end of the first season is unforgettable. However, the violence isn't there just for shock value — it would have felt disrespectful if the series had shied away from Castle's struggles with post-traumatic stress disorder.
Star Wars: Clone Wars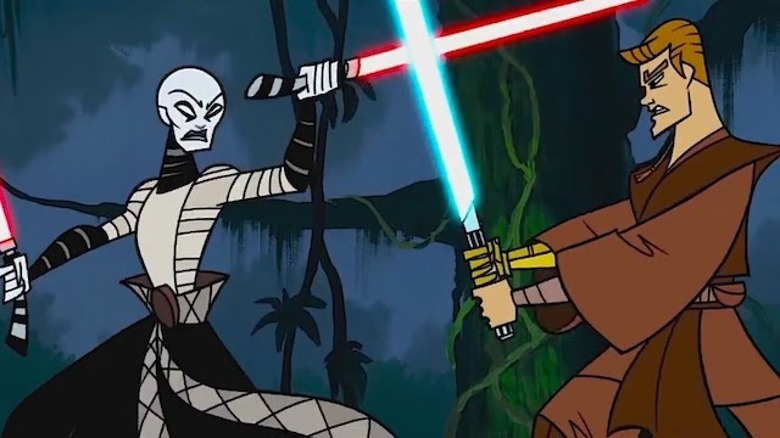 Lucasfilm Limited
Star Wars is a dominant media franchise, but before Disney acquired Lucasfilm, its presence on television was rather scarce. It took Dave Filoni's "Star Wars: The Clone Wars," which debuted in 2008 after the theatrical release of the film of the same name, to really establish the series' ongoing presence on the small screen. 
However, Filoni's version of "The Clone Wars" isn't the only animated show that takes place between 2002's "Star Wars: Episode II — Attack of the Clones" and 2005's "Star Wars: Episode III — Revenge of the Sith." In 2003, animator Genndy Tartakovsky, who was best known for his work on "Samurai Jack" and "Dexter's Laboratory," created a very unique Star Wars series titled "Star Wars: Clone Wars." Like Filoni, Tartakovsky fleshed out the war between the Jedi Order and the emerging threat of Count Dooku (Corey Burton) and his Confederacy of Independent Systems. Tartakovsky told fast-paced stories that unfolded in short, action-focused episodes. The episodes in season 1 and season 2 were between 3 and 5 minutes; season 3 included extended episodes that were as long as 15 minutes.
Due to the shorter runtimes, "Clone Wars" offered a wide variety of "Star Wars" action. Similar to "Invincible," "Clone Wars" made its respective genre feel fresh again, thanks to its unique depiction of stylized combat, and pushed the space opera in a number of intriguing new directions.
Legion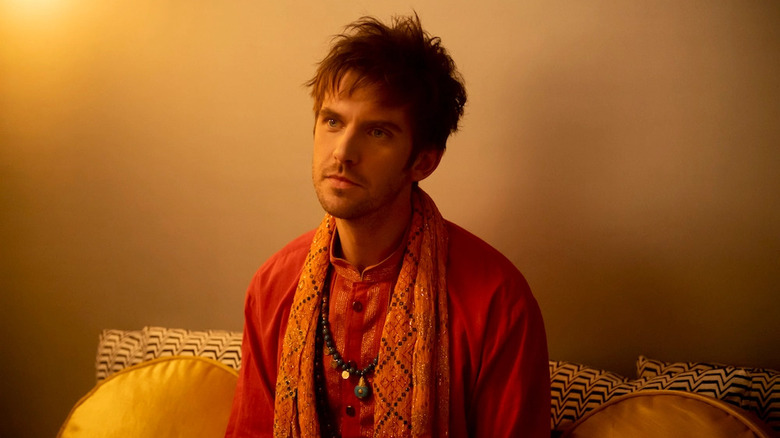 FX
The FX superhero series "Legion" is based on the X-Men character of the same name, who was created by Chris Claremont and Bill Sienkiewicz, but it does not directly tie into 20th Century Fox's X-Men film franchise. Showrunner Noah Hawley instead takes a subversive approach to the superhero genre, using David Haller (Dan Stevens) and his powers to explore mental health issues. Before "Legion," Hawley had steered the FX series "Fargo," which drew inspiration from the classic Coen Brothers film. Similar to "Fargo," "Legion" pays homage to its source material, but tells a much darker and more emotionally nuanced story.
Both "Legion" and "Invincible" use their characters' powers as a metaphor for the stigma against those who are dealing with trauma. Both Mark in "Invincible" and David in "Legion" are struggling to overcome their difficult childhoods. David was diagnosed with schizophrenia when he was young because he started hearing voices in his head. However, as an adult David discovers that his superpowers are psychic in nature, and that he might be completely sane. As a result, David struggles to define who he really is.
Defending Jacob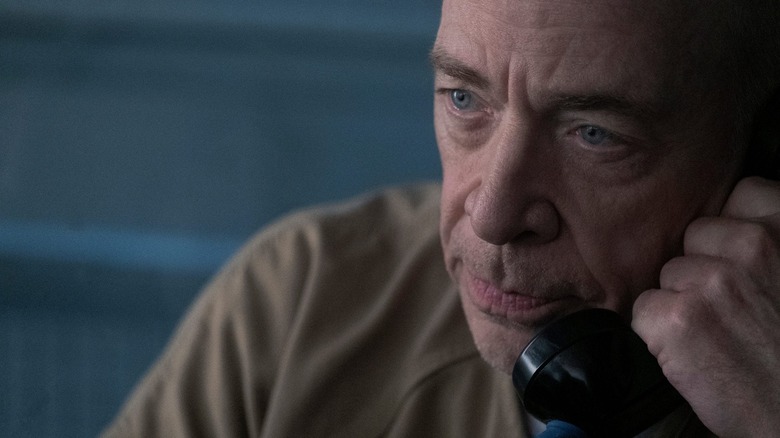 Apple TV+
J.K. Simmons is one of the best and most versatile actors working today. Regardless of how large his role is, he never fails to make his characters memorable. You don't even see Simmons' face in "Invincible," but he creates a memorable antagonist out of Omni-Man using the power of his voice alone. Omni-Man has seen true evil during his experiences in space, but he tries to justify his violent behavior. He shows true affection for his son, Mark, but doesn't realize that his lies have only made Mark's adolescence even more difficult.
If you want to see Simmons take on another complex father figure, check out the excellent Apple TV+ miniseries "Defending Jacob." Based on the 2012 novel by William Landay, the series follows Andrew Barber (Chris Evans), a successful lawyer who learns that his teenage son, Jacob (Jaeden Martell), has been accused of murder. Andrew is caught between his obligations to the law and his love for his son.
One of the most engaging subplots in "Defending Jacob" is Andrew's confrontation with his father, William (J.K. Simmons). William is a convicted murderer who earned the nickname "Bloody Billy" for his crimes, and Andrew is disturbed when he begins to notice similarities emerging between William and Jacob.
The Americans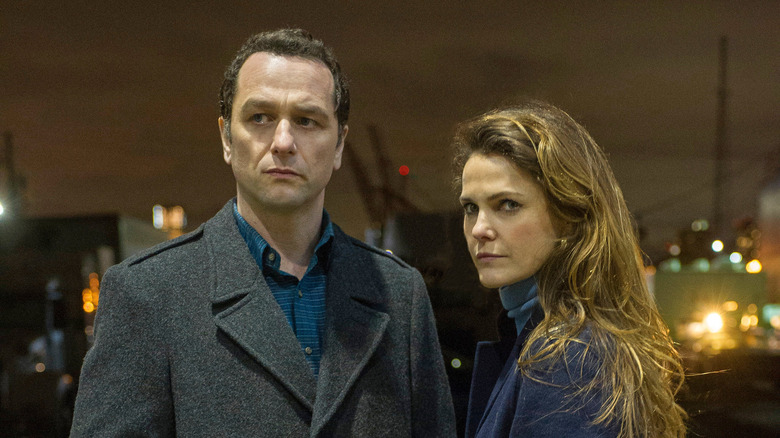 FX
Besides being a subversive sendup of the archetypes found in superhero stories, "Invincible" is also an effective family drama. If you forget all about the superpowers and intergalactic creatures for a moment, the familial scenes between Mark and Nolan are very relatable. Questioning your parents' beliefs is just a part of growing up, regardless of whether or not your father is a superhero. Mark's wife, Debbie (Sandra Oh), has adjusted her life to fit the parameters of her husband's profession, and struggles to find agency of her own.
The FX series "The Americans" shows a similarly complex family dynamic. The series takes place in the '80s during the height of the Cold War, and follows Philip (Matthew Rhys) and Elizabeth Jennings (Keri Russell), spies from the Soviet Union who are sent on a long-term assignment to the United States. Philip and Elizabeth disguise themselves as an average American couple, and their two children, Paige (Holly Taylor) and Henry (Keidrich Sellati), know nothing about their parents' actual professions. They are forced to confront their parents' activities over the course of the series' six excellent seasons.
Rick and Morty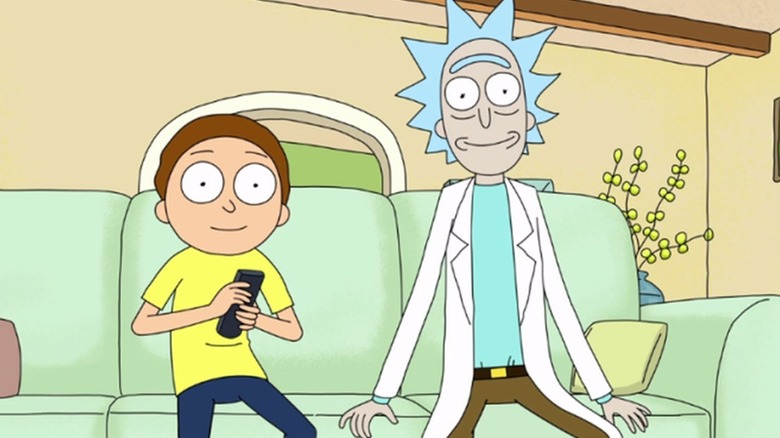 Adult Swim
"Invincible" is often humorous. Although it deals with serious topics and features a shocking level of violence, the show's satire of American pop culture and its obsession with superheroes is genuinely hilarious. With "Invincible," humor is a gateway to get viewers hooked on the story — it might have been difficult to address trauma and anxiety if there weren't a few moments of levity for balance.
By contrast, Cartoon Network's "Rick and Morty" is one of the funniest television shows of the past few years, but it too delves into some heavy material. The series follows the madcap misadventures of a teenage boy, Morty (Justin Roiland), and his grandfather, the nihilistic scientist Rick (also voiced by Roiland). Although Rick is a genius, he's neglectful of his daughter, Beth (Sarah Chalke), and (unintentionally) abusive towards Morty. Rick and Morty struggle to bring their family closer together as the series goes on. Despite the show's wacky tone, these beats are treated seriously, and the humor doesn't detract from the emotional weight of the characters' relationships.
That '70s Show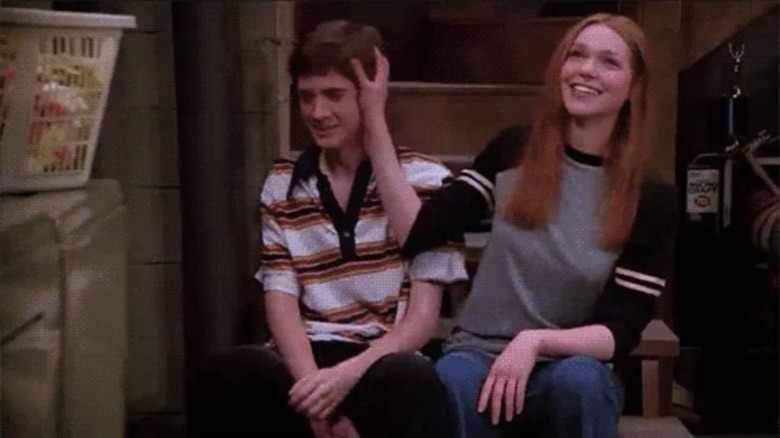 Fox
Young people are shaped by the cultural properties that are popular when they're growing up. In "Invincible," Mark grows up in the shadow of his father, who just happens to be the most famous superhero on the planet. Comic book fans will certainly appreciate the show's references to the history of superhero media; eagle-eyed viewers who have watched the show several times might even pick up on some hidden Easter eggs and references.
Even though it's a sitcom, the beloved comedy "That '70s Show" features a similar coming-of-age dynamic. This hilarious series centers on a group of teenagers in the fictional town of Point Place, Wisconsin, in the 1970s. Eric Forman (Topher Grace), Jackie Burnhart (Mila Kunis), Michael Kelso (Ashton Kutcher), Steven Hyde (Danny Masterson), Donna Pinciotti (Laura Prepon), and Fez (Wilmer Valderrama) grow up using popular films from the 1970s, including "Star Wars," "A Star Is Born," "The Omen," and "All The President's Men," as touchstones, and their larger pop culture awareness helps fuel series' jokes and makes the show's world feel more realistic and relatable.
Mr. Robot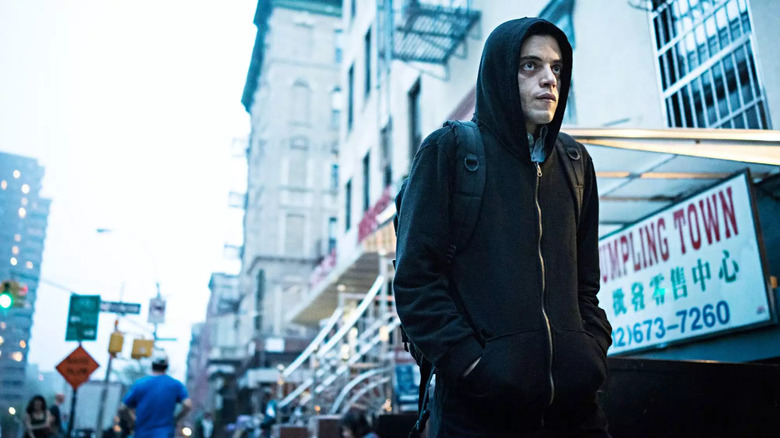 USA Network
"Invincible" handles the complex relationship between Mark and his father with sensitivity. It would have been easy for the series to gloss over the thornier sides of childhood trauma, abuse, and victimization. However, "Invincible" takes the time to show how Mark's suffering shapes him into the hero that he eventually becomes. He has a wonderful character arc, and ultimately decides that he will not follow in his father's dark footsteps.
The USA Network series "Mr. Robot" also does a great job at showing a complex father-son relationship. The thriller series follows a young hacker named Elliot Alderson (Rami Malek), who secretly hacks powerful corporations and exposes corrupt individuals. Elliot is recruited by an enigmatic hacker codenamed "Mr. Robot," who leads a mysterious group of hacktivists called fsociety. As Elliot learns more about Mr. Robot and joins his movement, he begins to confront the demons of his past, particularly his relationship with his late father.
American Dad!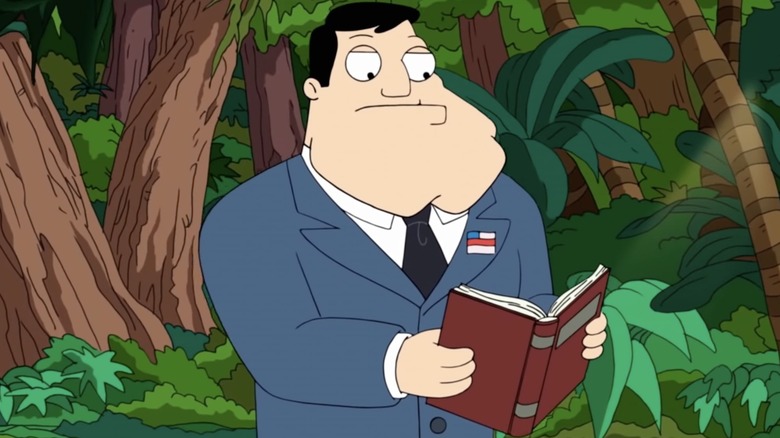 20th Television
Today, it's clear that animated shows are not only for children. Despite the success of "The Simpsons," adult animation did not become widely popular until the late 1990s, when Seth MacFarlane helped to change this outdated stereotype with his wildly popular animated comedy "Family Guy." Although "Family Guy" is often cited as the animated show that changed television, MacFarlane's follow-up, "American Dad!," is a much better series overall.
Similar to "Invincible," "American Dad!" offers searing commentary on patriotism, popular culture, and idealism. The series follows the adventures of CIA employee Stan Smith (MacFarlane), his dutiful wife Francine (Wendy Schaal), his strong-willed daughter Hayley (Rachael MacFarlane), his geeky son Steve (Scott Grimes), Hayley's boyfriend Jeff (Jeff Fischer), and their idiosyncratic alien friend Roger (MacFarlane). Although "American Dad!" is just as funny as "Family Guy," it also includes more serious moments that should appeal to "Invincible" fans, too.
Commando Cody: Sky Marshal of the Universe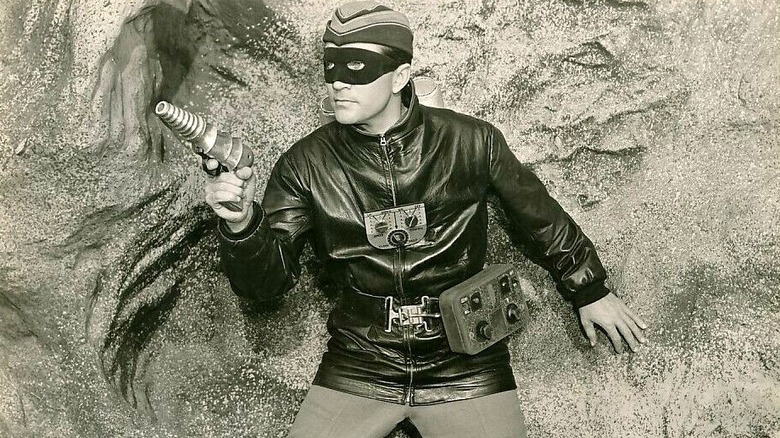 NBC
It's amazing to think about how much the superhero genre has changed over the past century. "Invincible" is just one of many examples of great superhero stories that are not based on properties from Marvel or DC Comics. Although superhero movies did not become widely popular until the release of "Superman: The Movie" in 1978, these stories were already very successful on television. A series that is as subversive as "Invincible" would not exist if it was not for the precedent set by these early superhero adventures.
As such, "Invincible" fans might enjoy watching some of these older shows to see how much these types of stories have evolved. "Commando Cody: Sky Marshal of the Universe" was first released theatrically as a serial, but later aired as a TV series. The science fiction adventure, which debuted all the way back in 1953, follows the exploits of Commando Cody (Judd Holdren), a masked hero who protects Earth from an extraterrestrial threat. It's worth watching as a companion piece to "Invincible," both because it's charming on its own, but also because it's fascinating to see just how far things have come.