Everything We Know About Invincible Season 2 So Far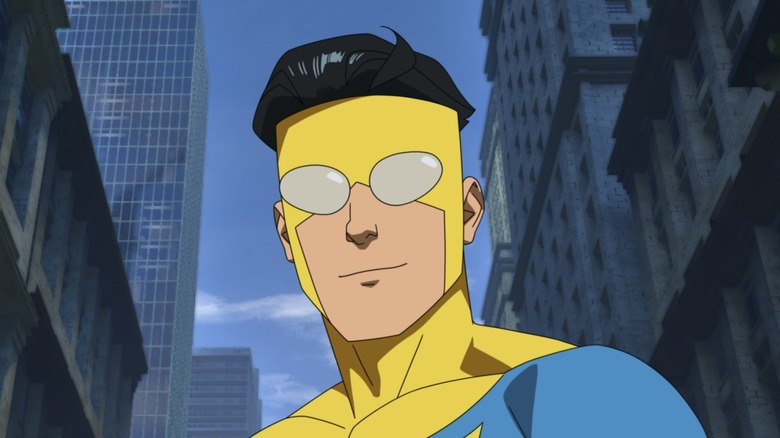 Amazon Studios
Everywhere you look, a new superhero story awaits. The earnest Marvel heroes, the gritty DC villains and now, everything in between. Amazon Prime Video has never been one to shy away from the superhero craze, with adaptations of "The Tick" and "The Boys" building up a sizable audience — but with the first season of "Invincible," the streamer really made a splash. 
"Invincible" follows teenager Mark Grayson (Steven Yeun), son of the most-powerful superhero on the planet, Nolan Grayson aka Omni-Man (J.K. Simmons). Mark has a lot to live up to, so he's both relieved and terrified when he finally begins developing powers of his own. But coming to terms with being a hero ends up being the least of Mark's problems as the dark realities of his life are revealed.
The Skybound/Image comic book was adapted into an animated series for adults — a fresh and almost cheery coming-of-age origin story, until it delves into dark and brutal territory. It still finds time for some classic teen drama, but the dark secrets hanging over the series made it an addictive watch. Prime Video celebrated by renewing the show for two more seasons, and now here we are, anticipating what might follow the shocking "Invincible" season 1 finale.
When and Where To Watch Invincible Season 2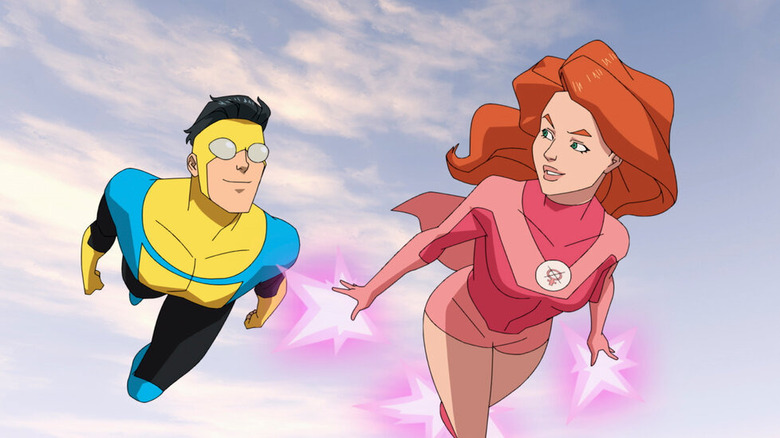 Amazon Studios
As with the first season, "Invincible" season 2 will be made available exclusively to Amazon Prime Video subscribers. So far we don't have any concrete information on the second season premiere date, beyond the initial renewal announcement. Whenever episodes begin to air, they will likely follow the plan laid out by the first season, which debuted with its first three episodes before airing new episodes weekly from then on.
What We Think Invincible Season 2 Will Be About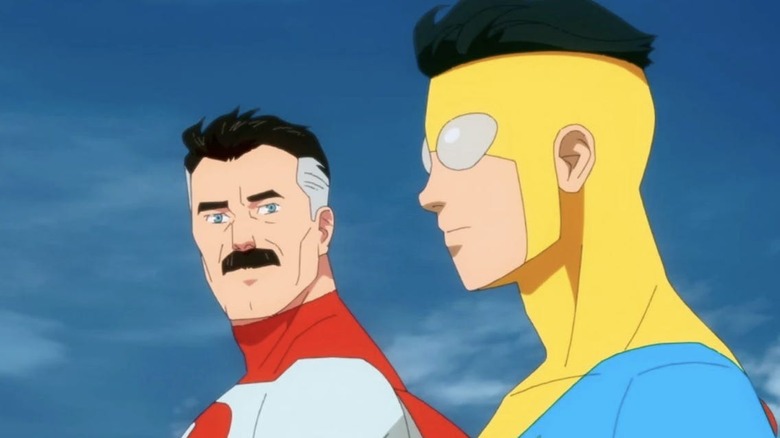 Amazon Studios
Spoilers for the first season of "Invincible" ahead! 
"Invincible" season 1 culminated with a brutal fight between Mark and his father, in which Nolan slaughtered thousands of people but eventually failed to deliver the final blow. Instead he flew away from the planet, realizing he didn't want to kill his son. After a long recovery, Mark rekindled his relationship with Amber and then learned from Allen the Alien that a Viltrumite fleet could invade Earth in Nolan's absence. Season 2 will likely pick up in the wake of all that Mark has learned: as Invincible, he must assume his role as Earth's most powerful protector. He still has some way to go, and may rely on help from the Guardians of the Globe, but thanks to his Viltrumite blood he could be the planet's best (and only) hope. 
If "Invincible" continues the arc from the comics, the second season will also deal with the fallout of Mark's trip to Mars, when he failed to realize a Martian had joined the crew and gave the sequids an opportunity to invade the planet. We'll also see the continuation of Titan growing his crime organization and Allen the Alien's adventures in space. Meanwhile, Cecil (Walton Goggins) is mass-producing Reanimen contingency troops and will likely clash with Mark on how best to defend the planet. And though Omni-Man abandoned his post, we haven't seen the last of him. Whether he's heading for the Viltrumites or not, there are surely consequences for leaving the planet unconquered.
"Invincible" creator Robert Kirkman has also teased the introduction of Mark's comic nemesis, Angstrom Levy, a villain who can travel to alternate realities and apparently has a significant role to play in the second season.
What We Know About The Cast and Crew of Invincible Season 2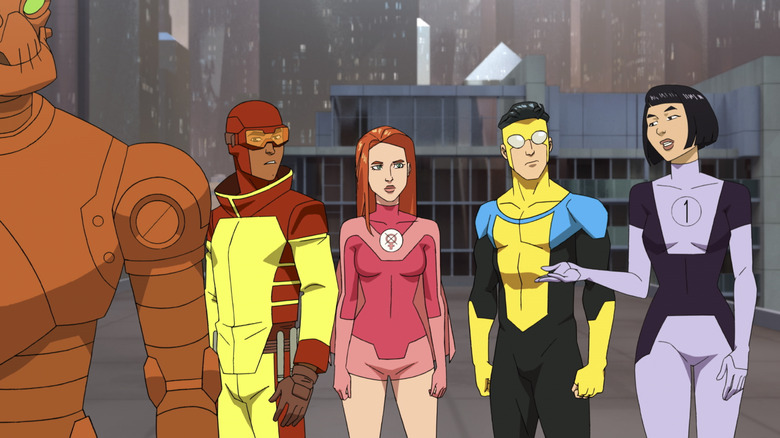 Amazon Studios
Much of the "Invincible" season 1 cast are expected to return and reprise their roles — except for those that met an unfortunate, bloody end, of course. Expect to see much more of the core characters who have major roles in the comics going forward, including Steven Yeun as Mark Grayson; JK Simmons as Omni-Man; Sandra Oh as Nora Grayson; Zazie Beetz as Amber Bennett; Gillian Jacobs as Atom Eve; and Zachary Quinto as Robot. Other returning voices likely include Walton Goggins as Cecil; Andrew Rannells as William Clockwell; Jason Mantzoukas as Rex Splode; Malese Jow as Dupli-Kate; Ezra Miller as DA Sinclair, Seth Rogen as Allen the Alien, and Mahershala Ali as Titan.
Creator of the comic and series, Robert Kirkman, will return to executive produce and write the series, along with showrunner Simon Racioppa.