Why Cary Grant Had To Turn Down Dial M For Murder
RKO Radio Pictures
Alfred Hitchcock is behind several decades' worth of celebrated films, but some of the English director's best works were adaptations of stage plays. "Dial M For Murder" was one such adaptation, based on Frederick Knott's Broadway hit concerning an affair, a murder plot, and the trial that followed. Meticulously plotted and visually sparse, the thriller has one of the most satisfying endings of any of Hitchcock's films.
"Dial M For Murder" came to him from one of his previous players. "Notorious" star Cary Grant brought the project to the filmmaker with ambitions to play a hired killer, an appealing role after the suave menace he showed years earlier in Hitchcock's "Suspicion." At the time, Hitchcock was with Warner Bros., who paid thousands of British pounds for the film rights from filmmaker Alexander Korda (who had previously acquired the rights for much cheaper). After previously scrapping a feature adaptation of David Duncan's 1948 novel "The Bramble Bush," "Dial M For Murder" would fulfill Hitchcock's contractual obligations with the studio and fill the time until James Stewart would be available to make "Rear Window."
When it came time to cast the major roles for the movie, Hitchcock had Grant in mind as a major antagonist (his dream cast also included Deborah Kerr and William Holden), but the studio raised objections to casting Grant in the role of cold-blooded murderer. It's believable that the studio might calculate that as a possibility for bad box office returns, but Scott Eyman's biography "Cary Grant: A Brilliant Disguise" hints at another motivation: Grant's fee was too big for Jack Warner's pursestrings. Hitchcock reportedly asserted for years that Grant's agent asked for too much, and negotiations with the studio broke down, with the role ultimately being filled by Oscar-winning actor Ray Milland.
Playing with Cary Grant's reputation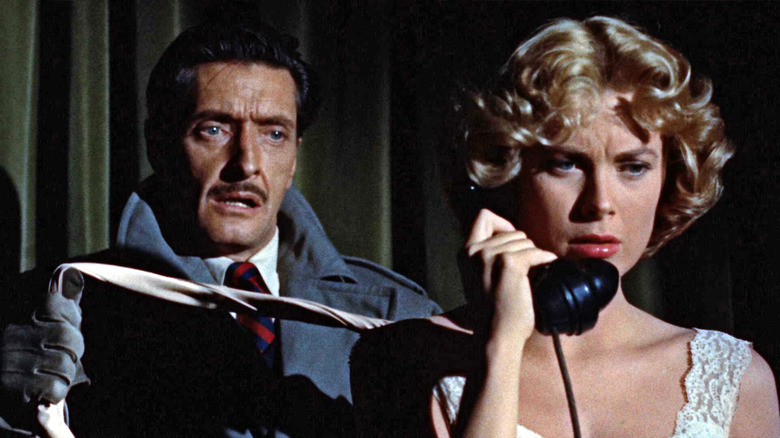 Warner Bros.
The role that Milland would step into in Hitchcock's only 3D film was that of Tony Wendice, a retired tennis pro with his eyes on a new prize: the riches of his wife, Margot (played by Grace Kelly). Margot has been entertaining a fiction writer (Robert Cummings), and the jealous Tony plots her murder over the affair. He blackmails a small-time criminal from his Cambridge days into strangling her and making it look like a botched robbery. Margot grabs a nearby pair of scissors and foils the whole plan, but a dead body isn't enough to stop a gold-digging wife-killer.
Ray Milland did a fantastic job in a performance critic Bosley Crowther called "excitingly effectual in using expression" in his New York Times review. His haughty cadence and smug delivery of his lines make it clear that, unlike the shrewd Inspector Hubbard, Tony Wendice thinks himself an untouchable genius. (The same dynamic can be seen between John Dall and Jimmy Stewart in Hitchcock's "Rope," with Dall's arrogant killer failing to outwit Stewart's truly intellectual Cadell.
It would have been fascinating to see Grant inhabit the same role. He was ready for a change in casting, too, having grown tired of essentially playing "Cary Grant" in every film; he's quoted in "Cary Grant: A Class Apart" as saying "To play yourself, your true self, is the hardest thing in the world." The star garnered a reputation as one of the great screen lovers, and to watch those big brown eyes convincingly look upon Grace Kelly with cold indifference would stun any audience, let alone one in 1954. Grant would star opposite Kelly just a year later in "To Catch a Thief" as a cat burglar; a nice consolation for those who like Grant best when he's unsavory.