The 15 Best Cary Grant Movies Ranked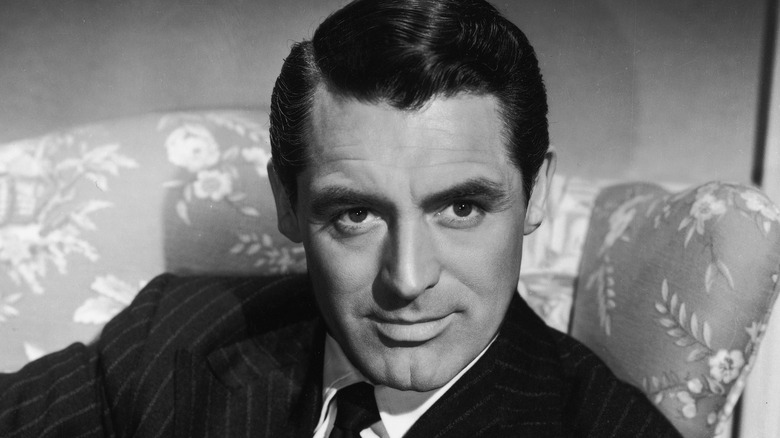 Getty Images/Getty Images
Handsome, suave, charming: Cary Grant is pretty much the poster boy for what we now think of as the classic movie star from the Golden Age of Hollywood. With a captivating screen presence, he made for a perfect leading man, but his success was also a testament to his surprising versatility as an actor. Grant could play the smoldering romantic lead, but he also had impeccable comic timing that allowed him to engage in verbal battle with some of the finest actresses in screwball comedy. 
As he aged, Grant transitioned into darker fare, becoming one of Alfred Hitchcock's favorite male stars. (The famously prickly director, who made his dislike of actors perfectly clear, once confessed that, "Cary is the only actor I ever loved in my whole life.") He's arguably one of the most celebrated actors never to win a competitive Oscar (although he was nominated for two, "Penny Serenade" in 1942 and "None But the Lonely Heart" in 1945, and received an honorary award in 1970). Still, Grant left a long legacy, and to this day is one of the best remembered movie stars from old Hollywood.
15. Monkey Business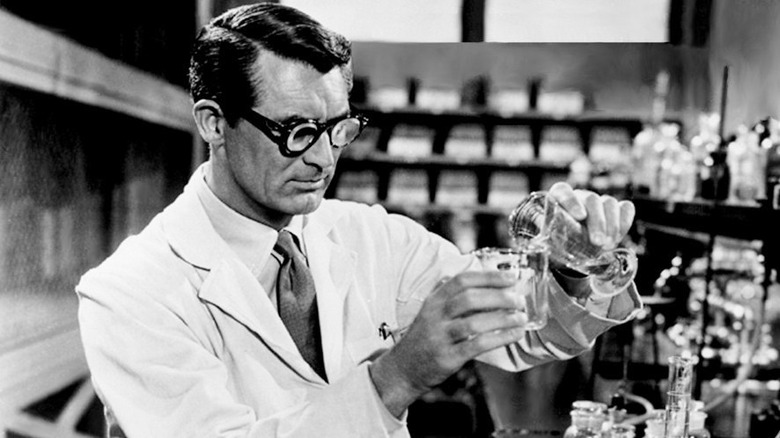 20th Century Fox
Just because Cary Grant was a little older when he made "Monkey Business" in 1952 doesn't mean that he needed to let go of the youthful energy that had always been a key component of his screen presence. In this light science fiction comedy, Grant stars as Barnaby Fulton, a middle-aged scientist who has invented a new serum that makes someone feel decades younger. 
When he tests it on himself, things go swimmingly, at least at first. He's able to do a cartwheel for the first time in years, and he takes the opportunity to indulge in a flirtation with a 20-something secretary played by Marilyn Monroe (to the visible consternation of his wife, Edwina, played by Ginger Rogers). But things quickly spiral out of control when the elixir causes Barnaby, Edwina, and the other scientists who try it out to revert to a second childhood, wreaking havoc on everything they come across. "Monkey Business" is hardly one of Cary Grant's more intellectually rigorous films, but it has a light touch that makes it thoroughly entertaining.
14. She Done Him Wrong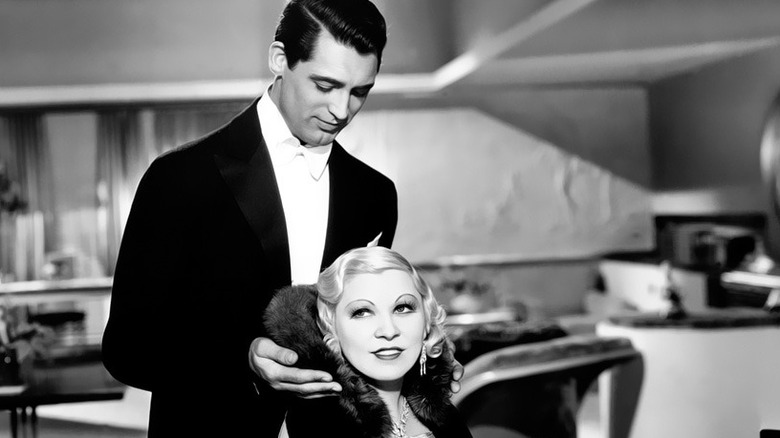 Paramount
You don't just walk right onto a movie set and become the leading man (well, not usually, anyway). When Cary Grant was first starting out, he sometimes played second fiddle to more dominant female performers, such as the incomparable Mae West in "She Done Him Wrong." She is the incontestable star of the show in this 1933 crime comedy from Lowell Sherman, and her racy double entendres push the limits of even pre-Code cinema. 
Here, Grant plays Captain Cummings, a leader of the local temperance league and one of West's many suitors. There's more to his character than it seems, however, as we eventually learn that he's an undercover federal agent, establishing a dichotomy of romance and danger that would frequently show up throughout Grant's career. Even in this supporting role, Grant's charms were obvious, and his star would quickly rise in Hollywood.
13. I Was a Male War Bride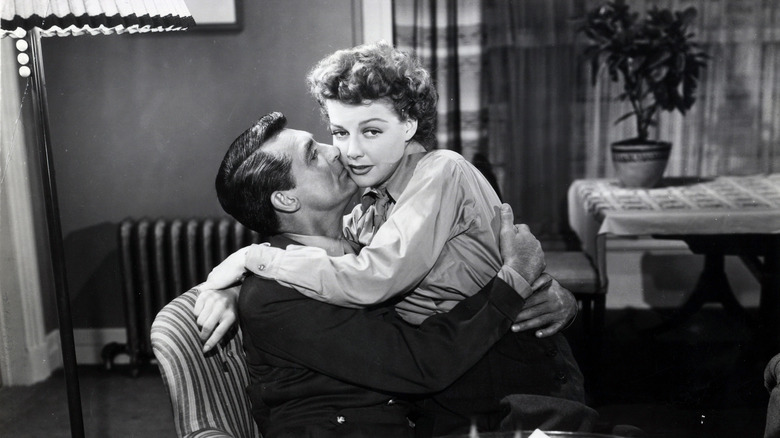 20th Century Fox
In the aftermath of World War II, thousands of American soldiers brought home foreign wives who they met and fell in love with while serving overseas. "I Was a Male War Bride" flips the script, starring Cary Grant as a French army captain who begrudgingly becomes involved with a Women's Army Corps officer, Catherine Gates (Ann Sheridan). 
In order to obtain a visa and travel to the United States, Grant's character has to be the spouse of an American soldier, so plans are made for them to be married. Of course, things go awry, as one might expect in a screwball comedy that so thoroughly subverts gender roles in a post-war landscape. After some cross-dressing hijinks on the part of Grant, they get their happy ending, but in doing so, "I Was a Male War Bride" completely deconstructs the anxiety over the masculine and feminine social expectations that were rampant at the time.
12. Gunga Din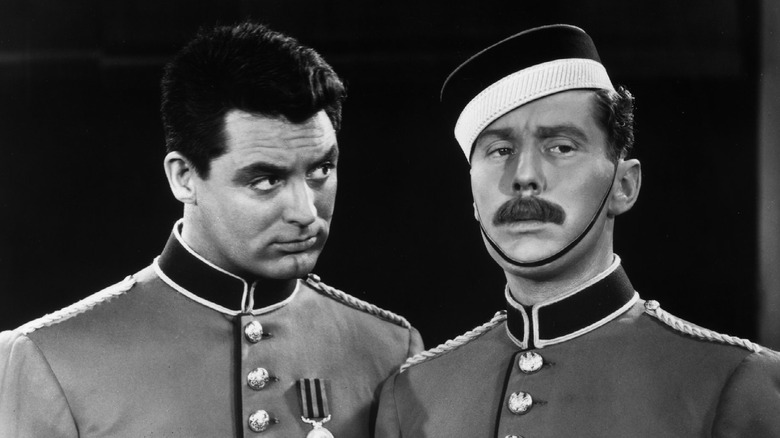 United Archives / Getty Images
When you think of Cary Grant, the first films that come to mind are his screwball comedies, usually witty romances where he's starring opposite a feisty leading lady. There isn't a ton of dude energy in the films that most often define his career. But, for a while, Grant was actually making a number of action-adventure films in tandem with the softer, gentler fare. One of the most memorable of these is "Gunga Din," where Grant stars as a British sergeant in India alongside Douglas Fairbanks Jr. (the son of silent-era matinee idol Douglas Fairbanks) and Victor McLaglen. Together, the trio team up with the courageous Gunga Din (Sam Jaffe), an Indian water bearer, to fight against the Thuggee, a dangerous band of murderers and thieves. 
Although "Gunga Din" features some problematic brownface, it nonetheless remains one of the most famous and well-executed adventure movies of the 1930s, with strong performances from its likeable cast and an empathetic approach to an Indian character, who would have been little more than caricature in most other films from the same era.
11. Sylvia Scarlett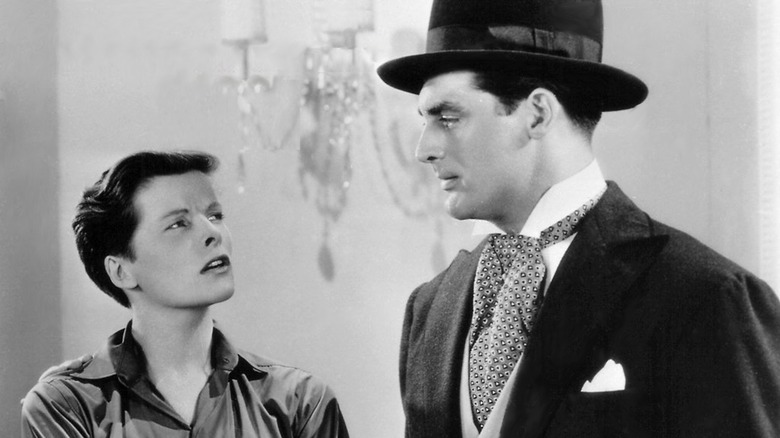 RKO Pictures
A gender-bending vehicle for rising star Katharine Hepburn, "Sylvia Scarlett" is the first and undoubtedly least known of the four collaborations between the four-time Oscar winner and Cary Grant. Hepburn plays Sylvia, a con artist who dresses as a boy to elude the police. Cary Grant is a fellow rogue, here just beginning to develop a rough-around-the-edges version of the debonair persona that would make him a Hollywood star. 
"Sylvia Scarlett" suffers from a lack of polish, but it's also an intriguing look at the start of one of the most famous on-screen pairings in cinematic history. It's also unique for the amount of queer subtext in the film, with Hepburn appearing in drag far more often than she dresses as a woman, stretching the romance between her and her love interest beyond what was traditionally acceptable. This is especially interesting given the rumors that swirled around both Hepburn and Grant at a time when bisexuality had to be kept secret, even in Hollywood.
10. His Girl Friday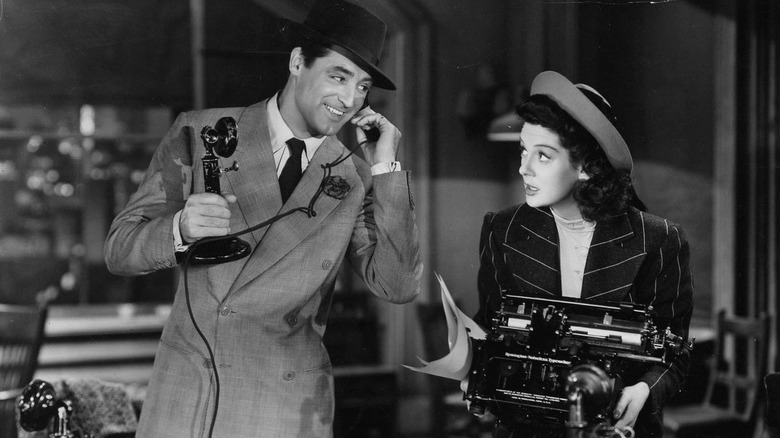 Columbia
One of the most famous screwball comedies of the 1940s, "His Girl Friday" stars Cary Grant and Rosalind Russell as a pair of divorced journalists who fight over their workaholic habits and try to ignore their undeniable romantic chemistry. Grant plays an editor for a major newspaper who is thrown for a loop when he learns that his ex-wife Hildy (Russell), a reporter formerly in his employ, is poised to marry a dull man and give up her career to become a small-town wife and mother. Determined to win her back, he orchestrates an opportunity for them to work together on one last story before she resigns herself to matrimony. 
"His Girl Friday" broke new ground with its incredibly fast-paced dialogue, with characters frequently speaking over one another in a way that had been relatively uncommon up until this point. Most films feature dialogue spoken at around 90 words per minute; Howard Hawks had his actors in "His Girl Friday" speak at an astonishing 240 words per minute. The almost chaotic wit defines "His Girl Friday," and made it one of the most famous films of the era.
9. An Affair to Remember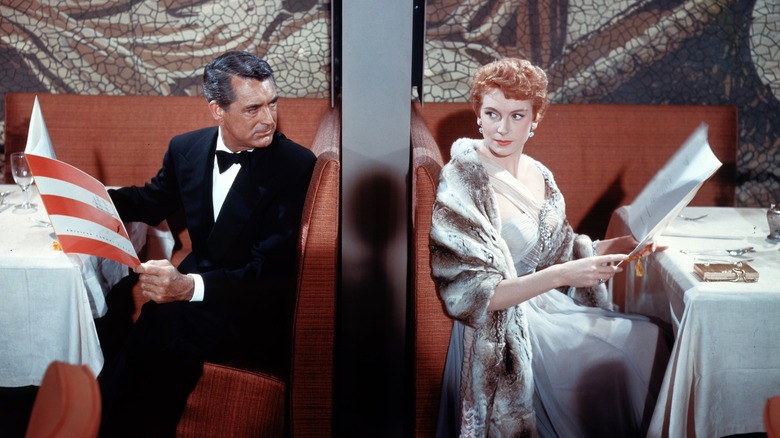 20th Century Fox
A classic Hollywood romance, "An Affair to Remember" has had an outsized impact on media, influencing films like "Sleepless in Seattle" and episodes of "30 Rock" and "Family Guy." Itself a remake of a 1939 romance called "Love Affair," "An Affair to Remember" stars Cary Grant and Deborah Kerr as two individuals who meet while aboard a transatlantic ocean liner. 
They have an immediate spark, but both are involved with other people, so they are unable to act upon their feelings. Still, they make a pact to meet atop the Empire State Building in six months, theoretically having freed themselves from previous romantic entanglements. Unfortunately, circumstances transpire that complicate their reunion, but where there's love, there's hope. "An Affair to Remember" would ultimately receive four Academy Award nominations in 1958, and was included in the American Film Institute's list of the greatest love stories of all time.
8. The Awful Truth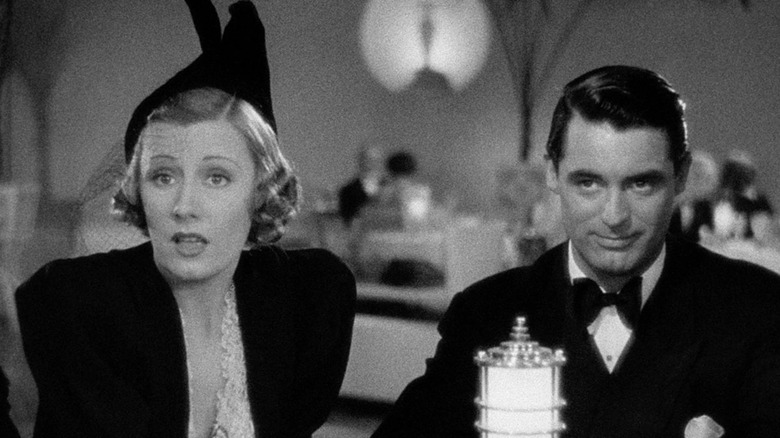 Columbia
The first film pairing Cary Grant with Irene Dunne (they collaborated on two other films: "My Favorite Wife" and "Penny Serenade"), "The Awful Truth" has a slightly slower pace than "My Girl Friday," but no shortage of wit. The two star as a wealthy couple on the verge of divorce, furious at one another for perceived slights but at the same time desperately plotting to sabotage their relationships with new suitors. It would become one of the most celebrated romantic comedies of the 1930s, earning six Academy Award nominations and winning for best director.
But all of this is quite frankly ignoring the true highlight of "The Awful Truth," and that is the singularly impressive performance of Skippy, a Wire Fox Terrier who steals the show from his illustrious human costars. He features as the subject of a custody battle between Grant and Dunne, and who could blame them? His impeccable comedic timing in this, as well as in "Bringing Up Baby" and "The Thin Man," would set a new standard for animal performances.
7. Arsenic and Old Lace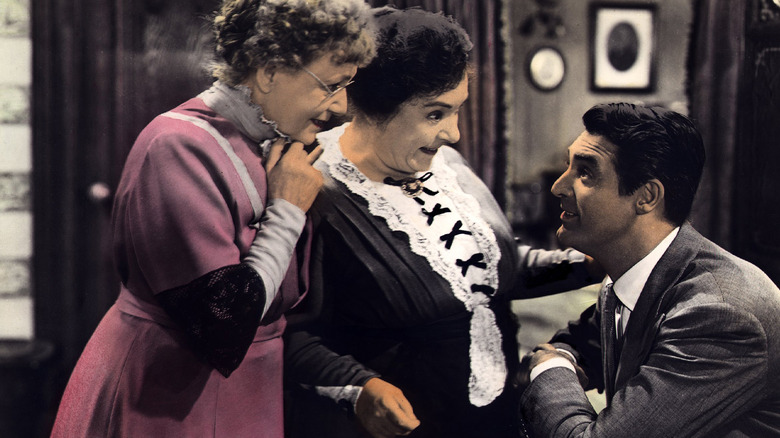 United Archives/Getty Images
Cary Grant was often at his best when allowed to fully embrace absurdity, and that's what we get in "Arsenic and Old Lace." Like many of Grant's comedic roles, the humor in his performance comes from being the much put-upon straight man who begins to lose his grip in the face of so much chaos. In "Arsenic and Old Lace," he's a nice, normal man just trying to get married to his nice, normal fiancée when he learns that his two seemingly harmless aunts are actually serial killers. 
"Arsenic and Old Lace" purposefully underplays the morbid elements of its story, making this one of the most surreal comedies in Grant's filmography. It features more of an ensemble cast than we're used to seeing in his films, but Grant blends into the production effortlessly. He allows other actors to step into the spotlight and proves more than willing to take on the thankless role of the character who is reacting to the wild events that unfold around him.
6. North by Northwest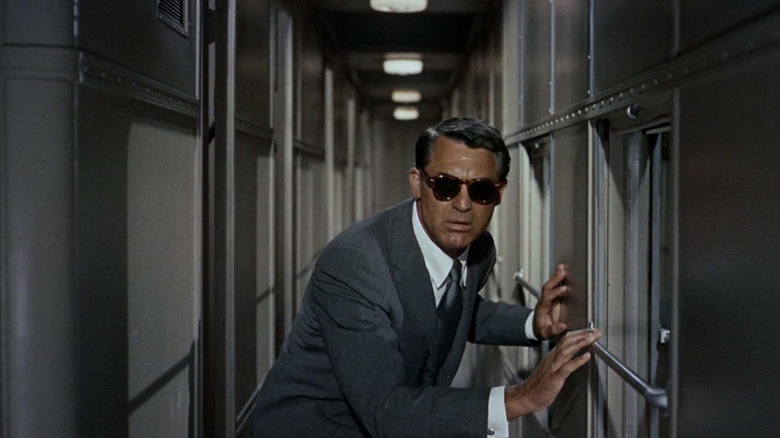 MGM
The fourth and final collaboration between Cary Grant and Alfred Hitchcock is also one of their very best, with "North by Northwest" giving the director an opportunity to take advantage of Grant's screen persona in new and creative ways. Here, Grant stars as Roger Thornhill, an ordinary white-collar executive who is mistaken for secret agent George Kaplan, kidnapped, and left for dead. 
In an effort to save himself and find the real Kaplan, Thornhill ends up engaging in some seriously spy-like activities, which give "North by Northwest" the thrilling action sequences it is known for. In particular, a scene in which Thornhill waits for a meeting with Kaplan at a rural bus stop only to be attacked by a crop duster is one of the most iconic images in film history. "North by Northwest" is considered by many to be a precursor to the "James Bond" franchise, and would ultimately be nominated for three Academy Awards in 1960.
5. Charade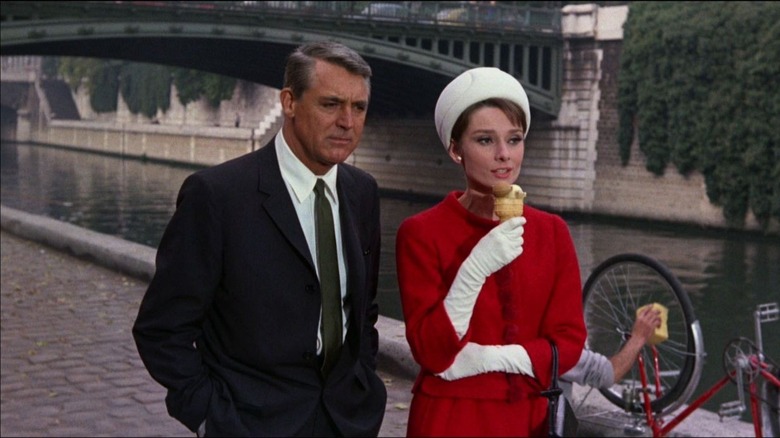 Universal
You would be forgiven for assuming that "Charade" was yet another collaboration between Cary Grant and Alfred Hitchcock. Most people do. But the mystery film with more twists and turns than a corn maze is actually the work of director Stanley Donen; it just features many of the same dramatic techniques that were part of Hitchcock's toolbox. 
Audrey Hepburn stars as an interpreter who returns from a vacation in the Alps to find that her husband has emptied their Parisian apartment and gotten himself unceremoniously murdered while leaving town, putting her in the middle of a classic suspense thriller. Her co-star is Cary Grant, a charming ne'er-do-well whose true motivations are obfuscated throughout the majority of the film. Their chemistry is undeniable, despite the fact that, at 59, Grant was some 25 years Hepburn's senior, and their clever repartee harks back to romantic comedies that defined Grant's early career.
4. The Philadelphia Story
MGM
For a film that starred Cary Grant, Katharine Hepburn, and James Stewart, there certainly were a lot of people expecting "The Philadelphia Story" to fail. It features Hepburn as a wealthy socialite who has her wedding plans thrown into chaos by the unexpected arrival of not just a pair of cynical journalists (James Stewart and Ruth Hussey) hoping to capture her in the worst possible light, but also her estranged ex-husband (Cary Grant).
After a string of commercial failures, Hepburn was declared "box office poison" in 1938, and was badly in need of a hit. Studio executives were so nervous about the prospect of her headlining a film that, according to the documentary "MGM: When the Lion Roars," they brought Grant and Stewart on board in the hopes that their star power would balance out any ill will audiences had towards Hepburn.
It turns out that they had no reason to worry. "The Philadelphia Story" was a commercial and critical success, ultimately nominated for six Academy Awards and taking home the statuettes for best actor (James Stewart) and best adapted screenplay.
3. Holiday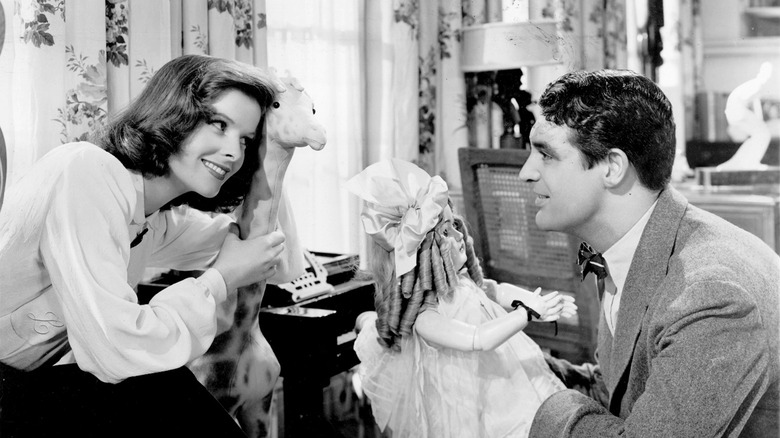 Columbia
Once again, Cary Grant finds himself in a screwball comedy alongside Katharine Hepburn, only this time there are no antics that almost seem to take place in a heightened reality. It's just a man almost getting married to the wrong woman. In "Holiday," Johnny (Cary Grant) meets the girl of his dreams while on vacation, and they quickly fall in love. Before they return home to New York, they're already engaged. There's just one problem: They were two very different people on holiday than they are in ordinary life, and it turns out that they may not be particularly well-suited for one another. Johnny, having worked from a very young age, is determined to retire early, while his fiancé Julia (Doris Nolan) is a socialite who can't process the idea of her husband not having a respectable job.
Julia may not be a perfect fit, but she has a sister named Linda (Katharine Hepburn) who has instant chemistry with Johnny. The more he tries to patch things up with Julia, the more he becomes enamored with Linda. Grant and Hepburn are like lightning on screen together, and "Holiday" gives them a subtler, more low-key romance than usual, which is utterly charming.
2. Notorious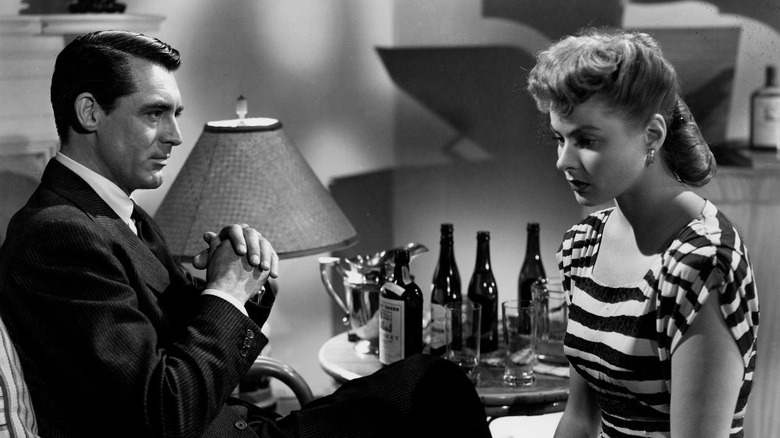 RKO Pictures
It is possible that Cary Grant, one of the most famously charming and handsome actors in classic Hollywood, never had more sex appeal than when acting opposite Ingrid Bergman in "Notorious." Indeed, the Hitchcock spy noir is known for the steamy sequence between Grant and Bergman. At the time, studio films were under the thumb of the Hays Production Code, which limited any onscreen kiss to mere seconds — Hitchcock got around this by having Grant and Bergman's embrace intermittently broken up by sultry conversation, allowing their kissing scene to last for three whole minutes.
"Notorious" is so much more than the combined allure of its leads, however. This is a post-war story about a German-American woman (Bergman) who is convinced by the U.S. government to seduce a Nazi war criminal (Claude Rains) hiding out in South America and infiltrate his organization, a task complicated by the fact that she falls in love with her handler (Cary Grant). If there's one thing that Hitchcock loves, it's a bit of intrigue, and "Notorious" is packed full of enough gorgeously shot spy fodder to keep an audience entranced for hours.
1. Bringing Up Baby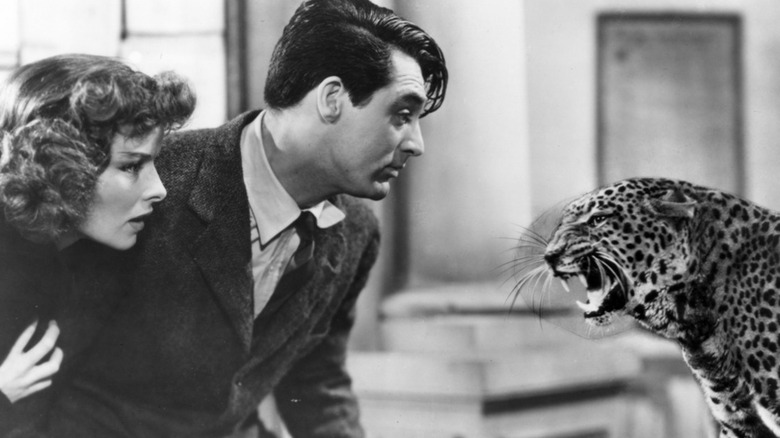 RKO
In screwball comedies, you tend to see a lot of scruffy little dogs getting in on the action, but there's only one film that features the comedy stylings of a leopard, and that's "Bringing Up Baby." Cary Grant stars as David Huxley, a paleontologist triumphantly nearing the completion of a brontosaurus skeleton. He's just missing one bone, the intercostal clavicle, and for that he'll have to team up with the wildly chaotic socialite Susan Vance (Katharine Hepburn). It isn't long, however, before he's sucked into her cloud of entropy, as mishap after mishap befall the misbegotten scientist. 
"Bringing Up Baby" represents Hepburn at her most fearlessly and endearingly chaotic, going toe-to-toe not only with her more comedically experienced costar Cary Grant but an actual leopard. Although the film was widely considered to be a flop at the time of its release, it has since gone on to become regarded as a comedy classic.