Only Murders In The Building Fans Will Want To Watch These 10 Steve Martin And Martin Short Movies Next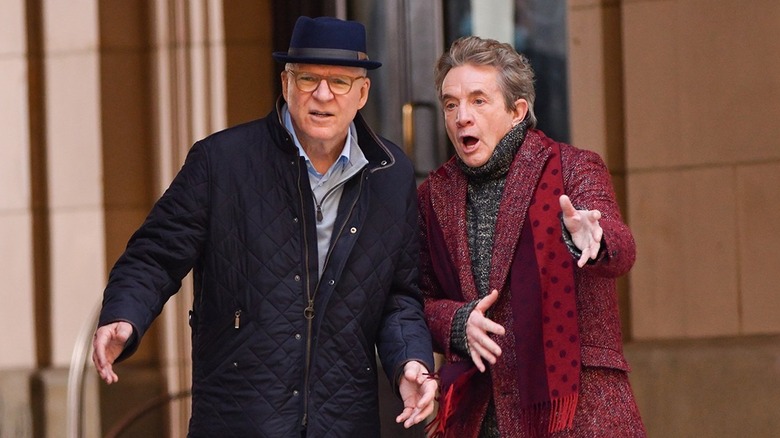 Hulu
In July 2022, Craig Erwich, the President of Hulu Originals and ABC Entertainment, deemed "Only Murders in the Building" the "true crown jewel" of Hulu's programming. The true-crime satire has charmed audiences across generations, thanks, in part, to its intergenerational casting choices and self-aware dialogue. Selena Gomez's Mabel brings fresh and deadpan humor to the Arconia, pairing well with the outlandish physical comedy from Steve Martin's Charles and Martin Short's Oliver. To date, the killer series is the most-watched comedy in Hulu's streaming history and earned a Season 3 renewal even before Season 2 debuted.
However, "Only Murders in the Building" isn't Martin and Short's first rodeo together. The iconic duo has starred opposite each other in a handful of comedy films over the past few decades before putting on their best podcasting voices to solve murder mysteries in the Big Apple. While not every film they've starred in stands the test of time, several would make even the hard-to-please Mabel smirk. Individually, they've also starred in a slew of films that showcase their formidable dramatic talents as well. Here's a list of their greatest films together and apart that younger audiences might not have seen but should investigate. (I know, I sound like Charles.) These films will send your love of "Only Murders in the Building" in a whole new direction when you see just how much the duo has accomplished.
Father of the Bride Part II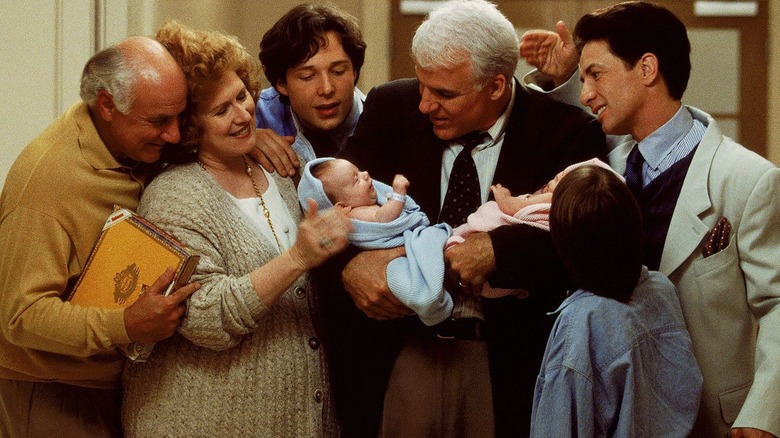 Buena Vista Pictures
Co-written by Charles Shyer and rom-com legend Nancy Meyers, "Father of the Bride Part II" is a family-friendly movie full of antics-driven humor. The 1995 comedy film takes place after the events of "Father of the Bride." George (Steve Martin) has finally adjusted to the fact that his 20-something daughter Annie is married. While that already sounds like a red flag of a premise, give Meyers some credit. Throughout "Father of the Bride Part II," George's patriarchial thinking is called out often by everyone around him. He's wrong and the film knows this. In this sequel, George's panic reaches a new level when he discovers that his daughter and his 50-year-old wife Nina, played by the infallible Diane Keaton, are both pregnant. Expect a lot of fainting gags and anxious pacing from Steve Martin, giving audiences a sneak peek of the attuned neurosis he shows in "Only Murders in the Building."
However, the best part of this film is Martin Short's reprisal of his role Franck from "Father of the Bride." Every time George says something inappropriate, which is often, Short leans into slapstick comedy to teach the overbearing grandad a lesson. The pair's knack for quippy and tit-for-tat one-liners soar here. As Short's Franck prepares George for another round of parenting in his almost-elder years, the two share undeniable comedic chemistry. We can feel their antagonistic bond's tension while also believing there's a kindhearted bond there.
An Evening You Will Forget for the Rest of Your Life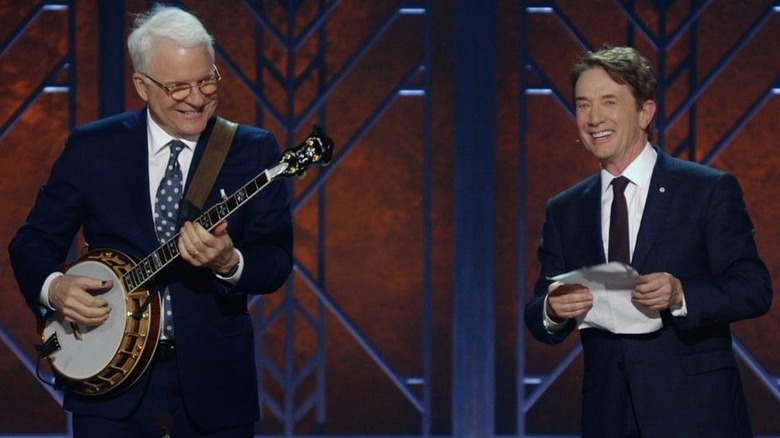 Netflix
The chemistry Steve Martin and Martin Short have in the "Father of the Bride" film series reaches masterful heights in Hulu's "Only Murders in the Building." A lot of that is due to the fact that the pair have shared the comedy stage for years. The two have been touring together since 2015 when they debuted their first live show, "A Very Stupid Conversation." Netflix's Emmy-nominated special "An Evening You Will Forget for the Rest of Your Life" gives viewers a chance to see the pair go toe-to-toe — singing, riffing, and vibing in a way that best encapsulates their 30-year friendship. Overall, the comedy special gives a deeper insight into the duo's understanding of each other's acting styles. 
There's a precise rhythm on display here that best showcases how Short's frenetic energy meshes well with Martin's deadpan delivery. But mostly, it's a joy to watch Martin break his typical type to deliver pitch-perfect jabs at Short; something that Charles could never do. The comedy special is full of levity and all ribbing of one another is done with love, which matches well with how "Only Murders in the Building" depicts Oliver and Charles' friendship. Also, if you've ever wondered what it would be like to hear Charles swear, this special will deliver that for you with cheeky puppets to boot.
Three Amigos!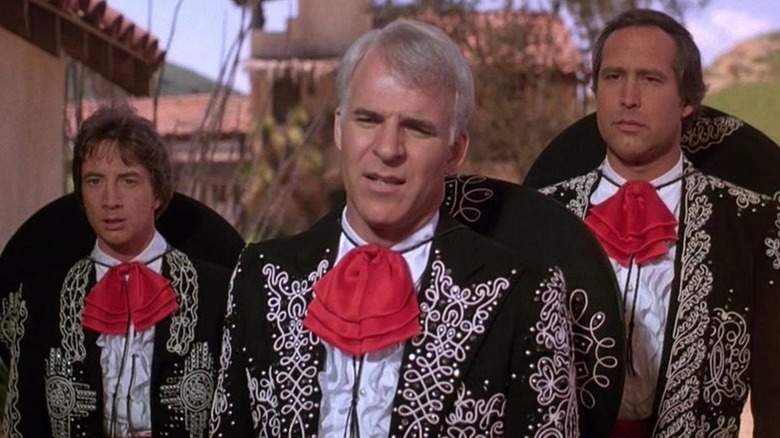 Orion Pictures
Before "Galaxy Quest," there was 1986's "Three Amigos!" Similarly, it's a film about actors walking into a dangerous situation with laughable hubris. Notably, "Three Amigos!" marks the first time Steve Martin, Martin Short, and Chevy Chase worked together on a film. The trio plays silent movie stars who travel to a Mexican village, thinking they're doing an acting gig. However, it quickly turns into a real-life shootout. 1986's "Three Amigos!" is beloved by many for its stage-like approach to situational comedy. While the film treats the Mexican village and its villagers like a classic (and stereotypical) Western, the Amigos' performances veer into camp, often breaking out into song and dance during tense, gunslinging moments. The contrast between the self-serious stars with the actual threat of death works well. 
Martin's Lucky Day character is more or less the ringleader of the trio and especially nails the fish-out-of-water tone of the movie. Short's penchant for screaming at just the right moment to relieve tension excels here. Short knows his character is "the fool" and plays it up well. At its best, Short and Martin's cowboys deliver fantastic sing-a-longs that even Oliver would like. So far in "Only Murders in the Building," Charles hasn't shown too much joy, though Season 2 did gift viewers with a delightful "Brazzos" song. It's a welcome change to see Martin dust off his tap-shoes and stretch his musical talents on-screen again with Short.
Roxanne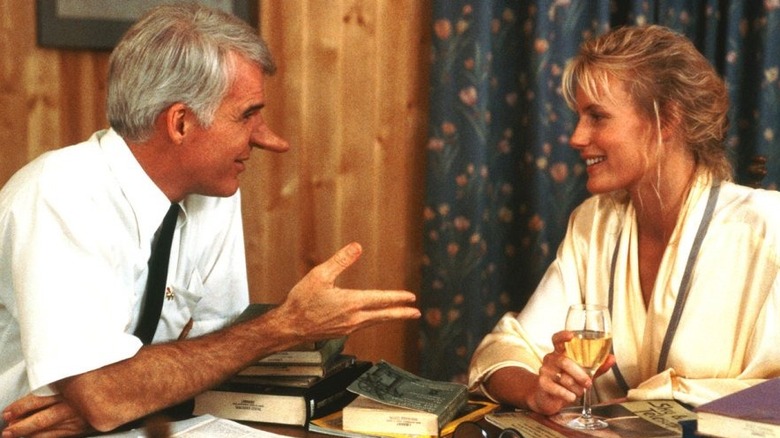 Columbia Pictures
Sadly, this Steve Martin-starring film doesn't have the likes of Martin Short. Still, "Roxanne" is one of Short's favorite works from Martin's expansive filmography, referring to the film as "a combination of hysterically funny and very elegant and theatrical. A brilliant movie." For those who haven't seen it yet, "Roxanne" is a fantastic piece of cinema and one of the most compelling modern-day takes on "Cyrano." Co-starring '80s-heartthrob Daryl Hannah ("Splash," "Blade Runner"), Shelley Duvall, and Rick Rossovich, "Roxanne" tells the story of C.D. Bales (Martin), a local fire chief who is afraid to confess his feelings to his romantic interest due to the size of his nose. Instead, he feeds the shy Chris McConnell (Rossovich) poetic words to woo Roxanne (Hannah). But this only drives C.D.'s desperation further.
Despite this being a very familiar story that's been adapted countless times since the original 1897 stage production, "Roxanne" never loses sight of Martin's physical comedy and sincerity. Of course, "Roxanne" is a rom-com, so there are some sappier moments. However, the Fred Schepisi-directed film never swerves into saccharine territory for long, relying on Martin's ability to be absurd and shift into movingly somber moments when needed. Martin delivers a performance full of pathos that makes it easy to root for Charles to find love again in "Only Murders in the Building," so we can see more of Martin's romantic charm on-screen.
2016's Hairspray Live!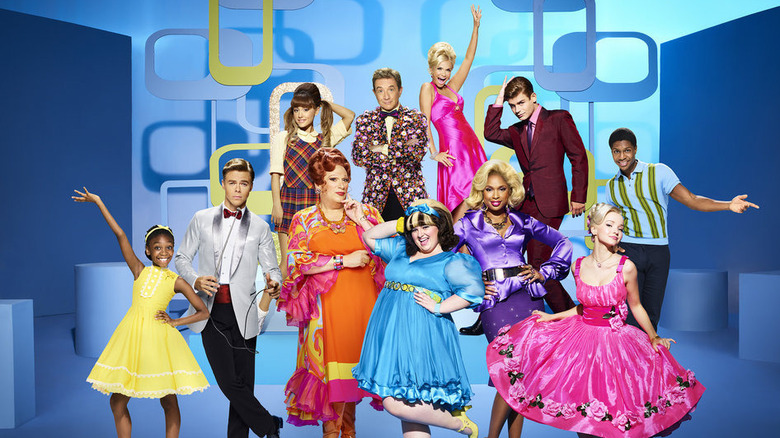 NBC
As a Tony Award winner, singer, and Emmy-winning comedian, Martin Short's ability to deliver zany schtick on a Broadway stage is unmatched. But not everyone can get the chance to see a stage production starring Short — theater tickets are expensive. Thankfully, in 2016 NBC gave Short fans something to watch whenever they please, a live televised "Hairspray" stage production. Despite some mixed reviews from critics, just under nine million viewers tuned in to watch the John Waters adaptation, winning the night in ratings against the network's competitors. Given how much Oliver in "Only Murders in the Building" loves theater, it'd be a missed opportunity not to catch a glimpse of what Short's acting is like in one of Broadway's most kindhearted and subversive plays.
Most of the plot details remain unchanged in the 2016 live version of "Hairspray." Tracy lives in 1960s Baltimore and wants to be a television star and dismantle television's segregationist policies. Short stars as Wilbur Turnblad in "Hairspray," the father of the play's main character, Tracy. Wilbur plays a pivotal part in helping Tracy challenge WYZT's racist policies. He's well-meaning but a bit out of touch with the younger crowd. Short's Wilbur lands like what would happen if someone fused Oliver and Charles from "Only Murders in the Building" into one goofy character that earnestly wants to make a difference in the world. As always, Short's enthusiasm is contagious and it's hard to not smile as he swerves so aptly in and out of scenes. "Hairspray" best displays how Martin knows when to dial up a moment for extra comedy; even if it delves into the absurd range at times, it's still fun.
Get Over It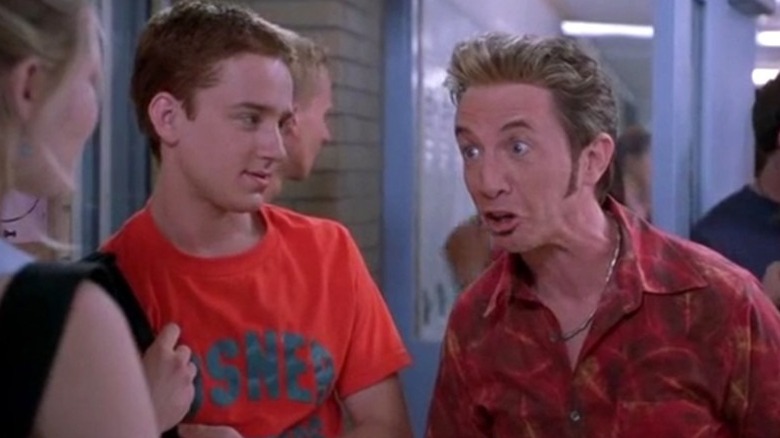 Miramax Films
This might be the movie recommendation that makes you never listen to me again. Not many know of or like the quirky 2001's romantic comedy "Get Over It" — with critics calling it "especially bad" — and its plot is pretty oblivious on how to write three-dimensional women characters. However, it was a part of that rare time when rom-coms in the late '90s-early '00s decided they'd all adapt William Shakespeare plays but make them cool. For that aim, and as a former English literature major, I will forever stan this film's ambition. Like how "10 Things I Hate About You" gave teen audiences an iconic modern adaptation of "Taming of the Shew," "Get Over It" adapted "A Midsummer Night's Dream." True, its adaptation is hammy. A movie about unrequited teen love ends up pushing its fawning cast of characters into their high school's version of "A Midsummer Night's Dream." 
But guess who plays the unhinged theater teacher? Martin Short! If you think Oliver's pretentiousness in "Only Murders in the Building" is rough, wait until you see his character Dr. Desmond Forrest Oates shout at teens dressed up as horses. His performance crosses right into camp, and it'll make you wonder how much more fun the whole film would be if everyone committed as much as he did. Instead, "Get Over It" is a bit dour with a too serious Ben Foster acting alongside a charming Kirsten Dunst and Sisqo's random dance numbers.
A Simple Wish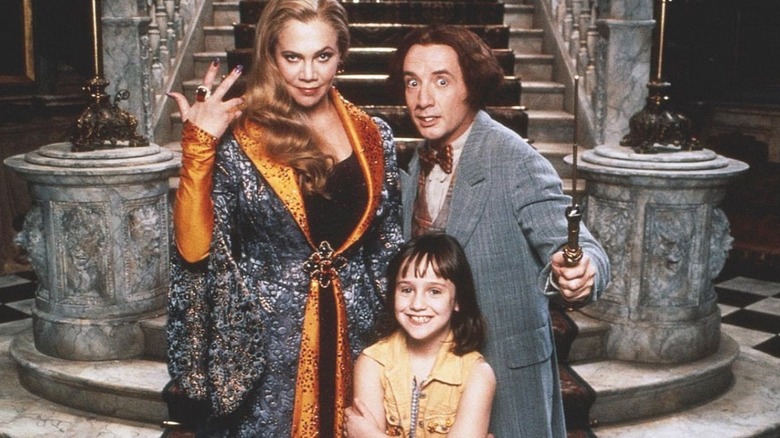 Universal Pictures
There was a time in the '90s when it seemed like Mara Wilson was the only child actor in Hollywood. The number of roles Wilson starred in at such a young age is staggering. Among them, a personal favorite of mine is her role as Anabel in 1997's "A Simple Wish." Wilson co-stars with the impeccable Kathleen Turner and Martin Short in a film with one of the sweetest premises ever. Gifted a bumbling fairy godmother named Murray (Short), all Anabel wants is to land her dad a Broadway role. Of all the films on this list, this one is perfect for kids — or "Only Murders in the Building" fans who want something to watch with their children that isn't too dark and full of slapstick comedy that'll make them and the little ones laugh.
As you might guess, Anabel's wish goes wrong. Murray accidentally turns Anabel's dad into a statue in Central Park. He's not quite gotten the hang of his powers yet, which leaves him open for the evil Claudia (Turner) to attempt to steal his powers as she's a godmother-turned-witch. What follows next is predictable, but it's worth the watch to see two Broadway stage legends like Turner and Short fully commit to comedically sparring on-screen. Plus, "A Simple Wish" gifts Short with a role that showcases not just his physical comedy that fans already know and love, but also a chance to display more tender moments on-screen.
All of Me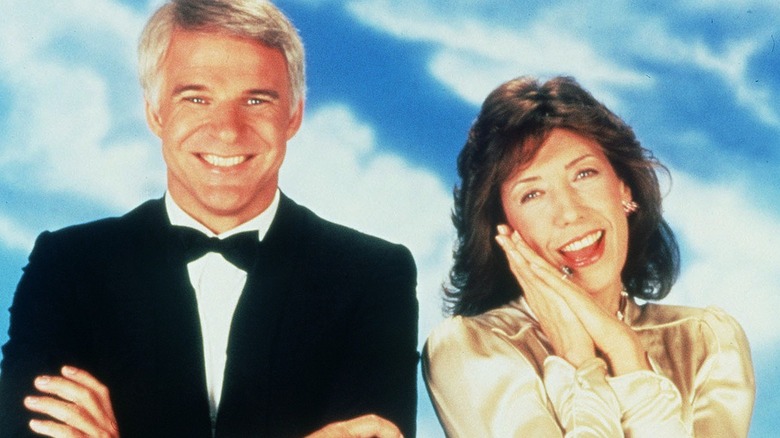 Universal Pictures
I love body-swapping comedies because they're so much fun. They allow actors the chance to interpret someone else's acting style and approach to a character. In the great ones, you can feel how this freedom opens up new tacts to how a star normally plays a role. One of the best ones is 1984's "All of Me." This high-concept film uses its stars' strengths admirably. "All of Me" uses the sassy force of Lily Tomlin opposite a Steve Martin who fluctuates between panicked and measured, as he does best. 
While several films have dabbled in this genre, "All of Me" excels with its embrace of the setup. There are a ton of mirrored moments — sometimes literally with mirrors — that force the actors to embody the other's essence uncannily and impeccably. Truly, "All of Me" is a master class on physical comedy. In "All of Me," Tomlin plays Edwina, an estate owner who wants Terry Hoskins (Victoria Tennant) to inherit her soul. However, Edwina dies, and her soul lands in her overworked lawyer's (Steve Martin) body. Of course, there's a catch even to this impossible of a scenario: Edwina can only control the right side of Roger's body. Both comedy legends gleefully lean into this premise, making every stroll in the film a comedic affair. 
Dirty Rotten Scoundrels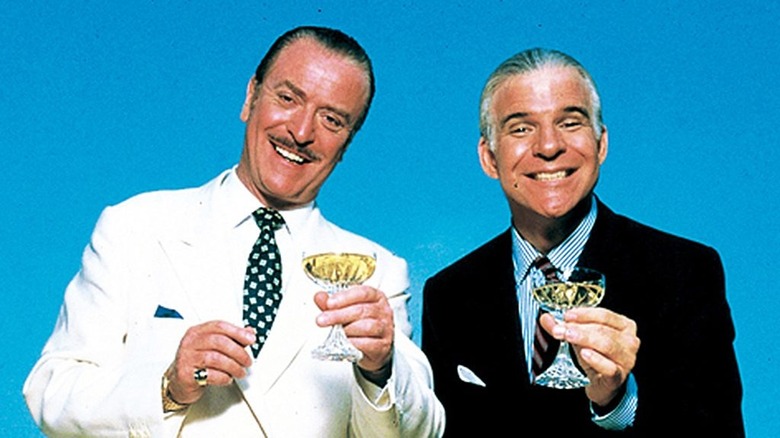 Orion Pictures
Before there was Rian Johnson's "The Brothers Bloom," or 2019's "Hustle," there was 1988's "Dirty Rotten Scoundrels." Directed by Frank Oz, the hit comedy film is itself a remake of Marlon Brando and David Niven's "Bedtime Story." Like its inspiration, the film centers on two rival con-men competing for heist territory in the French Riviera. Watching Michael Caine embody the smarmy and cultured Lawrence Jamieson is a gift that keeps on giving. Steve Martin co-stars as Freddy Benson, a sleazy swindler who will likely remind modern audiences of Bob Odenkirk's Slippin' Jimmy persona from "Better Call Saul." The two butt heads throughout its runtime, aiming to outwit the other. Eventually, the tensions boil over into a solid agreement: whoever can land their latest mark first can stay, whereas the other has to find another place to rob rich people of their life savings.
For most of the late '90s-present day, Steve Martin portrays a neurotic character. He's adept at making you think his head will explode soon like a cartoon, as we see best in his role of Charles in "Only Murders in the Building." But watching Martin play a bad boy is refreshing. You can feel Freddy's greasy hair. Martin's antagonistic tics are stellar, and it's something the hit Hulu show hasn't utilized yet. Maybe we'll see Charles be guilty of something hideous in the future, which would allow Martin more room to express his range.
Planes, Trains & Automobiles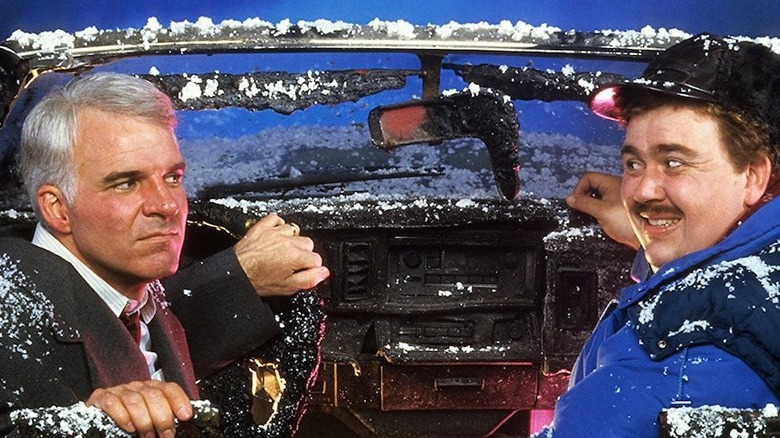 Paramount Pictures
Written and directed by John Hughes, "Planes, Trains & Automobiles" is a holiday comedy classic. Similar to Steve Martin's prior roles ("Father of the Bride" or "The Out-of-Towners"), he plays an anxious bundle of nerves named Neal, who is desperately trying to get home in time for the holidays. He likes things to be in a particular way at all times. Cue the surprise arrival of John Candy's Del, a messy and overzealous guy who ends up being Neal's bunkmate on his quest to escape a surprise snowstorm and holiday traffic.
"Only Murders in the Building" fans who love watching "The Odd Couple"-like dynamic play out between Charles and Oliver should 100% check out this film. Similar to the Hulu series, Martin plays a straight-man character, which gives Candy all the more room to lean into the farce. Where Martin Short's Oliver is frivolous and manic, Candy's Del is lovably obtuse and unaware of the short-fuse that is Neal. My dad, a stone-faced veteran, was not someone who laughed much at movies. But I still remember him crying tears of joy watching these two stars play off each other so well on-screen, particularly when Del drives a car through a house or just wants a good cuddle from Neal. Tragically, John Candy died in 1994, but his jovial skills shine in this film and are a perfect match for Martin's frantic energies.