What Sets She-Hulk Apart From The Rest Of The MCU, According To The Cast And Crew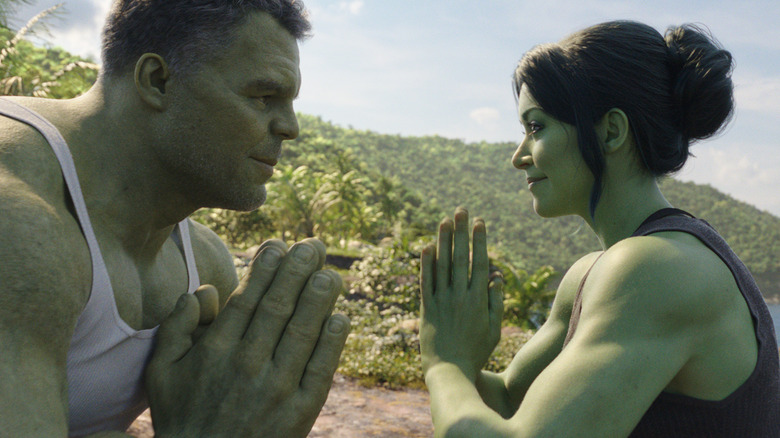 If the promotional tour for Marvel's latest series has proven one thing, it's that we're all a little hot for big, green people. Of course, the Hulk has always been hot (don't fight me on that), but aside from a rather risque moment in "Thor: Ragnarok" — and a disappointing, half-baked romance in "Avengers: Age of Ultron" — said hotness has never gotten much acknowledgement in the Marvel Cinematic Universe. All that is poised to change, however, with "She-Hulk: Attorney at Law." The Disney+ series features not just one Hulk, but three — and one of them is a muscular lady! It's time to check on your friends who've got a soft spot for monsters and muscles, because "She-Hulk" will likely be awakening something in somebody.
And for the record, that's nothing to be embarrassed about. In fact, it's what makes "She-Hulk" such a unique addition to Marvel's Cinematic Universe. The series is not shy at all about depicting its hero, Jennifer Walters (Tatiana Maslany), as a sexual being, or about addressing sex in general. It's taken a long time for the MCU to use love and romance in a way that actually feels, well ... real — but according to the creators of "She-Hulk," it was a make-or-break aspect to the series.
She-Hulk lets its heroes be horny...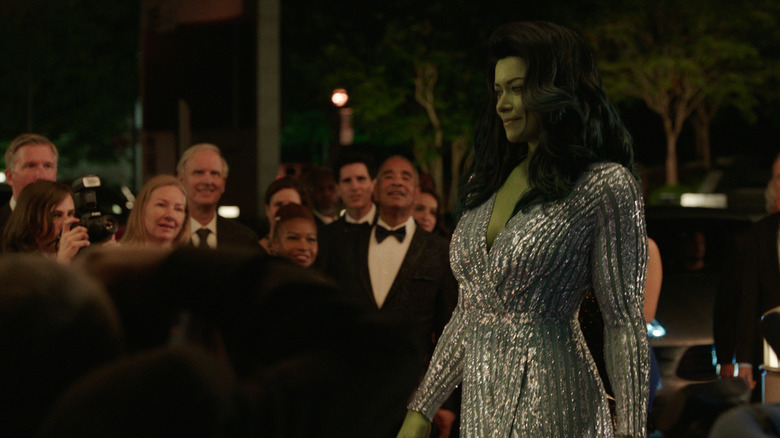 It's difficult to build a story around a woman in the modern world without addressing her love life. Granted, Marvel has managed to avoid that topic until very recently (mostly because exactly two Marvel films have focused exclusively on female heroes), but "She-Hulk" is ready to take things a step further. "I've been saying repeatedly that we are a very horny-forward show," said head writer Jessica Gao in a conversation with EW. It was important that sex — and by extension, female desire — wasn't treated like a taboo or off-limits topic in the series:
"This show is supposed to be a well-rounded, realistic portrait of a woman's life — a single, 30-something-year-old woman — and sex is a part of everyone's life. It is a very normal, healthy part of human beings. We didn't want to feel like we're going to paint a picture of this woman's life, but not that part."
"She-Hulk" is all about the titular hero reconciling her day-to-day life with the sudden pressures of becoming a superhero. While the superhero stuff is a massive aspect of the series, Gao didn't want it to overshadow the rest of Jennifer's world:
"In Marvel movies, they have other things to worry about — they're trying to save the world, they're trying to save the fate of humanity, so there's not a lot of time to then be like, 'But also, what's happening in the apps?' for them. But on our show, because it is showing her daily life, the universe isn't at stake, so that is something that we really wanted to make sure that we focused on. The entire show isn't just about her dating, but it is an aspect of her life."
...And human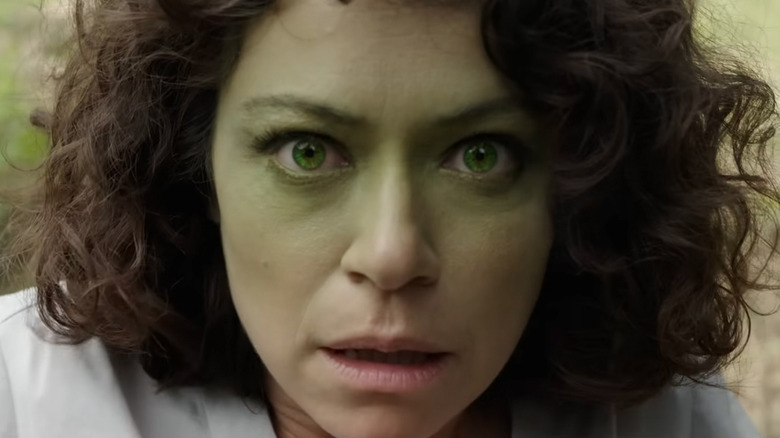 Marvel Studios
Depicting that particular aspect of Jennifer's life was "fundamental" to Kat Coiro, who was in the director's chair for the bulk of "She-Hulk." "Because if you strip away all the superhero stuff, this really is the story of a woman in her thirties, navigating modern life and dating and social media and family and friends," Coiro explained. "That element of her life was crucial to the whole conception of the show."
And for Tatiana Maslany, the "horniness" of the show is one of the best parts of it. "Jessica and I always talk about how the moments when Jen is horny are our favorite things," the actor revealed. "I also had a friend who said he'd never related to a superhero before he saw She-Hulk be horny for fries in the trailer, and I was like, 'Yeah, same.'"
It's not always easy to balance the life of a superhero with the more "human" aspects of the character. Of course, it can be done — and to great effect — but that wasn't exactly Marvel's bag until very recently. Hopefully "She-Hulk" weighs in on this particular issue to fans' satisfaction, but either way, it's high fricken' time Marvel let its heroes be human.