How The She-Hulk Cast Helped Ease Tim Roth Back Into The MCU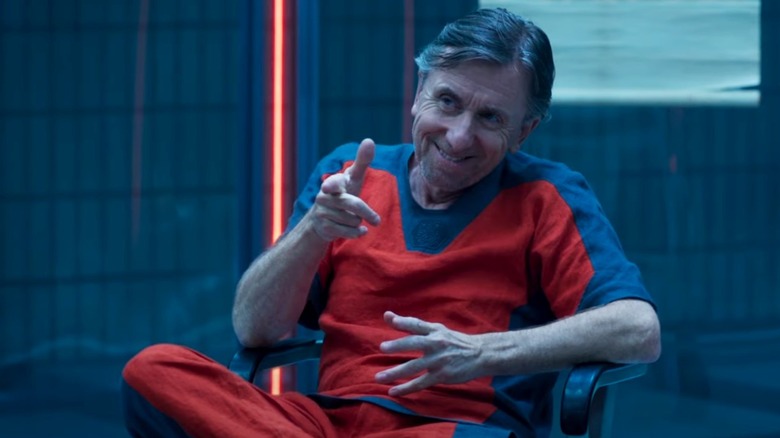 Marvel Studios
When "Shang-Chi and the Legend of the Ten Rings" came out, fans were excited to see a face they hadn't spied since 2008's "The Incredible Hulk." During a scene in a fight club, Abomination appeared in the ring, brought there by none other than the Sorcerer Supreme Wong (Benedict Wong). While that seems like a shady thing for the guy who is supposed to be running the magic side of things to do, it's Wong we're talking about. Whatever his plan, it's probably a good one. 
That was a character I didn't think we'd see again. After all, this was back when Edward Norton, not Mark Ruffalo, was the face of Bruce Banner. Now we're getting Abomination as a character in the Disney+ series "She-Hulk: Attorney at Law," which will premiere on the streamer in less than three weeks. 
If you never saw that early chapter of the Marvel Cinematic Universe, Abomination is otherwise known as Emil Blonsky, who was (and is) played by Tim Roth. He was part of a special forces unit working for General Thaddeus "Thunderbolt" Ross (played by the late William Hurt). Blonsky was injected with gamma radiation in a smaller dose than Bruce Banner, but then injected some of Banner's blood. It transformed him into a creature called Abomination, who had super speed, strength, agility and healing ability, but it messed with his head and turned him into a very large creature intent on destruction. 
The fact that he's hanging with Wong now might mean that part of him has changed a bit? That is 100% speculation on my part, but Wong is my favorite. I trust him. Roth spoke to ScreenRant about his time on the "She-Hulk" set, and had a lot of positive things to say about the cast of the new series. 
'A penny drop moment to me'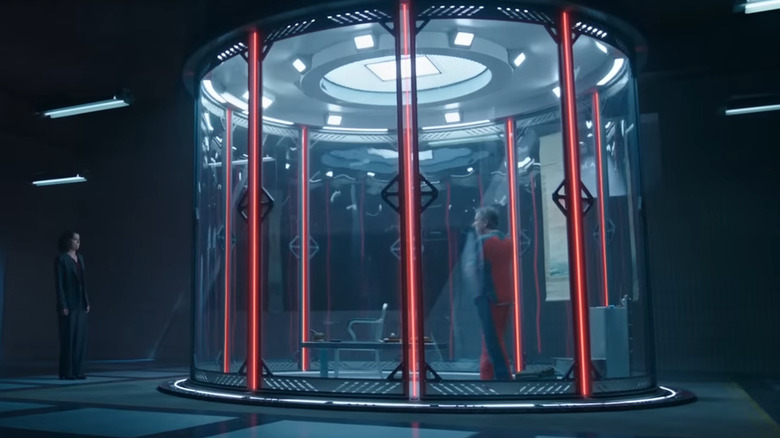 Marvel Studios
As we see in the trailer (and as we saw in "Shang-Chi"), Blonksy is still in his supermax plastic prison cell. Tatiana Maslany's Jennifer Walters, who has transformed into She-Hulk, is recruited to be the face of a law firm that deals with superhuman cases. She visits Blonsky in plastic jail on assignment. He did try to kill her cousin, and she tries to tell her boss that it's a conflict of interest, but it's apparently no biggie. We don't know if his case will be the major one for the first season of the series, but Roth is shown enough in the trailer that it's likely. 
Roth told the site he didn't have much filming for the first few days on set, so he was "just watching the world." It appears that this is a different sort of feel from the 2008 film, and Roth had nothing but lovely things to say about his time on set:
"It's incredible. Mind-boggling. And watching Tatiana, that was extraordinary. Wow. And then I had a couple of days early on in the schedule with Tatiana and Mark Ruffalo and watching them interact and play — it was a penny drop moment to me. 'Oh, that's what you do.' 

"And then I could jump into the world. And so it's actually watching them bounce off each other and play around because they're already deep into filming. Mark had years on it. That's what gave me and then I went 'Oh my god.' And then it's playtime, you know? Yeah. And it was real playtime. And we had so much fun. I absolutely loved it."
That court wardrobe is going to cost a lot if you keep ripping it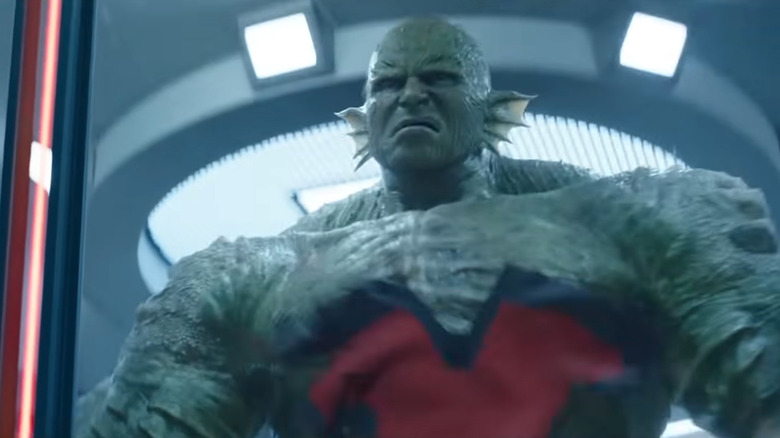 Marvel Studios
Whatever you think of the look of the series (I'm one of the people who really hates the CGI), it certainly seems like fun. It's nice to hear that one of the actors feels that way as well. Here's the official synopsis for the show:
"She-Hulk: Attorney at Law" follows Jennifer Walters as she navigates the complicated life of a single, 30-something attorney who also happens to be a green 6-foot-7-inch superpowered hulk.
The series, which will feature fourth wall-breaking as the comics do, is directed by Kat Coiro and Anu Valia, with Jessica Gao as head writer. There will be nine episodes in the series, which stars Maslany, Mark Ruffalo as Smart Hulk, Benedict Wong, Ginger Gonzaga, Josh Segarra, Jameela Jamil, Jon Bass, and Renée Goldsberry. 
I'll say it again: I trust Wong. If he is on Abomination's side, he's probably mostly okay. Wong does end up in Walter's office at some point, which means he's likely advocating for Blonsky. We'll find out more when "She-Hulk: Attorney at Law" premieres on August 17, 2022.