Universal Becomes First Studio To Gross $3 Billion In A Calendar Year Since 2019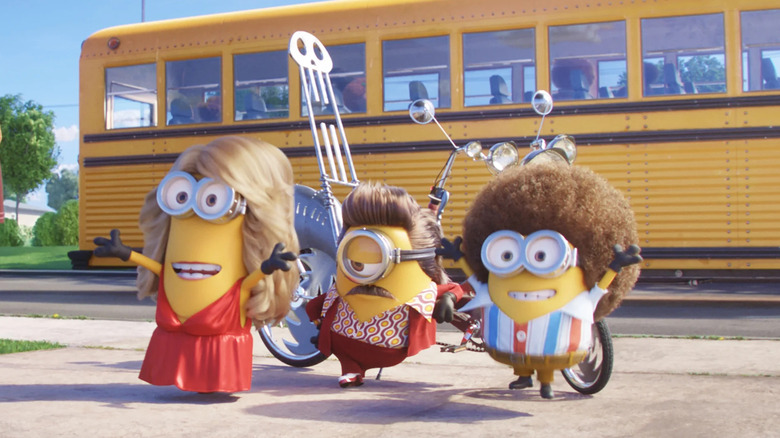 Universal Pictures
Are movie theaters finally back? Depends on who you ask, but one thing is for sure: Universal Pictures movies are certainly proving that audiences want to return to their local multiplex. The company announced on Sunday that it has grossed over $3 billion worldwide in a calendar year, making it the first studio since the pandemic began in 2020 to achieve this milestone.
The banner year comes courtesy — in large part, due to their popularity and subsequent box office returns — of two new franchise films, "Jurassic World: Dominion" and "Minions: The Rise of Gru," both of which are the latest, highly anticipated installments in their respective universes. According to The Wrap, "Dominion" brought in $976 million and "Rise of Gru" grossed another $790 million — which means the two movies have brought in more than half of the studio's global gross to date, which adds up to a whopping $1.76 billion from these two films alone.
There's more to come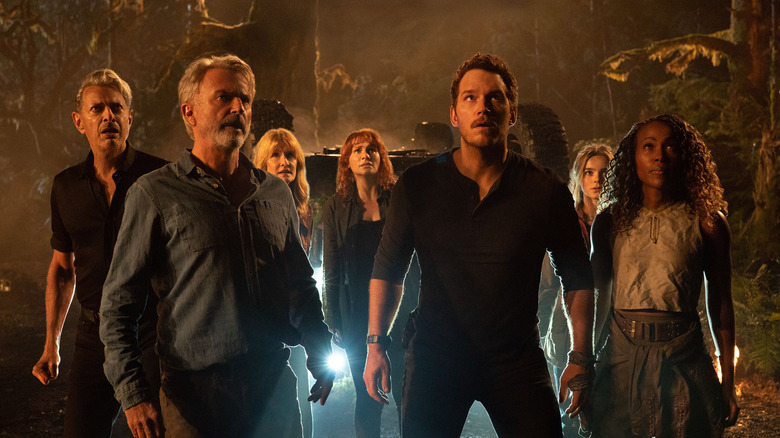 Universal Pictures
Universal's films have had widespread success this year, especially when you look at the kind of cash they're pulling throughout the genres. Horror films "Nope" ($113 million worldwide) and "The Black Phone" ($152 million worldwide) brought home $113 million and $152 million respectively (and counting) in their worldwide earnings, while the DreamWorks animated kids entry "The Bad Guys" grossed $246 million worldwide for the company. 11 films have been released through Universal Pictures this year, including an epic 40th anniversary re-release of "E.T.: The Extra-Terrestrial" and the holiday release "Sing 2."
The rest of Universal's 2022 line-up is sure to continue their winning streak. Still to come this year, they will release this the highly anticipated horror franchise finale "Halloween Ends," DreamWorks' upcoming sequel "Puss in Boots: The Last Wish," and "She Said," which follows the two brave women who wrote the report exposing Harvey Weinstein's vicious sexual abuse of female colleagues over the years.
The pandemic and the movie-going experience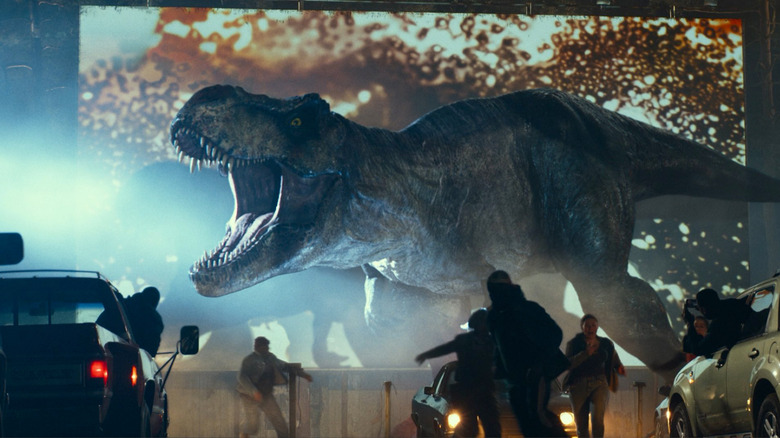 Universal Pictures
The film-going landscape has changed so much since 2019. That year — when we were bright-eyed, bushy-tailed, and blissfully maskless without a care in the world — $3 billion worldwide was the norm for a major studio. Warner Bros., Disney, and Sony Pictures also garnered high gross revenues in the year before the pandemic struck, so Universal certainly wasn't the only one seeing incredible returns pre-pandemic. In fact, between the Marvel installment "Avengers: Endgame," the "Lion King" remake, and "Frozen II," 2019 brought in a record-setting $11.1 billion for Disney. 
Universal's $3 billion haul for 2022 so far does show us something really excellent despite the low number (as compared to 2019): We're ready to be back at the movies, pandemic or not. Slowly but surely, attendance rates are climbing, and nothing proves that more than a successful revenue stream that continues to do better than the year before. That said, it'll be interesting to see where studios will be with these returns in 2023, and what that will say about how our movie-going customs have evolved.