Yellowjackets Season 2: Everything We Know So Far About The Return Of Showtime's Wild Series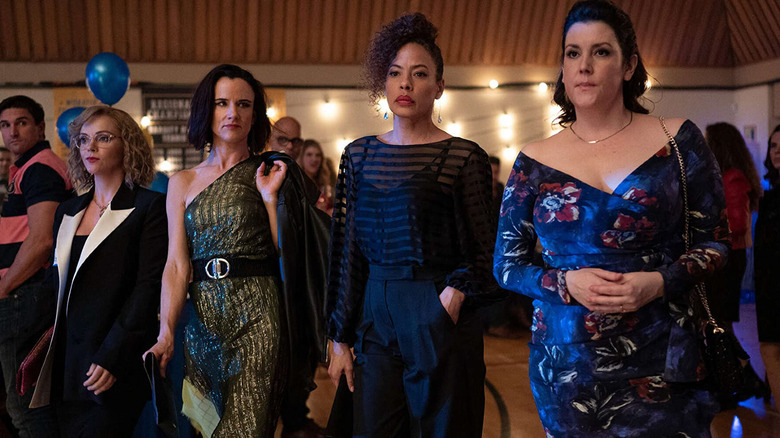 Showtime
Few new TV series in 2021 generated quite the level of buzz — too easy, I know! — as creators Ashley Lyle and Bart Nickerson's multi-timeline teen girls thriller "Yellowjackets." If you weren't already hooked by the end of the creepy pilot directed by Karyn Kusama (who knows a thing or two about Hell being a teenage girl), then season 1 was quick to pull you in with its compelling mysteries and captivating, troubling protagonists.
"Yellowjackets" season 1 follows the titular Seattle high school girls' soccer team as they fly to a national tournament in 1996, only for their plane to crash deep in the Canadian wilderness. 25 years later, only a handful of them are still alive after spending 19 months stranded in the woods, during which time... Well, very bad things clearly happened. But the question of precisely what went down (other than some "Lord of the Flies"-style hijinks) and who's still around in 2021 was only partly answered by the end of the season, leaving plenty of material for season 2 to unravel.
Hoping to avoid the dreaded sophomore slump, Lyle, Nickerson, and their co-showrunner Jonathan Lisco have been taking their time to get season 2 just right, with Lyle telling The Wrap they're now looking at a premiere date in the first quarter of 2023. With filming set to begin by the end of August 2022 and continue on through to February 2023, let's take a moment to run down everything we know about the next chapter of Showtime's wild genre-blending breakout hit so far.
What is Yellowjackets season 2 about?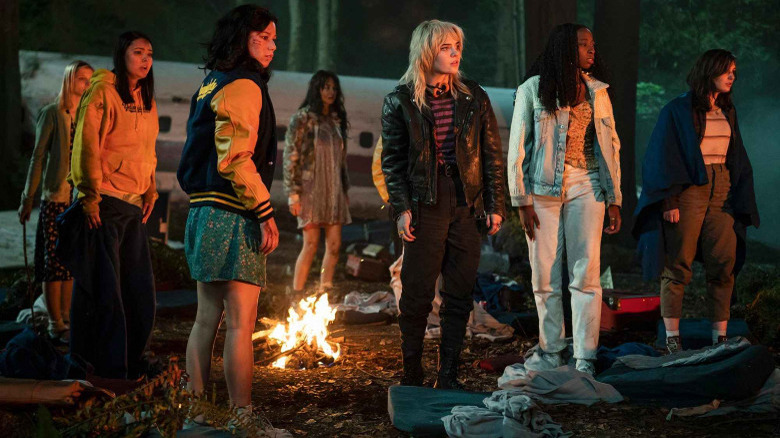 Showtime
For all the haunting mysteries left hanging in the air by season 1 (be it the ultimate fate of teen Shauna's as-yet-unborn baby or whether something supernatural is really going on in the forest), "Yellowjackets" has proven to have more on its mind than your average mystery-box TV series/"Lost" wannabe so far. The show's creatives have promised that will continue to be the case in season 2, as the theme of trauma and, more specifically, how people react differently to traumatic events moves further into the spotlight.
We already got a taste of that at the end of season 1, which showed a growing number of the teen Yellowjackets joining Lottie in a bizarre sacrificial ritual involving a bear's heart meant to appease the spirits they now believe are haunting the wilderness. If that wasn't alarming enough, the season also concluded with Jackie dying after freezing to death in the woods one night, unaware that winter had finally arrived. And if "Game of Thrones" has taught us anything, it's that winter coming never means anything good for the people in a story as dark as this.
And now we've learned that Lauren Ambrose has joined the cast as the adult Van, the character played as a teen by Liv Hewson. 
Who is working on Yellowjackets season 2?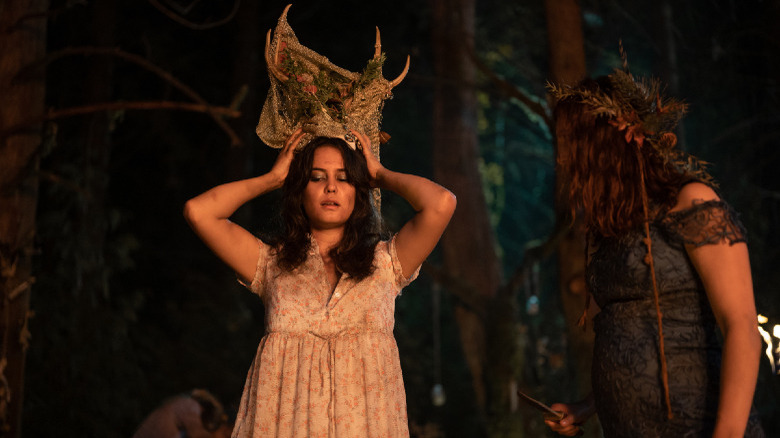 Showtime
Ashley Lyle, Bart Nickerson, and Jonathan Lisco are once again serving as show-runners on "Yellowjackets" season 2, with Lyle telling The Wrap the trio are committed to doing right by the show's "deeply serialized story." This is also why the trio have been taking their time with next season, despite having already roughly mapped out a five-year plan for the show. Adding to what Lyle said, Nickerson explained:
"One thing about the show doing really well, that maybe I hadn't anticipated, was how much responsibility Ashley and I and Jonathan and the whole team feel to earn the level of affection the audience is showing. The idea of delivering something that wasn't as good as the first season was just too much to bear. So I said, 'I think that we should take a little more time with this and just make sure it's really good.'"
As for the cast, Melanie Lynskey (adult Shauna), Juliette Lewis (adult Natalie), Tawny Cypress (adult Taissa), and Christina Ricci (adult Misty) are all set to reprise their roles from season 1, along with the actors who play their characters' high school counterparts (Sophie Nélisse, Sophie Thatcher, Jasmin Savoy Brown, and Sammi Hanratty). 
On August 11, 2022, Lauren Ambrose ("Six Feet Under," "Servant") joined the cast to play the adult version of Van. Meanwhile, Liv Hewson, who plays the younger version of Van, will be a series regular in the second season.
There's really not a weak link in the chain when it comes to the series' returning ensemble, which only raises expectations for the as-yet-unannounced casting of grown-up Lottie — a character we only just learned is alive in 2021 at the end of season 1, and who looks to play a major role in both timelines in season 2 (with Courtney Eaton coming back to portray her as a teenager).