Yellowjackets Season 2 Will Explore The Fundamental Mystery Of How Trauma Changes People [ATX]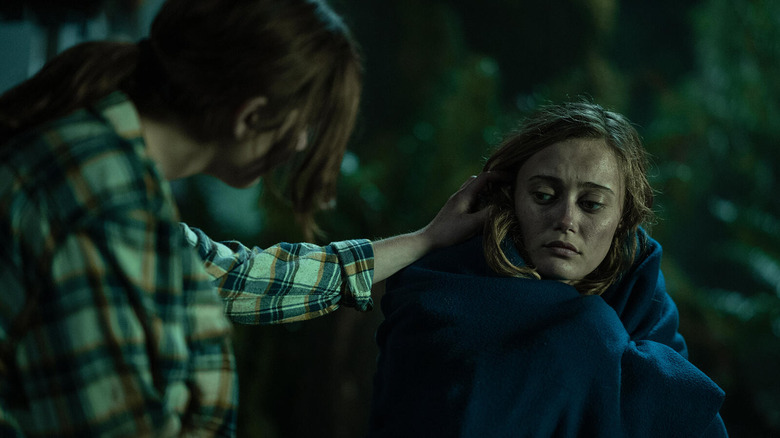 Showtime
Following the chilling (literally) first season, Showtime's sleeper-hit "Yellowjackets" is gearing up to begin shooting its highly-anticipated second season. Half period piece half modern thriller, "Yellowjackets" tells the story of what happened when the members of the 1996 Wiskayok High School girls' soccer team were stranded in the Canadian wilderness after a tragic plane crash, and how they managed to survive and endure after all these years. The horrific survival mystery quickly became a watercooler series, with extremely active online communities, podcasts, and speculation popping up every week. "Yellowjackets" gave viewers a look at not only the immediate aftermath of the plane crash but how the survivors are holding out 25 years later, leaving all of us addicted audience members to try and fill in the blanks for the time between.
The first season ended with a horrific death, which means fans of the show have been waiting since January to see what happens next. 
Are we impatient? Yes. Do we care who knows it? NO. Fortunately, /Film's own Ryan Scott was witness to the aptly named "Reinventing the Watercooler" panel at the ATX Television Festival, where "Yellowjackets" executive producer Drew Comins and eOne EVP of Scripted Programming, Jacqueline Sacerio, dropped some new information regarding the show's upcoming second season. 
Buzz, buzz, "Yellowjackets" hive. We've got some honey for you.
Do the women possess darkness?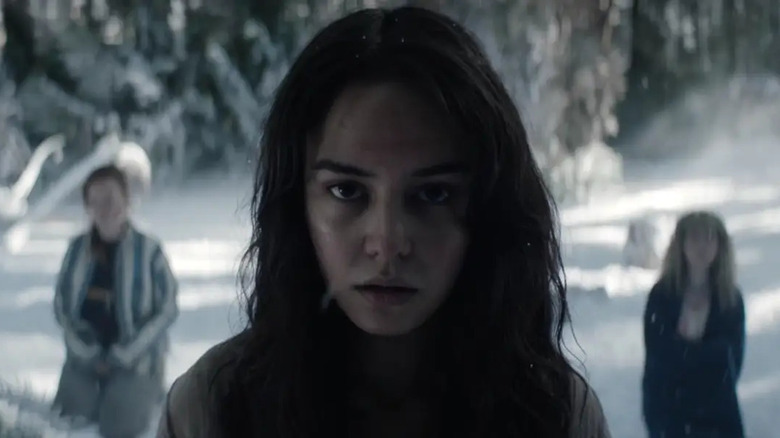 Showtime
Drew Comins is fully aware that fans are desperate for answers but is correct in knowing where the true intrigue and mysteries of the show exist. He said that the big question that people keep asking is "What really happened out there?" Which makes sense considering there's a non-zero chance that the Yellowjackets girls' soccer team had to resort to cannibalism to say alive. But as Comins points out, there are deeper questions at play, like how did this change them? "Going back to the fundamental mystery of the show isn't 'Who fell in that pit?'" said Comins. "It's 'who did it make them into?'"
He continued by mentioning how trauma shapes people differently and pain metabolizes in different ways and said that season 2 is going to explore how their experiences in the wilderness shaped them as human beings on an emotional level both as individuals and as a group. "They were sort of [thrown] into the fire together, so I hope that [we lean into that] question of 'Are the women possessed by the darkness or do the women possess darkness?'"
For those unaware, trauma is not an event in itself, but rather the way we emotionally process the event. It's why some people were immobilized in front of their televisions after 9/11, while others managed to go to work the next day as if nothing had happened. The "Yellowjackets" gals are not a monolith, and they've each dealt with the crash and 19 months of survival as teenagers differently. 
Jacqueline Sacerio capped the teaser by saying, "And I think we can say, aesthetically, that winter is coming." Good. All hail the Antler Queen.