Here's The DC Superhero Idris Elba Wants Bloodsport To Fight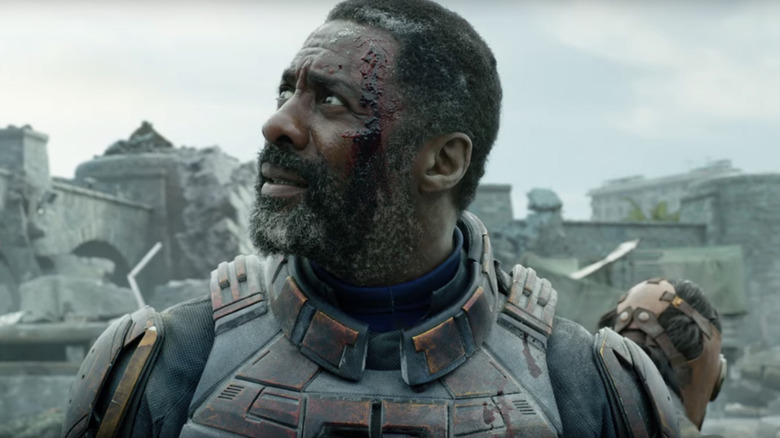 Warner Bros. Pictures
Idris Elba will be seen squaring off against a lion in "Beast," but "The Suicide Squad" actor has his sights on bigger prey. 
The mystery and intrigue leading up to the reveal of who Idris Elba was playing in James Gunn's "The Suicide Squad" (not to be confused with the 2016 "Suicide Squad") had many people theorizing what anti-hero the actor would play. Eventually, DC Fandome delivered the somewhat anti-climactic reveal that Elba would portray the villain Bloodsport. 
James Gunn is a fan of lesser-known characters, and the roster he assembled for "The Suicide Squad" is a prime example.Featuring characters like Polka Dot Man, TDK (The Detachable Kid), and Peacemaker, Gunn's assembly of d-list heroes makes Bloodsport feel like a more prominent character in comparison. Idris Elba brought the character to life uniquely, boasting a wide array of weapons he pulls from seemingly out of nowhere in his intricately designed armor. Elba's future as the character is unknown at this point, but if there's one thing the actor knows about Bloodsport, it's that he has his eyes set on one big opponent in the DC Extended Universe.
Bloodsport v Superman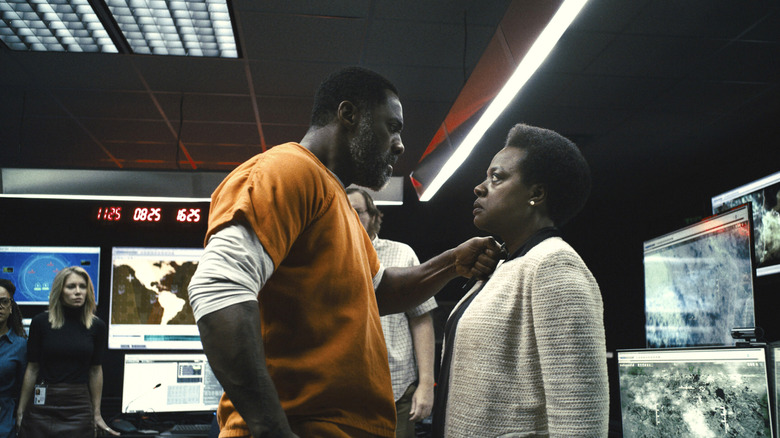 Warner Bros. Pictures
While promoting his upcoming film "Beast," Idris Elba spoke with Variety about Bloodsport's potential return and how he would want the character to get a rematch with the Man of Steel:
"I would definitely like to tell the Superman story. There's no doubt. Bloodsport versus Superman. It needs to happen."
The character of Bloodsport had gone up against Superman in the past, albeit offscreen. At the beginning of "The Suicide Squad," Amanda Waller provides timely exposition regarding the reason for his incarceration. Bloodsport, AKA Robert DuBois, had been taken into custody following an attempt on Superman's life. The assassin put the last son of Krypton in the ICU with a Kryptonite bullet, although he couldn't finish the job.
The idea of Bloodsport facing off against Superman, whether it be alone or with another variation of Task Force X, is an exciting idea. It's so interesting, in fact, that James Gunn considered Superman as the antagonist of "The Suicide Squad" at one point. The far weirder villain Starro ended up taking center stage as the film's villain, with Bloodsport barely making it out of the movie alive. While Bloodsport may have had Superman on the ropes in a previous unseen encounter, the character doesn't pose much of a threat to the hero without some Kryptonite.
Bloodsport's future in the DCEU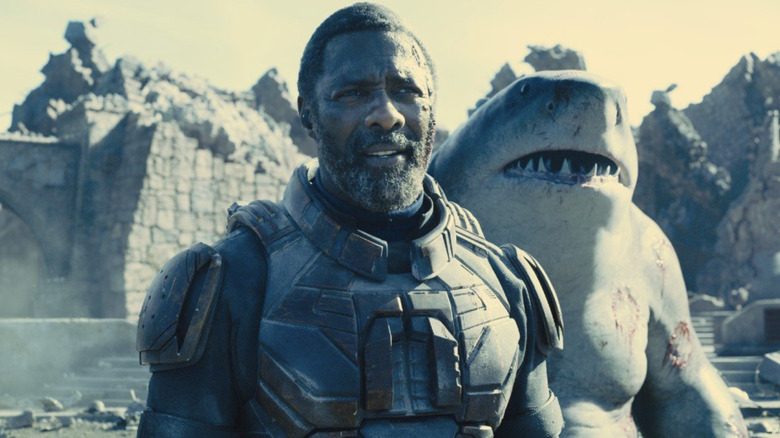 Warner Bros. Pictures
Director James Gunn has his hands full right now, with "Guardians of the Galaxy Vol. 3" in post-production and "Peacemaker" season 2 on the horizon as well. A "Bloodsport" project isn't out of the question for the director, who has teased his involvement with several yet-to-be-named DC projects. However, it's hard to say what Gunn's priority would be following "Peacemaker" season 2. Spinning off characters from "The Suicide Squad" seems to be the recurring trend, especially given the development that Task Force X handler Amanda Waller is getting a spinoff of her own.
In light of Gunn's workload and other "Suicide Squad" related spinoffs, Bloodsport's character is highly likely to return, but we just don't know if it will be in another supporting role or a movie/TV show of his own. Either way, we hope that Idris Elba gets his wish at some point.