Fitting I Am Groot Into The MCU Put The Series Under A Major Constraint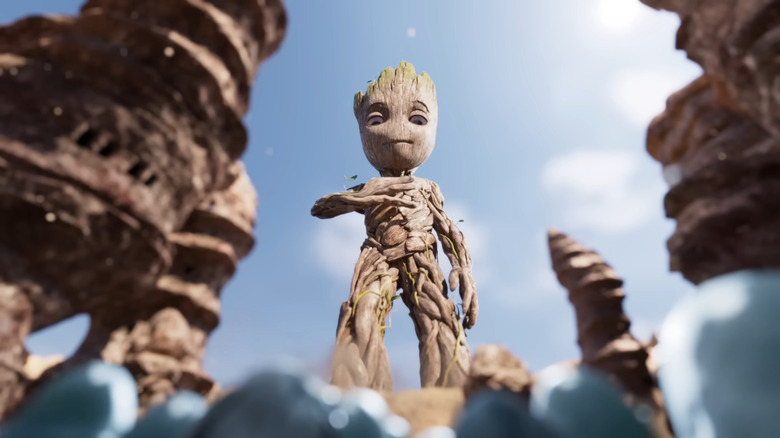 Marvel Studios
When you have a connected film/TV universe that has been around since 2008, finding room to tell smaller stories set in between big events becomes an interesting challenge. That was definitely true of the upcoming series of Disney+ shorts, "I Am Groot," which takes place when everyone's favorite sentient tree was still a little twig.
If you recall, the adult Groot sacrificed himself to save his friends at the end of "Guardians of the Galaxy." A sort of new/reincarnated Groot was grown in a pot, which you probably know because if you're like me, your home contains at least one Baby Groot toy.
Because Groot grew into a teenager in "Avengers: Infinity War" and a young adult in "Thor: Love and Thunder," there was only a small place in the Marvel Cinematic Universe where another story about Baby Groot would fit, according to an interview ComicBook.com did with Brad Winderbaum, Marvel Studios' head of streaming, and executive producer/writer/director Kirsten Lepore. Winderbaum explained, "It's a narrow window, right? It takes place actually between the end of 'Guardians 2' and before the tag scene in 'Guardians 2.' So, it's in this narrow window where Groot in that kind of post-toddler stage of development."
Lepore also elaborated on where exactly Baby Groot is in his development, and even the description is adorable. 
'He's a bad baby'
Lepore said that she had several meetings with "Guardians" director James Gunn, and at the initial meeting, they had discussions about the character and who he is at this stage. She said:
"I remember [Gunn] telling me like, 'Oh yeah, he's a bad baby. And also he's like an emoji guy,' which cracked me up. And I kept like repeating that in meetings. I was like, we gotta make sure that we're just nailing these poses and facial expressions because all he has is two eyes in a mouth. He doesn't even have a nose, it's a very limited face. So it's like just like an emoji, nails and emotion and expression."
If the trailer is anything to go by, they didn't have any trouble with Groot's expression at all. Not that they ever have, even allowing for the fact that he (almost) never says anything other than, "I am Groot." As much as we all love surly teenage Groot and impressive full-grown Groot, "bad baby" Groot is really the best, and it's nice to revisit him. 
Here is the synopsis for "I Am Groot," courtesy of Marvel Studios:
There's no guarding the galaxy from this mischievous toddler! So get ready as Baby Groot takes center stage in his very own collection of shorts, exploring his glory days growing up—and getting into trouble—among the stars. "I Am Groot," five original shorts featuring several new and unusual characters, stars everyone's favorite little tree, Baby Groot, voiced by Vin Diesel, who voices Groot in the "Guardians of the Galaxy" franchise.
"I Am Groot" will premiere with all five shorts on August 10, 2022 on Disney+.