Easter Sunday Star And EP Jimmy O. Yang On Getting The Green Light From Steven Spielberg [Interview]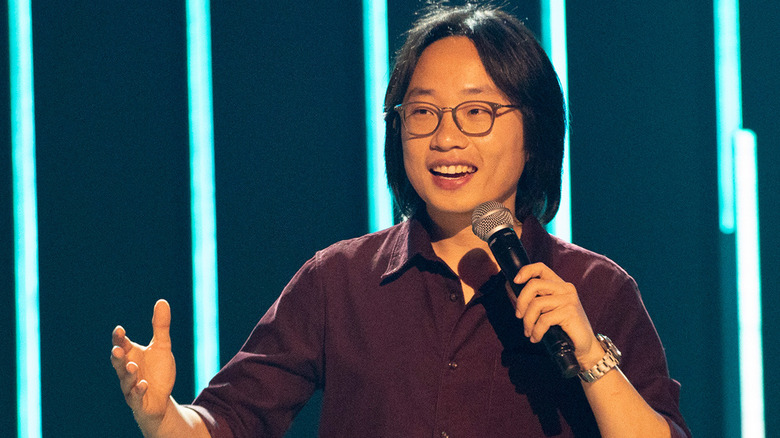 Prime Video
Since landing his breakout role on "Silicon Valley" in 2015, Jimmy O. Yang has been on the rise. The actor, writer, and stand-up comedian from Hong Kong has appeared in a number of shows and movies over the years in various roles, including his latest cameo in "Easter Sunday." But now he's also added a new role to his repertoire: executive producer. Along with his partners at the production company Crab Club, Yang was one of the people that got the ball rolling on the dysfunctional family comedy based on the material of Filipino funny man Jo Koy.
Ahead of the film's opening weekend, we had a chance to speak with him about his experience as a producer so far, his hope to encourage the next generation of filmmakers to tell their authentic stories, and his upcoming projects both in front of the camera and behind the scenes. Additionally, Yang touched on riffing with Koy onset and teased the future of his "Crazy Rich Asians" character Bernard Tai.
'How the lumpia gets rolled'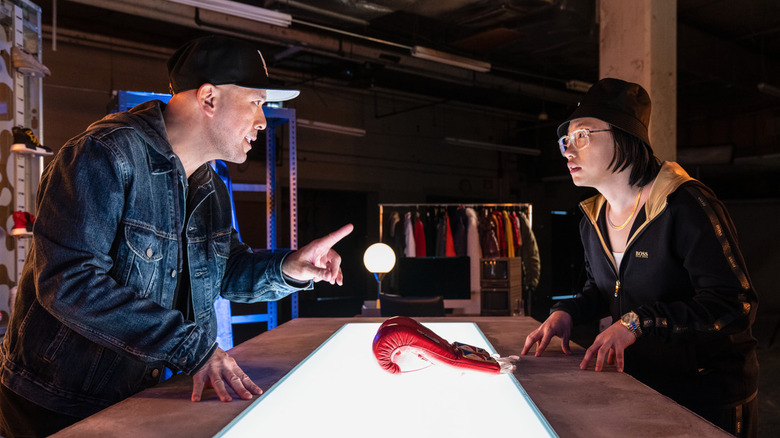 Universal Pictures
In "Easter Sunday" you play Marvin Ma, who's a bit of a hustler. You're also listed as an executive producer. How did you get involved with a dual role in the production?
I think it started with the EP part. It started with Dan Lin and Rideback [who had a hand in "The Lego Movie," "It" (2017), and "Aladdin" (2019)] and Jo. Then, of course, Steven Spielberg and Amblin blessed the movie. And then me and my production company, it's called Crab Club. It's me, Ken Cheng, who ended up writing the movie, and ["She-Hulk" head writer] Jessica Gao. So us three, we do these artists dinners. Literally we eat crab at dinner with Asian directors, writers, creators, comedian actors, and one of them was at Rideback with Dan and Jo, amongst many others. And they're like, "Man, this is going to happen, but we need a script and you guys seem like the right partners." So we just put our heads together, broke the story, and then Ken wrote a brilliant script that got green lit on the first draft by Mr. Spielberg, and then it all went from there.
And then, of course, I'm like, "What about else I can do to bring value to help as an actor?" And I wanted to play even bigger part, but I couldn't because of my schedule with "Space Force," so I ended up, was still able to do this cameo and was there on the first day of shoot, which is very special.
As an EP, did you get to confer with Steven Spielberg on notes to give Jo Koy or director Jay Chandrasekhar or the rest of the crew?
I have not personally talked to Mr. Spielberg, but I feel his spirit every day. I think that's what's important, but it's interesting to see all the backend conversations and how the sausage is made. Is that what they say?
That's it. But maybe in this Filipino case, it's how the lumpia gets made.
Yeah, how the lumpia gets rolled. Exactly! So it's seeing [another side of the process], especially the casting side. I'm so used to just auditioning or proving myself as an actor, but to see so many great actors sending in tapes, it was just really encouraging, especially with so many great younger Filipino actors, that was very cool to watch. Of course, we wish we can hire every single one of them, but it was special to see and go through all that process.
You got to keep them in mind for the sequel then.
Come on sequels, spinoffs, reality shows, I'm ready.
'Jo's very funny, man'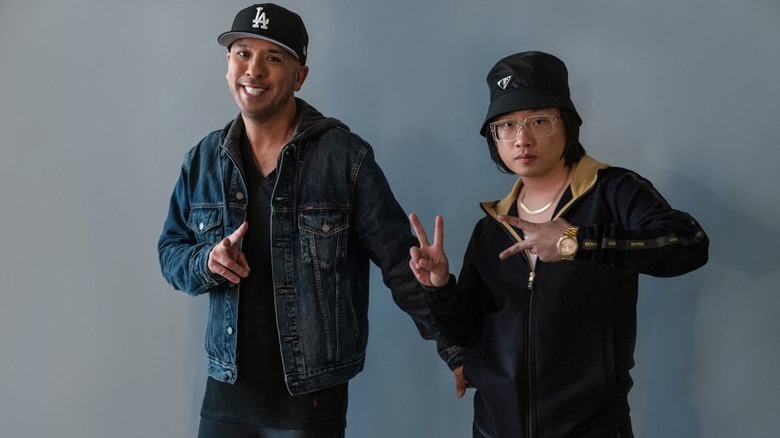 Universal Pictures
When Joe Valencia's mom is talking about his job, I was reminded of your standup a bit when you're talking about your parents.
Yes!
With your level of success now, have they finally come around on your chosen career?
I think so. I think so. My dad sometimes still gives me notes. He's like, "That joke was not true about me," but I'm like, "I think it is." But now they're just happy to be there. I did a show in Vegas, a couple big shows at the Mirage, and I make sure my dad want to come out because Vegas is like the Mecca for Asians. I got my dad a really nice room, he's taken care of. He brought his friend and I brought him up on stage and I think after that moment he forgot about whatever I said about him that might be unsavory from [my routine], he just loved it. And I'm sure that's the same with Jo and his family too.
Speaking of Jo, you both are some of the funniest comedians out there right now. While you were filming Marvin's part in the sub-basement, did you get a lot of opportunities to riff and improvise?
Yeah, for sure. The line in the trailers, "shot him in the dick," that is not written on the page, let's just say. So yeah, we get to have a lot of fun, man. And Jay's an actor. [He] let us go and sometimes there's even line pitches from Video Village. But Jo's very funny, man. And we came over with a lot of fun stuff and that was only the first day, so I can't imagine the rest of those days.
So we can expect a fairly large gag reel once we get the DVD and Blu-ray drop?
I hope so. I don't know. That would be, I guess, up to the director. Some people love gag reels, some don't, I personally love them. Oh, you know what? This is me as a producer [talking:] I actually saw and had to approve a gag reel and it was very cute and funny and I got to see a lot of stuff that I didn't get to see when I wasn't on set. Hopefully, you guys will get to see that soon.
'We could do everything just as well, if not better'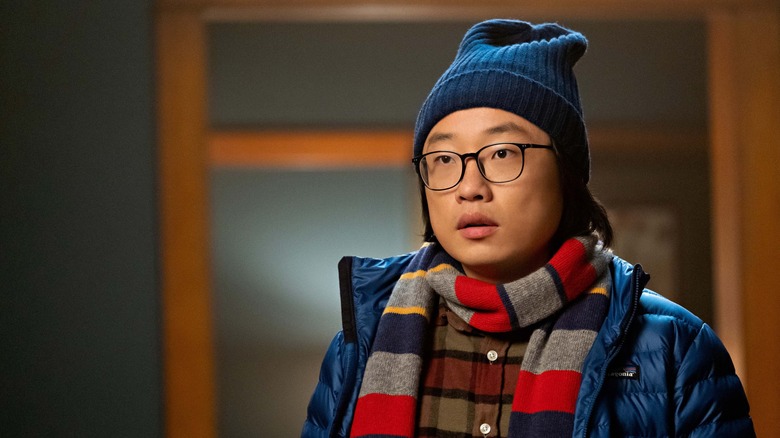 Netflix
You've been a part of a number of milestones for the Asian community in Hollywood, "Fresh Off the Boat," "Crazy Rich Asians," "Love Hard," now "Easter Sunday." How does it feel for you to land roles like these that represent the community in such big ways?
Man, it's great because it's not just a job. It really feels like there's a sense of purpose to these films and whenever it does succeed, it just opens the door even further for the younger generation, for the next writer, the next storyteller to come in, and to give them an opportunity to tell more of these stories. And I think that's what's exciting, right? None of these things are the end game. It's all just the beginning. It all just leads to more and exponentially the next thing, so I hope this continues. And I hope [that "Easter Sunday"] is successful, but also [that] it opens doors for the future of storytelling and representation out there.
But also it's a very universal story, right? A good portion of the audience can connect to this movie, even if they're not Filipino.
Yeah. I think back in the day, even when I first started comedy, just in the past era, it's like we're all afraid to be specific. We're like, "Oh, we got to write it into this formula." You've never seen it before, so you can't do it. But now with movies like "Crazy Rich Asians," and hopefully "Easter Sunday" now, you hope to break down those barriers and be like, "Damn, no, we could be profitable too. We could do everything just as well, if not better." [We want to] continue that fight and encourage everyone else by action, and by these amazing films to tell your authentic story. I think that's very important.
On that topic of what they used to do back in the day, "Easter Sunday" is a bit of a throwback in the sense that studios used to take comedians and build comedies around them a lot more back then. Do you think "Easter Sunday" is a return to that model?
Man, I hope so, man. I miss all those movies. It's like Eddie Murphy, and then you got the comedic duos of Richard Pryor and Gene Wilder that do movies together, right? I love that and I hope you bring that back. Stand up comedians, we sell tickets. We're going to be funny on stage, but it's like some of the best actors are standup comedians, so I hope this pushes that forward in a comedic representation standpoint.
It's almost like pre-Marvel cinematic universe. Comedy fans had Richard Pryor and Gene Wilder going at it, or Chris Tucker and Jackie Chan.
Yeah. Hey, maybe there'll be a Filipino cinematic universe.
Dante Basco throwing down with Jo Koy in the next movie.
Seriously, that's it, man. Come on.
Lou Diamond Phillips as referee.
It's kind of happening [in "Easter Sunday"]. It's Lou Diamond. It's Tia Carrere. It's Lydia Gaston. These are legends.
'I'm living the sequel'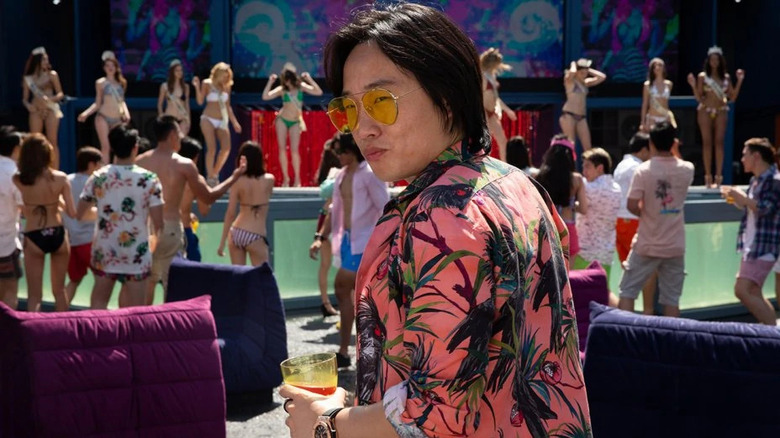 Warner Bros
I wanted to touch a little bit on "Crazy Rich Asians," since it was also such a very important movie for the community as a whole. Do you have any updates on the sequels right now?
They haven't called me about it, but I'm hoping. I'll do whatever. Those are my family. I hang out with them all the time whenever they're in town. To me, I'm living the sequel. I get to hang out with some of my best friends, and that's very special, but I hope we get to shoot another one so the fans get to see it.
Yeah, I know that in the second and third books, your character Bernard Tai has a much larger role.
Yeah, and very funny stuff too, so we'll see. We'll see. I'm not a producer on that. All I can do is wait for the phone call there.
How about some projects that you are working on currently? Where can we see Jimmy O. Yang pop up next?
I'm working on my second standup special, that's going to get shot this year. I'm going on a world tour. Australia, Asia. It's all going to be very exciting. Then Crab Club, we're developing a couple other projects that could be very fun and interesting, some starring me, some not. And then I have this one thing I can't really talk about it yet, but I think it could be a very interesting. A more dramatic turn for me. I don't want to say too much, but I think it's going to be good.
"Easter Sunday" is in theaters now.