Elvira Once Planned To Make An Elvira Goes To Hell Movie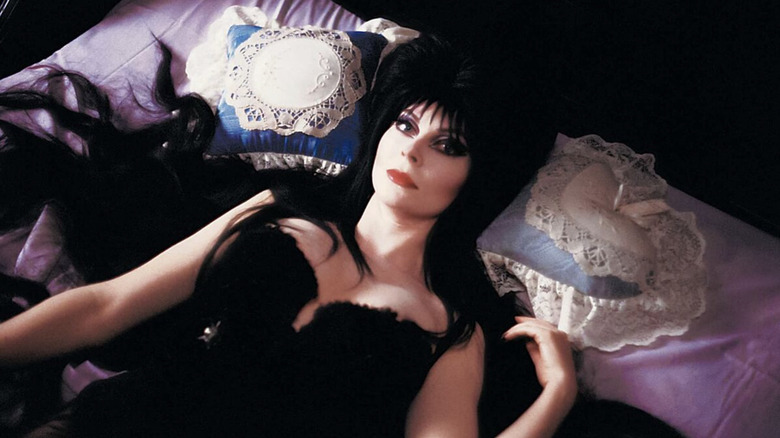 20th Century Studios
The word "icon" gets thrown around a lot these days when talking about our pop culture faves, but absolutely no one on planet Earth would dare deny the iconic status of Elvira, Mistress of the Dark. Performed by the brilliant Cassandra Peterson, the Elvira character was first introduced in 1981 as the horror host of the show "Movie Macabre." The success and popularity of the character allowed Peterson to star in a feature film based on the character, the aptly titled "Elvira: Mistress of the Dark." In the years since Elvira burst onto the scene, she's become a sexy, spooky, empire. Monster kids from across the globe can play Elvira pinball machines, wear Elvira inspired fashion, read Elvira comic books, listen to Elvira music, and if you were lucky enough when it was still available, go on a 3D Elvira adventure at theme parks.
We recently spoke to the queen herself specifically about her history in the comics industry, and learned that the Elvira cinematic universe could have been expanded. After "Elvira: Mistress of the Dark" debuted in 1988, the character would continue to appear on TV, in TV specials, and make a number of cameo appearances. It wouldn't be until 2001 that she'd star in another feature, in "Elvira's Haunted Hills." We should all be incredibly fortunate for the Elvira films that we have, but it's hard not to wish to see the alternate reality we were denied, where Elvira was given an entire cinematic universe.
Elvira could have been the next 'Ernest'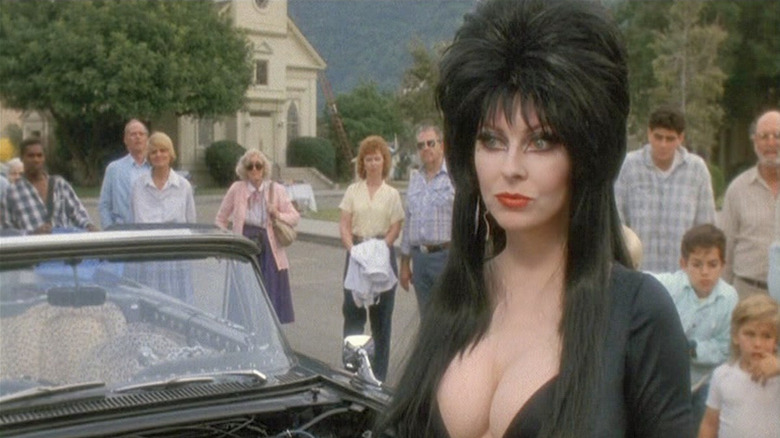 20th Century Studios
In our interview with horror's hottest macabre mommy, Peterson tells us that one of her favorite moments in Elvira's comic book adventures was in "Elvira: Mistress of the Dark, Elvira's Inferno." In it, Elvira goes to hell and hangs out with characters like John Waters muse Divine, and a bunch of other characters. The idea fit in perfectly with the original intent of the Elvira films, which was to become a series similar to Jim Varney's films starring Ernest P. Worrell. Can you imagine an Elvira Valentine's Day movie, or an Elvira back-to-school special?! The possibilities are endless. 
"The next movie we had lined up, we wanted to call it 'Elvira Goes To Hell,'" Peterson tells us. "When that issue came out, it was really fun for me because it was like seeing that idea that I never got to do, only done with lots of things I could have never afforded to anyway."
Released in 2019, "Elvira: Mistress of the Dark, Elvira's Inferno" was the #7 issue from Dynamite Comics, and (at this point) will be the closest we'll ever get to seeing what happens if Elvira took a trip to hell. Elvira just celebrated her 40th anniversary, which to me sounds like the perfect opportunity to greenlight another Elvira movie. Maybe I'm biased, but I truly think someone out there with a thick checkbook would be wise to bring "Elvira Goes to Hell" to life after all these years.