Elvira To Celebrate Her 40th Anniversary With Special Horror Marathon On Shudder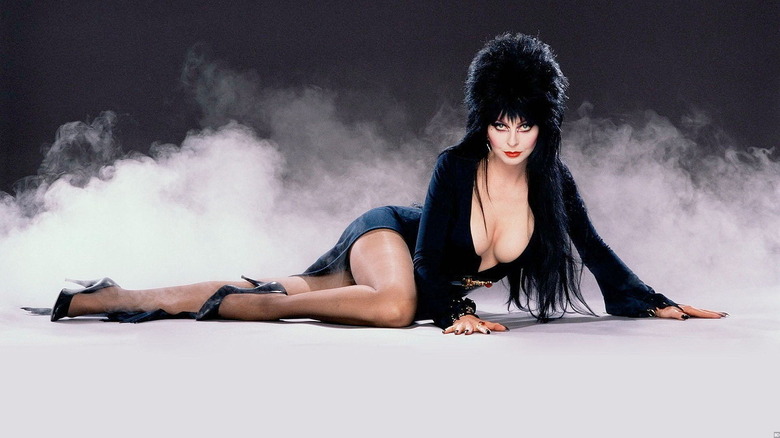 Shudder
This is no unpleasant dream, my darlings, you read the title correctly. The Mistress of the Dark is returning to the world of horror hosting for a one-night movie marathon event on Shudder to celebrate her 40th anniversary.
"Elvira's 40th Anniversary, Very Scary, Very Special Special," will be featured as part of Shudder's annual "61 Days of Halloween" lineup featuring four all-time great horror films and, of course, Elvira's sharp-tongued wit and campy commentary.
"It's always tough turning 40, but what better way to mark the occasion than a one-night stand with Shudder, the spookiest of streamers? It's going to be the ultimate Hallow-anniversa-ween bash, and you don't want to miss it," said Elvira in the official press release.
Who is Elvira?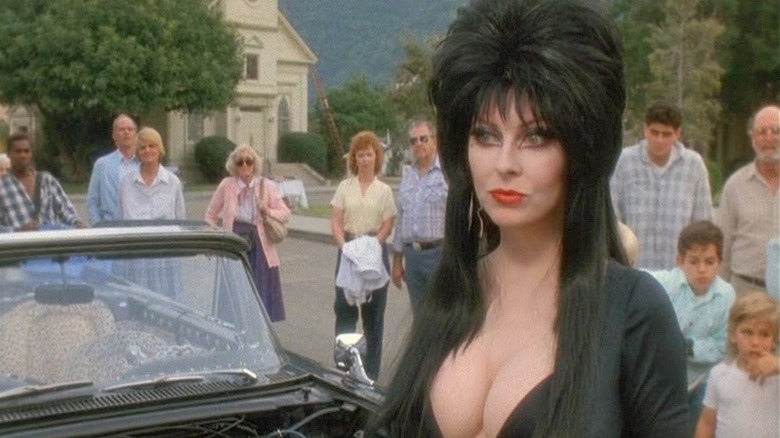 NBC Productions
The alter-ego of actress Cassandra Peterson, Elvira first appeared as the hostess of the horror movie television program "Movie Macabre" that originally aired from 1981 to 1986. She started off as just another regional horror hostess, but after the release of the 1988 feature film "Elvira: Mistress of the Dark," Elvira was solidified as a global horror treasure.
In the years that followed, Elvira evolved from a cult icon to a mainstream brand. Throughout the '80s and '90s, Elvira was marketed and merchandised as heavily as the band KISS, with costumes, comic books, action figures, trading cards, Halloween decor, calendars, perfume, dolls, magazine covers, her own pinball machine, a live stage production, and even a motion-controlled 3D experience theme park ride all centered around the "the sassy lassy with the classy chassy."
To put it simply ... Elvira is the Queen of Horror.
How to Watch Elvira's 40th Anniversary Special
Unlike most channels that only celebrate Halloween once the witching hour is at hand, Shudder kicks things off early and their annual "61 Days of Halloween" is already underway. 
"Elvira's 40th Anniversary, Very Scary, Very Special Special" will premiere on Saturday, September 25, 2021 at 8pm ET in the US and Canada via the Shudder TV feed. The special will also be released on demand to all Shudder platforms (US, Canada, UK, Ireland, Australia, and New Zealand) beginning Monday, September 27, 2021.
What Movies Will Be Featured?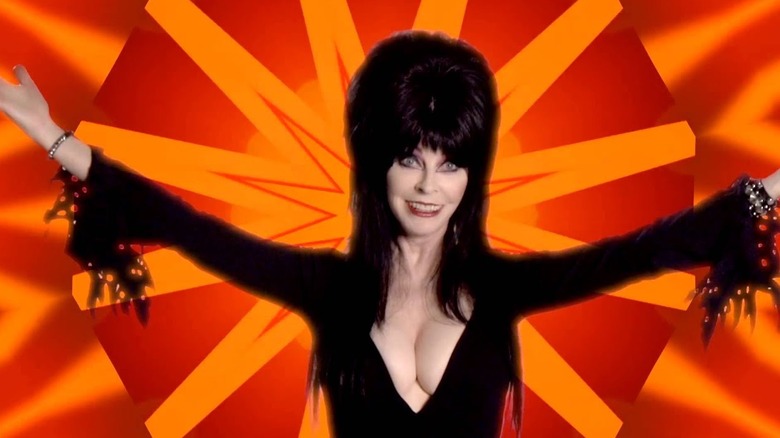 Third Man Records
In a similar vein to "Movie Macabre," Elvira's special includes a must-see lineup of forgotten favorites. Movies include "Elvira: Mistress of the Dark," "House On Haunted Hill" (1959), "The City of the Dead," and "Messiah of Evil." The selection is sure to pull on the nostalgia strings of anyone who grew up watching Elvira introduce classic and public domain horror films with her clever critique and alluring anecdotes.
Hearing Elvira comment on her own film, "Elvira: Mistress of the Dark," is an absolute must-see.
Why is Elvira's Return Important?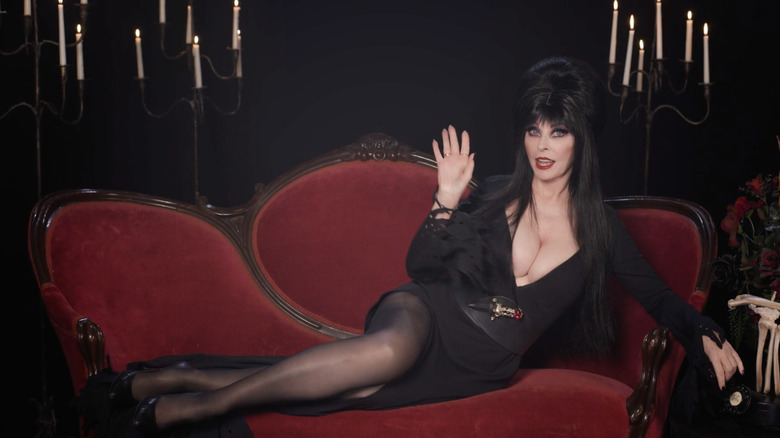 Shudder
Elvira has remained omnipresent over the years, appearing everywhere from "Scooby-Doo" specials to judging "RuPaul's Drag Race," and even her own limited release fashion line, but it's been seven years since Elvira draped across her red fainting couch and guided an audience through a horror film. Not since Hulu's "13 Nights of Elvira" have horror fans had access to the most recognizable horror host in history (Sorry, Svengoolie, she's got you beat) and her absence has been missed.
What separates Elvira from the rest of her contemporaries is that she was able to successfully bring the art of horror hosting to the masses. Her brand is so powerful that she even nabbed a commercial deal with Coors Light, allowing non-horror fans a peek behind the curtain of a beloved albeit dismissed genre of film. If Joe Bob Briggs can have a resurgence on Shudder, why not Elvira? After all, there have been multiple Change.com petitions from fans trying to drum up enough attention to warrant her return.
Elvira's brand of humor has always been sardonic or self-deprecating, ensuring that she never punched down. Horror is supposed to be frightening, yes, but it's also okay to have fun with it, and Elvira consistently serves as a reminder of that fact. She's also become a horror convention mainstay and her social media presence has made her super accessible to her fanbase. Many have likened her to being the dark and spooky Dolly Parton, with her continued calls for social justice offering a great deal of solace to horror fans of marginalized identities. 
No matter how tough things get, we know Elvira loves and supports us. She's horror's hot goth mommy, and we're so blessed to share a timeline with her. 
September 25 can't get here fast enough.