House Of The Dragon Showrunners Tease Their Favorite Scenes In Season 1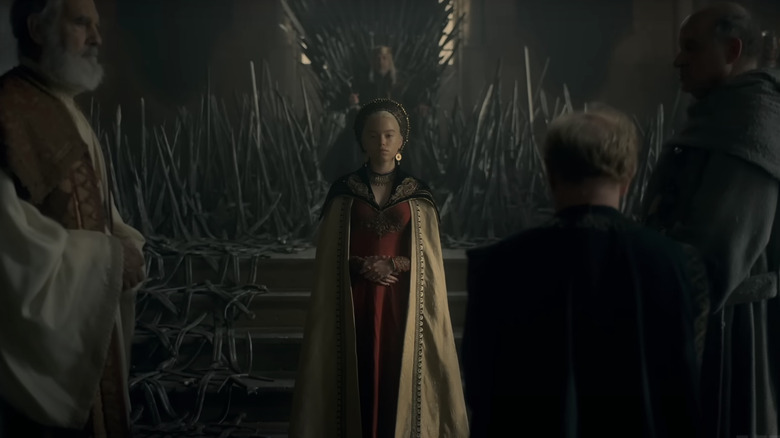 HBO
We haven't seen anything from the 10 episodes in "House of the Dragon" season 1 yet, but that hasn't stopped showrunners Miguel Sapochnik and Ryan Condal from sharing their favorite scenes from the upcoming "Game of Thrones" prequel.
/Film took part in a roundtable discussion with Sapochnik and Condal about their upcoming series. During that conversation, the co-showrunners shared the scenes they most enjoyed shooting and specifically can't wait for people to see. For one of those scenes, Olivia Cooke, who plays Alicent Hightower on the show, also shared how she and co-star Emma D'Arcy spent days "at such high intense emotions" that they ended up breaking down in hysterics. 
Good times!
'We just lost our minds'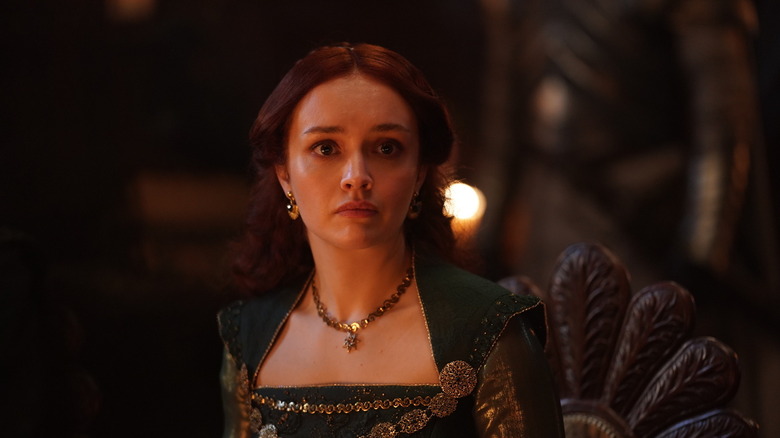 Ollie Upton/HBO
We see part of the scene that almost broke Cooke and D'Arcy in the trailer, where Cooke's Alicent draws a knife in D'Arcy's face. 
Sapochnik calls this whole exchange the "Eye for an Eye" scene. "It's basically in episode seven when Emma D'Arcy and Olivia Cooke get to go at each other for the first time in a fit of rage that's been building for seven episodes," he explained.
The scene took over three days to shoot, and the cast and crew rehearsed it like a theater play. "There was just something joyous about doing it because there literally was not enough time," Sapochnik shared, revealing his love for a challenging sequence. "There weren't enough cameras. And every time we did the scene, which was about 15 minutes long, it had to end at this real moment of high tension and stress and pressure."
D'Arcy and Cooke were up to handling the intensity of that moment, though the repeated takes took their toll. "At some point I looked over to see if Emma was alive," Sapochnik said. "Her eyes had become so puffy. And it was that thing of like, 'I don't know whether I should say to you maybe you should calm down these takes.' But she's so good every time, even when they were off screen, they were doing it for each other. It was kind of amazing." [Editor's note: Emma D'Arcy goes by they/them pronouns.]
In another roundtable discussion, Cooke revealed that Sapochnik wasn't wrong about the state she and D'Arcy were in after days of shooting such an emotional scene. "We just lost our minds," she shared with a laugh. "We were in hysterics crying our eyes out. We were laughing so hard as they were trying to focus [us] ... we lost the plot eventually."
'It ends in such a shocking moment'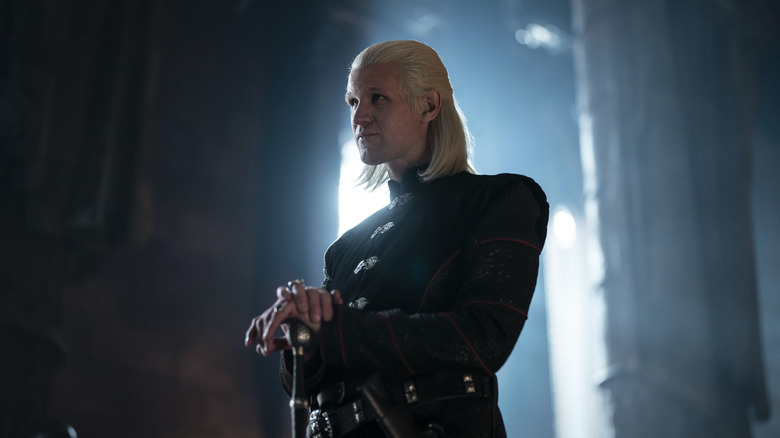 Ollie Upton/HBO
Condal agreed with Sapochnik that "Eye for an Eye" was one of the most memorable scenes to shoot. He has another moment, however, that he thinks will make a big impact on viewers.
"There are a number of really intense, very long scenes in the season that involve many members of our cast all in one place that took multiple days to shoot because you have to cover everybody and get everybody's point of view into the mix," he explained before identifying one scene in episode eight he thinks will blow people away.
"There is a hearing over a certain succession, not for the throne but for something else, that involves all the members of the cast," he teased before adding:
"Everybody comes into the room carrying a lot of baggage from all of the things that happened over the course of the season and just watching that interplay come together — I think that was actually one of the last one of these big, giant multi-day scenes that we shot with a huge amount of the cast all in the same room — that one very much stands out to me because it ends in such a shocking moment that I think will be on the list of the top five most memorable moments of 'House of the Dragon.' I'm looking forward to seeing everyone react to that one."
We'll be ready to react to the first episode of "House of the Dragon" when the show on HBO on Sunday, August 21. It will also stream on HBO Max.