Every Main Character Of House Of The Dragon Explained
HBO
Just when we thought we were out, they pull us back in. Fans don't have to think back all that long ago to remember when "Game of Thrones" reigned supreme as the unqualified, inarguable, and unchallenged water cooler show in all of pop culture. Every Sunday night, social media would noticeably quiet down as the masses rushed to watch each episode live to avoid even the possibility of getting spoiled. Common sense would seem to dictate that we will never see its like again, especially with the fanbase fragmented so vocally over the series finale and the final season in general. While some would argue that the show's downturn began as early as season 5 (seriously, the signs were there all along, folks!), it was impossible to believe that — as successful as the phenomenon was — we would ever return to the world of Westeros again.
And then "House of the Dragon" happened. Rather than continue the present-day story (that will happen with the Jon Snow-centric series, apparently), the prequel series will take us back hundreds of years into the past to focus on the peak years of the Targaryen dynasty in Westeros and the beginning of the turmoil that would eventually lead to the kingdom-wide rebellion that precedes the events of "Game of Thrones" season 1. With the premiere date creeping closer and closer, HBO is working overtime to familiarize new and returning audiences with the sprawling cast of characters and events that we'll need to keep track of. Since this is a story based on a George R.R. Martin novel (titled "Fire & Blood"), there is a lot to keep track of.
But fear not! Some new character and worldbuilding information revealed today is about to go a long way towards clearing all this up.
Meet the House of the Dragon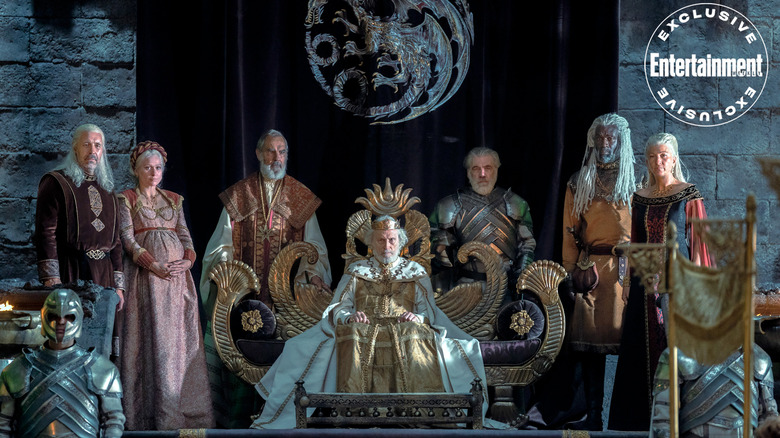 HBO/Entertainment Weekly
Those familiar with "Game of Thrones" and especially George R.R. Martin's writing already know that the creative team behind "House of the Dragon" will be hard-pressed to smoothly and efficiently explain who's who, what role they play in the courtly intrigue, and how they're all interconnected with one another. Luckily, that process continues with a handy image breakdown provided by Entertainment Weekly.
Many of the main players in this series are present and accounted for, especially in the above image. Here we see the Great Council of Harrenhal, the body of decision-makers tasked with choosing the next ruler of the Seven Kingdoms. That decrepit-looking fella in the middle is Jaehaerys Targaryen (Michael Carter), a celebrated king who oversaw decades of peace and prosperity. But he eventually called the council into session to decide between potential successors such as the presumptive heir Princess Rhaenys Targaryen (Eve Best) on the far right, with her seafaring husband Lord Corlys Velaryon (Steve Toussaint) standing next to her. On the other end of the picture, you have the eventual King Viserys I Targaryen (Paddy Considine), who was ultimately chosen and reigns as king when the events of "House of the Dragon" begin in earnest.
The matter would seem to have been settled, but grudges don't usually disappear in this particular fantasy world and the cracks formed by this momentous decision would go on to make its ramifications felt for decades to come.
Concerns of the realm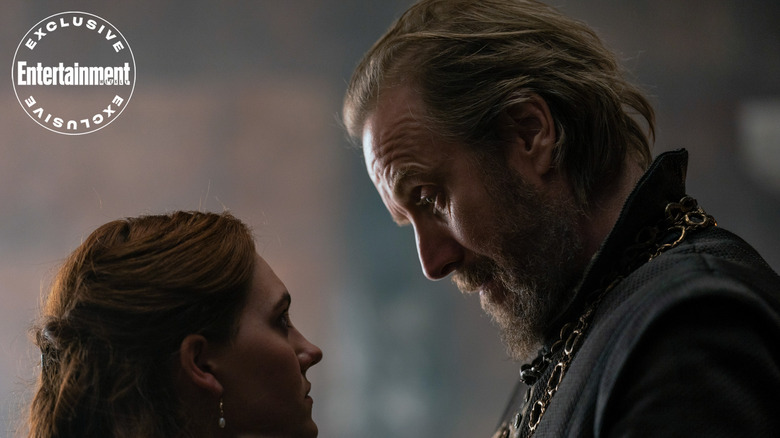 HBO/Entertainment Weekly
Nobody can forget the honorable Eddard Stark (Sean Bean) who proved to be a great and admirable man in season 1 of "Game of Thrones" ... but struggled rather considerably when it came to the dirty work it takes to help run a kingdom as the king's second-in-command. His equivalent in "House of the Dragon" (in position, if not exactly temperament) will be Otto Hightower (Rhys Ifans), described as "an astute, high-functioning political creature." Ifans goes on to shed some more light on the character, saying:
"He knows the machinations of this court better than anyone. He's kind of his own CCTV system, in terms of knowledge of what's going on at any place with whom at any time. He's ruthless, but he struggles with some of the decisions he is forced to make as Hand of the King."
He's not alone, however, as his beautiful daughter Alicent (Olivia Cooke) lives with him at court, though essentially "hermetically sealed" in her room, as Cooke tells it. But even the strained relationship between the two doesn't compare to the much graver concern posed by another Targaryen.
Meet Matt Smith's Prince Daemon Targaryen, brother to Viserys and another heir apparent to the throne. Seen here in full jousting regalia, Daemon is the last person that Hightower wants to see on the throne. As ominously described in HBO's character descriptions, "The younger brother to King Viserys, and peerless warrior and dragonrider, Daemon possesses the true blood of the dragon. But it is said that whenever a Targaryen is born, the gods toss a coin in the air..."
Conflicts galore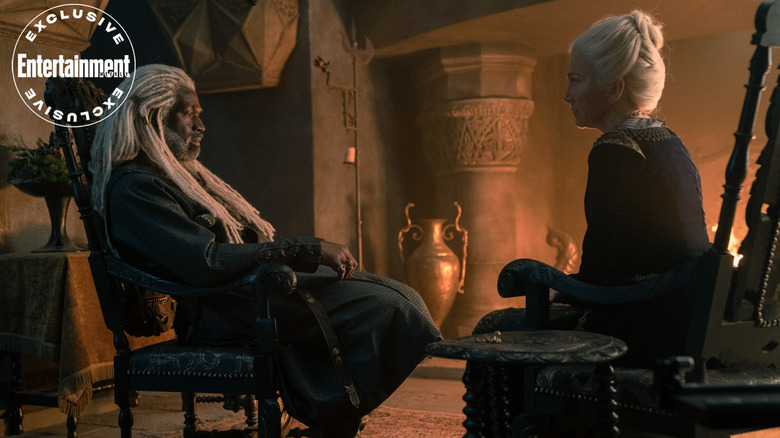 HBO/Entertainment Weekly
Remember all those "Game of Thrones" spinoffs breathlessly revealed some time ago? Only one made it to a full series order, obviously, but another such project that remains in early development was called "Sea Snake." Well, here you can see the namesake behind that intriguing title. House Velaryon, a close relation to the Targaryens, provides one of the few true challengers to Targaryen rule. Unfathomably rich and having harnessed the power of the seas, Lord Corlys plays an integral role in the events to come. But in a refreshing change of pace, he's also defined by his love for Rhaenys. As Toussaint puts it, "Sea Snake and his wife are the ones you most root for because they're actually about love." Together, they form a powerful pair that could either remain a staunch ally of the Targaryen cause ... or something much messier.
Speaking of messy, Rhaenyra and Alicent's dynamic fits that description. We'll actually first meet the two as young teens (portrayed by Milly Alcock and Emily Carey, respectively), back when they were inseparable best friends in the nation's capital of King's Landing. In many ways, they'll prove to be the central figures in the entire show and in the civil war that threatens to break out. According to co-creator and co-showrunner Ryan Condal,
"These two women are at once credited and also blamed with this particular war. Because the history is written by men, we were really interested in the dynamic forces that a certain medieval level of innate chauvinism puts on the two women."
Consider this the gist of what you need to know going into "House of the Dragon," but be sure to check the full EW breakdown for even nerdier details. "House of the Dragon" premieres on August 21, 2022 on HBO.