John Cho's Star Trek Audition Could Have Been His Career's Last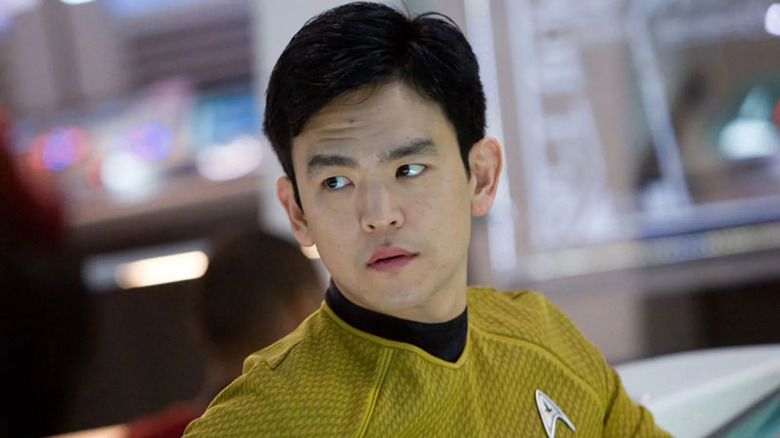 Paramount
The final episode of "Star Trek: Enterprise" aired on May 13, 2005, effectively drawing the curtain on the franchise for the foreseeable future. It seemed that "Star Trek" was going to gracefully drift off into the heavens, a pop culture tentpole left comfortably in the past. Thanks to complicated studio politicking, however, Viacom, the company that owned "Star Trek" split in two in 2006, leaving "Star Trek" divided in half. One half of Viacom owned the film rights to "Star Trek" while the other half — CBS — owned the TV rights. It was during this time that CBS began heavily pushing Trek DVDs and Blu-rays, and Viacom began developing their own Trek feature film. 
Thanks to a stipulation in the contracts, however, any Trek feature films put into production had to be a certain percentage different from the TV version (the actual percentage is unknown, but a rumor dictates it was in the neighborhood of 20%). As such, J.J. Abrams' 2009 "Star Trek" feature film had to, by contractual requirement, take place in an alternate universe. Abrams and screenwriters Alex Kurtzman and Roberto Orci decided to use a time travel gimmick to reboot the Trek timeline and present the younger, hotter, more dramatic versions of the crew we all knew and loved. 
Ironic, then, that John Cho should be cast as Sulu in this film. Cho was 36 at the time of his Trek audition and George Takei, who originally played Sulu, was 29 when the original "Star Trek" began. No one much cared, however, as Cho is an amazing actor, and, as it turns out, wanted the role incredibly badly. Indeed, Cho revealed in a 2022 interview in the Guardian, that if he hadn't landed Sulu, he might have retired from acting altogether. 
'The world is going to end'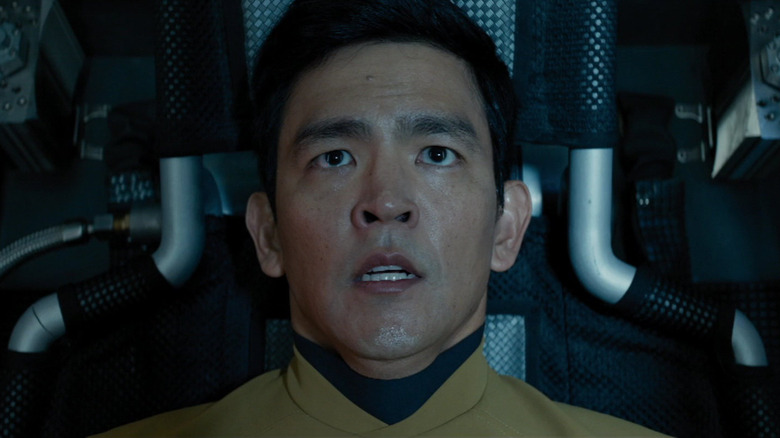 Paramount
Sometime in 2008, when Cho was about to audition for Sulu, he was already a recognizable face in Hollywood. Thanks to a delightfully rude couple of lines in "American Pie," and his star turn in "Harold and Kumar Go to White Castle," Cho had established himself as a fun "bro comedy" guy. Additional credits in Steven Soderbergh and Frank Oz movies proved him a pliable Hollywood supporting player, and his appearance in "Better Luck Tomorrow" (as a private school rival to one of the film's leads) displayed his talents as a dramatic actor. Despite this, "Star Trek" was the "big time," and Cho desperately wanted the part. In the Guardian, Cho recalls an unexpected bout of panic about the audition. He simply needed to play Sulu, admitting being at a career loss if things went badly: 
"That was the last time I said, 'I don't know what I'm going do if I lose out on this part.' I was like, 'I'm going to start weeping, maybe I'll quit. If I don't get this, the world is going to end.'"
Why Sulu? Not only was Cho interested in working with Abrams — a TV impresario working on what was then his second feature film — but he had internalized the overwhelming significance of Sulu as a pop culture figure. Takei was, in 1966, one of only a very small handful of Asian actors to appear on mainstream American television. Apart from Takei, Bruce Lee in "The Green Hornet," Kam Fong and Gilbert Lani Kauhi on "Hawaii Five-0," and Anna May Wong on "The Gallery of Madame Liu-Tsong," Asian leads (played by Asian actors) were a rarity. 
Cho understood that legacy and wanted to be a part of it.
The old guy who played Sulu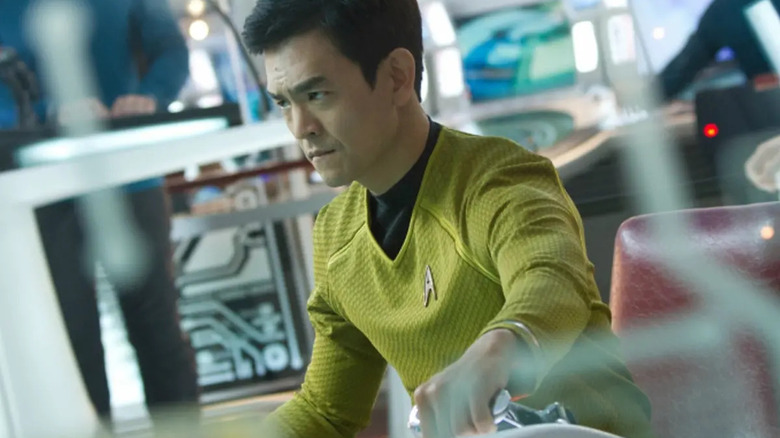 Paramount
A fun coincidence: both Cho and Takei attended UC Berkeley. 
Cho then, in a cosmic way, was already on the path to playing Sulu. In the Guardian article, Cho knew that playing Sulu carried with it a vast legacy. Sulu was not only on three seasons of "Star Trek," but six feature films. Also, "Star Trek" can be an intimidating, insular world that leads to an eternity of convention appearances. It brings with it a wave of existing fans, each of them with notebooks in hand, ready to record tiny details and point to things that this new rebooted Trek was about to get wrong. Cho chose not to be intimidated but enthused. He wanted the legacy more than anything. 
"It was a mantle that I wanted from George Takei. I wanted the baton. When he threw it back, I wanted to be the one to grab it." 
Cho is referring to the fact that Takei gave him his blessing. In a 2008 interview with SyFy, archived on TrekMovie, Cho remembered how graceful Takei was. No ego in place, Takei reassured Cho by saying that he was about to become "the old version of John Cho," and that Cho would be the proper Sulu. With that reassurance, Cho tackled the role with aplomb. 
As of this writing, Cho played Sulu in three feature films, and a fourth is rumored to be on the way. Cho has also expanded his career far beyond Sulu, having appeared in additional Hollywood blockbusters, high profile TV shows, and multiple soulful indies. These days, Cho is one of the most capable leading men of his generation. Sulu, it seems, is a mere single feather in a cap full of them.