Netflix's Cowboy Bebop Looks To Firmly Establish John Cho As A Sci-Fi Fashion Icon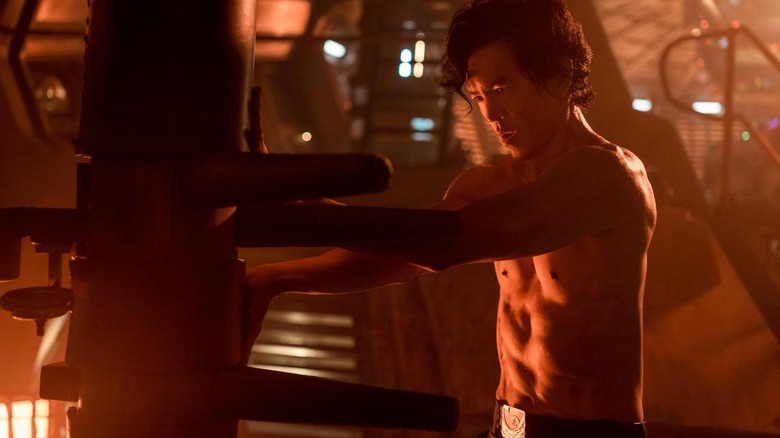 Netflix
Excuse me, John Cho. Who gave you the right to look this unbelievably hot and cool? Netflix had been dropping little glimpses of the highly-anticipated live-action series of the ultra-influential anime "Cowboy Bebop" throughout the summer, but today Entertainment Weekly debuted an official first look at John Cho looking effortlessly suave as the ultra iconic Spike Spiegel.
This man has ended up on People Magazine's "Sexiest Men Alive" lists multiple times for a reason.
When fans first got a look at John Cho's grown-out and flipped hair to better emulate the character's look from the anime, people were thrilled. This photo is sure to calm any of the last remaining skeptics as Cho's costuming looks like a one-to-one recreation of Spike Spiegel's signature look. The asymmetrically fastened and perfectly tailored blue suit comes complete with a black skinny tie, three-quarter sleeves, and a popped collar with just enough height to remain high-fashion without looking like a total bro. Pair it all with Cho's beautiful new tresses and statement sunglasses and we've got ourselves the spitting image of Spike Spiegel.
Again, I ask, who gave this man the right?
He Makes Anything Look Good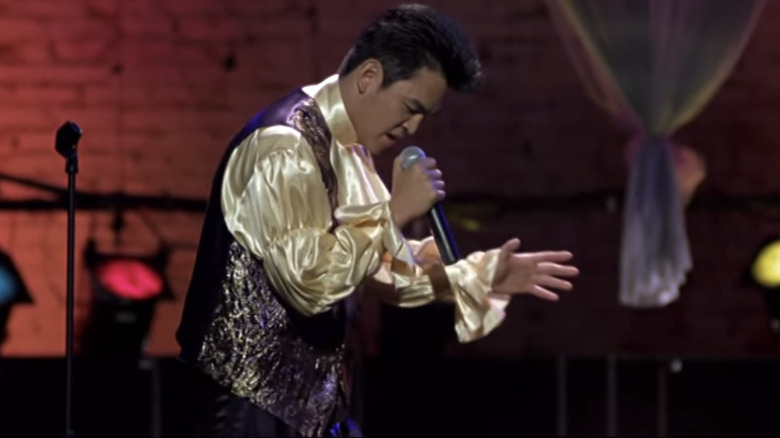 Paramount Pictures
It's hard to imagine, but there was a time when John Cho wasn't one of the most sought-after men in Hollywood. It was a dark time, a mysteriously confusing era known as "before the year 2004." Sure, Cho would pop up with illustrious bit parts like MILF guy #2 in "American Pie," or the nightclub cleaner in "Bowfinger." But the first time he ever really caught my eye was in the Chris Rock remake of "Heaven Can Wait," the ultra cringey "Down to Earth." In it, Cho plays a vocalist named Phil Quon who successfully tears the house down at the legendary Apollo Theater performing covers from the musical "Dreamgirls" while wearing puffy-sleeved shirts made of satin and lamé and metallic threaded vests. No one else on the planet could wear that outfit and not look like an idiot, but here's John Cho coming in looking like the hottest magician rejected for a residency in Las Vegas.
The power this man has to be able to put on an outfit like this and absolutely crush it. How dare he?
Oh Myyy!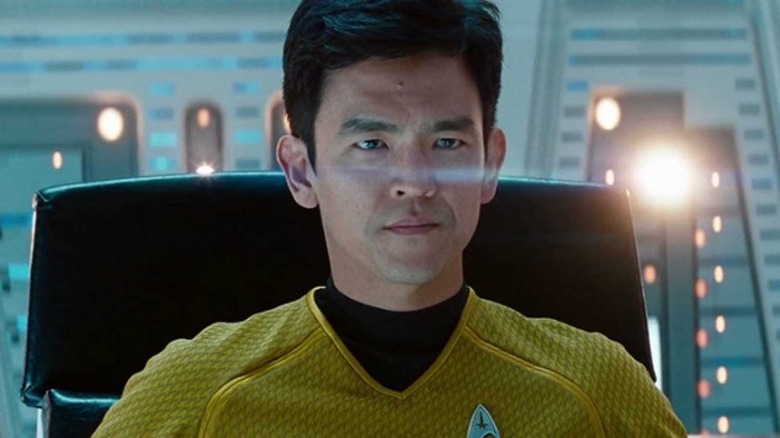 Paramount Pictures
2004 marked Cho's breakout performance in "Harold and Kumar Go to White Castle," and the entire world finally realized what a bonafide talent they'd been missing out on. Cho's career took off from there playing a wide range of roles and as of today, he's absolutely thriving. But what of his hotness? 
Throughout the 2000s, we got a lot of movies featuring John Cho in business attire. Plenty of suits and collared shirts which he obviously rocks the hell out of, but 2009 brought us the "Star Trek" reboot, and John Cho as Hikaru Sulu is top-tier sci-fi hotness. The fit of the yellow Starfleet uniform was perfect for Cho and his success in one of the biggest sci-fi reboots proved he had a knack for genre films and opened up a world of possibilities for more interesting characters. 
In the film "Searching" where he's shot through smartphones and webcams, John Cho is still hot even in low-res! How is that even a thing? Does he have a painting of himself in his attic growing older in his place? Don't worry, though. Daddy Cho still wore a lot of suits during his time on shows like "Selfie," "Go On," "Exorcist" season 2, and somehow made FBI uniforms look sexy as Special Agent Demetri Noh on "Flash Forward." 
As a gay woman, it needs to be stressed that Cho's attractiveness defies all boundaries of sexual orientation. He truly is the great equalizer.
Even His Voice is Hot!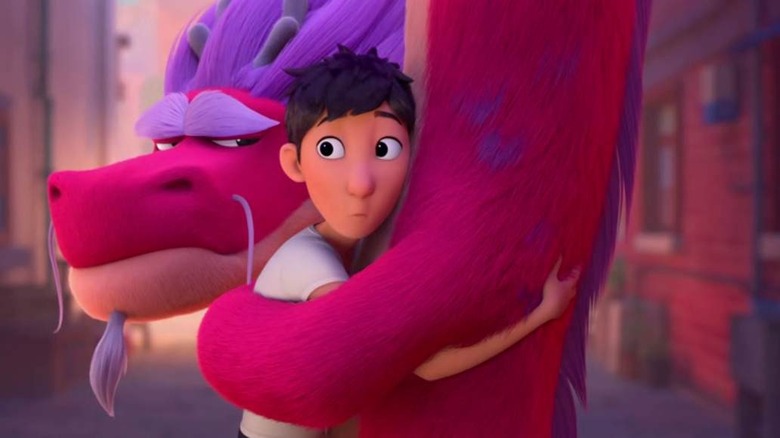 Netflix
Earlier this year, Cho achieved the impossible and secured his hotness without ever showing his face. Lending his pipes to the titular role in the Netflix animated film "Wish Dragon," Cho proved he could command an audience using just the sound of his voice. He didn't need to be drawn like Jessica Rabbit or the fox from "Robin Hood" to be confusingly hot as an animated character, he just needed to sound like John Cho, damn it!
John Cho is ridiculously talented, hilariously funny, captivating, charismatic, and downright hot as hell. If my gay ass can see it, it must be unmistakable. 
"Cowboy Bebop" has a lot of pressure to be great considering how influential the anime was on the entire art form, but there's one thing we can all agree on ...  John Cho looks freaking awesome as Spike Spiegel.
And literally everyone else he's ever played.