Devotion Trailer: A Heroic Friendship Forms Between Two Fighter Pilots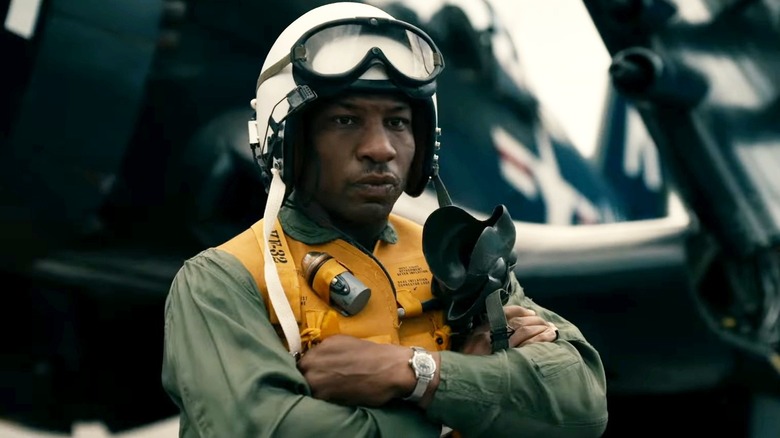 Sony Pictures
Today we have a new trailer for "Devotion," based on the bestselling non-fiction book "Devotion: An Epic Story of Heroism, Friendship, and Sacrifice" by Adam Makos. The Sony Pictures film is directed by J.D. Dillard ("Sleight"). "Devotion" is the story of two US Navy fighter pilots during the Korean War, who risked everything to save the day, and each other. 
The last trailer for the film got me in the heart, and revealed exactly how much I don't know about this particular war. In this trailer we meet pilots Jesse Brown, played by Jonathan Majors ("Loki"), and Tom Hudner, played by Glen Powell ("Top Gun: Maverick"). Brown is dealing with constant racism in his unit — Navy Fighter Squadron 32 — as the Navy's first Black carrier pilot, serving while America was still living under segregation.
Oddly enough, we are going to get Elizabeth Taylor in this story, when the squadron meets her during a stop in Cannes, France — as they did in real life, apparently. Taylor will be played by Serinda Swan ("Inhumans"). 
A forgotten War
Here is the book synopsis so you can get more of an idea of the story:
Devotion tells the inspirational story of the U.S. Navy's most famous aviator duo, Lieutenant Tom Hudner and Ensign Jesse Brown, and the Marines they fought to defend. A white New Englander from the country-club scene, Tom passed up Harvard to fly fighters for his country. An African American sharecropper's son from Mississippi, Jesse became the navy's first black carrier pilot, defending a nation that wouldn't even serve him in a bar. While much of America remained divided by segregation, Jesse and Tom joined forces as wingmen in Fighter Squadron 32. 

Deployed to the Mediterranean, Tom and Jesse meet the Fleet Marines, boys like PFC "Red" Parkinson, a farm kid from the Catskills. In between war games in the sun, the young men revel on the Riviera, partying with millionaires and even befriending the Hollywood starlet Elizabeth Taylor. Then comes the conflict that no one expected: the Korean War.

Devotion takes us soaring overhead with Tom and Jesse, and into the foxholes with Red and the Marines as they battle a North Korean invasion. As the fury of the fighting escalates and the Marines are cornered at the Chosin Reservoir, Tom and Jesse fly, guns blazing, to try and save them. When one of the duo is shot down behind enemy lines and pinned in his burning plane, the other faces an unthinkable choice: watch his friend die or attempt history's most audacious one-man rescue mission.
The timing of this release is fortuitous for fans who wanted to see more of Glen Powell flying after "Top Gun: Maverick," which is still holding strong at the box office. 
The film also stars Christina Jackson, Thomas Sadoski, and Joe Jonas. "Devotion" was adapted for the big screen by Jake Crane & Jonathan A. H. Stewart. It is produced by Molly Smith, Rachel Smith, Thad Luckinbill, and Trent Luckinbill.
"Devotion" has moved from October 28, 2022 (after a limited release before that) to November 23, 2022, exclusively in theaters.