Devotion: Release Date, Cast And More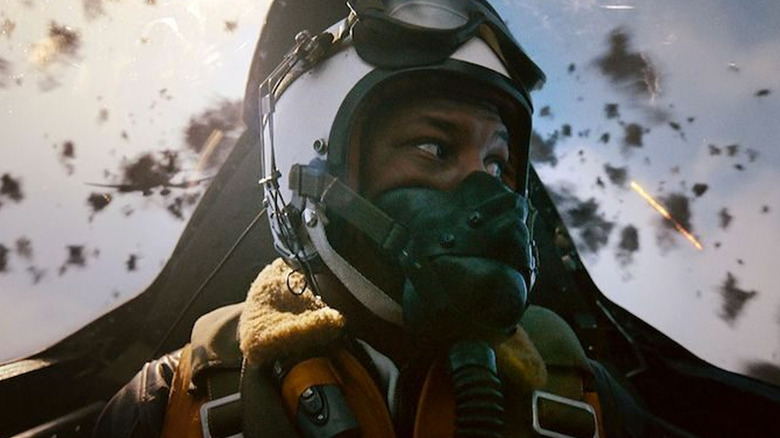 Sony Pictures
(Welcome to ...And More, our no-frills, zero B.S. guide to when and where you can watch upcoming movies and shows, and everything else you could possibly stand to know.)
It's been a great year for the return of the heartstring-tugging blockbuster — and if the jaw-dropping success of "Top Gun: Maverick" is any indication, an even better one for films about naval aviators. This year, audiences will be treated not just to the Tom Cruise blockbuster, but also "Devotion," a Korean War-era epic that will serve as "Maverick" star Glen Powell's return to the pilot's seat. The film has been in the works for some time, after Powell acquired the rights to Adam Makos' non-fiction book "Devotion: An Epic Story of Heroism, Friendship, and Sacrifice" with the help of Black Label Media. That was back in 2016, and though it's taken a little while to get "Devotion" off the ground, the film is finally set to take off in the latter half of 2022.
But until then, here's everything you need to know about "Devotion."
Devotion release date and where you can watch it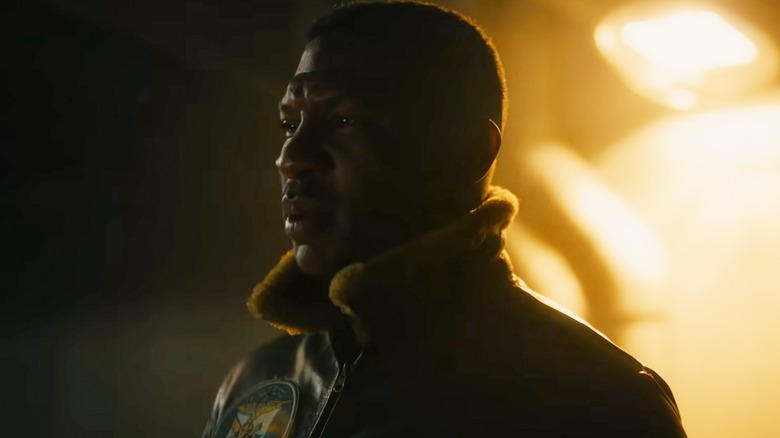 Sony Pictures
Sony Pictures will release "Devotion" in theaters on November 23, 2022 — just in time for Thanksgiving. Previously, "Devotion" was scheduled for a late October roll-out, which would have started with a limited release before going wide on October 28. Pivoting the film to a wide release on Thanksgiving weekend — and pitting it against Disney's "Strange World" and Steve Spielberg's forthcoming "The Fablemans" — can only speak to Sony's faith in the film.
"Devotion" is set to premiere exclusively in theaters, and won't be available to stream right way. It's likely "Devotion" will be available to rent roughly a month after its initial release date.
What is Devotion about?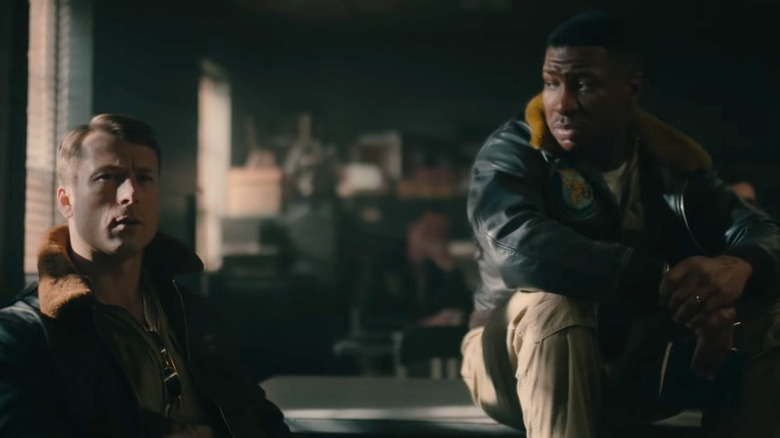 Sony Pictures
"Devotion" is based on Adam Makos' non-fiction book of the same name, which told the story of Jesse Brown — the first Black U.S. Navy fighter pilot — and the unlikely bond he forms with his wingman, Tom Hudner. Brown and Hudner would go on to become two of the Navy's "most celebrated wingmen," according to the film's official synopsis, but it doesn't come without sacrifice on either pilot's part. The film will follow Brown and Hudner through their training with the elite VF-32 squadron to their harrowing aerial battles in North Korea, and even eventually behind enemy lines.
Devotion director, crew and more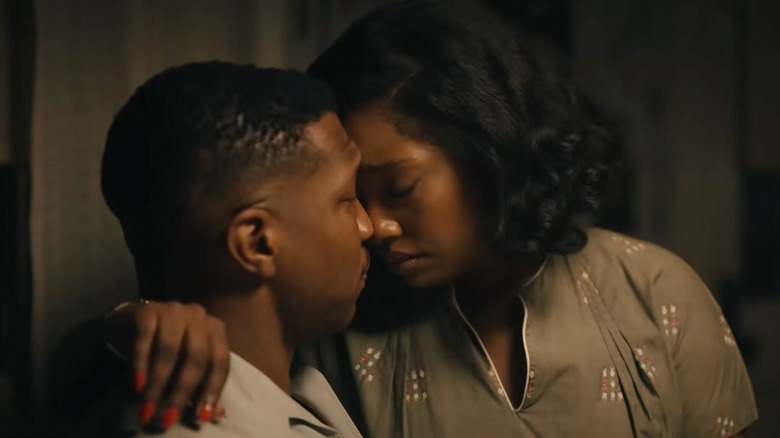 Sony Pictures
Director J.D. Dillard is helming "Devotion" from a script by Jake Crane and Jonathan A. H. Stewart. Dillard also serves as an executive producer alongside Glen Powell, with Molly Smith, Rachel Smith, Thad Luckinbill, and Trent Luckinbill onboard as producers.
Dillard is probably best known for the sci-fi drama "Sleight," as well as "Sweetheart," the desert-island horror starring Kiersey Clemons. With an established footing in genre fare, Dillard's choice to direct a historical drama might come as a surprise — but the project is more personal for the filmmaker than any of his previous work. Dillard's father was also a naval pilot, which instilled Dillard with a lifelong affinity for aviation.
"I have a lifetime of my dad elbowing me in the ribs while we're watching aviation movies and telling me, 'that's not what it looks like, that's not what they say, that's not what they do,'" Dillard told Deadline. For Dillard, "Devotion" was a chance "to also kind of tell my dad's story: even though he and Jesse were separated by 40 years, the parallels were uncanny."
Dillard is joined behind the camera by cinematographer Erik Messerschmidt, who's previously worked with David Fincher on "Gone Girl" and "Mank." Seeing that a majority of the action takes place in the air, "Devotion" also recruited "Top Gun: Maverick" alum Michael FitzMaurice to capture the film's aerial cinematography.
The cast of Devotion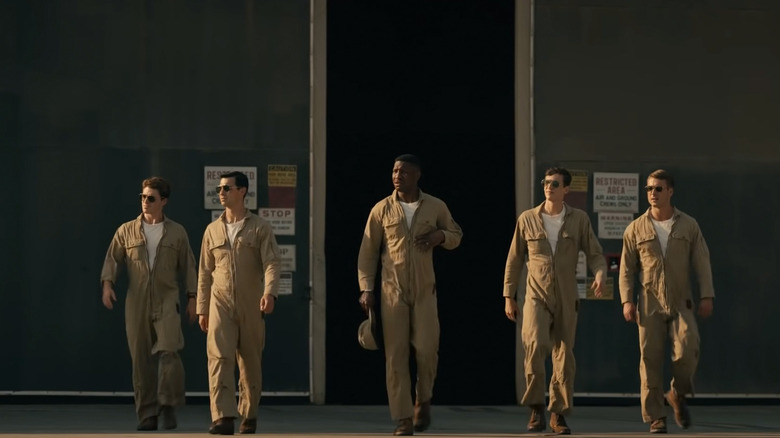 Sony Pictures
"Lovecraft Country" and "The Harder They Fall" actor Jonathan Majors will star as Jesse Brown alongside Glen Powell's Tom Hudner. They're joined by Christina Jackson, Thomas Sadoski, Joe Jonas, Daren Kagasoff and Nick Hargrove. "Inhumans" actor Serinda Swan will also co-star as Elizabeth Taylor, who the 32s befriended on a fateful shore leave in Cannes, France.
Devotion trailer and synopsis
The teaser trailer for "Devotion" dropped in late May, giving fans a taste of the high-stakes drama in store for the forthcoming film. Here's the film's official synopsis:
Devotion, an aerial war epic based on the bestselling book of the same name, tells the harrowing true story of two elite US Navy fighter pilots during the Korean War. Their heroic sacrifices would ultimately make them the Navy's most celebrated wingmen.
Despite its roots in real-life history, the synopsis doesn't give too much away about what's in store for Brown and Hudner. Fortunately, the synopsis of Makos' book offers a bit more context for the more curious among us:
Devotion tells the inspirational story of the U.S. Navy's most famous aviator duo, Lieutenant Tom Hudner and Ensign Jesse Brown, and the Marines they fought to defend. A white New Englander from the country-club scene, Tom passed up Harvard to fly fighters for his country. An African American sharecropper's son from Mississippi, Jesse became the navy's first black carrier pilot, defending a nation that wouldn't even serve him in a bar. While much of America remained divided by segregation, Jesse and Tom joined forces as wingmen in Fighter Squadron 32. Adam Makos takes us into the cockpit as these bold young aviators cut their teeth at the world's most dangerous job—landing on the deck of an aircraft carrier—a line of work that Jesse's young wife, Daisy, struggles to accept. Deployed to the Mediterranean, Tom and Jesse meet the Fleet Marines, boys like PFC "Red" Parkinson, a farm kid from the Catskills. In between war games in the sun, the young men revel on the Riviera, partying with millionaires and even befriending the Hollywood starlet Elizabeth Taylor. Then comes the war no one expected, in faraway Korea.