How Glen Powell's Initial Reluctance To Play Top Gun: Maverick's Hangman Saved The Character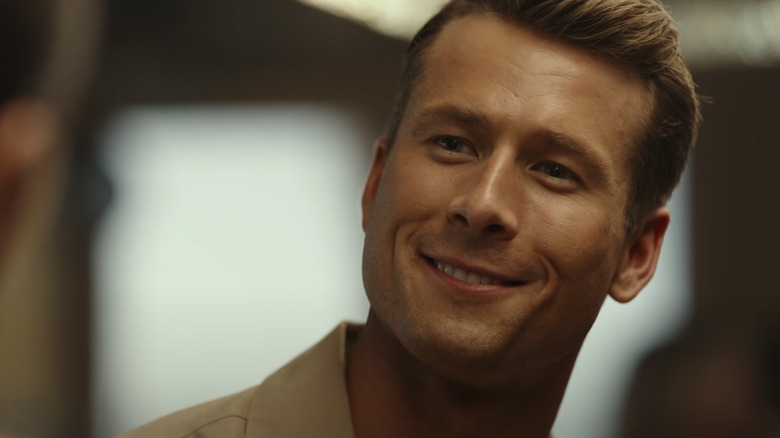 Paramount Pictures
"Top Gun: Maverick," the sequel to the 1986 classic, finally landed in theaters this past weekend. The highly anticipated follow-up continues the story of Pete "Maverick" Mitchell (Tom Cruise) as he trains a group of fighter pilots for an impossible mission, which includes Bradley "Rooster" Bradshaw (Miles Teller), the son of Maverick's best friend, Goose (Anthony Edwards), and a cocky Top Gun named Jake "Hangman" Seresin (Glen Powell).
Despite the iconic status of "Top Gun," two of the young stars hesitated to accept their roles in its sequel. Tom Cruise had to make a personal visit to Miles Teller's home to convince him to accept the role of Rooster, and Powell wouldn't come easy either.
According to The Hollywood Reporter, Powell's reluctance to portray Hangman led to a reworking of the character that transformed him from a bratty nemesis to an unexpected hero.
Battle for Rooster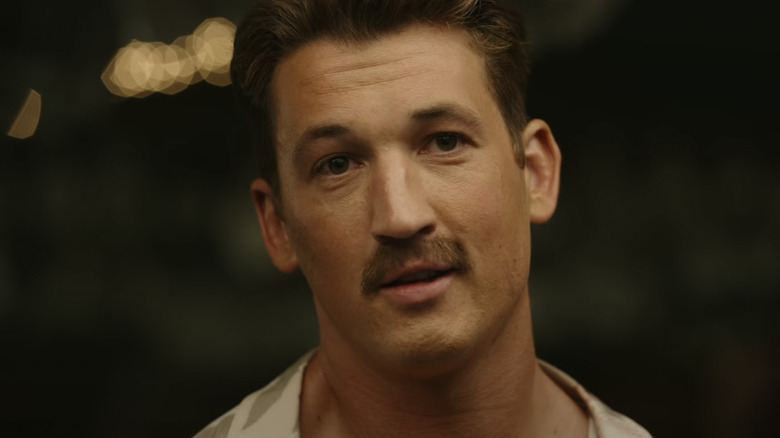 Paramount Pictures
As discussed in The Hollywood Reporter, Powell was initially interested in portraying Rooster, and went head to head with Teller for the role. Cruise seemed convinced from the outset that Teller was the right man for the job. He sent a script all the way to Hawaii where Teller was vacationing with his wife, and traveled to Florida to personally convince him to audition for the part. Powell and Teller battled it out for a while, but Cruise's instincts were proved correct, and Powell lost the role. But he wouldn't go away empty handed.
Director Joseph Kosinski, screenwriter Christopher "McQ" McQuarrie, and Cruise were so impressed by Powell that they offered him the role of "Slayer," an early version of Hangman. Powell wasn't interested:
"The way it was originally written, I didn't consider him to be a great pilot or a personality that I engaged with all that much. He didn't have any redemption. He just sort of faded off into the sunset. He didn't make the mission, he had a terrible reaction to it and you never heard from him again."
The "Top Gun" team had wooed Teller, and they wanted Powell just as badly, so they added a little meat to the character of Slayer, which included a heroic moment.
H_NGM_N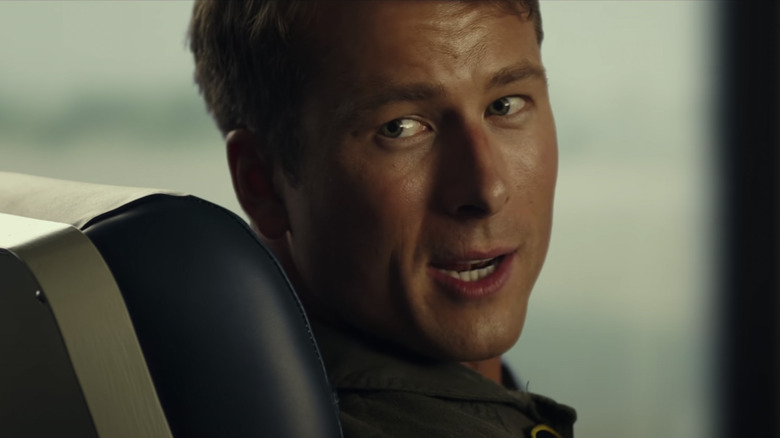 Paramount Pictures
After Powell turned down the Slayer role, Cruise, and McQ, knew they had to tweak the role to change his mind. They rewatched the original film for inspiration, and knew exactly what the character was missing. When he spoke to The Hollywood Reporter, Powell remembered a game-changing phone call with Cruise and McQuarrie:
"Tom and McQ called and said, 'Hey, after watching the original, we realized that we don't have a character who reminds us of the first movie in terms of the tonal, spiritual nature of what it is to be an unapologetic, cocky fighter pilot. He should fly like Maverick and have the swagger of Iceman (Val Kilmer). You need that character to remind [Maverick] of who he used to be. The first movie is obviously a coming-of-age movie. This is a man facing his age movie. And we believe that at the end of the movie, beating the bad guys is not enough. You need to bring it back home in a certain way and have it all come full circle in terms of the team.'"
After Slayer was given the flying skills of Maverick, the stride of Ice Man, and his savior moment, he was renamed Hangman.
When he was approached with the new and improved character, Powell was all in:
"So they pitched me that [savior] moment, and it really did get my gears turning to go, 'Okay, this is not just Draco Malfoy in the Navy. This is a guy who's really going to have something to do and something to say.' You're rooting for that moment when you watch it. You don't feel completion if that moment doesn't exist, so to speak."
Powell was excited to play the character that swoops in and saves the day, but he still feels the loss of Rooster, which he believes intensified his on-screen tension with Teller.
Hangman vs. Rooster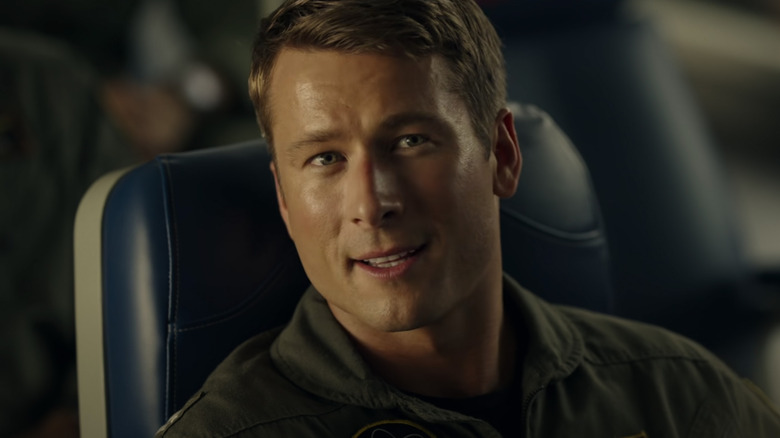 Paramount Pictures
Powell admitted that he and Teller are "both incredibly competitive," which led to heavy competition between the two of them for the role of Rooster. He believes this behind the scenes rivalry added a bit of realism to the contentious relationship between their characters on-screen:
"With Hangman and Rooster's relationship and dynamic, our own competitiveness can't help but seep in there. [Rooster] was a role that I missed out on, and since this is a competition movie, that thing inevitably seeps into a performance, whether we were aware of it or not. There are moments that you see in this movie in which we're sort of talking about that and not talking about it. So it's just interesting."
The tension between Teller and Powell's characters is certainly present in the movie, and a decent callback to the rivalry between Maverick and Ice Man, but I'll always prefer the original. When compared to Kilmer and Cruise's scenes, Teller and Powell's chemistry isn't as strong, even when Kilmer barely speaks. Admittedly, the original Maverick and Ice Man are a tough act to follow.
Issues with individual characters and chemistry aside, "Top Gun: Maverick" broke a record by earning $156 million over its Memorial Day weekend opening, and has a staggering 99% on Rotten Tomatoes. Perhaps the overwhelming success of the film will act as a salve to any sting Powell feels about losing the role of Rooster.