Strange World Teaser: Take A Journey To A Place Of Infinite Mystery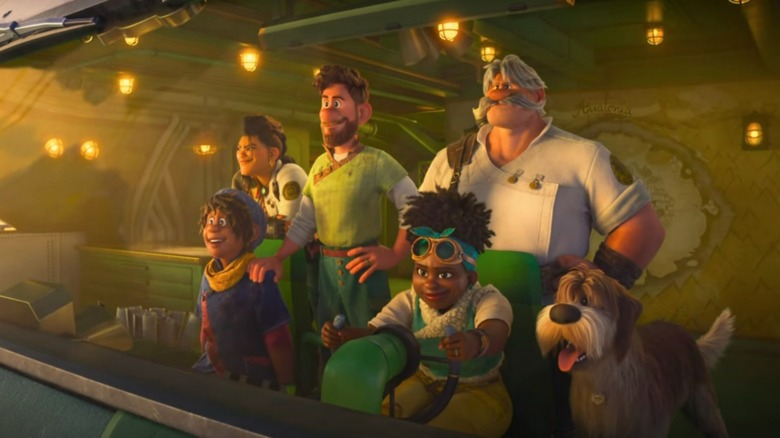 Walt Disney Animation
Disney didn't become a pop culture juggernaut by accident, folks. As general audiences can attest, the studio's ability to produce some of the most consistently reliable franchises and turn them into brand names all to themselves practically speaks for itself. From Marvel to Pixar to "Star Wars" to Disney Animation, the conglomerate has built up a formidable array of some of the most popular IPs currently out there. But resting on their laurels isn't exactly the key to continued innovation.
That's why many have been looking forward to "Strange World" for quite some time now. The animated film from Walt Disney Animation Studios has held the potential to be something more than just the same old stuff ever since we first got a look at the concept art for the upcoming movie. Combined with its adventurous premise and the implicit promise of taking viewers to worlds beyond our imagination, expectations have been riding high for whatever this picture may have to offer.
That potential is now getting closer to being fulfilled. Today, Disney has released a new teaser for "Strange World" and the eye-popping imagery on display is certain to put this animated movie squarely on the radar for all those who are only just hearing about the project for the very first time. Check out the footage below!
Strange World teaser
The inspirations behind "Strange World" feel both wide-ranging and inspired — a little bit of James Cameron's "Avatar" and a lot of the DNA from pulpy sci-fi serials of the 1920s and '30s. The teaser puts the full force of a child's imagination on display, taking its adventure-seeking characters on a trippy and breathtaking journey "beyond what is possible," as the delightfully throwback narration boasts. Other than the familiar animation style prevalent throughout modern Disney, everything else about the teaser feels like a lovingly campy recreation of the roots of sci-fi. In fact, as director Don Hall previously stated about the science-fiction magazine covers that inspired him:
"I loved reading the old issues of pulps growing up. They were big adventures in which a group of explorers might discover a hidden world or ancient creatures. They've been a huge inspiration for 'Strange World.'"
From director Don Hall ("Big Hero 6," "Raya and the Last Dragon") and co-director and writer Qui Nguyen ("Raya and the Last Dragon"), "Strange World" stars Jake Gyllenhaal as the voice of the main character, Searcher Clade. Disney also released a new teaser poster for the film, which you can see below.
"Strange World" is scheduled to release on November 23, 2022.
The original action-adventure journeys deep into an uncharted and treacherous land where fantastical creatures await the legendary Clades, a family of explorers whose differences threaten to topple their latest — and by far — most crucial mission