The New Dungeons & Dragons Film Went Through Many Titles Before Honor Among Thieves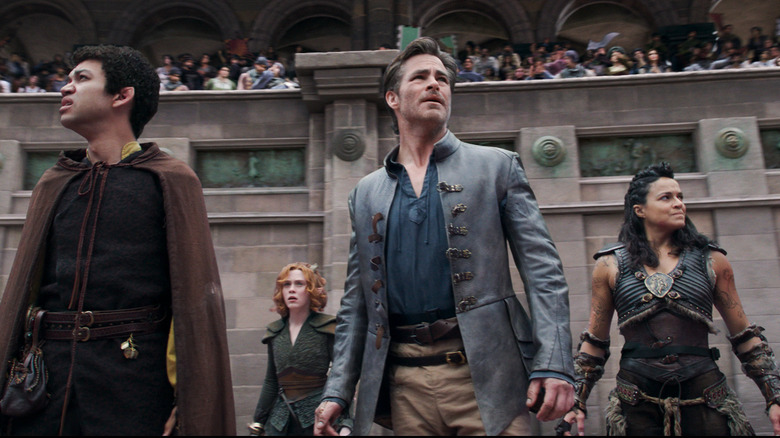 Paramount Pictures
D&D nerds, assemble! The popular and beloved fantasy game is about to receive its next major big-screen treatment (ideally, one that will actually feel worthy of the rich source material, of course) in the form of Paramount's "Dungeons & Dragons: Honor Among Thieves." Hoping to take advantage of the ongoing fantasy boom, which currently includes titles like HBO's "House of the Dragon" and Prime Video's "The Lord of the Rings: The Rings of Power," this latest "Dungeons & Dragons" adaptation comes loaded with mainstream appeal. Led by "Star Trek" star Chris Pine, "Fast & Furious" veteran Michelle Rodriguez, and "Bridgerton" heartthrob Regé-Jean Page, the upcoming film also has the added bonus of "Game Night" directors John Francis Daley and Jonathan Goldstein to inject even more energy into the proceedings.
In order to go where its fantasy predecessors could not, however, "Honor Among Thieves" will have to overcome many of the pitfalls that have taken down several major productions before it — think "John Carter," "Warcraft," "King Arthur: The Legend of the Sword," and countless more. One consistent criticism among many of these movies goes back to the perception that they were simply too generic. Unthinkably, "John Carter" stripped the campy "of Mars" qualifier from its title and left audiences with a much less exciting concept. "Warcraft" almost seemed afraid to lean into the elements that made the "World of Warcraft" game so successful in the first place. And as for "King Arthur," well, I'm still not entirely sure that movie wasn't some fever dream I conjured up entirely on my own.
"Dungeons & Dragons" will attempt to avoid these fates by embracing its strengths — one of which meant coming up with a snappy subtitle. But that process wasn't an easy one, by all accounts.
'That captures who this team is'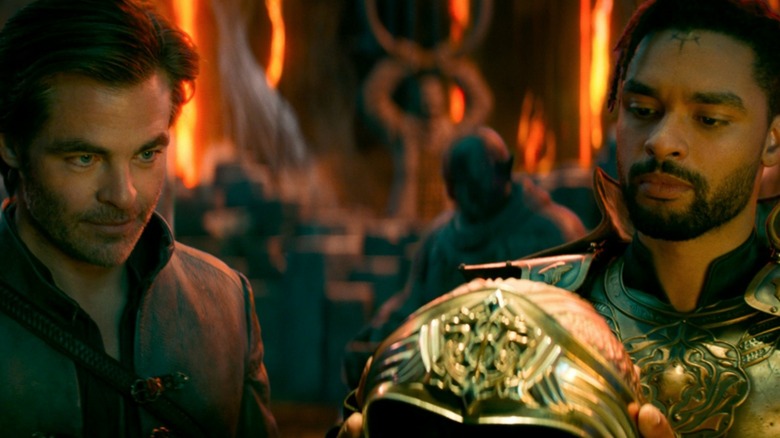 Paramount Pictures
Hot off the heels of the recent "Dungeons & Dragons: Honor Among Thieves" San Diego Comic-Con panel, directors Jonathan Goldstein and John Francis Daley and producer Jeremy Latcham spoke to Collider about, among other topics, how they settled on such an evocative title. According to Daley:
"It was a long process deciding on that because it's representative of this much bigger brand. I think that was what the kind of challenge was, was how are we going to depict this movie. At first, when we wrote it, we just called it 'Dungeons and Dragons,' but there was rightfully the concern that it doesn't necessarily emphasize the scope of 'Dungeons and Dragons.' The fact that 'Dungeons and Dragons' isn't just this story. This is just one of many stories that kind of live in the world and that's kind of where our title landed."
A whole lot more goes into these decisions than fans might necessarily think. Marketing, branding, and general audience awareness all play just as big a role as actual narrative justifications, which is how one ends up with a title like "Glass Onion: A Knives Out Mystery." Latcham and Goldstein allude to this, admitting that a few other titles were bandied about as possible contenders, but ultimately never came close. As Latcham puts it:
"Then this came along, and we were all like, yeah, that captures who this team is. It says something about this movie in particular and not just like generic-generic. That's the line to walk there to make sure you find the thing that captures the soul of the film. I think it does. I think it's a nice title."
We'll see if this pays off when "Honor Among Thieves" rolls the dice in theaters on March 3, 2023.