Sebastian Stan Reveals His Extreme Makeover For A24 Movie A Different Man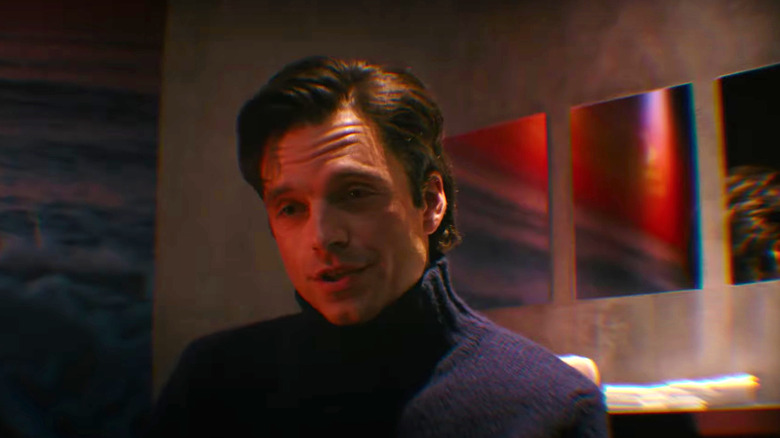 Hulu
A24 seems to be moving into the body mod genre. There was the announcement of Darren Aronofsky's next project, "The Whale," starring Brendan Fraser as a 600 pound man, then Rose Glass' "Love Lies Bleeding," starring Kristen Stewart as a bodybuilder, and now there's "A Different Man," a psychological thriller centered around a man (Sebastian Stan) with a condition called neurofibromatosis, which heavily augments the appearance of certain body parts, most noticeably the face. If two is a coincidence but three is a pattern, we've definitely got a pattern on our hands. 
Stan already turned heads with a shocking transformation earlier this year when he unveiled his look as Tommy Lee for the Hulu limited series "Pam & Tommy." That series followed the fallout of the Mötley Crüe drummer and Pamela Anderson's sex tape being leaked online. Though Lily James commanded most of the attention with her transformation into the ultimate blonde bombshell, Stan nailed Tommy Lee's iconic look, from the Mayhem chest piece, to just the right amount of trashy piercings, to the shock of jet black hair. The voting body of the Emmy's seemed to agree, as the performance earned Stan his first Emmy nomination.
Not much is known about Stan's next film role in "A Different Man," but the actor took to Instagram to share a first look at his jaw-dropping prosthetic makeover. 
Say hello to Edward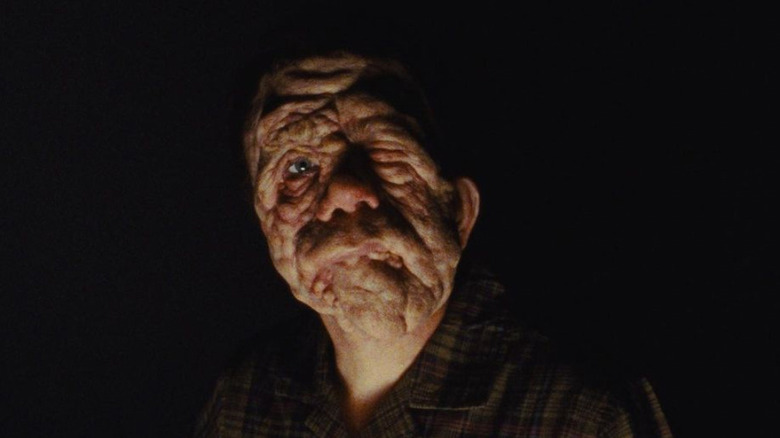 A24/Sebastian Stan
In a post simply captioned "Edward," Stan revealed his transformation to the world. With one eye creased shut, Edward peers out at the world through one clear blue eye, buried in an expanse of folds, bumps, and mounds of skin. Neurofibromatosis is a rare genetic disorder that causes tumors to form on nerve tissue, often leading to noticeable aberrations in muscle and tissue development.
The incredible prosthetic work on display here was done by Mike Marino, a veteran makeup artist who has worked on everything from "True Detective" to "The Irishman." Marino was the artist behind Colin Farrell's scene-stealing performance as the rowdy and rotund Penguin in "The Batman." Marino already won an Oscar as part of the hair and makeup team for "Coming 2 America," and if the Academy is still as enchanted with physical transformations as it long has been (think Gary Oldman's Winston Churchill, Nicole Kidman's Virginia Woolf), it may signal an incoming back-to-back win for Marino, and a first time nomination (and maybe even win) for Sebastian Stan.
A meta narrative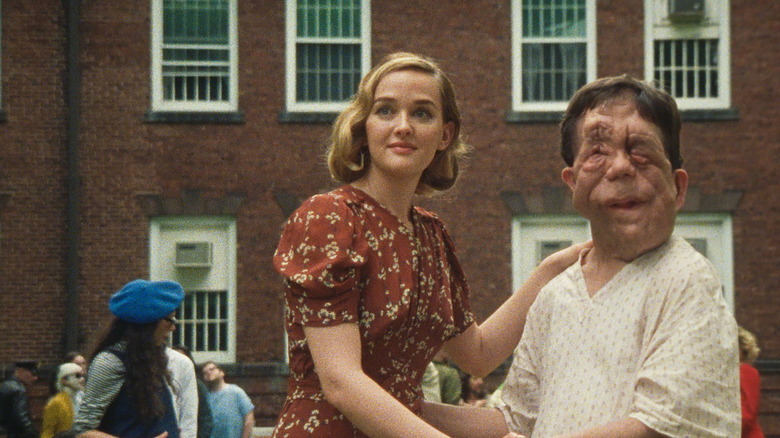 Kino Lorber
Stan's character derives its inspiration from the real-life actor and British television presenter Adam Pearson. Though he's been an active fixture in British public life for years, both as a presenter and as an anti-bullying advocate, Pearson shot to international fame due to his unforgettable role in "Under the Skin."
Now he will appear alongside Stan in "A Different Man," where he will apparently be playing an actor playing a man with neurofibromatosis, whereas Stan will be playing a man with the real condition, desperate to get rid of it. Try as he might to forget about the burden of his condition, Edward becomes haunted by a play based on his life, and the actor playing him seven nights a week on stage. If it all sounds very meta, that's because of writer and director Aaron Schimberg. His last film, "Chained For Life," also starred Pearson as an actor in a movie within the movie, this time with neurofibromatosis for real, who struggles to understand and be understood by his "conventionally beautiful" costar, played by Jess Weixler.