Could Killers Of The Flower Moon Be A Window Into The Future Of Streaming Big Movies?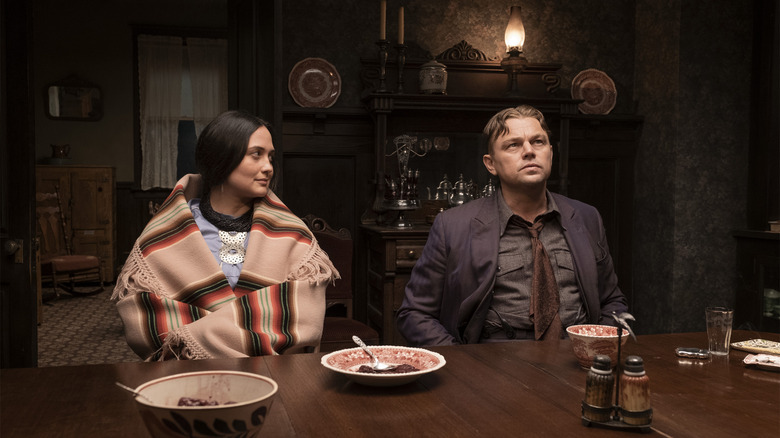 Apple TV+
Let's start with some potentially bad news: The wait for Martin Scorsese's next film may have just gotten a lot longer. The interesting news? We may all have the chance to see "Killers of the Flower Moon" on the big screen after all, even though Apple TV+ is home to the big-budget western. It had previously been thought that Apple would look to make a play for awards season later this year with this one. Instead, the company is perhaps exercising some patience and waiting until next year — possibly for something bigger than a limited release to qualify for the Oscars.
As reported by Deadline, in a largely speculative piece, Apple may be looking to premiere the adaptation of David Grann's novel at the Cannes Film Festival in 2023, which will be taking place in May. The film reunites Scorsese with both Leonardo DiCaprio and Robert De Niro, giving it a pretty immediate, broad appeal. What's more, the film is said to have a budget in the eye-popping $200 million range, meaning that the ones writing the checks are going to want to make a big impression. That's a whole lot of Apple TV+ subscriptions to make up for. That is, unless there was another way to make back some of that money. Can you see where this is going?
Indeed, the report also states that the film "would roll out with a full-blown theatrical release through Paramount," a studio that has been part of the project from the very beginning. Now, it is worth noting that Apple did release "CODA" in some theaters and re-released it on the big screen after its landmark Best Picture win at the Oscars. But what is being proposed here is far more robust and has wide-ranging implications.
The big picture (on the big screen)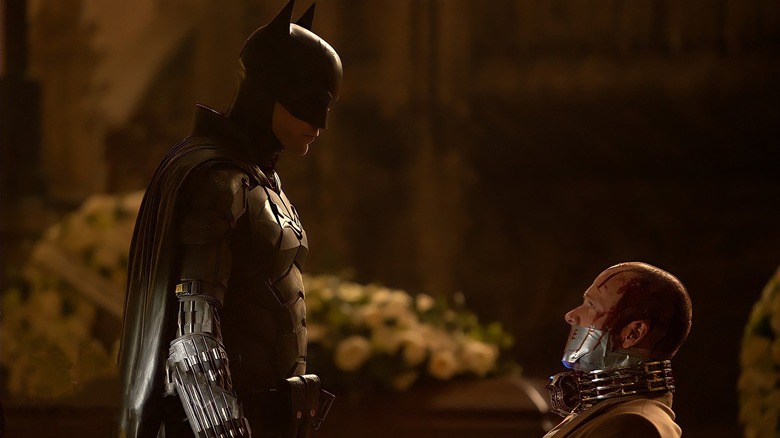 Warner Bros.
Before diving in too much further, neither Apple nor Paramount have confirmed such plans so this is speculation with a bit of logical juice fueling the conversation. What I'm trying to say is this move would make a great deal of sense given certain industry trends and could be a window into the future of streaming as it relates to big movies. Much has been made of the future of streaming this year, especially as competition gets fierce, Netflix continues to fall from grace, and the box office recovers very encouragingly. It is making less and less sense for streamers to spend $200 million on a movie that is never going to make a dime at the box office.
Therein lies the interesting thing about what is being proposed with "Killers of the Flower Moon." There is enough appeal to this film on paper that indicates a theatrical release could do quite well. Scorsese, DiCaprio, and De Niro? Moviegoers will turn up for that for sure. Will they turn up enough to recoup a $200 million budget entirely? Maybe not but, at the very least, a theatrical run such as that would help to offset the cost and, most likely bring even more viewers to the film once it arrives on Apple TV+. Case in point, "The Batman" is one of the biggest theatrical hits of the year and subsequently became one of the biggest movie debuts ever on HBO Max, while also topping the VOD charts. It's the "cake and eating it too" of streaming.
Netflix is the perfect example of this blockbusters-made-for-streaming strategy going south in the modern marketplace. And, interestingly enough, one of Scorsese's recent films may have been the turning point in that discussion.
Too much money, too little return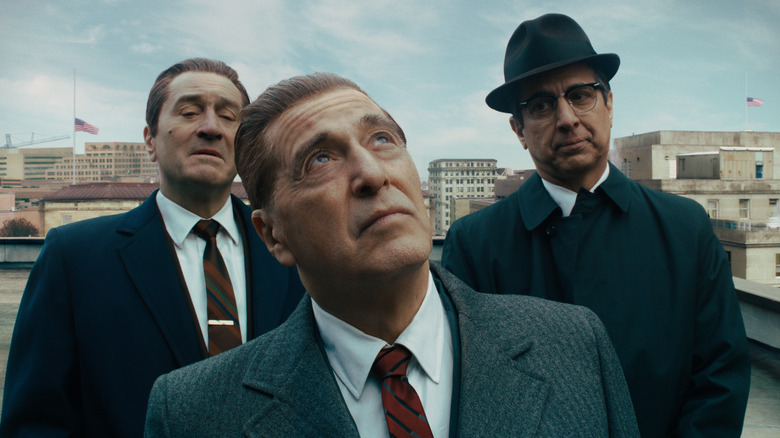 Netflix
Netflix gave Scorsese nearly $200 million to make his passion project "The Irishman," which debuted on the streaming service and was only given a very limited theatrical release to qualify for the Oscars that year. It did qualify and even scored some nominations, but all of that de-aging and money didn't get Netflix the Best Picture winner it still desperately wants. And, while the economic breakdown gets a bit trickier with pure streaming films, it's hard to imagine the company turned a profit on that investment.
This has continually been an issue in the streaming world, and it's why Netflix may want to consider experimenting with theatrical releases in the future. There is money to be made in an offsetting cost sense for these big movies. It's worth noting the company may well be going down that road with movies like "Knives Out 2" later this year. This may well be the template going forward and, if Apple and Paramount do team up on a robust theatrical release for "Killers of the Flower Moon," that path could be cemented for the future.
It's worth pointing out that Warner Bros. Discovery is already headed that way. CEO David Zaslav recently axed the "Wonder Twins" movie because it had a $70 million budget and was going straight to HBO Max. There was not enough money to be made there. "Blue Beetle," meanwhile, shifted from an HBO Max release to a theatrical release because there is more money to potentially be made in the long run that way. The future, in many ways, mirrors a far more traditional past in terms of distribution. Ticket sales lead to revenue, which leads to interest, which leads to more revenue from streaming and other sources down the line. The math checks out.
"Killers of the Flower Moon" does not yet have a firm release date set.