Everything Everywhere All At Once Put A Russo Brothers Theory To The Test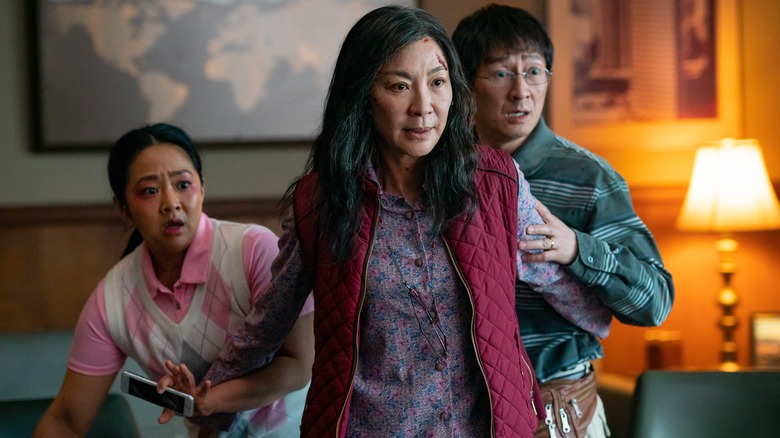 A24
With their time in the MCU at an end (for now), the Russo Brothers have kept busy with their ABGO production company. Not only had they released their films through ABGO, like their smaller scale "Cherry" and the globe-trotting action thriller "The Gray Man," but they also helped get lesser-known projects off the ground. The Russos were given a similar opportunity when they got started, having been mentored by filmmaker Steven Soderbergh after he saw their 1997 directorial debut "Pieces."
Daniels, the filmmaker duo Daniel Kwan, and Daniel Scheinert are two filmmakers the Russos have helped bolster through ABGO. Following the release of "Swiss Army Man," Daniels found producers for their next big film through the Russos production company, allowing "Everything Everywhere All At Once" to be true to the director's ambitious multiversal vision. The film wasn't just proof of Daniels' filmmaking prowess but also helped to test a theory the Russo brothers had when structuring their own stories.
The three-page process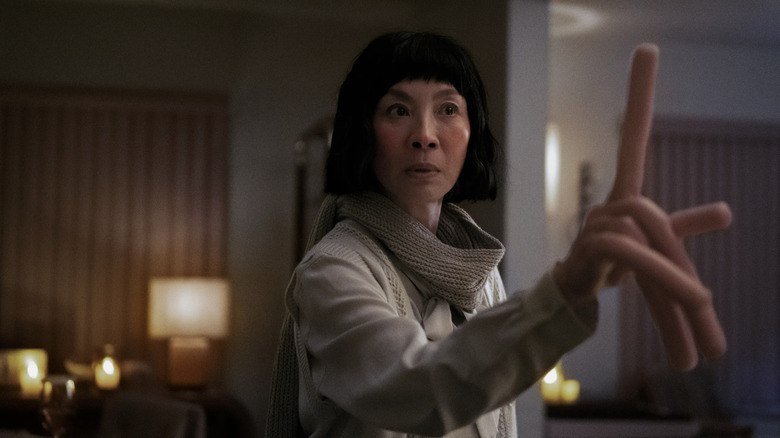 A24
While speaking to SyFy about their production company ABGO, the Russos explained their process when structuring a story for their films:
"We start with a three-page document that could take weeks or months on end to create. Basically, the first page is Act 1, the second page is Act 2 and the third page is Act 3. You need to agree as a group on what that story is before you waste your time turning it into a much larger document that's harder to unravel... Once we do that three-pager, we go to a 10-pager where we start to infuse character and thematics, and we do some sample dialogue. And then from that, it's very easy to write a script."
This way of developing a script would then be used by Daniels, whom the Russos have nothing but respect and enthusiasm for:
"What they can do is insane... what was compelling is that we found that the [three-page] process worked equally as well with them as it did for the work that we did, say with Marvel or 'The Gray Man' and on our bigger IP."
The three-page process that the Russo's used for their films had only been a theory that worked just for them up to that point. Their initiative of taking on Daniels' massive film in "Everything Everywhere All At Once" would test their approach and work out for both filmmaking duos.
Giving unconventional visions a platform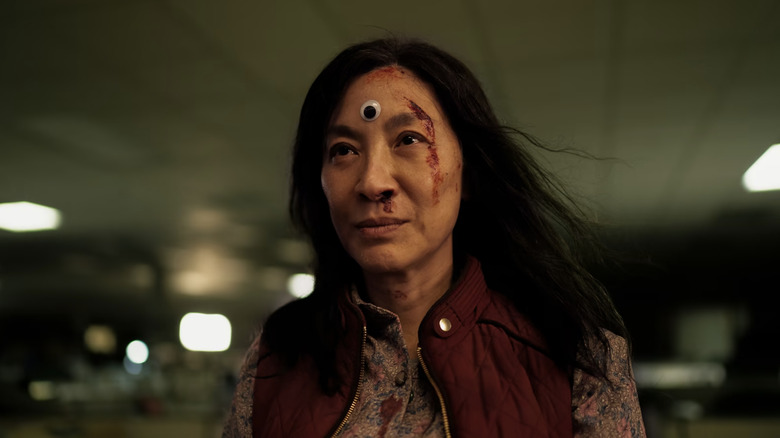 A24
The Russo's goal of helping to bolster filmmakers and their unconventional visions were what led them to cross paths with Daniels. Specifically, how Daniels' previous film "Swiss Army Man" had caught their attention:
"We watched Swiss Army Man and went, 'Oh, interesting. I wonder if we help them calibrate just slightly without corrupting who they are so they could create something a little more explosive, that would reach a much bigger audience?' Because their blending of absurdism and emotion is unlike anything we've seen in quite a long time. And also their technical abilities are great." 
"Everything Everywhere All At Once" would prove to be a big win for original IP blockbusters, with the technically impressive and emotionally resonant film becoming A24's highest-grossing movie. More than that, the film received rave reviews from critics for its originality and story. While the Russo brothers haven't exactly created the most original story in a movie like "The Gray Man," a small part of their story process has helped filmmakers like Daniels bring their bizarre and entertaining visions to life.