Black Panther: Wakanda Forever Showcases A Different M'Baku, According To Winston Duke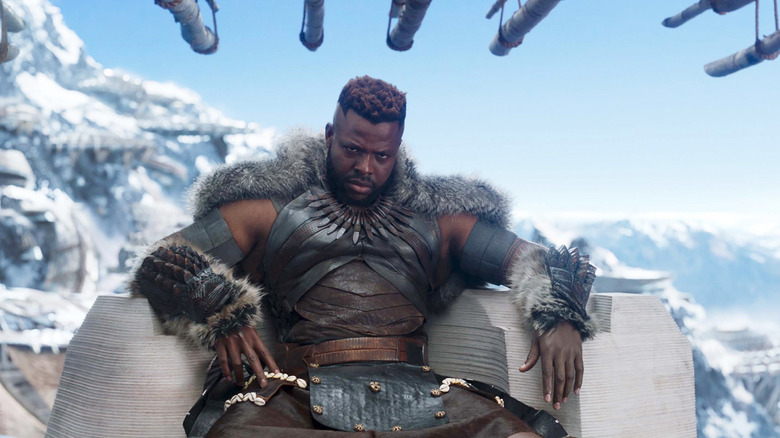 Marvel Studios
In what feels like a lifetime ago, Ryan Coogler's "Black Panther" became a true event upon hitting theaters in 2018. With its beautiful Afro-futurist aesthetic and captivating soundtrack mixing traditional African instruments with hip-hop, the movie was a feast for the eyes and ears, on top of having a compelling story and characters. Coogler's sequel, "Black Panther: Wakanda Forever," was always going to be hard-pressed to match its success, even before T'Challa actor Chadwick Boseman passed away in 2020 after years of quietly dealing with colon cancer. But rather than trying to ignore the dark cloud handing over its head in the real world, "Wakanda Forever" finds the people of Wakanda mourning the death of their king within the Marvel Cinematic Universe.
While it may be a bittersweet reunion, it's still great to see so many familiar faces in the "Wakanda Forever" trailer. That includes Winston Duke's M'Baku, the leader of Wakanda's mountain tribe, the Jabari, who once challenged T'Challa to a ritual fight for the crown, only to evolve into his steadfast ally by the end of Coogler's original movie. M'Baku would later make all-too-brief cameos in "Avengers: Infinity War" and "Endgame," joining T'Challa and the Dora Milaje by leading the Jabari into battle against Thanos.
Speaking to Screen Rant, Duke talked about M'Baku and how he's changed by the time "Wakanda Forever" catches up to him:
"I think the events of 'Infinity War and Endgame' really showed that the Jabari are now full-fledged members of Wakanda. M'Baku was a part of every single conflict; every event, and I don't think they could really exist in isolation anymore. They have open borders, and we saw that M'Baku was really Wakandan. His entire community has expanded."
'A brand-new world for Wakanda'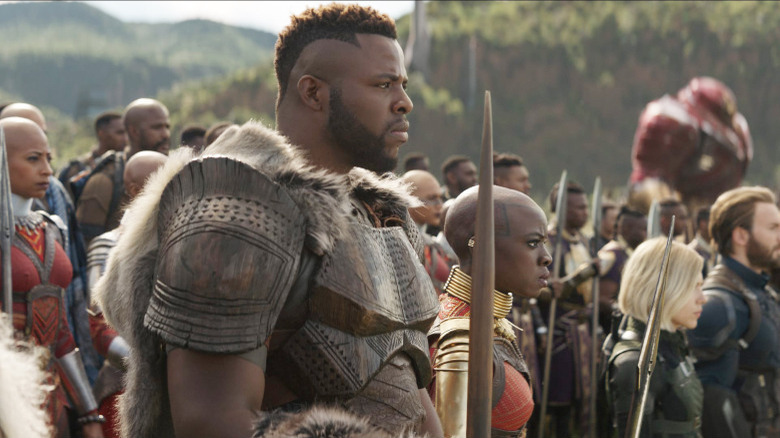 Marvel Studios
The MCU might not be in the middle of a pandemic like our world, but it went through an equally-global traumatic event when Thanos used the Infinity Stones to snap half of all life out of existence in "Avengers: Infinity War." Earth's Mightiest Heroes would later restore all those who were "dusted" five years later in "Endgame," though not without suffering heavy casualties along the way. It seems T'Challa passed away in the MCU sometime after that, with "Wakanda Forever" finding his friends and family doing their best to move on when a new threat emerges in the form of Namor the Sub-Mariner (played by Tenoch Huerta) and his underwater kingdom.
More than anything, however, the people of Wakanda look to have their hands full simply adjusting to life in a world that's only gotten more confusing of late. That includes M'Baku, as Winston Duke touched upon in his interview with Screen Rant:
"Now we get to see how he figures out a brand-new world for Wakanda; a brand-new world like we've had to experience. A world post-COVID; a world post-pandemic or mid-pandemic. Much like us, he's going through a lot of the same things and figuring out how to move forward. This movie really deals and dives into that a lot."
Like the film's trailer, Duke's comments bode well for "Wakanda Forever." One of the best aspects of the first "Black Panther" film is the way it gives so many Wakandan characters a moment or two to shine, not least of all M'Baku (whose famous barking scene alone is one of the movie's greatest moments). Fingers crossed, that will remain the case with the sequel, even as the war with Namor takes center stage.
"Black Panther: Wakanda Forever" opens in theaters on November 11, 2022.