How Paul Sorvino Became A Horror Musical God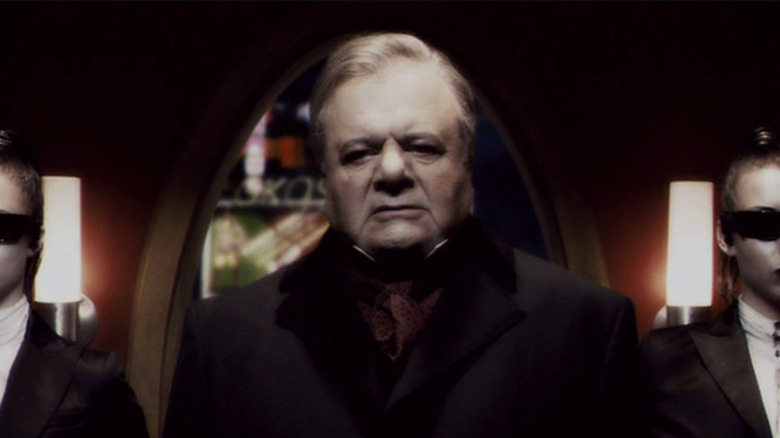 Lionsgate
Paul Sorvino dazzled audiences across stage and screen for over 50 years, and his loss at the age of 83 is a true shame. Remembered by most for playing "tough guy" characters on film and television, many have forgotten, or simply didn't know, that Paul Sorvino was also a gifted vocalist. 
Sorvino was a classically trained singer who attended the American Musical and Dramatic Academy before making his Broadway debut in the 1964 musical "Bajour." Throughout the course of his career, Sorvino often showcased his impressive vocal prowess, appearing in (and on the cast recordings of) "The Baker's Wife," "Carmelina," and a solo album titled "Paul Sorvino Sings." An operatic tenor, Sorvino's rich and powerful voice offered him many opportunities on stage ... but we only witnessed it a handful of times on screen.
In 2003, Sorvino appeared in the romantic drama "The Cooler," where he performed a rendition of "​​You're Getting to Be a Habit With Me," from the musical "42nd Street" for the film's soundtrack. That same year, he provided the male vocal line in a duet of "La Gigocin" with Ginette Reno in "Mambo Italiano." A few years later he sang "The Way You Look Tonight" for the 2006 film, "Mr. Fix It." Sorvino's voice became heartier with age, allowing him to deliver stunning tenor notes as well as deep and velvety baritone lines, which were appreciated most in the unlikely world of rock operas, namely, Darren Lynn Bousman's "Repo! The Genetic Opera" and "Alleluia! The Devil's Carnival." 
Finally, a director who knew what to do with the vocal power of Paul Sorvino.
Repo! The Genetic Opera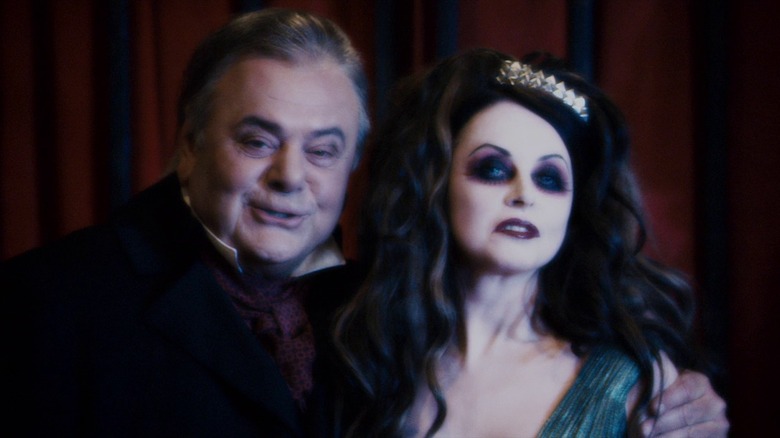 Lionsgate
In 2008, Darren Lynn Bousman delivered a gift to the emo/scene/goth musical theater kids of the world, myself included. "Repo! The Genetic Opera" is a rock opera set in the not-so-near future, where systemic organ failure has lead to an increase in drug addictions and legalized murder for those who fail to make their payments on organ transplants. Despite the dystopian existence, the wealthy still continue on as usual, hosting lavish operas and reveling in their status. Sorvino stars as Rottissimo "Rotti" Largo, the terminally ill CEO of the world's most powerful corporation, serving as the "Don Corleone" type of his family of bickering heirs Luigi (Bill Moseley), Pavi (Skinny Puppy's Nivek Ogre), and Amber Sweet (Paris Hilton).
Critics and audiences alike didn't quite know what to make of "Repo!" at the time of its release, but for the die-hard fans the film resonated with, it quickly became a cult hit, complete with midnight screenings of costumed viewers. Rotti Largo is quite possibly the most inspired casting of Sorvino in his entire career, as it married all of his performance strengths into a single character. He plays the typical Italian patriarch of a criminal family, allowing him to flex his muscles from "The Rocketeer" and "Goodfellas," while delivering an imposing vocal delivery that highlights his years of training. Despite his villainy, Rotti Largo is also a romantic at heart, and Sorvino brings through the soft interior throughout his performance. Try not to get goosebumps during the high notes in "Gold," I dare you.
Alleluia! The Devil's Carnival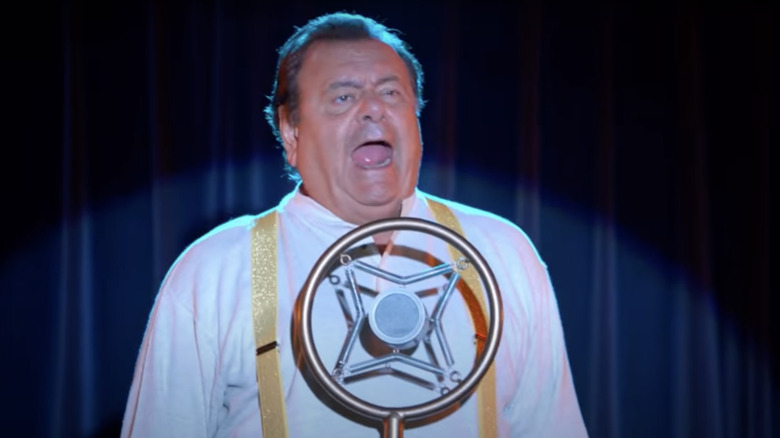 Cleopatra Entertainment
A few years later, Sorvino returned to collaborate with Bousman on another horror musical, the hour-long "The Devil's Carnival." In it, Sorvino would become a God, literally, a role he'd again play in the full-length version of the tale in "Alleluia! The Devil's Carnival." Not quite as operatic as "Repo!," Sorvino was given the opportunity to sing songs reminiscent of the golden age of musical theater with jazzier and more upbeat rhythms. I mean, he is God in this after all, even if God is a little bit darker than you'd expect through Bousman's lens. There's such a joy to Sorvino's voice in "Heaven's All Around," and the juxtaposition of his sound against the brutal ways in which our main three characters die is truly magnetic.
It's in "Alleluia! The Devil's Carnival" that Sorvino really gets to shine. Lucifer is out to get him and thinks he knows how to take down heaven and God, which means Sorvino gets to play a big bad threatened by an even bigger baddie. All hell has broken loose and Sorvino's God gets to seduce one of his many girlfriends ("Cloud Serenade") and put on a show for the inhabitants of heaven ("Bells of the Black Sunday"). Sorvino is having the absolute time of his life getting to play God and belt his face off. When he sings the line "these pipes, they could swallow you whole" it feels like a meta moment of God not only trying to threaten his creations, but Sorvino also making sure you leave the theater knowing he can tear off the roof with his voice.
He will be terribly missed.