Medieval Trailer: Ben Foster And Michael Caine In The Story Of A Czech National Hero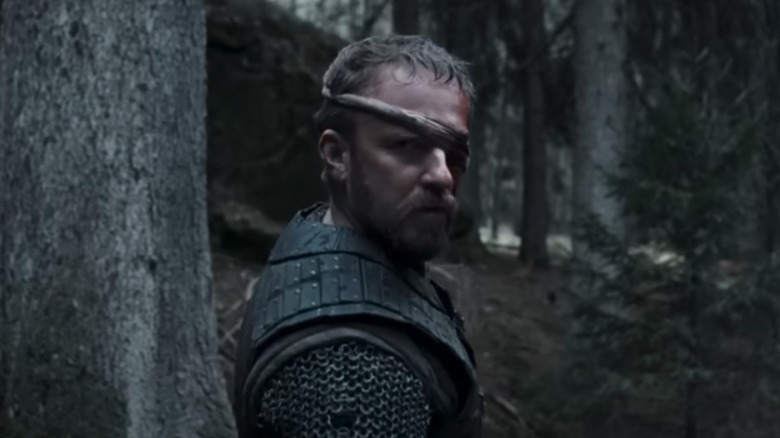 The Avenue
A new trailer has been released for the upcoming Czech film "Medieval," starring Ben Foster and Michael Caine. It's based on a true story of Jan Žižka (Foster), a Czech mercenary from the end of the 14th century. The leader of the Holy Roman Empire has died, and the Czech and Hungarian kings are battling each other to take over the throne. Nobleman Lord Rosenberg (Til Schweiger) uses the chaos to begin seizing land from lesser nobles and Žižka is hired by Lord Boresh (Michael Caine) to kidnap Rosenberg's fiancée Katherine (Sophie Lowe) to stop his rise. She's the niece of the King of France, and could turn the tide of the war. 
I hadn't seen anything about this film other than the name until now, but I'm a sucker for period pieces, especially ones that have a story I'm not familiar with. Despite it being under my radar, it looks gorgeous. Matthew Goode plays King Sigismund of Hungary, and I didn't recognize him until his name popped up at the end of the trailer. I don't even mind the fact that I can hear Michael Caine's natural accent coming through in his dialogue. 
"Medieval" is directed by Petr Jákl, who also wrote the screenplay from a story by Petr Jákl Sr., based on the work of Marek Dobes and Michal Petrus.
Based on a true story
Here is the synopsis for "Medieval:"
Inspired by the true story of Jan Žižka, one of greatest warriors in history. After the death of its reigning emperor, the Holy Roman Empire is plummeting into chaos while feuding brothers King Wenceslas of Czech and King Sigismund of Hungary battle for control of the empty throne. Daring and righteous mercenary leader Jan Zizka (Ben Foster) is hired by Lord Boresh (Michael Caine) to kidnap the powerful Lord Rosenberg's (Til Schweiger) fiancée, Lady Katherine (Sophie Lowe), to prevent Rosenberg's rise to power alongside the corrupt King Sigismund. 

Jan believes that Kings are the right hand of God and should be respected and obeyed, no matter what. As Katherine becomes caught in a dangerous political game between the monarchs, Jan falls in love with her strong spirit and dedication to saving the people. In a brave attempt to liberate her, he fights back with a rebel army to battle the corruption, greed and betrayal rampant amongst those clawing for power. Jan now realizes that the fate of the Empire will be decided by his love for Lady Katherine and that his fate doesn't lie in the hands of Kings, but in the hands of his own people.
It looks like we're going to have a juicy love story in here as well. Honestly, watching this made me go look up Jan Žižka, who I now know was referred to as John the One-Eyed (he clearly loses that other eye during the events of this film). He was a hero of the Hussite Wars, and has a statue on Vítkov Hill in Prague. Žižka never lost a single battle, and I'm very invested in his story. 
"Medieval" will hit theaters on September 9, 2022.