The 23 Best Michael Caine Movies Ranked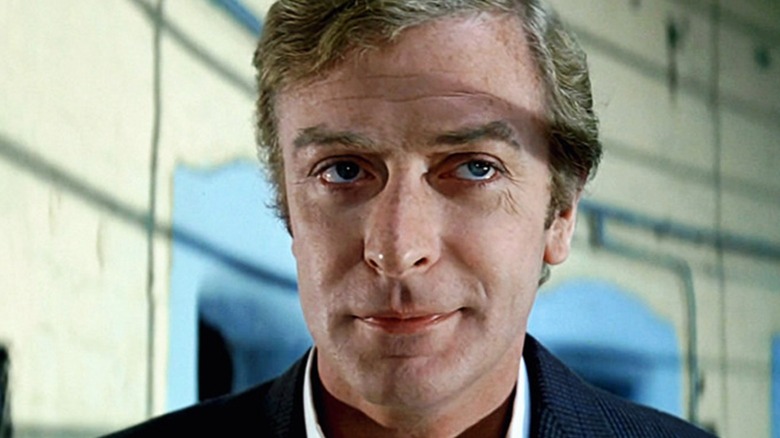 Paramount Pictures
Michael Caine might be the most well-rounded bona fide movie star that Britain has ever produced. We can argue all day over who's the best British actor of all time, and it has to be said that the artist formerly known as Maurice Micklewhite is hardly the most versatile actor. Yet, he brings an authenticity to his roles that other actors of his era just didn't. His closest contender is probably Sean Connery, but outside of Bond, his films never made quite as much impact. 
While other stars can boast incredible filmographies, Caine has been refreshingly candid about taking parts for the money alone, famously saying of "Jaws IV: The Revenge," "I have never seen it, but by all accounts it is terrible. However, I have seen the house that it built, and it is terrific". He has also made a second career of appearing in cameo roles in some brilliant films, and that makes listing his "best films" a bit tricky. As such we are going by the best Michael Caine performances rather than the films themselves. It pains me to have to omit his excellent performances in "Quills," "The Last Valley," and "Little Voice," but there are just too many to include here!
23. Harry Brown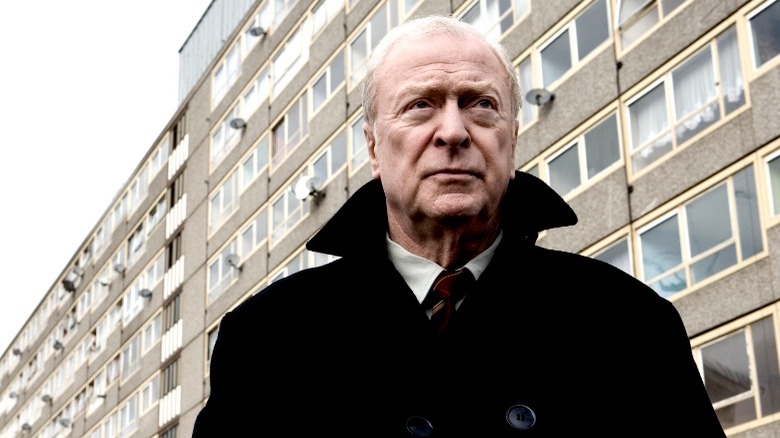 Lionsgate
Shot in Michael Caine's hometown of Elephant and Castle, "Harry Brown," released in 2009, plays out like "Death Wish" in London — well, maybe "Death Wish 5" when Charles Bronson was much too old to be chasing crooks! Something of a personal project for Caine, he plays the title character, a pensioner who embarks on a murderous revenge mission after a gang of youths murders his friend. 
While it veers ever so slightly into reactionary Nick Love territory towards the end, and it strains credulity that he could slip into murder quite so easily, Caine's down-to-earth performance grounds the film. He just about makes his avenging pensioner credible as a threat. Caine is genuinely quite scary in certain scenes, but as ever with him, the human moments make this work. His relationship with his friend, played by David Bradley, is touching, as is his friendship with Emily Mortimer's sympathetic detective. 
22. Zulu
Paramount Pictures
"Zulu," based on the legendary Battle of Rorke's Drift, during which 150 British soldiers managed to fight off 4,000 Zulu warriors, is the film that introduced a new side of Michael Caine to the world. In a performance miles away from the "Jack the lad" characters of Harry Palmer, Charlie Croker, or Alfie, he plays the ridiculously named Gonville Bromhead, an upper-class officer who clashes with engineer John Chard (Stanley Baker) over the organization of the British defenses.
Caine hated his performance. Watching the rushes made him physically ill. But viewed today, his character is surprisingly nuanced. Initially, he comes across as foppish and standoffish, dismissing Chard as an amateur. However, the battle brings out the best in him, and he eventually cooperates with Chard. While Baker gets to be stoic, with stiff upper lip fully on display, it falls to Caine to convey the panic and desperation the real soldiers would have felt. Ultimately, he fights through it and emerges as just as much a hero.
21. Pulp
United Artists
"Pulp," Michael Caine's second collaboration with Mike Hodges, could not be further from the grim tone of "Get Carter," but it's a lot of fun nonetheless. A parody of detective stories, Caine plays a hapless pulp fiction author who finds himself drawn into a real-life crime story when he agrees to ghostwrite the memoirs of Preston Gilbert (Mickey Rooney), a terminally ill actor famous for playing gangsters.
As he shambles around in his crumpled white suit, Caine is great in this role that is both comic and dramatic. He's incredibly easy-going about the murders all around him, whether exchanging Lewis Carroll quotes with Denis Price's tourist, or unsuccessfully trying to hail a cab. The playful voiceover from Caine is often at odds with what we see on screen. In one instance, he manfully describes tying a tourniquet around his wounded leg, when in reality he takes one look at it and faints.
An irreverent, lightweight film that is full of dryly witty dialogue, "Pulp" often seems like a seedier version of a Richard Lester film, complete with cheesy wordplay and some meticulously crafted visual gags. 
20. Sleuth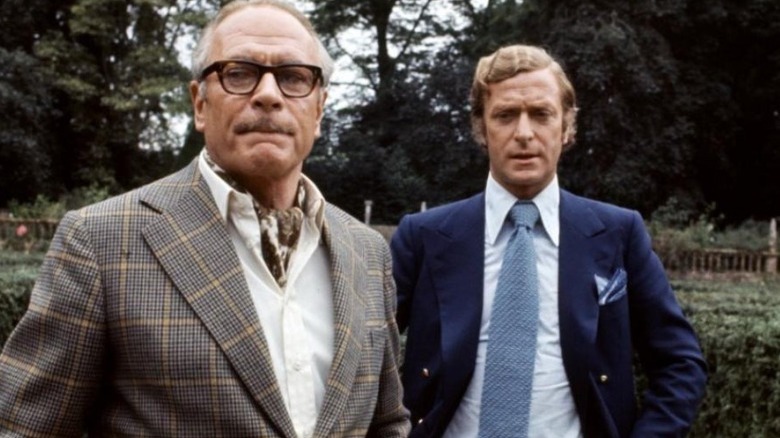 20th Century Fox
At the end of filming "Sleuth," Laurence Olivier famously said to Michael Caine, "I thought I had an assistant. I see I have a partner." Indeed, the film is a two-hander, with both actors giving strong performances. 
Olivier plays a British author of whodunnits who invites his wife's lover to his mansion for an afternoon of games that quickly turns into a battle of wits between the two. The labyrinthine plot can get a little silly in places (nobody today would fall for the big twist halfway through), but both actors give it their all. Caine, in particular, is incredibly strong as the confident hairdresser who is more than a match for the upper-class Olivier.
The scene in which Caine begs for his life is raw, emotional, and a jarring dose of reality in this otherwise witty comedy. Sidney Lumet's "Deathtrap" covers similar ground, only with Caine as the older character and Christopher Reeve as his rival. It's a more satisfying successor than the official remake of "Sleuth" that should be avoided at all costs!
19. The Quiet American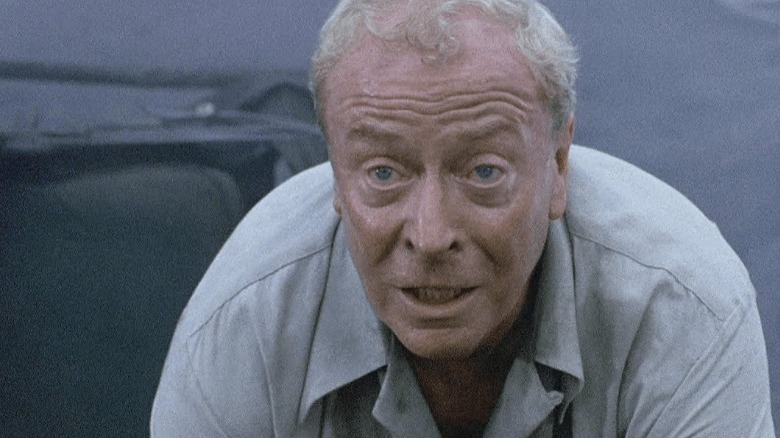 Miramax Films
"The Quiet American," Philip Noyce's adaptation of Graham Greene's novel of the same name, has been unfairly neglected in recent years, but it contains one of Michael Caine's most subtle performances. In the film, Caine plays Thomas Fowler, a British journalist covering the French war in Vietnam in the months before America's involvement. Fowler finds himself caught up in a love triangle with his young mistress, Phuong (Thi Hai Yen Do), and squeaky clean American diplomat Alden Pyle (Brendan Fraser). As tensions rise between the three, the circumstances in the country grow more volatile.
The film can be a little plodding in places, but Caine is brilliant, giving an understated performance that balances his love for his young mistress with his cynicism about the war. Fowler is both flawed and sympathetic, and Caine deftly handles the less wholesome elements of his character as he becomes quietly consumed with jealousy and moral outrage at the outwardly upright Pyle.
18. Without a Clue
Orion Pictures
"Without a Clue" is an unheralded comedy with a unique premise in which Sherlock Holmes (Michael Caine) is a moronic actor being fed his lines by the true genius detective, Doctor Watson (Ben Kingsley), an insufferable know-it-all desperate for recognition.
Caine is a delight as this version of Holmes, playing both sides of his character perfectly. He brings a plausible gravitas to his Sherlock persona but is equally convincing as the hapless idiot who fumbles around crime scenes and bluffs his way through dealings with the press — much to Watson's irritation. He's also a coward, panicking and running away at the mere mention of Professor Moriarty.
Kingsley is also great as the constantly frustrated Watson. The two have prickly chemistry together, constantly bickering like an old married couple. The pair elevates the sometimes weak material, but there are some excellent jokes and genuine warmth to the performances that make "Without a Clue" a lot of fun.
17. Is Anybody There?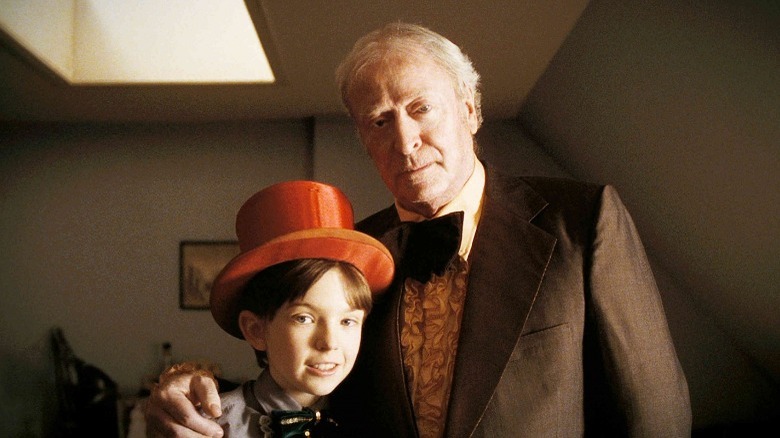 Optimum Releasing
"Is Anybody There?" is set in a retirement home in Yorkshire. Michael Caine plays Clarence, a retired magician in the early stages of dementia, who forms a friendship with Edward (Bill Milner), the death-obsessed young son of the couple who runs the home. Initially hostile to Edward, Clarence eventually forms a touching friendship with the boy. This proves to be the heart of the film. Unlike your standard feel-good drama, there is no uplifting ending. 
Caine wrings the maximum amount of pathos out of his character as his memory begins to fracture. Moments like Clarence going to draw his pension, only to be told he already has it, are devastating. When his magic act goes catastrophically wrong, his mind breaks completely. Unfortunately, the rest of the film isn't that great, but there's an admirable lack of vanity in Caine's performance that makes it worth watching. The scene in which we find him alone in a graveyard, simply repeating the same phrase over and over, is unbearably sad.
16. Children of Men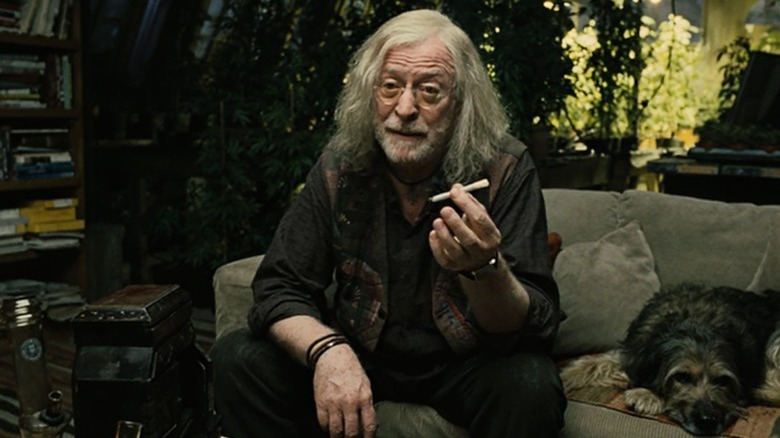 Universal Pictures
Michael Caine might not have much to do in Alfonso Cuaron's masterful "Children Of Men," but he serves a crucial role in the story. As Jasper, a retired political cartoonist turned pot dealer, he provides some much needed comic relief in a film that is painfully depressing in places. Jasper is one of the few purely altruistic characters in the film, lightening the oppressive tone with his obsessions with fart jokes, joints, and booming music. He also offers a sanctuary (however temporary) for the protagonists as they are pursued by the Fishes (an anti-government terrorist group). Sadly, he also ups the stakes when their hideaway is discovered. In one of the film's most unbearable scenes, he buys his friends some time with his life. 
In a film that's full of genuinely upsetting, haunting sequences, the most touching moment of all is a quiet, tender moment in which Caine tells his invalid wife that he loves her as he prepares to meet his fate.
15. Dressed to Kill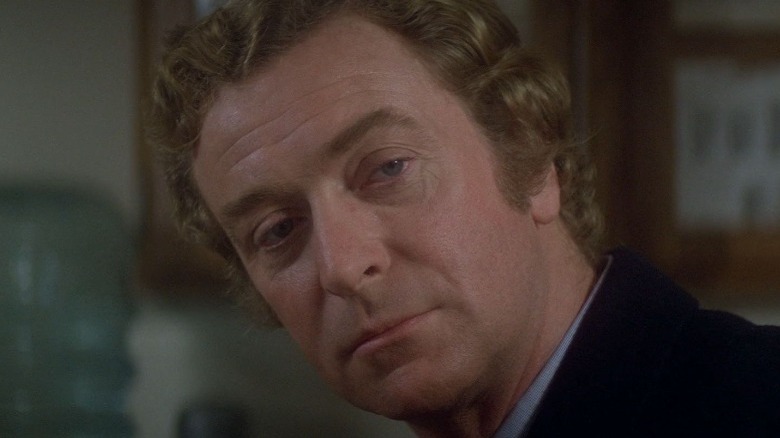 Filmways Pictures
"Dressed to Kill," Brian De Palma's homage to "Psycho," casts Michael Caine in the largely thankless role of the psychiatrist whose patient is murdered and then gets drawn into the case when suspicion falls on another of his patients.
This is a tricky one. On first viewing, Caine's performance in "Dressed To Kill" seems a little odd and a bit wooden. It's only once you watch the film again that you understand what he's doing. He's essentially playing a role within a role, putting on a veneer of respectability that covers a sinister secret. De Palma makes excellent use of mirrors throughout, hinting at Caine's fractured psyche. However, Caine never tips his hand. It's a performance that takes on more and more layers once you know the plot, and it's a credit to Caine that the reveal is never laughable. Be warned though, the film was released in 1980, and some of the plot twists are more than a little problematic today.
14. The Cider House Rules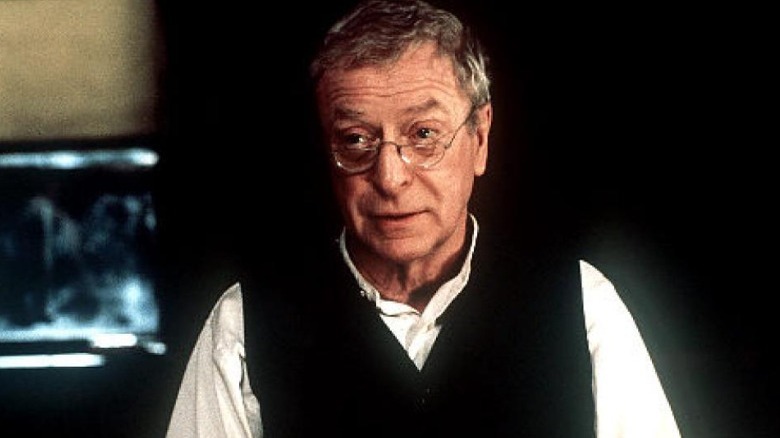 Buena Vista Pictures Distribution
Yes, Michael Caine's 2000 Oscar for best supporting actor for "The Cider House Rules" was probably given to him as a lifetime achievement award rather than purely on merit. Still, he gives a wonderfully humane performance and demonstrates a surprisingly convincing New England accent.
Playing the ether sniffing Dr. Larch, an illegal abortionist and surrogate father to the abandoned children, Caine makes the paradoxical character incredibly warm without lapsing into sentimentality. His repeated refrain of "You princes of Maine, you kings of New England" should by rights sound schmaltzy or pompous, but as spoken by Caine, those words seem like something altogether more profound.
It was a deserved Oscar win, whatever the motivation behind it. If you needed another reason to love Michael Caine, look up his incredibly modest acceptance speech in which he pays tribute to all his fellow nominees rather than talking about himself.
13. Blood and Wine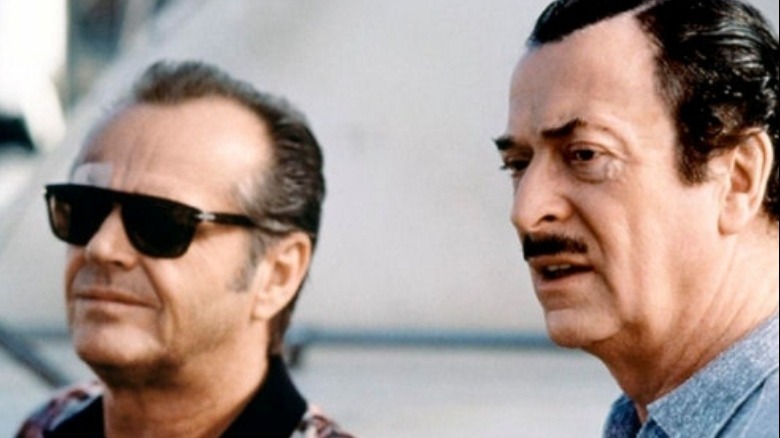 Fox Searchlight Pictures
"Blood and Wine," Bob Rafelson's spiritual sequel to "Five Easy Pieces," is a slice of noir just as potent as the cult classics that were being made around the same time like "The Last Seduction" and "One False Move." In a film boasting well-observed character performances from Judy Davis, Harold Perrineau Jr., and Jennifer Lopez, Michael Caine walks away with the film as an emphysemic safe cracker who joins forces with Jack Nicholson's wine salesman in the pursuit of a diamond-encrusted necklace worth millions of dollars.
Caine credits this film with reigniting his love of filmmaking, and it's certainly one of his best character roles. With his hair dyed a conspicuous black, he might initially seem a comic figure, but that goes out the window once the situation gets a little more desperate, and he brutally beats a witness for information. Caine plays each character beat, from terrifying anger to pathos, perfectly. The moment when he tells Nicholson that he's dying is both poignant and horrifying, as he looks positively cadaverous, coughing up blood in a sleazy hotel room.
12. The Italian Job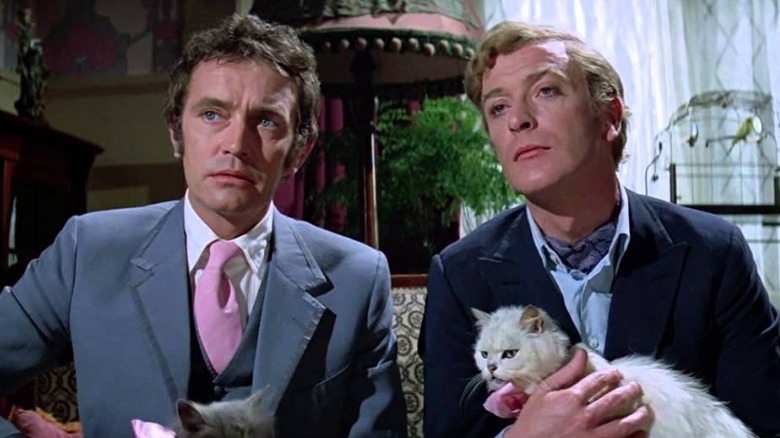 Paramount Pictures
Best remembered for the intense car chase that closes the film, the first half of "The Italian Job" has more in common with the Ealing comedies than the heart-stopping heist movies that followed. In many ways, "The Italian Job" is a comedy of manners as much as it is a heist film.
Michael Caine is hilarious in every aspect of the film, whether he's bellowing out now-iconic lines ("You're only supposed to blow the bloody doors off!") or delivering offhand non-sequiturs that give the film an idiosyncratic feel of its own ("Shorten the sleeves, will you, love? I'm not a gorilla"). Rather than the jingoistic little England mentality that the film espouses on its surface, it gently pokes the idea of British exceptionalism, as the thieves are completely outmatched by the Mafia and portrayed either as beer-drinking morons or "chinless wonders."
Croker is a quick-witted, cocky character whose over-confidence proves his undoing as we see at the film's conclusion. As the coach full of gold teeters precariously on the edge of a cliff, he utters the famous final line, "Hang on a minute, lads. I've got a great idea ..."
11. Dirty Rotten Scoundrels
Orion Pictures
Steve Martin gets the belly laughs in this conman comedy from Frank Oz, but Michael Caine is the heart of the film and more than holds his own against the comedian.
The two play con-men competing over a little seaside town on the French Riviera. They set up a challenge: whoever can con an heiress (Glenn Headly) out of a million dollars gets to keep operating in the area. The loser must leave immediately.
Caine proves to be equally as funny as Martin. The scene in which he tests Martin's "paralysis" by running his hands over his bare feet while muttering "tiggle, tiggle, tiggle" in an outrageous German accent is one of the film's many highlights.
Despite being a silly comedy, "Dirty, Rotten Scoundrels" is a film that is oddly moving at times. The moment when Caine runs out to meet Headly after putting her on the plane is one of the most sensitive moments in this light comedy.
10. Gambit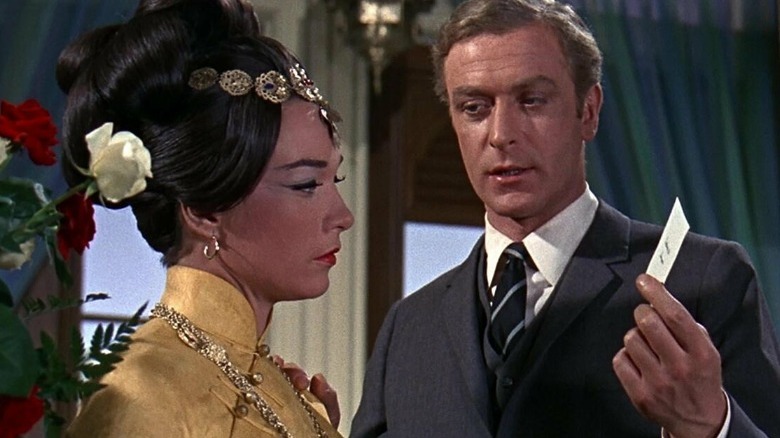 Universal Pictures
In his first American film, Michael Caine plays Harry Dean, a thief planning his latest heist. With the help of a Eurasian dancer named Nicole (Shirley Maclaine), who's a dead-ringer for their target's late wife, Dean plots to steal a valuable statue from the vault of multimillionaire Shahbandar (Herbert Lom) 
Dean imagines his plan unfolding flawlessly. The real heist, however, goes wrong almost immediately when Nicole proves less compliant than he expected. Shahbandar is also a lot less credulous. 
While not as overtly comic as Charlie Croker from "The Italian Job," Harry Dean is a much more endearing character who is less brash and more of a dreamer. Caine underplays the role beautifully and manages to make Harry plausible as a conman. He's just good enough to fool most people but looks like an utter novice next to Shahbandar. Caine and costar Shirley Maclaine have wonderful chemistry. Her clumsiness in the final act is genuinely heartwarming. After she faultlessly uses acrobatics to get into the vault, Caine says, "You're a very clever girl, and I love you." She's so happy that she utterly wrecks the heist! 
9. The Dark Knight Trilogy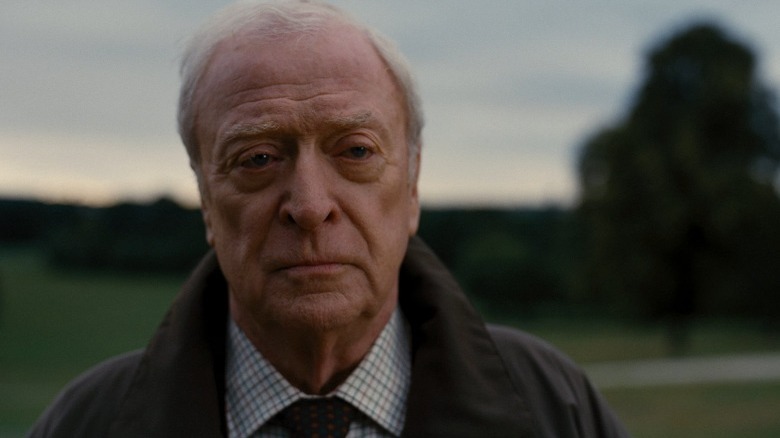 Warner Brothers Pictures
No disrespect to Michael Gough, Sean Pertwee, or Andy Serkis, but there will never be a better Alfred Pennyworth than Michael Caine in Christopher Nolan's "Dark Knight" trilogy. It's a canny bit of casting, giving the character a more grounded feel while retaining the gravitas necessary for the role of Bruce Wayne's (Christian Bale) trusted butler. Caine has become a bit of a lucky charm for Nolan, but rarely actually gets a proper role to sink his teeth into. "The Prestige" and "Interstellar" are the only exceptions. In Alfred, Caine finds a part that's consistent across the trilogy. He fulfills many roles, acting as Wayne's surrogate father figure, his confidante, and chief adviser. 
When it comes to supporting characters, Nolan's trilogy is pretty impressive. Alfred, Jim Gordon (Gary Oldman), and Lucius Fox (Morgan Freeman) each get proper storylines across the three films. Alfred wants to help Batman in his mission but is also protective of Bruce Wayne. It's this conflict that drives a wedge between the two as the films progress. This is exacerbated when Alfred withholds a letter from Rachel Dawes (Maggie Gyllenhaal) to protect Wayne. That act leads to Alfred being dismissed from service in the most emotionally affecting sequence in the whole trilogy.
8. Youth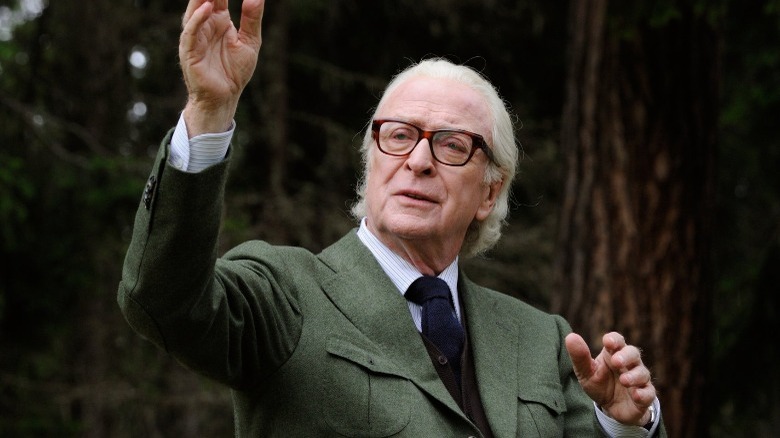 Studiocanal
Paolo Sorrentino's "Youth" is a wonderfully elliptical, slightly sleazy film that is pretentious in some places and profound in others. It also contains Caine's most recent great role. In the film, he plays Fred Ballinger, a retired composer-conductor who is spending his vacation at a Swiss health spa. As he discusses aging with his film director friend, Mick Boyle (Harvey Keitel), he is approached by royal dignitaries to conduct one of his most popular pieces for Prince Philip's birthday. He steadfastly refuses.
Caine is at once self-assured, vulnerable, and wryly funny, depending on who he's talking to. Caine and Harvey Keitel have playful chemistry. But in Caine's scenes with Rachel Weisz, who plays his daughter, he is almost unbearably sad. The moment when he reveals exactly why he refuses to conduct that specific piece of music is utterly heartbreaking and beautifully underplayed by Caine and Weisz.
Sorrentino makes incredible use of Caine's doleful, melancholy eyes to generate pathos. In one powerful scene towards the end, his eyes, magnified by his thick glasses, are all we can see. The effect is incredibly poignant.
7. Mona Lisa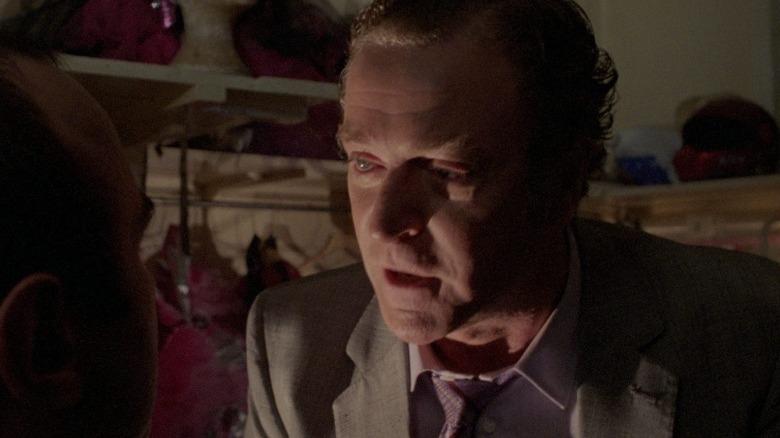 Cannon Screen Entertainment
Despite his sharp features and imposing stature, Caine has surprisingly not played that many villains. His subtle depiction of evil in Neil Jordan's "Mona Lisa" makes you wonder why. Mortwell is a great villain. With his white rabbit, he looks like he's stepped out of a Bond film! 
There's something reptilian in the way Caine plays Mortwell. We know he's bad news from the moment we see him. He smiles at ex-con George (Bob Hoskins), but his smile never reaches his eyes. His words are full of platitudes and promises, but his tone is cold and insincere. We never for a minute buy into his so-called affection for George. The facade only drops briefly when he asks George to find some dirt on one of his girls' clients — and it's terrifying. As he advances on George, the harsh lighting of the club illuminates his angular features, making him look positively satanic. 
Although he appears in just a handful of scenes, Caine makes Mortwell an utterly venal, sinister character. His presence casts a huge shadow over the rest of the film.
6. Alfie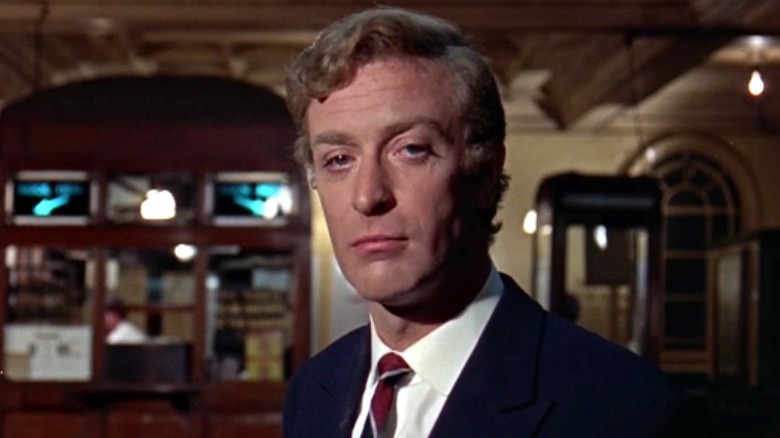 Paramount Pictures
Released in 1966, "Alfie" cemented Michael Caine's status as a star. In many ways, it's an outdated film, and the title character is a reprehensible, selfish misogynist. Yet, Caine's charismatic performance prevents you from writing him off entirely. 
No other actor from that era could have reconciled the conflicting elements of this character. The moments when Alfie breaks the fourth wall and speaks directly to the camera could have seemed stilted, but come across as natural in Caine's capable hands. It's the little touches that he brings to the role that humanize Alfie and convince the audience to sympathize with him. 
His frivolous attitude belies the inner sadness and aimlessness of his character. This is illustrated in the kindly way he looks at his baby, telling the tyke off but surreptitiously handing him a toy. Even more affecting is the infamous abortion scene, a downbeat, realistic sequence that brings the film's otherwise hedonistic mood crashing down. Both Caine and Vivien Merchant are incredible in this scene, but it's Caine's utterly broken reaction to seeing the aborted fetus that is the film's most indelible moment.
5. Educating Rita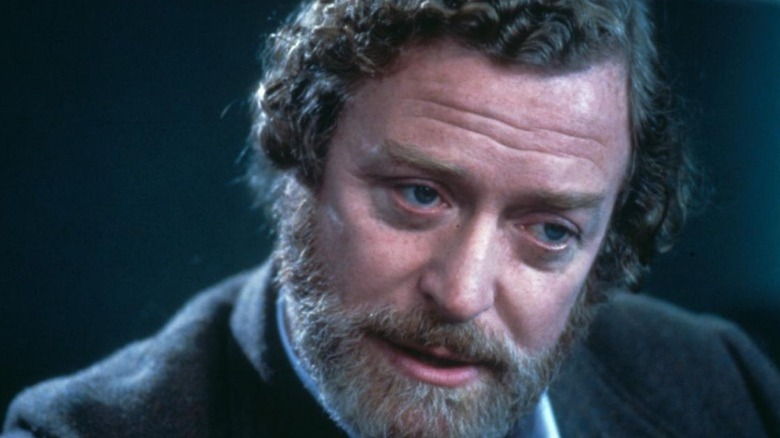 Rank Film Distributors
"Educating Rita" isn't as cinematic as other entries on this list. It never truly transcends its origins as Willy Russell's stage play. However, it's carried by the electric lead performances of Michael Caine and Julie Walters.
Caine plays Frank Bryant, an alcoholic English Literature professor who has grown disillusioned with the intellectual vanity of his profession. He finds himself rejuvenated by his new open university student, Rita (Walters), and her unpretentious, honest approach to the texts he teaches her. In many ways, the film is an inverted "Pygmalion." As Rita learns more, Caine begins to despise what he's turned her into and backslides into drunken binges fueled by self-pity.
As in "Alfie," Caine does a brilliant job of saying one thing but depicting the opposite. He flippantly plays down his girlfriend leaving him, but his mournful eyes tell a different story. Caine manages the difficult task of making his character warm and funny while also being insufferable in his encounters with his peers. His scenes with Walters are as touching as his gradual decline is devastating.
4. The Muppet Christmas Carol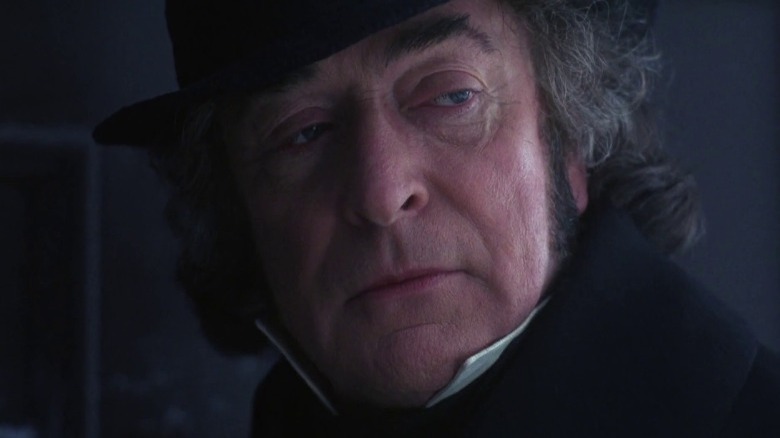 Buena Vista Pictures Distribution
Still one of the most faithful adaptations of Charles Dickens' novel, the Muppets' version of "A Christmas Carol" is like lightning in a bottle. Having a cast predominantly comprised of Muppets with a human actor in the lead role is a genius move. The formula has never been improved upon, and it's the inspired casting of Michael Caine as Ebenezer Scrooge that makes it work.
Caine is just incredibly good in this film. He never betrays the slightest indication that he's living in this insane world of talking frogs, rats, and vegetables. Caine plays every beat completely straight as if he were in the most prestigious adaptation of the novel. He once said that he approached the character as if he were playing a role with the Royal Shakespeare Company, and the result is a definitive film portrayal of the character. His is the saddest version of Scrooge, and his redemption feels entirely earned.
3. The Man Who Would Be King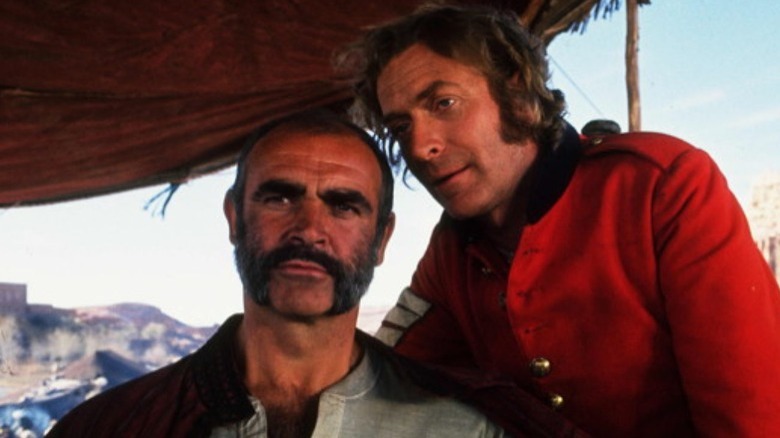 Columbia Pictures
We have Paul Newman to thank for the inspired idea of pairing Sean Connery and Michael Caine for this adaptation of Rudyard Kipling's novella.
John Huston's "The Man Who Would Be King" is one of those films that everyone loves once they see it, but it still doesn't have the same sort of prestige as David Lean's sweeping epics. Although it has all the gung-ho imperialism we associate with Kipling, Caine and Connery carry the film with their natural, effortless chemistry. They play ex-army officers Peachy Carnehan (Caine) and Daniel Dravot (Connery), who set off on an adventure to establish themselves as kings of Kafiristan (a region of modern-day Afghanistan).
Inevitably things don't quite go according to plan, and Dravot ends up being mistaken for a god. Connery gets the more traditionally heroic role, but it's Caine who impresses as the canny Carnehan. Although he remains steadfast in his loyalty to Dravot, he can see which way the wind's blowing and wants out. Their friendship is so wholesome and authentic that when it becomes strained by Dravot's new status, it hurts. Their final reconciliation is incredibly moving. "The Man Who Would Be King" makes you wish Caine and Connery had appeared in more films together.
2. Get Carter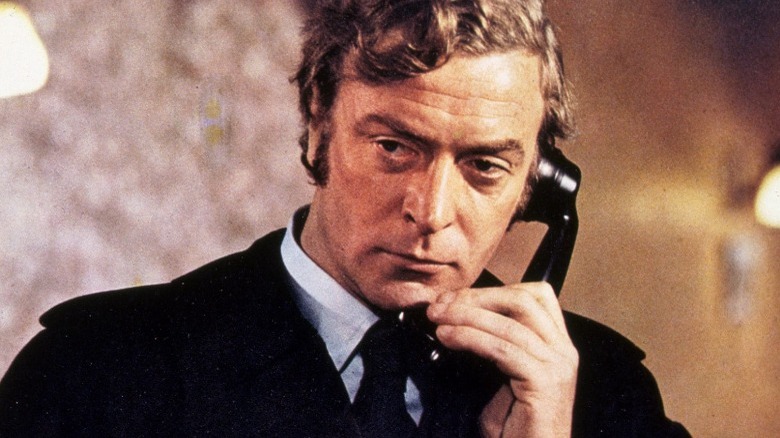 MGM - EMI Distributors
"Get Carter" is the British gangster film that all other British gangster films strive to be. It is one of the most iconic revenge thrillers of all time. Essentially a Western set in Newcastle, the film follows London gangster Jack Carter (Michael Caine) who returns to his hometown to uncover the truth about his brother's death.
What makes Caine's performance in this film great, especially when you look at his more recent work as kindly older characters, is just how unsentimental and callous he makes Carter. He's an unsmiling avenging angel, and Caine never shies away from making him unsympathetic. Like James Gandolfini's performance as Tony Soprano, Caine is almost daring you to like him as he casts aside those who have helped him and brutally kills anyone who was involved. Director Mike Hodges is unafraid of presenting scenes of shocking violence. However, he contrasts this with some dryly funny dialogue. Caine's description of baddie Eric's (Ian Hendry) eyes is particularly memorable.
What makes Caine's performance stand out are the brief glimpses of humanity he allows the character. The scene in which he sees the film of his "niece" getting coerced into appearing in a pornographic film is particularly devastating. All we need to see is Caine's face.
1. The Ipcress File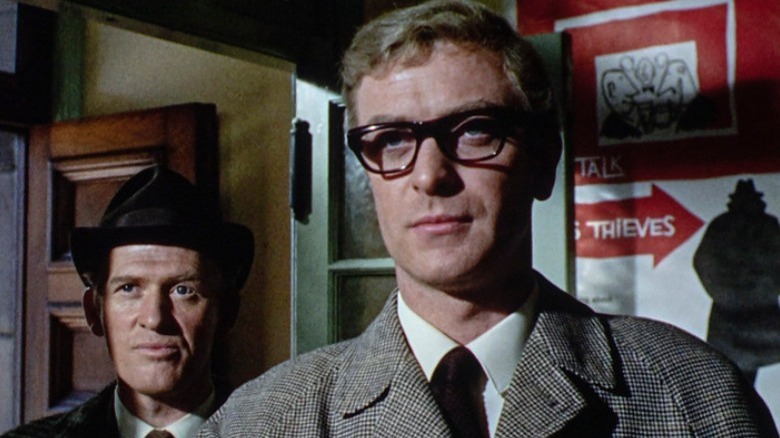 Rank Film Distributors
Initially conceived as a self-conscious "antidote" to the outlandish James Bond series, "The Ipcress File" is a lean, downbeat spy thriller that features Michael Caine as a wonderfully unconventional, subversive hero
Caine is brilliant as Harry Palmer, an insubordinate criminally inclined spy, who wears glasses and seduces women by offering to cook them breakfast. Unlike Bond, Palmer doesn't have the benefit of a trustworthy spymaster. Both Ross (Guy Doleman) and Dalby (Nigel Green) are shifty in their own ways. Caine's performance is sedate and deadpan as delivers dryly comic lines in an ironic monotone. 
Palmer is also all too mortal. While Bond can shrug off bullets and remain unaffected, Palmer is realistically tortured and subjected to mind control. In a moment that will set your teeth on edge, he keeps his mind clear by forcing a nail into the palm of his hand.
The two films that followed, "Funeral In Berlin" and "Billion Dollar Brain," are both great spy thrillers (we won't talk about the other sequels), but it's Sidney J. Furie's idiosyncratic direction in "The Ipcress File" that makes it the most memorable in the series. Furie's framing and camera angles still feel fresh and original today.