The Survivor Trailer: Ben Foster Fights To Keep The Legacy Of Harry Haft Alive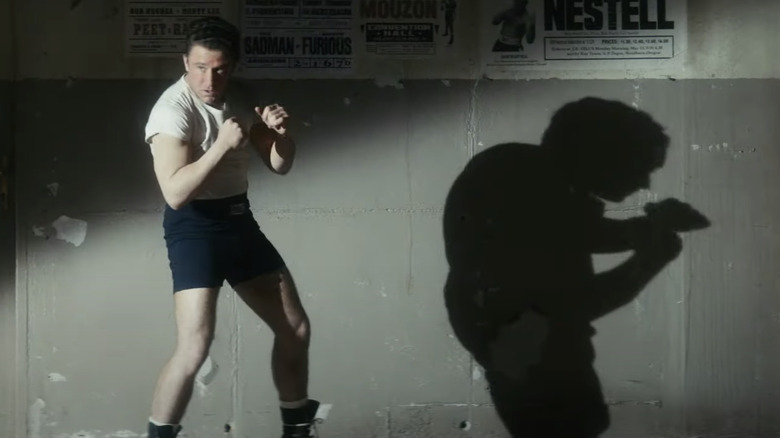 HBO
When you've spent your entire life fighting to stay alive, how does one find the motivation to fight the excruciating memories of how you got to where you are now? In celebrated director Barry Levinson's "The Survivor," Ben Foster transforms into the real-life Harry Haft, a survivor of Auschwitz who was later billed as such during his time as an American boxer. In Levinson's return to feature-length films following the success of the Hulu series "Dopesick," he tackles the harrowing true story of Harry Haft's resilience, quest for survival, and struggles to overcome the horrendous events he endured while held captive during the Holocaust. The film first premiered at the Toronto International Film Festival, where HBO Films acquired the exclusive North American rights in an eight-figure deal, one of the largest in TIFF history.
Sent to Auschwitz at the age of 17, Herschel "Harry" Haft was beaten and starved along with his fellow captives but after an SS overseer flagged his athletic build, he was trained to be a boxer for the sick entertainment of military personnel. Haft was still starved by the SS, but also forced to fight his fellow captives to the death, or be executed himself. Haft both remarkably and horrifically survived 76 fights in total before escaping Auschwitz by murdering a German soldier and taking on his identity until the end of World War II. Unlike other sports films, "The Survivor" is not some underdog story of inspiration, but rather an unflinching look at the atrocities forced upon not only the Jewish people who were victims of genocide at the hands of the Nazis, but also those who managed to survive it.
The trailer for The Survivor
Half of "The Survivor" is shot in black-and-white, with these moments showcasing the abject cruelty endured by those held in Auschwitz. The moments shot in color reflect Harry Haft's life following the war as he struggles to adjust to a new world. The man who would later be inducted into the National Jewish Sports Hall of Fame took up boxing not only as a means to bring in income but also in the hopes that by making the news, his girlfriend from before the war could find him if she was somehow still alive. 
A team at the USC Shoah Foundation assisted the production with historical consulting as well as providing access to a 2007 testimony of Haft's preserved at the USC Shoah Foundation's Visual History Archive as a means to ensure the film was telling Haft's story as respectfully and authentically as possible. In addition to Foster's leading performance, "The Survivor" also stars Billy Magnussen, Danny DeVito, Vicky Krieps, Peter Sarsgaard, Dar Zuzovsky, and John Leguizamo.
"The Survivor" will debut on Wednesday, April 27, 2022, at 8 P.M. ET/PT on Yom HaShoah, also known as Holocaust Remembrance Day. The film will stream on HBO with a subsequent streaming release on HBO Max.