Movies To Watch If You Loved The Green Knight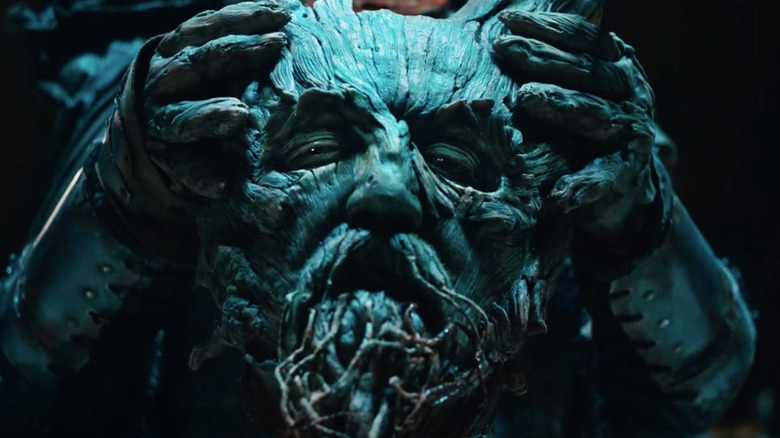 A24
The pandemic kept fans from seeing "The Green Knight" for well over a year after its planned premiere at the 2020 SXSW Film Festival was canceled. And now, filmmaker David Lowery's distinctive, striking take on the tale of Sir Gawain belongs to the fans. Though it presents Arthurian legend in a light that feels fresh and exciting, "The Green Knight" is by no means the first film to take a crack at bringing the fabled mythology to the big screen — nor is it the first time that the ace filmmaking team behind the fantasy film has wowed audiences with their considerable talents.
After watching a classic medieval story unfold on an epic canvas like this one, it's natural to crave more. Whether you seek sprawling fantasies in the same genre, or simply want another go-round with one of the film's scene-stealers, here are 12 great options to expand your horizons, no matter your age or expertise with medieval lore.
David Lowery's A Ghost Story explores the mysteries of time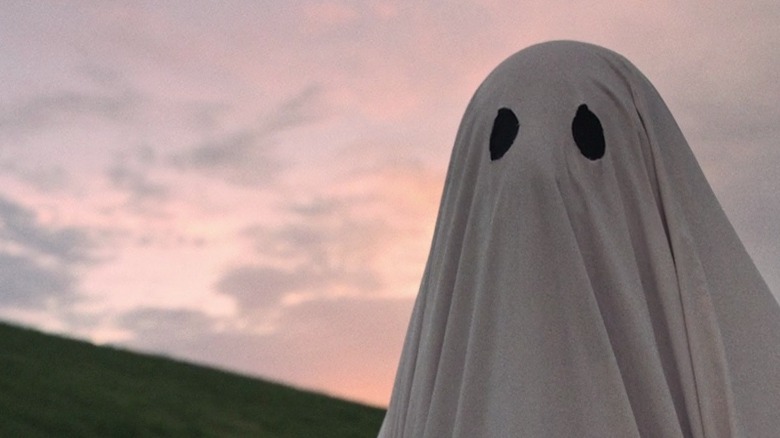 A24
Though "The Green Knight" director David Lowery often works with tiny budgets, he's always shown an interest in larger-than-life stories. Through the point of view of a ghost (depicted in the film as nothing more than a bedsheet with two holes for eyes), Lowery's 2017 indie "A Ghost Story" probes the mysteries of how life and death exist within cosmic time cosmic. The film contains multitudes: a minutes-long take of a grieving Rooney Mara chowing down on a chocolate pie, a rambling monologue about the legacy of humanity, and cuts that cross centuries with no warning. In "A Ghost Story," Lowry strips a familiar genre archetype, the ghost, down to the studs, exposing a framework for how mankind both avoids and embraces mortality.
You may hate "A Ghost Story." You may love it. But you almost certainly cannot remain ambivalent about it. Lowery takes bold swings designed to elicit a strong reaction, and cinema is better for it. We need films and filmmakers unafraid of failure, and who are willing to stand by potentially polarizing choices.
2004's King Arthur showcased the legend (and rising stars)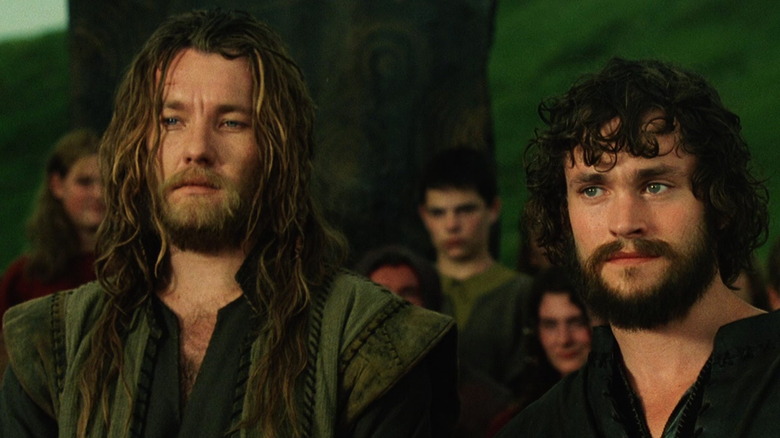 Touchstone Pictures
If it's more Arthurian legend ye seek after "The Green Knight," look no further than Antoine Fuqua's 2004 take on "King Arthur," a movie that feels very much of its time. Right after "Gladiator" found both financial and awards-season success, almost every major studio spawned a sword-fighting epic of its own (this was also before studios looked to King Arthur's mythology as the foundation for a franchise-spawning shared universe, like Guy Ritchie's 2017 attempt did). Maximus' long shadow might explain the film's unusual emphasis on Arthur as a Roman military leader rather than a knight, but this surprising approach does give the movie a unique thematic focus as it explores the nature of freedom and independence as a cause worth fighting for.
If nothing else, "King Arthur" offers a fascinating look at early performances by people who would go on to have much bigger careers: Clive Owen, Keira Knightley, Hugh Dancy, and Mads Mikkelsen all appear in the film. Also, in a bit of a "blink and you'll miss it" kind of appearance, Joel Edgerton, who plays the Lord in "The Green Knight," cameos as Sir Gawain himself! Someone really can't let that character go, and cinema is all the richer for it.
Willow served as a massive influence on Lowery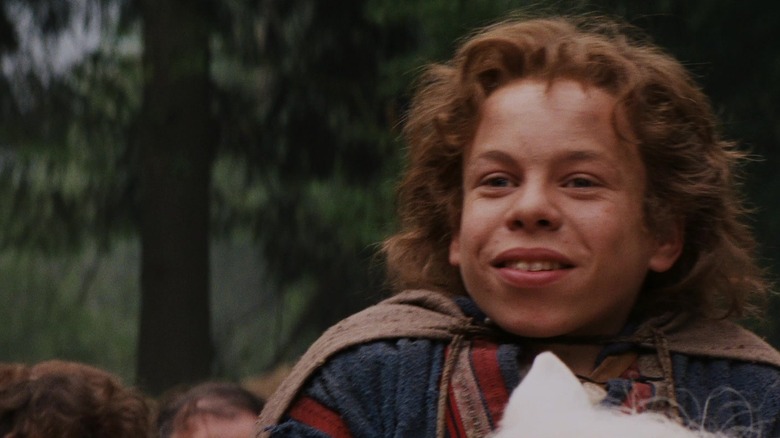 MGM
In a discussion with Entertainment Weekly, David Lowry listed a number of influences on "The Green Knight," which ranged from Russian epics to Shakespearean drama. But Lowery also pulled from another category as well: '80s fantasy epics. He singled out Ron Howard's "Willow" twice in the interview, calling it "one of my favorite fantasy films of all time" and praising the film's blend of naturalism and mysticism. "They weren't tied to a specific time and place in human history," he said, "and yet they still felt like a grounded reality."
When you know to look for them, you can easily spot the strands of "Willow" deeply embedded in the DNA of "The Green Knight." With the fun and fantastical confines of the story lie deep Messianic undertones, as a ragtag crew band together to protect a young child from the grasp of a jealous royal. The transformation of Warwick Davis' title character from an unassuming farmer to capable sorcerer mirrors the Gawain's rise through the ranks at the Round Table in startling ways as well.
Dev Patel dazzles in The Personal History of David Copperfield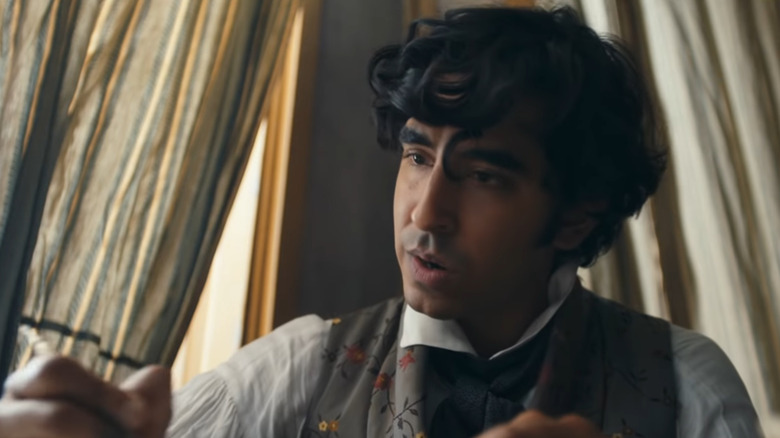 Searchlight Pictures
It's nothing short of criminal that "The Green Knight" is one of Dev Patel's first true leading roles (he's technically classified as a supporting actor in the two movies that propelled him to stardom, "Slumdog Millionaire" and "Lion"). But it's not the first: "The Personal History of David Copperfield," which came out a couple of years earlier, leverages Patel's electric charm and tenacity while making him a leading man.
Not unlike his turn as Gawain, Patel steps into the shoes of a well-known literary figure in "David Copperfield," playing the titular character from Charles Dickens' novel. As an orphan who must scrap his way to success, Patel channels the spirit of an underdog and quickly wins hearts both on and off screen. David is an manipulative and ambitious young man who is determined to achieve success and stability as a writer and gentleman, but he never seems like a calculating creep. And with dialogue from "Veep" creator Armando Iannucci to chew on, Patel shines comedically as well. It's a role that gives Patel his biggest canvas yet, and he does not waste the chance to impress.
A Knight's Tale makes medieval action feel modern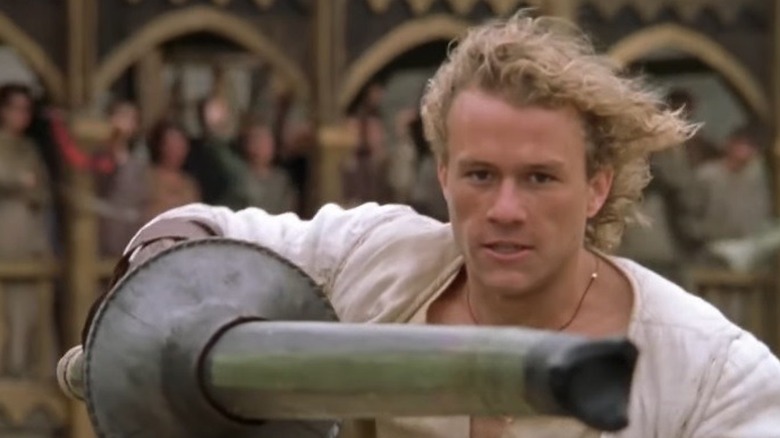 Columbia Pictures
"The Green Knight" is far from the first movie to bring contemporary stylization to the Middle Ages. Twenty years prior, "A Knight's Tale" rocked audiences by applying an MTV-like aesthetic to medieval combat. In "A Knight's Tale," Brian Helgeland clears away the metaphorical mothballs and re-contextualizes knights as the rock stars of their day. Better yet, he does not resort to the in-your-face maximalism Baz Luhrmann uses to achieve a similar effect in "Moulin Rouge!"
Warning, though: the film will make you mourn the loss of Heath Ledger once again. The late actor gave better performances elsewhere, but "A Knight's Tale" was the closest thing he had to a calling card for being a true movie star. As William Thatcher, a peasant who cleverly cons his way into knighthood, Ledger convincingly sells his character's ability to dupe the masses into thinking he's better than his station in life indicates. There's no suspension of disbelief needed, thanks to Ledger's raw magnetism, brooding intensity, and million-watt smile.
Monty Python and the Holy Grail mocks the mythology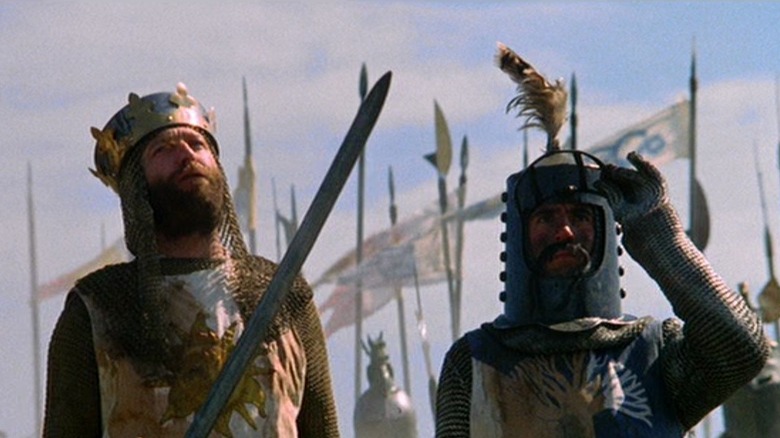 Sony Pictures Home Entertainment
For a no less iconoclastic take on medieval legend than "The Green Knight" — but one that's a little more irreverent — you cannot go wrong with "Monty Python and the Holy Grail." Like the best parodies, Monthy Python's surrealist humor lands because they thoroughly understand and appreciate the material they send up. To turn the mythology inside out like this, the comedians must know the it inside and out.
Unlike many other comedies of decades past, "Monty Python and the Holy Grail" holds up all these decades later, thanks in large part to the remarkable diversity and dexterity of its humor. Even in the opening credits, which feature an extended and unexpected gag, the gang announces their intention to not waste a single moment of the film. Be it in bizarre characters ("we are the knights who say NI!") or unforgettable one-liners ("It's just a flesh wound"), "The Holy Grail" provides non-stop laughs for 91 minutes.
It's also one of the most-quoted movies, well, ever. If you've somehow never seen "Monty Python and the Holy Grail," correct that immediately. You'll be shocked at how often references to this movie pop up.
Alicia Vikander impresses in The Man from U.N.C.L.E.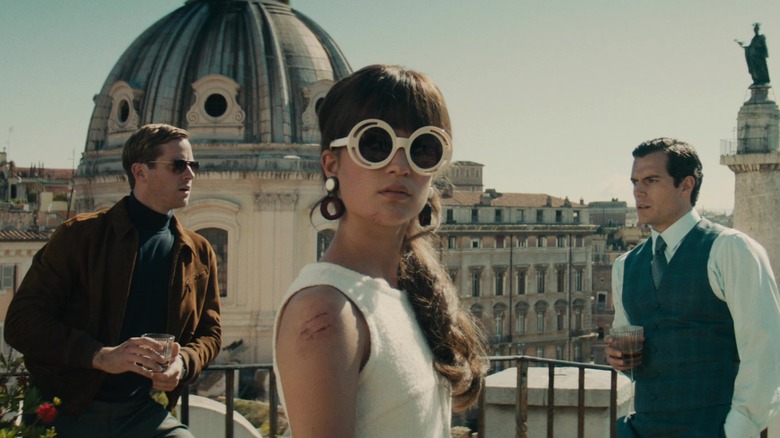 Warner Bros.
Is it possible for someone to be underrated even after winning an Oscar? That may be the case for Alicia Vikander, whose talents still feel underappreciated many years after she won an Academy Award for her work in "The Danish Girl." Maybe "The Green Knight" will change all that, but really, the movie that should have cleared any doubts for good Guy Ritchie's 2015 film adaptation of "The Man from U.N.C.L.E."
In this reimagining of the classic '60s spy show, Vikander more than holds her own against the overwhelming brawn of her co-stars Henry Cavill and Armie Hammer. Despite her initial appearances, her character, Gaby, is far from a damsel in distress. She moves the plot, rocks stylish fits, and takes names just as well as her male co-stars. Vikander effortlessly captures the unapologetically retro vibe that Ritchie's chasing in "The Man from U.N.C.L.E.," and provides an early example of how she can steady a movie simply by showing up.
The Killing of a Sacred Deer introduced Barry Keoghan's eerie appeal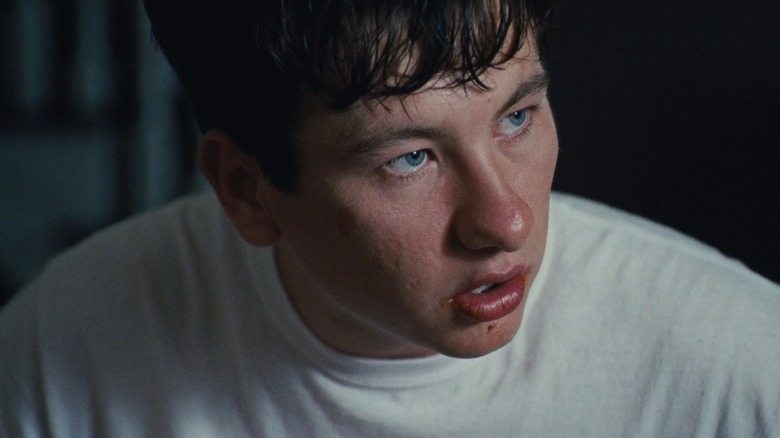 A24
If Barry Keoghan gave you chills in "The Green Knight," you haven't seen anything yet — unless you've already seen his unnerving turn in "The Killing of a Sacred Deer," that is. Director Yorgos Lanthimos asks a lot of Keoghan, who plays an obsessive teen haunted by a past tragedy; it's on the young actor to match the absurdity and austerity of the movie's ominous visual language. Keoghan executes his assignment to frightening effect.
While "The Killing of a Sacred Deer" takes place in contemporary Cincinnati, Lanthimos based his story on the ancient Greek tragedy of Agamemnon. As legend has it, the great warrior's punishment for committing the titular murder was to sacrifice his own daughter. In Lanthimos' film, that cosmic retribution comes in the form of Keoghan's Martin Lang, who haunts Colin Farrell's Steven Murphy after botching a surgery on his father.
The genius of Keoghan's performance lies in our inability to classify him. Is Martin an evil mastermind, or is he simply crazy? Keoghan's performance keeps the audience guessing throughout "The Killing of a Sacred Deer," threading the tiniest of needles between an inexplicable embodiment of divine retribution and a simmering source of human rage.
Rich Hill locates grace and grandeur in its cinematography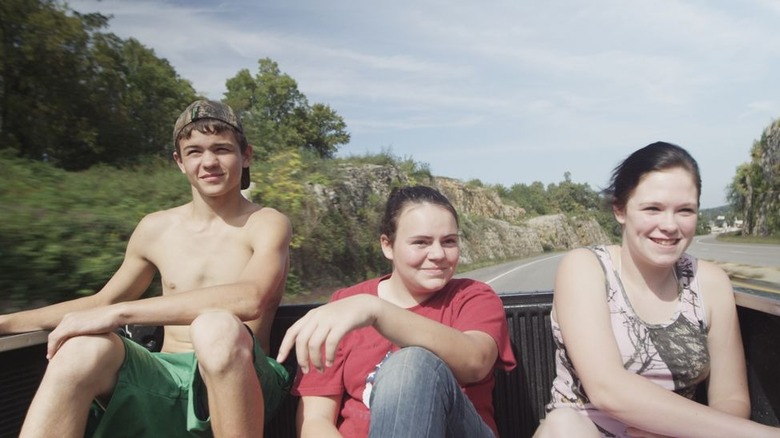 The Orchard
Intrigued and beguiled by the look of "The Green Knight?" That's largely the work of cinematographer Andrew Droz Palermo, director David Lowery's frequent collaborator. Palermo has shaped the aesthetic of many an indie filmmaker, including "A Teacher" director Hannah Fidell and "You're Next" director Joe Swanberg. He's a reliable stylist who adds depth to a film without ever distracting from its story.
But beyond running the camera, Palermo occasionally sits in the director's chair as well. As a director, Palermo's most striking film is the 2014 documentary "Rich Hill," which he co-directed with Tracy Droz Tragos. Even without the ability to meticulously stage his shots, Palermo still captures the majesty of the every day as he documents the ordinary lives of three teen boys in rural America.
The film avoids the "poverty porn" tropes that so often plague movies made by coastal elites looking to understand flyover country by tapping into the poetry of kids' experience, uncovering the magical in the mundane. "Rich Hill" presents the subjects' lives as people should see them: impossible to flatten into an easy narrative arc.
Kate Dickie devastates in Red Road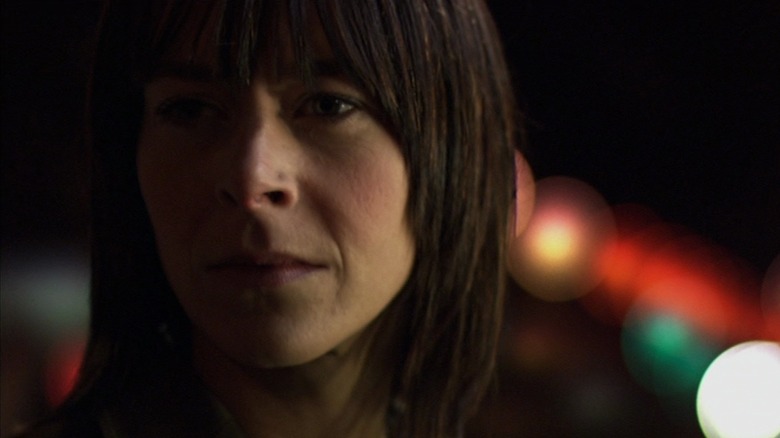 Palisades Tartan
Kate Dickie fully commands the screen as the resolute Queen Guinevere in "The Green Knight." She's also a familiar face to fantasy fans, given her roles in "Star Wars: The Last Jedi," "The Witch," and "Prometheus" as well as a small part on TV's "Game of Thrones." But if you want to see Dickie in more than just a stolen scene here or there, you'll have to venture into the world of gritty reality, and watch her commanding turn as the protagonist of Andrea Arnold's "Red Road."
This taut, slow-burning thriller follows Dickie's Jackie Morrison as she monitors a mysterious figure from her past via the CCTVs she operates as a guard for a Scottish residential tower. It's not initially clear what compels Jackie to train her watchful eye on this man, and Dickie avoids projecting obvious psychological tells that hint at the answer. As a result, the performance draws us into the character's mystery, only slowly peeling away the ambiguities of her behavior. The subject of Jackie's surveillance may come from her past, but the fascination driving her actions means that he may also dictate her future.
Quest for Camelot finds family fun in Arthurian legend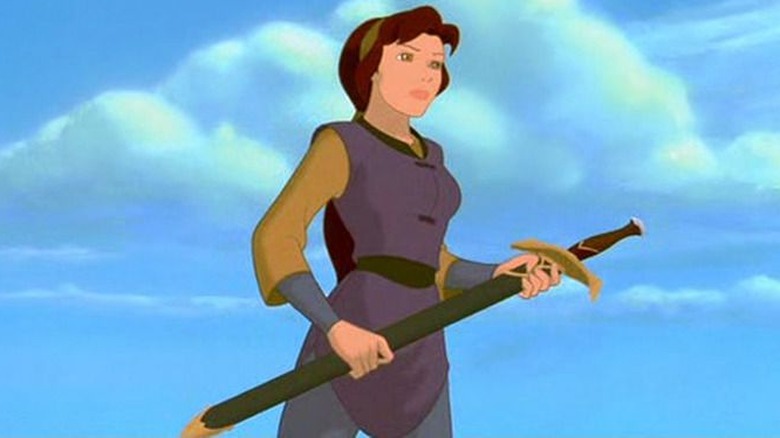 Warner Bros. Feature Animation
"The Green Knight" may be the kind of movie that sparks an intense desire to bring everyone in your life into the medieval obsession, even the little ones. And yet, the film's hard-R rating makes it a little difficult to share with children. Instead, get them started young by introducing them to "Quest for Camelot," a family-friendly animated adventure that serves as an excellent introduction to the Knights of the Round Table.
King Arthur is present in the film, but the story really belongs to Kayley, a girl who desperately wants to become a knight in Camelot. She gets the chance to prove herself when the nefarious Ruber attempts to take over the realm, losing the legendary sword Excalibur in the Forbidden Forest. Kayley's foolhardy but heroic journey to recover Excalibur leads her to cross paths with a blind hermit and a sardonic two-headed dragon, all of whom must work together to complete the mission. Whether it's the toe-tapping tunes that draw you into "Quest for Camelot" or just the mythological action, this G-rated feature offers fun for viewers of all ages.
David Lowery's take on Pete's Dragon takes flight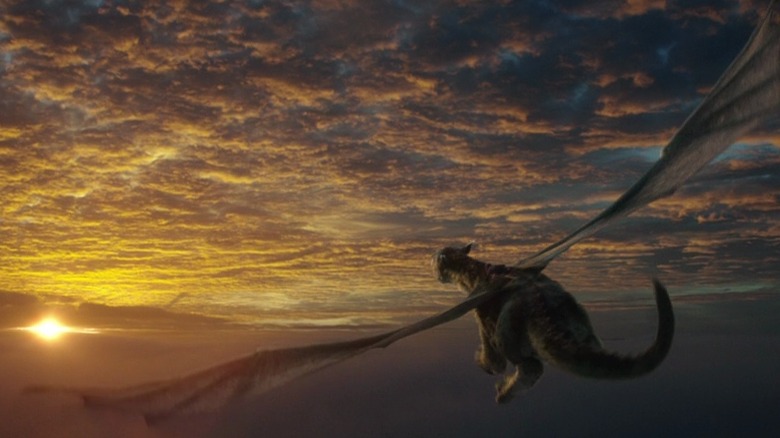 Disney
David Lowery is clearly unafraid of tackling well-known properties. Following "The Green Knight," the filmmaker will return to Disney tohelm a new adaptation of Peter Pan. This isn't Lowry's first stay at the Mouse House, either; in 2016, he soared to great heights with his live action take on the animated classic, "Pete's Dragon."
Not unlike "The Green Knight," Lowery drew inspiration from the fantasy adventures of his youth to make his own mark on "Pete's Dragon." This time, however, Spielberg provided the main influence. Like "E.T.: The Extra-Terrestrial," Lowery's "Peter's Dragon" finds resonance in the tale of a young boy who feels estranged from his family and finds comfort in the form of a mystical creature feared by adults.
Fans of the 1973 original may lament that Lowery jettisoned the catchy songs from his version of "Pete's Dragon," but what he adds to the film is substantial: namely, a sense of child-like wonder at the natural world, one that far too often feels absent from modern filmmaking.