Genndy Tartakovsky Is Planning To Turn Primal Into An Anthology (Possibly With Aliens)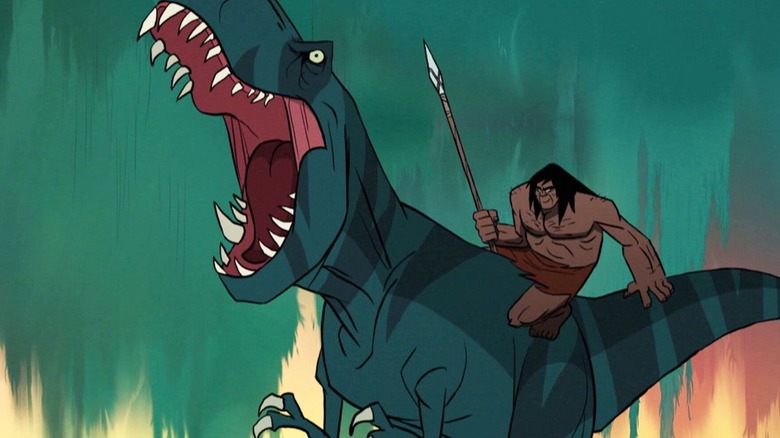 Adult Swim
Genndy Tartakovsky's animated adventure series, "Primal" released its second season recently, and the gifted animator revealed to IndieWire that he is planning the series into an anthology. "Primal" is visually stunning and vast in scope in terms of its worldbuilding and action sequences, and Tartakovsky intends to maintain this effective, 2D style animation in his anthology approach, which will possibly include aliens, along with essential markers in human history. The creator said:
"The big idea is that 'Primal' becomes a brand. Visceral, emotional, raw, minimal dialogue, artistic. And, with this brand, it can be about aliens, World War II. We'll see if anybody is excited about it."
While the anthology idea has not been realized fully yet, it is most likely that fans of Tartakovsky and his series will be interested in it. Season 1 of "Primal" was extremely well-received by critics and viewers alike, mostly due to its impressive animation style and the core dynamic shared by its protagonists – the Neanderthal named Spear (Aaron LaPlante) and his T-Rex buddy, Fang. There is something endearing about watching these two characters meet and bond while setting on their individual adventures to figure out who they are.
A Primal anthology could widen the show's world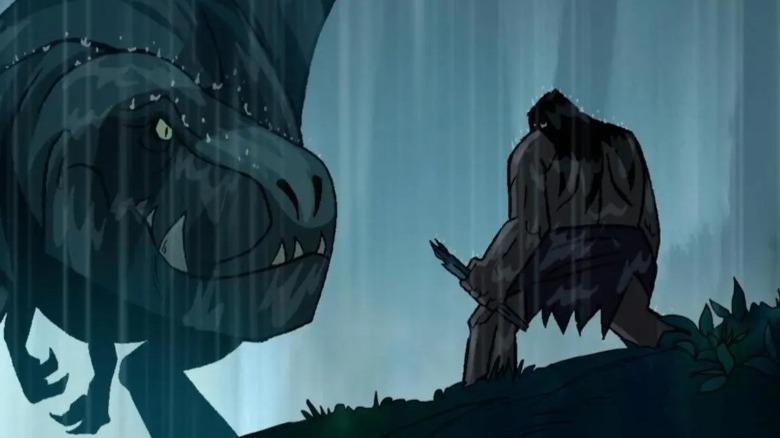 Adult Swim
Season 2 of "Primal" puts Spear in some really challenging scenarios, as he has to understand where he stands when faced with a socially and technologically advanced human civilization during the Bronze Age. Although the setting of the show is mostly prehistoric in nature, season 2 is gradually progressing towards bigger challengers for our protagonists. Meanwhile, newer threats emerge by virtue of other humans acting out of pure hatred or vapid self-interest.
There's an existential dread that permeates "Primal" that could be heightened in the proposed anthology. As a writer, director, and animator, Tartakovsky is adept at balancing his many roles and understanding what drives core characters, which explains why the series resonated so well with audiences. If historical events, strange encounters, and aliens are thrown into the mix, the anthology could go further than the series, exploring worlds within a certain context, making the premise even more interesting.
Apart from working on "Primal," Tartakovsky is currently working on a 2D comedy feature titled "Fixed," and a 2D steampunk series called "Unicorn Warriors Eternal." As per his IndieWire interview, Tartakovsky describes "Unicorn Warriors Eternal" as a blend of action and humor, with "[Hayao] Miyazaki-like world building" while "Fixed" is a passion project, the idea for which originated in 2010.
The first two episodes of "Primal" season 2 are available on HBO Max, and new episodes will first debut on Adult Swim each Friday.