Primal Won The Emmy For Best Animated Program, Beating Out Some Serious Heavy-Hitters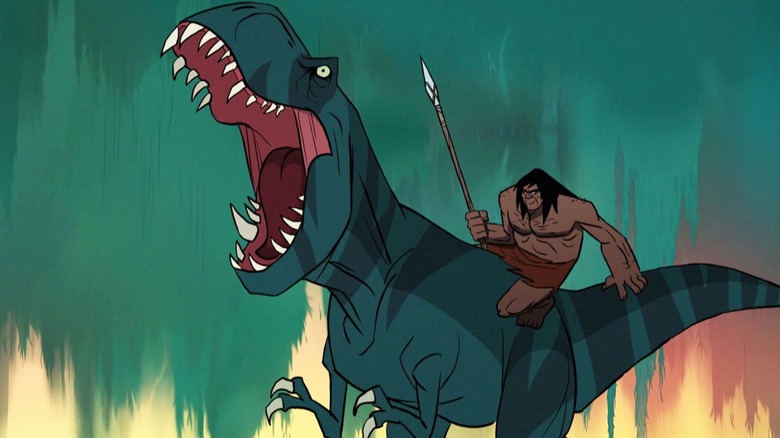 Adult Swim
Genndy Tartakovsky's "Primal" for Adult Swim won two Creative Arts Emmys on Sunday, beating out heavy-hitters like "Big Mouth," "Bob's Burgers," "The Simpsons," and "South Park." The show took home statues for both Best Animated Program and Outstanding Individual Achievement in Animation. Last night's wins mark the fourth and fifth overall Emmy wins for the series, and the show's first nomination and win for Best Animated Series.
The Hollywood Awards prediction site GoldDerby even had "Primal" in last place with 9/2 odds of winning Best Animated Series. Although the win may be surprising, it was more than deserved.
What is Primal About?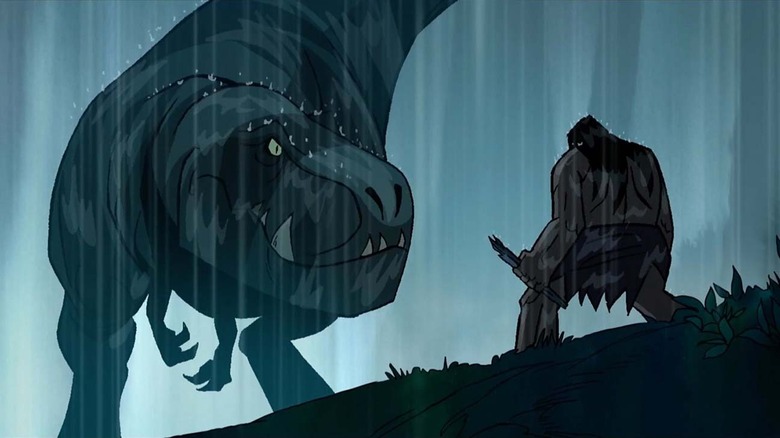 Adult Swim
"Primal" is an adult animated action adventure television series about a Neanderthal caveman named Spear at the dawn of evolution who loses his entire family after an attack by horned Tyrannosauroidea. At the same time, a dinosaur named Fang on the brink of extinction loses her hatchlings to the same horned beasts that killed Spear's family. Now trauma-bonded, Spear and Fang join forces to protect one another in a dangerously unpredictable world.
The show is created and directed by Genndy Tartakovsky, the Emmy-winning animator who many may know from his work on "Dexter's Laboratory," "Samurai Jack," "Star Wars: Clone Wars," "Sym-Bionic Titan," and the "Hotel Transylvania" series.
What Makes Primal Worth Watching?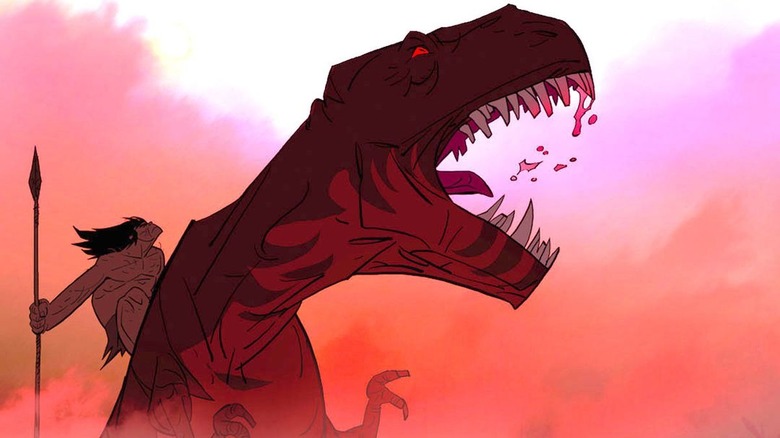 Adult Swim
Compared to the other nominees, "Primal" couldn't be more different. Whereas "Bob's Burgers," "The Simpsons," and "Big Mouth" all thrive with vibrant colors, snappy dialogue, and relatable human comedy, "Primal" is in complete contrast.
Called Genndy Tartakovsky's "raging and devastating magnum opus," "Primal" is unlike anything else in the world of adult animation. The show is completely devoid of any dialogue and despite the series centering on a caveman and a dinosaur, "Primal" is far more of a brutal character study in a world demanding survival of the fittest than it is a buddy adventure show.
As our characters seldom speak, the world building is shaped by an utterly brilliant sound design from Joel Valentine. Music from Tyler Bates and Joanne Higginbottom effortlessly highlights Spear's (voiced by Aaron LaPlante) screams, grunts, growls, and heavy breathing, as well as the natural sounds of a world untouched by industry. The lack of dialogue forces audiences to actually watch the show, as multitasking or giving in to the distractions of everyday life might mean you miss something vital to the plot.
In addition to its Emmy wins, "Primal" also earned two Annie Awards earlier this year for Outstanding Achievement for Directing in an Animated Television/Broadcast Production and Best General Audience Animated Television/Broadcast Production.
Where Can You Watch Primal?
"Primal" is available on Adult Swim and HBO Max. The series has already been renewed for a second season featuring 10 episodes, but a release date has not yet been announced.