Sin City's Set Was Home To A Small Pulp Fiction Reunion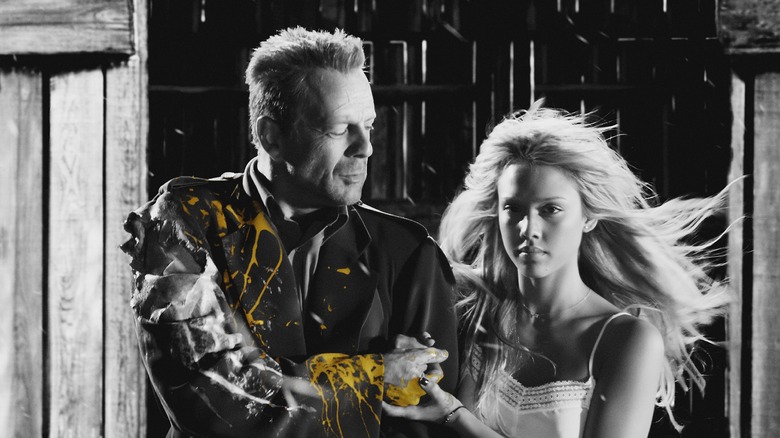 Miramax/Dimension Films
"Sin City" and "Pulp Fiction" are both eclectic neo-noirs heavily influenced by classic cinema, but they have even more in common than meets the eye. "Sin City" was released in 2005, nine years after "Pulp Fiction," and it employed many of the same talents, including Bruce Willis and Quentin Tarantino himself.
Tarantino is the director of "Pulp Fiction," a fast-paced crime film of intersecting stories surrounding a mysterious briefcase. Bruce Willis plays Butch, a boxer who accepts a bribe from the gangster Marsellus in exchange for throwing his match. Butch is a tough guy with a sentimental streak, the type of character that's well within Willis' wheelhouse.
"Sin City" is adapted from a graphic novel of the same name by Frank Miller. Miller co-directed the film with Robert Rodriguez, who is known also for "Once Upon a Time in Mexico" and "From Dusk til Dawn." "Sin City" follows a similar mosaic structure to "Pulp Fiction," with Willis starring as a seemingly indestructible cop on the hunt for a notorious child murderer.
The two films both make heavy references to Hollywood classics. Willis' character in "Sin City" is a caricature of a rogue and rugged noir cop, while his role in "Pulp Fiction" is a play on Robert De Niro's role in "Raging Bull." Both characters have a soft side that makes them put their lives on the line for others, but the crossover between "Sin City" and "Pulp Fiction" goes even deeper.
Tarantino put his stamp on Sin City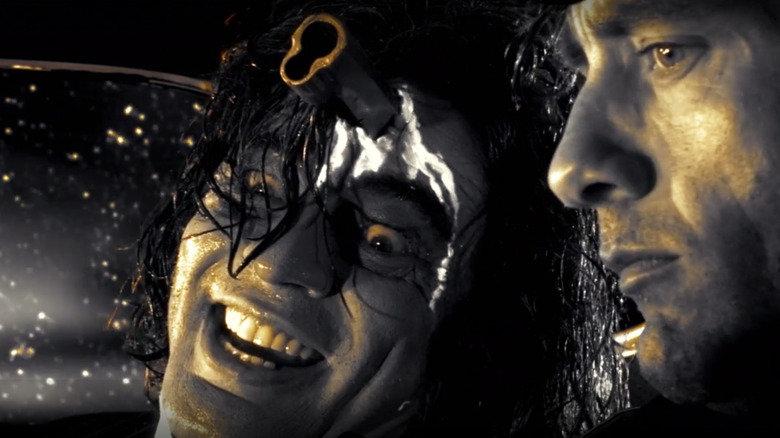 Miramax/Dimension Films
"Pulp Fiction" director Quentin Tarantino also has a small role in "Sin City," appearing in a single scene as an unnamed character with an unnerving monologue. He was paid a single dollar for this acting credit, Variety reports. Clearly, Tarantino wasn't making an appearance for the money — I would guess that he joined the cast because "Sin City" aligned with his vision as a filmmaker while being completely unique in tone and aesthetic.
Since Willis and Tarantino had worked together on "Pulp Fiction," the set of "Sin City" was a bit of a reunion for them. Willis did not appear in the same scene as Tarantino, but the onscreen cameo was not the filmmaker's only role on set. Tarantino is also credited as a guest director on "Sin City." "He put his stamp all over it," Rodriguez said in a behind-the-scenes featurette (via The Archives of Kino).
Miller appreciated the distinct flare that Tarantino brought to the film. He directed in "a completely different style than Robert [Rodriguez]'s," which is surprising given that, as Miller admits, "the three of us share so much in terms of a pop-cultural sensibility." Miller recognizes that they each take vastly similar references and put an entirely unique spin on them. However, "given the enormity of the three egos in the room," their working relationship was "shockingly harmonious."
Two modern classics, "Sin City" and "Pulp Fiction" both call upon the great films of yesteryear to produce something entirely new and exciting. The flashy style of "Pulp Fiction" paved the way for the edgy experimentation of "Sin City," and Tarantino's appearance is a touching nod to his undeniable influence.