Nope's Surprising Reference To Saturday Night Live Is Kinda Based On A Real Sketch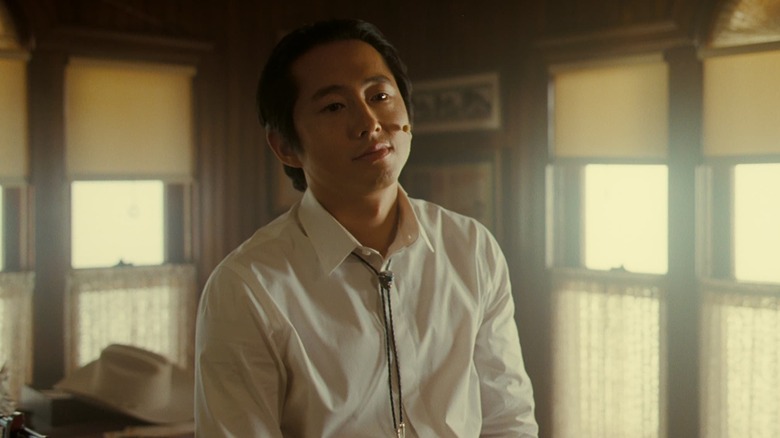 Universal Pictures
Spoiler warning: This article will discuss plot points from Jordan Peele's "Nope."
In Jordan Peele's "Nope," Steven Yeun plays a character named Ricky "Jupe" Park, the owner of a small Western-themed tourist park in rural area of California, just beyond the reach of Los Angeles. The theme park, called Jupiter's Claim, features cowboy actors, recreated storefronts, and a regular live performance wherein Ricky narrates the details of a rather unusual animal encounter he once had. Ricky runs Jupiter's Claim with his wife and three sons, and early on in the film, he buys up several horses from the local Haywood ranch, owned by OJ and Emerald Haywood (Daniel Kaluuya and Keke Palmer), the protagonists of "Nope." 
Ricky is also a former child star whose biggest claim to fame was his appearance on a fictional 1996 sitcom called "Gordy's Home," wherein he acted opposite the titular character, a live chimpanzee. Peele was likely referencing long-forgotten sitcoms like 1999's "Chimp Channel," 1983's "Mr. Smith" (about a talking orangutan) or 1970's "Lancelot Link: Secret Chimp," about a chimpanzee spy. A brutal flashback to the set of "Gordy's Home" reveals that the show was canceled when one of the chimps playing Gordy suddenly went feral and attacked the actors, splattering the set with human blood. Ricky made out physically unharmed, but he still carries the dark memories.
When describing the incident to the Haywoods, Ricky lies and says that his experience was a lot like the (also fictional) "Saturday Night Live" sketch lampooning "Gordy's Home," wherein Darrell Hammond, Cheri Oteri and Ana Gasteyer were overwhelmed by the apelike behavior of Chris Kattan, whom Ricky describes as a genius. The description is very funny, and while we don't actually see this made-up sketch, it's likely deliberately evocative of a series of real-life "SNL" sketches starring "Mr. Peepers," an apelike person who causes mayhem wherever he appears.
Mr. Peepers
The Mr. Peepers character first appeared on "SNL" on September 28, 1996, during the show's 22nd season. Guest host Tom Hanks, playing an animal trainer, was presenting a rare animal to Jay Leno on "The Tonight Show." The rare animal was Mr. Peepers (Kattan), a human ape sporting red short and suspenders, outsize ears, and mussy hair. Mr. Peepers' violent and outlandish behavior — he barked and flailed incessantly — was meant to stand in contrast to the hosts' attempts to retain composure. Mr. Peepers was a satire of other animal acts that had appeared on "The Tonight Show" in the past. 
Mr. Peepers — likely named after the 1950 Wally Cox sitcom — was a hot character, and Kattan was always game to go hogwild on stage. The character would go on to appear on "SNL" an additional eleven times during Kattan's tenure on the show, with his final appearance coming on April 6, 2002. The shtick remained the same throughout: A well-mannered, cosmopolitan environment would be invaded by Mr. Peepers' uncontrollable behavior, and an unduly calm authority figure was always present to excuse or explain the chaos. 
The joke, of course, was Kattan's energy. Kattan never undersold Mr. Peepers, always eager to let loose. Kattan became very good at savaging an apple on stage, and became unafraid to spit food at, grope the faces of, or hump the legs of, his co-stars. In the above clip, from Mr. Peepers' ninth appearance (March 18, 2000), Mr. Peepers was joined by his father, Papa Peepers, played by a very game Dwayne Johnson, back when he was still credited as The Rock.
Jordan Peele's media diet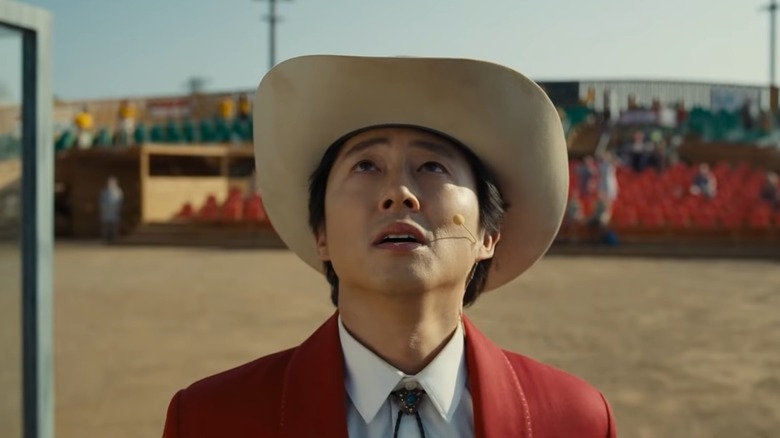 Universal Pictures
It's worth noting that Peele was born in 1979, making him 21 in 2000. Many references to his childhood and teen media have made their way into Peele's work, from the veneration of Keanu Reeves in "Keanu" to explicit references to Hands Across America in "Us." And who could forget the hilarious "Key and Peele" sketch wherein Peele, as an enthused writers' room brainstomer, encouraged a group of screenwriters to include whatever wild ideas they had into the 1990 film "Gremlins 2: The New Batch." Anyone who has seen Joe Dante's cinematic masterpiece has likely envisioned the wild "first thing off the top of your head" pitch meeting "Gremlins 2" likely had. Electric Gremlin? It's in. Vegetable Gremlin? It's in. 
That "Nope" should deliberately reference the Chris Kattan years of "SNL" is perfectly in keeping with Peele's métier. "Nope" also features running references to Chuck Russell's 2001 film "The Scorpion King," an enjoyable but largely unremarkable adventure spinoff from the 1999 version of "The Mummy" (and which spawned multiple sequels itself). 
In Peele's next film, Threebrain will be seen drinking Orbitz, listening to B*Witched, and watching "Homeboys from Outer Space" on the UPN, all while writing the first draft of "Gonads and Strife" to be posted on Newgrounds. It will be a psychological horror movie.