Saturday Night Live Lets West Side Story Star Ariana DeBose Show Off Her Comedic Versatility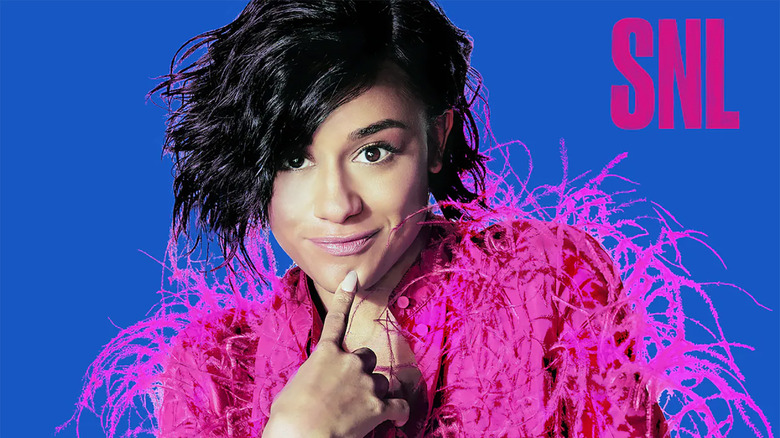 NBC
After wrapping up 2021 with an awkward episode that found the omicron variant of the coronavirus short-changing Paul Rudd's induction into the Five-Timers Club, "Saturday Night Live" returned for a proper episode to kick off 2022 the right way. "West Side Story" breakout star Ariana DeBose hosted this episode, with Bleachers making a last minute musical guest appearance after Roddy Ricch dropped out due to COVID-19 exposure. DeBose may not be a household name yet, but this episode certainly showed her versatility in comedy, proving that she's an eclectic talent worth keeping an eye on — and there were plenty of great sketches to let her shine.
Though cast members Cecily Strong and Aidy Bryant were absent again after missing a good chunk of the beginning of the season due to commitments on other TV shows, Kate McKinnon is still sticking around and helped carry the show. But it was another cast member with a couple downright hilarious sketches who ended up stealing the show. So let's dig into the best and worst sketches from the Ariana DeBose-hosted episode of "SNL."
The Best
Urkel Reboot – With the "Bel-Air" trailer recently revealing how Peacock will be dramatizing Will Smith's breakthrough sitcom "The Fresh Prince of Bel-Air," the writers at "SNL" took a crack at turning another beloved 90s sitcom into a deadly serious, emotional drama. Chris Redd stars in the trailer for "Urkel," which cleverly uses the theme song and lyrics from the "Family Matters" opening credits in an ominous way as we see the high school nerd get pushed just a little too far. I absolutely guffawed at how Urkel's whiny catchphrase, "Did I do that?" was used in such a threatening fashion. And you can't go wrong with Kenan Thompson as Reginald VelJohnson as Carl Winslow. Just a top notch parody all around.
Winter Formal – Pete Davidson tapped into his love for and influence from Adam Sandler to deliver one of the best comedic performances he's ever given in his entire run on "SNL." The voice he puts on as Ron Lacotza is pure Sandler through-and-through, but Davidson stays dedicated to the bit magnificently, something he tends to have difficulty with when he's seemingly not sold on the material. Alongside him, making one of her best appearances since debuting on the show at the beginning of the season, is Sarah Sherman. Together, they're comedy gold, and Andrew Dismukes is the icing on the cake, or maybe the crumbs on the cake.
Eric Adams Press Conference – Chris Redd effortlessly brought New York City Mayor Eric Adams to life in this press conference that oozes unearned confidence and swagger. The escalating cockiness and bro energy coming from Redd in this sketch is not only palpable, but it's also absolutely hilarious. The nicknames that Adams gives to the reporters attending the press conference make for a great recurring bit, along with his ever-increasing career on the police force. Meanwhile, the interludes form Ariana DeBose as the equally inexplicably arrogant press secretary only make this sketch funnier.
The Average
NBA on TNT – Honestly, this sketch was almost one of the best of the night, but since the sketches that were the best of the night were so raucously hilarious, they can't all be at the top of the pack. Even so, this NBA on TNT revival is one of the better uses of this sports recap format. Using Bowen Yang as Yao Ming, complete with a hilariously goofy giant prop hand and voice manipulation, was a stroke of brilliance. I only wish we got to see him actually eat an entire pumpkin. But the meat of this sketch is making fun of all the replacement players in the NBA, ranging from a pick-up ball player to a woman in the stands wearing a Sacramento jersey. Could have used more Yao Ming, but this was a well-rounded, funny sketch.
New Governess – There have been plenty of riffs on "The Sound of Music" throughout the history of "SNL," but this one puts a delightfully weird spin on one of the film's most famous songs, "Do-Re-Mi." The substitutes that Ariana DeBose's new governess uses instead of the traditional female deer and drop of golden sun make for a hilariously contemporary and pop culture-heavy take on the classic song, and I'm kinda surprised it's taken this long for a comedic version of the tune to come together in this fashion. When the governess starts to run out of replacement lyrics, the sketch gets even funnier with a lot more references to Queen Latifah than anyone was expecting, and it's just great.
Sappho – This isn't exactly a laugh out loud sketch, but it's quietly amusing and clever. Kate McKinnon and Ariana DeBose give much more reserved performances, and they let the script do the heavy-lifting. The surprisingly casual and modern translations that perfectly encapsulate various lesbian relationships are all too real. The Ellen DeGeneres reference is a nice touch. But one of the funnier parts of this sketch is Mikey Day as the presentation host, especially his enthusiastic reactions to such scholarly discoveries.
The Worst
Message from the President (Cold Open) – This sketch was right on the cusp of being one of the average bits from the night, but the fact that it was seven minutes long and didn't deliver any jokes that were worthy of that runtime, it ended up here. Conceptually, the idea of blaming the rise in Omicron on "Spider-Man: No Way Home" isn't all that clever of an idea. It was being discussed online as the film's popularity surged during opening weekend. However, the sketch does take a fun, nerdy turn when discussions of the multiverse are brought into the equation. It just takes too long to get there, and the topical humor just doesn't work very well leading up to it. "SNL" would have been better served to open up with the Eric Adams press conference, but New York current events are probably a little too local to be quite so broadly appealing.
Kitchen Staff – All right, Andrew Dismukes is from Port Neches, Texas, a small Gulf Coast city located near the Texas-Louisiana border. So I'm guessing this comes from personal experiences during his time there. Though I appreciate the silliness and the nonsensical nature of this sketch, it's just not funny enough to land for me. Though I love everyone putting on these heavy accents and spouting off gibberish, it just feels like Farmer Fran from "The Waterboy" being given too much screentime. 
Weekend Update
This edition of Weekend Update is probably one of the best I've seen in a little while. Right off the bat, there's such a great flow to a series of jokes about current policies in government, Joe Biden's approval rating, and the disaster that is the Republican party. They're al weaved together is such a fantastic way, from the Jefferson Davis sneak attack to the rise in coronavirus cases sweeping the nation again. I'm not sure who is specifically responsible for that stream of comedy, but please let them do bits like that more frequently. There's also a few great one-liners from Michael Che, but it's that bit about the guy with the eyepatch that really made me laugh.
You can watch the second part of Weekend Update right here, where there's an incredible juxtaposition of two jokes back-to-back. If it wasn't planned, then the impromptu commentary from Colin Jost is top notch.
Elmo and Rocco – In case you haven't heard, Elmo from "Sesame Street" has been a little salty lately because of how well the pet rock Rocco is being treated on the show. He's not wrong, but it appears "SNL" is also giving Rocco some undeserved time in the spotlight, and Chloe Fineman as the red Muppet simply can't take it anymore. While I think this is a great Weekend Update bit, I can't help but wonder about the logistics of this performance. Fineman is still using her facial expressions to emote what Elmo is feeling, but her face is coming out of Elmo's mouth, and you can still clearly see Elmo's eyes and nose. It's like Elmo ate Fineman and now is expressing his emotions through her mostly digested body. Weird!
The Host
Ariana DeBose is far from a familiar face, especially since the remake of "West Side Story" hasn't exactly been a box office hit. But she certainly made an impression in her hosting debut, proving that she has quite a broad range of talent that isn't limited to singing, dancing, and drama. Though DeBose occasionally struggled to hide her accent, she had no problem playing a wide variety of characters with different dialects, and even when she flubbed lines, she made valiant attempts to hide it or recover quickly without losing any momentum or hurting the timing of jokes. With charisma and energy to spare, DeBose was a stellar host, and I hope that her star only continues to rise so she can return some day.
The MVP
NBC
Chris Redd – With two of the funniest sketches under his belt in this episode, Chris Redd was easily the best cast member this weekend. His dramatic portrayal of Steve Urkel was outstanding, and his turn as New York City Mayor Eric Adams was even better. I wish Redd got more opportunities to be this funny, because he certainly has the chops to pull it off. More often than not, I feel like he has thankless every man appearances (and he does that well in the NBA on TNT and Sappho sketches too), but when these opportunities come along, Redd can really bring the laughs. 
The Final Word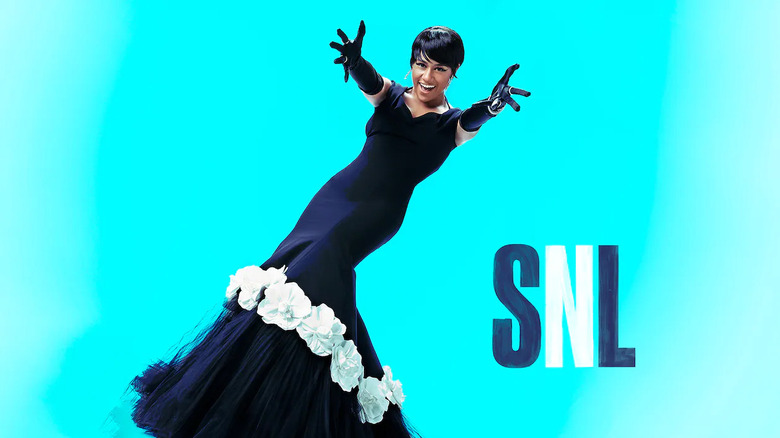 NBC
Since Paul Rudd's episode of "Saturday Night Live" was ruined before Christmas, it was nice to see the series return to form to kick off the year. There was a live audience and most of the cast was in attendance. Hopefully the pandemic wont interrupt the show again. However, "SNL" won't have much time for new episodes since the Winter Olympics begin on February 3 and will run for nearly three weeks. There likely won't be any new "SNL" episodes until the end of February, but it sounds like Lorne Michaels will make up for it by bringing in Will Forte to host the show on January 22. It'll be the first time the "MacGruber" star has hosted since leaving the show as a cast member in 2010. These kind of homecomings are always a treat, and we can only hope MacGruber and some of his other beloved characters make a comeback.