Nope Makes Perfect Use Of A Planet Of The Apes MVP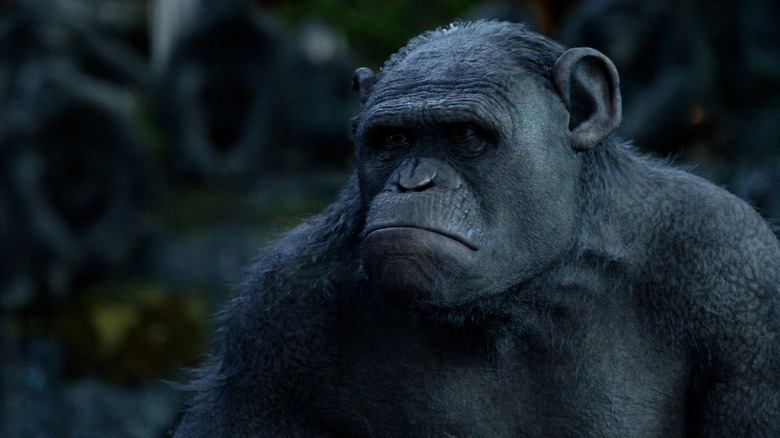 20th Century Fox
Spoiler warning: This article will discuss plot details of Jordan Peele's "Nope."
Jordan Peele's "Nope" is, at its heart, a love letter to Hollywood animal wrangling. The film's protagonists are a brother and sister named OJ and Emerald Haywood (Daniel Kaluuya and Keke Palmer) who have inherited their father's horse ranch in the rural area of California just outside of Los Angeles. Since the dawn of cinema, the fictional Haywood ranch has provided horses for movies and TV commercials, and much is made of the fact that the Haywood patriarch (Keith David) once worked on Chuck Russell's "The Scorpion King." With their father suddenly dead, and a mysterious saucer-shaped vessel terrorizing the area, the Haywoods will have to team up with a lovelorn clerk from Fry's Electronics in Burbank (sadly shut down in real life) and a veteran cinematographer (Michael Wincott) to wrangle the saucer themselves.
This story is given a tentatively connected parallel with Ricky Park (Steven Yuen), a former child actor and the owner of a local cowboy-themed tourist attraction known as Jupiter's Claim. Ricky was once the star of a fictional 1996 sitcom called "Gordy's House," which followed a suburban family that lives with a chimpanzee. During the filming of "Gordy's House" — envisioned in flashbacks — the chimpanzee playing Gordy suddenly went feral and brutally attacked several cast members. Ricky was spared by the chimp, but traumatized by the incident. Gordy could not be wrangled.
In what may be a safe decision, the role of the feral chimpanzee Gordy was played by a wrangle-able human actor named Terry Notary, a name you might recognize. Notary, since the early 2010s, has made a career playing apes and other creatures in motion-capture, while also serving as the motion coach and choreographer for multiple notable CGI creations. He played the chimp Rocket in the recent "Planet of the Apes" movies, but that's not all.
Meet Terry Notary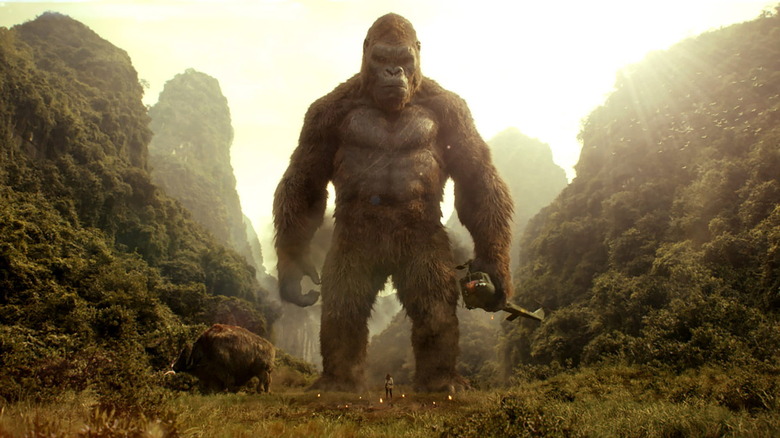 Warner Bros.
In a 2001 profile from college newspaper the UCLA Newsroom, Terry Notary described his past, which had already racked up impressive credits. As a child, Notary was diagnosed with hyperactivity, and his parents, to allow him the physical activity he required, enrolled him in gymnastics classes. This led to expertise in the sport, leading to a career in Cirque du Soliel and eventually to work on Ron Howard's film "Dr. Seuss' How the Grinch Stole Christmas." Howard was so impressed with Notary's gymnastics and movement skills — the characters in "Grinch" are all gnomish Whos who move in an exaggerated fashion — that he was hired as a movement coach for the whole cast. "Grinch" opened a new career path for Notary, and in 2001, opened "Ape School" for the actors working on Tim Burton's 2001 "Planet of the Apes" remake. He also served as Tim Roth's ape stunt performer on that film. 
Notary quickly became a celebrity animal movement coach on a long string of Hollywood blockbusters, including "X2: X-Men United," the Warner Bros. version of "Tarzan," and the cloaked monsters in M. Night Shyamalan's "The Village." Notary would also serve as Roth's stunt/movement double a second time when he played The Abomination in Louis Leterrier's "The Incredible Hulk." 
From then on, if there was a CGI creature or alien in a mainstream Hollywood blockbuster, Notary was likely there. He aided in the movements of Silver Surfer, multiple hobbit-hating goblins, a handful of Transformers, "Warcraft" ogres, and even a few humans. His most visible roles, however, remain apes. Notary was not only the stunt coordinator and movement coach on "Rise of the Planet of the Apes" and the sequels that followed, but he was seen slinging helicopters around as the title character in "Kong: Skull Island."
The Square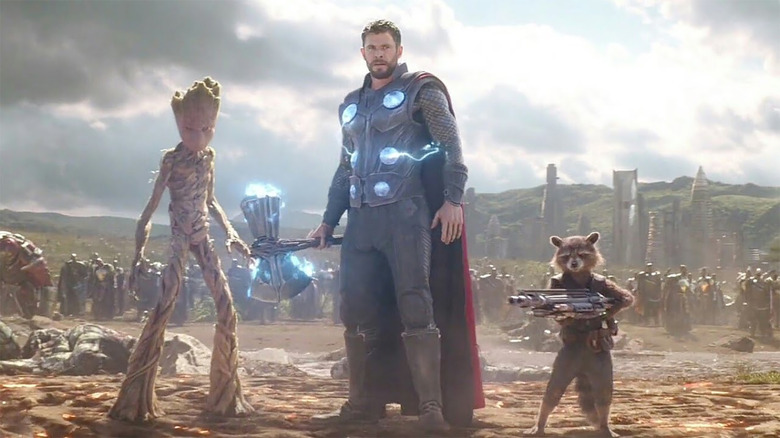 Disney
Although actor Vin Diesel played the voice of Groot in various MCU films (the character could only say "I am Groot," leading Diesel to record the line in multiple languages for international releases) it was Notary who provided the on-set motion-capture modeling for the "teen" version of the character as seen in "Avengers: Infinity War" and "Avengers: Endgame." Notary also played a monstrous ogre-like antagonist in those movies called Cull Obsidian. 
Notably, it was Notary who appeared in a motion-capture suit opposite Harrison Ford, playing a canine in the 2020 version of "The Call of the Wild." Watching behind-the-scenes footage of Notary in the suit is impressive and amusing; he's the next best thing to casting a real dog.
Most notable to "Nope," however, was a role Notary played in the 2017 film "The Square," one of the best films of its year. Ruben Östlund's film is a send-up of the high art world, wherein a powerful celebrity artist, embroiled in an affair, loses his phone as well as complete control of a low-fi installation he has planned. Partway through "The Square," a performance artist (Notary) appears at a well-moneyed benefit dinner for the art world's elites, meant to perform like an animal to juxtapose the effete with the savage. He grunts and smashes things like an ape. Then he goes "feral," taking the bit too far. The frightened and baffled diners don't know what to do, as they are forced to sit still, hoping to be ignored. 
Notary's performance in "The Square" is glorious and hilarious and more than a little terrifying. His ferocity in that film would mirror the terrifying ape violence he would reenact as Gordy for "Nope." The Gordy scenes are among Peele's most violent, so be warned of blood. Notary's talents can dazzle, but they can also terrify.